Whoever told you that the streetwear industry was dying sold you a lie from hell. The Hypebeast-reading style corner was rocked only six months ago, when news surfaced that Trapstar was to become the first apparel line on Jay-Z's Roc Nation. Now, chances of the west London-based brand breaking into the global fashion industry are higher than they ever were before. Which begs the obvious question: whose garms will be next to dominate out here in these streets? Every day this week Noisey's Joseph "JP" Patterson will introduce us to one more player in the British streetwear game.
Start date: 2011
Owners: Sincere (rapper) and Jonny G

Sincere on the design aesthetic: I'll come up with an idea after being inspired by something. For example, for the new collection, I was inspired by a painting of the Queen by Andy Warhol. I loved the colors and vibe of the paintings, so I decided to incorporate similar colors into the new Lizzy designs.
Who or what has been the biggest inspiration for your work?
The biggest inspiration for my work was growing up and not being able to afford the clothes I wanted. I always used to window shop or read magazines and put together looks. I knew when I started Lizzy Clothing that I would make affordable, luxury streetwear that inspired the people who wore it to aspire for more.

Sincere and Rita Ora.


How does your label compare to other British streetwear labels?
We live in an era where most things look the same, with just a change of logo—in streetwear. The Lizzy brand is inspired by the Queen of England. We flipped the whole thing around and made it street, plus we connected middle England to inner-city London and urban culture. No matter your age, race or gender, if you can relate to something from nothing and the non-stop grind and work it takes to make something of your life, you will appreciate Lizzy and the power of rocking the brand.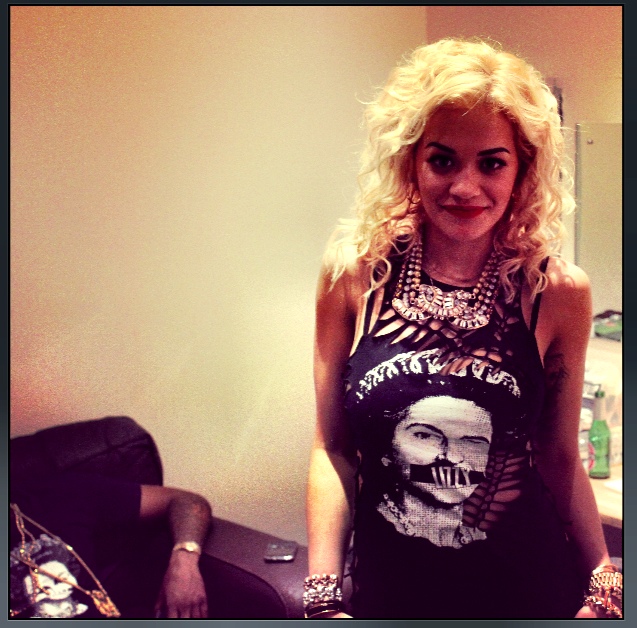 Who have been some of your biggest supporters?
Celebrities who have worn Lizzy Clothing in the past include Rita Ora, Wretch 32, Angela Simmons, and Krept & Konan. I'd love to see Jay Z rock a Lizzy tee, though, as he embodies the 'something to nothing' ethos of the brand. I'd love to see Kate Moss and Naomi Campbell rock a Lizzy tee, too, 'cos they make most things look good and are classic British supermodels.




Leona Lewis and Wretch 32 in Lizzy Clothing.

What's the future of Lizzy?
I'm working on an art exhibition/pop-up store with painters Funny Tummy and Batoul Maria to showcase the collaborative art collection we have coming out. I've also got a collection coming out later this year that was designed by Alex M, who designs for Givenchy and Kanye West.
Joseph is on Twitter! Follow him - @Jpizzledizzle
Related:
Streetwear Spotlight: Benjart Clothing

Meet Mikey Trapstar: The Brains Behind British Streetwear's Leading Label
Most Wanted: MODU Snapbacks

We Talked to the Dudes Behind the Drake YOLO Polo