Merle, America, and Me: Two Days of Freedom at the Biggest Honky Tonk in Texas
Billy Bob's Texas has 30 whiskey-soaked bars, two boot-scuffed dance floors, and an indoor rodeo arena. We visited to see Merle Haggard perform on Fourth of July weekend.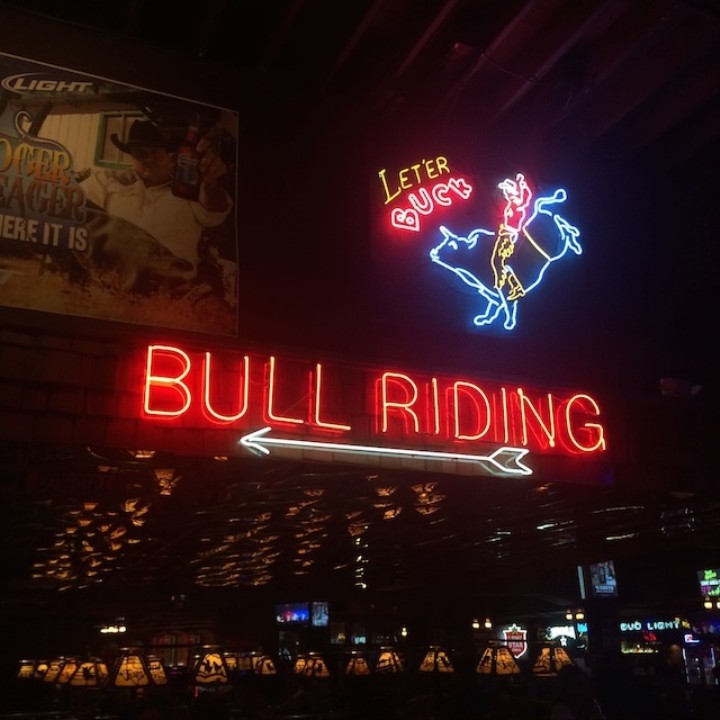 Photos by the author
When the floodlights come up in Billy Bob's Texas, a vast expanse of dirt is revealed. Tractor marks zig-zag across it, bleachers surround it, and chutes leading out to animal pens swing open in the back.
This is the venue's indoor rodeo arena.
Dropped in the middle of massive grounds that still houses livestock, Billy Bob's Texas—billed as the Lone Star State's largest honky tonk—has 30 whiskey-soaked bars, two boot-scuffed dance floors, and a legendary barbecue joint across the street. Everyone serving drinks calls patrons "baby," and a wall of cement handprints from artists who have passed through includes Johnny Cash, George Strait and Townes van Zandt.
In other words, this is no Coyote Ugly, staffed by costumed models dancing choreographed two-steps on the bar. It's the real fucking deal.
For years, Willie Nelson held his Fourth of July Picnic here, until moving it to Austin for 2015. In its stead, Billy Bob's is hosting its own two-day freedom festival with a lineup that reflects the venue's longstanding musical ethos. Robert Gallagher, the venue's outgoing entertainment director and, with nearly 27 years on the job under his belt, a legend in his own right, sums that ethos up thusly: "Some of it's country," he says. "Some of it is rock n' roll. I don't care what you call it. It's just great fucking music."
Texas summers are like never-ending saunas, and at 3:00 PM on Friday, a hazy, beer-induced buzz hovers over the festival crowd. This is not a group that has taken America's birthday lightly; red, white and blue bikini tops fit snugly over many a breast. Cotton shorts bearing the stars and stripes give way to pale man-legs, and sweaty fans bop American flag beach balls around as they listen to Edmonton, Canada-based Corb Lund.
The festival has two stages, one indoors and one out, and acts alternate on the hour. Americana is in plentiful supply; a carnival-style corndog stand (from which I will make no fewer than five purchases before the festival's end) announces its wares in bright yellow and red lettering. About 20 yards away, a boy no more than five years old hoists himself up on a mechanical bull, stretches his arm overhead like a pro, and begins to ride. He falters; from the sidelines, a man wearing a striped button-down and Wranglers hollers encouragement: "Keep your head down, son!"
Inside, North Carolina-based American Aquarium blaze through their set, and then Green River Ordinance picks up the slack outside. By 6:30 PM, the crowd is woozy; the sun is fading but the temperature is not. Pushing past the security guards at, people wobble into each other to get inside—the award-winning songwriter Chris Stapleton, whose recent solo debut Traveller has been raking in rave reviews, hasn't started his set yet, but he already has an audience. "This is the best sound check I've ever had," he says into the microphone.
Three songs in, Stapleton—who can only be described this evening as looking like a scraggly cowboy version of ZZ Top—brings his wife, Morgane Stapleton, onstage. Her blond hair hangs long and loose, she's wearing a plain, baggy T-shirt, and she's dancing like it's Laurel Canyon in 1972. Together, she and Stapleton harmonize a rendition of "You Are My Sunshine" that's so slow, so easy, and so lovestruck as to be almost unrecognizable.
From there, Stapleton eases into his sinner's lament, "Devil Named Music." Two farm-fed cowboys sway in time, throwing their heads back to holler: "I miss my son. I miss my wife. But the devil named music is taking my life."
Back outside, the sun casts a swirling orange-and-purple glow, and Ryan Bingham is wetting ladies' panties with his hair-of-the-dog voice (to hear him sing the lyrics, "See them girls shake their ass, underneath the sunrise" is to make even the most feminist among us want to shove each other out of the way for a chance to hop up on the bed of his truck and dance). Bingham's past informs his every note: At 17, he escaped his alcoholic father and became a rodeo cowboy. On a stopover, he linked up with some bigwigs in LA, spent one night writing the theme song for Crazy Heart, and went on to win an Academy Award.
Bingham closes out and the crowd beings pulsating towards the indoor stage. Merle Haggard goes on at 10:00 PM. Sweat is part of the air by now. The clock ticks by; at 10:05, a man who looks like a washed-up Vegas act—all Travolta hair and open shirt and orange skin—fills up the space in front of the microphone. (Is that Merle?? That's not Merle.) It's not clear where Merle is, although one of the security guards tipped us off to him 20 minutes earlier, smoking with Gallagher against a brick wall, a tall, vaguely hunched silhouette with a cowboy hat.
Finally, at 10:30, a figure emerges from the side stage. He's wearing dark aviators, a black sport coat and white button down, and the same cowboy hat that was just illuminated by floodlights outside. He eases up to the microphone, more comfortable here than he probably is in his own living room.
That Haggard—and, tomorrow, Jerry Jeff Walker—should be sharing a stage with Bingham and Hayes Carll, the soulful 39-year-old who describes his music as "degenerate love songs," is like Kendrick Lamar opening for N.W.A. They're legends, the OGs of outlaw country, the ones who broke from Nashville's corporate bullshit in the 1970s with a swift middle finger and a plane ticket to Austin. Respect for their music and lifestyle has been passed down in a real, swooning way that's made clear by the fact that tonight's maximum capacity crowd has an average age of about 30.
Haggard's set is easy, with barrel-chested renditions of "Pancho and Lefty" and "Mama Tried." This isn't a particularly rowdy crowd; they're more awestruck than wild. When the 78-year-old wraps up at midnight, about half of the audience heads towards the parking lot. The remaining half, though, flood the dance floor, and within minutes, 200 people are line-dancing to "Copperhead Road." "Look at these motherfuckers," says Gallagher, who told me earlier that, "motherfucker is a compliment, by the way."
Our second morning begins at 1:00 PM, a groggy, sticky morning launched with coffee, Bloody Marys and eggs. By the time we get to the festival, the crowd—sparser than it was yesterday, but more electric—is riled up.
Outside, Jerry Jeff Walker—whose 1973 album Viva Terlingua helped put outlaw country on the map—lobs the ball into the air for his musical heirs, headliners Turnpike Troubadours, to knock out of the park. It works. By the time the Oklahoma-based band hits the indoor stage at 10:00 PM, the crowd has tripled. People are sardined on the dance floor, a waitress floating trays of beers over their heads.
The crowd gets louder and louder, and the obligatory "U-S-A!" chants seem less about America and more about what's happening here in this room. Running through their three-disc repertoire, as well as some new tracks off their upcoming album, the band closes out the same way they always do: Bassist RC Edwards leads the crowd in a cover of The Felice Brothers' "Whiskey in my Whiskey": "I put some whiskey into my whiskey / I put some heartbreak into my heart / I put my boots on that ole dance floor/I put three rounds, Lord, in my 44."

Turnpike Troubadors
For 34 years,Billy Bob's Texas has been putting on shows that give exactly zero fucks about what's cool outside their doors. And it's worked: The stage has been graced by Willie Nelson and Waylon Jennings, by George Strait and Johnny Cash and George Jones, and by the new generation of Texas outlaws: Randy Rogers, Mickey and the Motorcars, the Dirty River Boys. The ethos is simple: It's unapologetically real. There will be no removal of the rodeo because coastal hipsters don't dig it. There will be no booking shitty acts to sell more tickets. There is no room for cool-kid irony, or snobbery, or wasting time looking down at your own guilty pleasures.
"Music drives every son of a bitch that we know," says Gallagher. "Fuck the labels, fuck the categorizing. Listen. Don't think. Know what the fuck you're listening to. Music just feeds us all... It's the greatest blessing in life."
After Turnpike Troubadours' set is over, the crowd begins to dwindle. Backstage, fourteen shots are laid out in the green room. A towering man who looks like a character from Sons of Anarchy, with a barrel chest and an unruly brown beard, starts playing an acoustic guitar. His voice is strong and it's sweet, and his words are clear, and his heart is laid bare on his sleeve.
Jessica Ogilvie wrote this while riding a mechanical bull. Follow her on Twitter.