I Skipped Neutral Milk Hotel and Fell in Love with Kacey Musgraves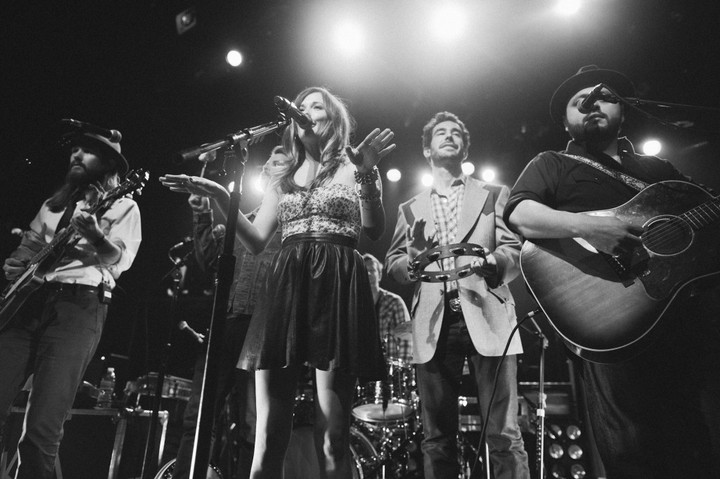 On Saturday night in Madison, WI, Neutral Milk Hotel played an instantly sold out reunion concert downtown at the Orpheum Theatre. If you're not familiar (because you probably don't keep up with the sizes of venues in small cities in the Midwest), the Orpheum is one of the biggest non-arena performance venues in town—and the concert sold-out almost immediately. Neutral Milk Hotel, as predicted, played everything you'd want to hear, capitalizing on the pent up, 15-year demand for a national tour.
Or so I was told by my friends who were there. Because instead of piling in with Madison's Warby Parker and flannel-shirt contingent, I was three miles uptown, at the Barrymore Theatre, watching Kacey Musgraves play her own sold-out concert.
This decision probably seems irrational to the strawman "average Noisey reader" I am inventing in my mind right now, because I am betting "seeing Neutral Milk Hotel live" is somewhere on their bucket list. Not to mention that I passed on buying tickets—I live two blocks from the Orpheum and, on the day the NMH concert went on sale, I walked by the line just as tickets became available—and what's more is a friend berated me a few weeks ago in my apartment for choosing Kacey Musgraves while he, no joke, held my worn vinyl copy of In the Aeroplane Over the Sea. But the truth of the matter is that I never had any doubts; when given the choice between seeing Jeff Mangum show up and play songs from 15 years ago that meant a lot to me when I was 19, and seeing Kacey Musgraves, country music's sure next big thing, winner of Grammys, writer of some of the wittiest (and in my opinion, best) songs of the last year, I know where I'd rather be.
It took all of one song to verify I'd made the right choice. Musgraves came out in leather pants and a fuzzy black vest, and fronted her band in front of a giant façade of a trailer in a park, playing "The Trailer Song," a song that illuminates everything that has earmarked Musgraves as an ascendant star in country music. There's the small town details (mailboxes being lumped together on one side of the street in trailer parks), the near-constant middle finger she has towards haters ("girl we ain't friends we're just neighbors"), and her modernization of classic country (she's lauded as something "new" but in a lot of ways she's the new Tammy Wynette).
The sell-out only added to the "see it while you can" vibe of her set, as it seems very unlikely Musgraves is going to be playing in medium-sized theaters with $25 tickets in secondary markets for much longer. [Ed note: For real. Noisey's most interview request just got shot the fuck down.] The stop here was booked before Musgraves blew up outside of the realm of just country music; her Same Trailer Different Park won two Grammys last month, and was on many non-country publications' top ten lists (#10 in Pazz and Jop). And last month, she was recently pegged as the opener for Katy Perry on her Prismatic tour later this year. Yeah, that's right. Katy. Perry. Like, louder than a lion Katy Perry.
The concert served as a rightful coronation of Same Trailer Different Park, which beat out entrenched powerhouses Tim McGraw, Blake Shelton, Jason Aldean, and most surprisingly, Taylor Swift at the Grammys. Every highlight from the record got performed, from the friends-with-benefits ballad "It Is What It Is" to the future ladies night anthem "Stupid" to "My House," the trailer park version of "I've Been Everywhere." Musgraves and her band—which included a great pedal steel player—were at their best on "Blowin' Smoke," the best song about working a dead end job in the restaurant industry ever recorded. The ballads on Same Trailer can come off on record as wounded and delicate, but live musically they stand up and hit you in the mouth with as much sass as her lyrics.
As a live performer, Musgraves still has a lot of aw-shucks faux-modesty, perhaps taking a page out of the Taylor Swift book. She continually expressed gratitude and shock that a large crowd would brave the cold (less than ten degrees at show time) and snow (about two inches fell during the day) to see her. But she's a star and she knows it; at one point she talked about how she had to fight her label to put out "Merry Go Round" as a single, and how she knew it was a hit before they did. But she also still had the loose confidence of someone who just recently started commanding stages for an hour; she did a semi-hokey but endearing cover of TLC's "No Scrubs" and morphed her "Step Off" into Bob Marley's "Three Little Birds." The crowd hung on every word; hooting and hollering and singing along to every song. She's only been in public eye for a year, but her presence is already strong.
Which make sense when you think about it. If you were to bet on one genre breaking through to more mainstream critics and "non-traditional" listeners in 2014, put all of your money on country. Thanks to the barnstorming of Florida Georgia Line, Brandy Clark, Eric Church, and of course, Taylor Swift in 2013, it feels like it's shaping up to be the year everyone you know "discovers" country music. Some of this has to do with the tearing down of the walls around music genres—all you need to be invested in any "music scene" is a Spotify account and an open mind—but a lot of it has to do with a new crop of country talent that skews less towards the middle-aged demographic that supplied country with its sales and talent through the early '00s. A 19-year-old might not be able to relate to the married man songs of alcoholism and pickup trucks of longtime country titan Brad Paisley, but they can sure relate to the get-fucked-up-and-make-memories music of Florida Georgia Line.
The genre's purists might decry the pop moves of the new generation of country stars, but kids who grew up with parents who had No Fences in the minivan are being brought back into the country music fold thanks to the new guard (myself included). Watching Kacey Musgraves play to a theater full of a wide-ranging group of people—I saw moms, teens, grown men in unironic cowboy hats, and kids who looked like they were born since Obama has been president—it's obvious she might be the next stop after you finish listening to Red on repeat. Beyond their Brill Building-esque efficient sloganeering, her songs are eminently relatable, the kind of music that feels tangible, that you can actually use and apply towards your daily life. Every person with a bullshit nine to five has told themselves the lies the protagonist of "Blowin Smoke" tells herself and her co-workers while smoking behind a restaurant between shifts. "Keep It To Yourself" is the song version of regretting your texts from last night. Her current single, "Follow Your Arrow," plays lovingly with the idea of same-sex kissing and smoking weed, and in doing so, is starting to revoke the Bush presidency-era country as a buttoned-up conservative affair stereotypes critics love to toss around (and don't forget it's general message to never give a fuck about anything, yoloing so hard that Drake would indeed be proud).
So yeah. I went and saw a pop country act rather than your precious Neutral Milk Hotel. But who gives a shit? It's not often you see someone you are certain is going to be—and deserves to be—the next big thing.
When Musgraves finished her set and I was walking in seven-degree weather across the icy sidewalks back to my car, humming the chorus of "Silver Lining" in my head, reflecting on all the nostalgic feelings and emotions brought forth by her charming lyrics of regret and moving on, I texted a friend at the Neutral Milk Hotel show, asking if his show was over. He responded, "That was awesome I'm freaking out!"
I wrote back.
"Mine ruled too."
Andrew Winistorfer is from the midwest and young and restless. He's on Twitter — @thestorfer
Stories