Photos courtesy of Instagram
It was a completely uneventful evening on April 14 when Roy Wood$ released "All Of You" on his Soundcloud, but it didn't take long for the song to penetrate conversations all over the web. For good reason, as it sounds like Michael Jackson successfully pursuing a rap career.
Becoming a musician saved Roy Wood$ from a lot of literal headaches. Though he started making music as early as 14-years-old when he would write and memorize song lyrics based on the Michael Jackson music that his mother would play around the house, the Guyanese-Canadian musician didn't start taking it seriously until he was 16 and playing football in high school. "I was a wide receiver and a safety, and I was just coming off an amazing year going into Grade 11, but I had a lot of concussions," says Woods of his varsity dreams. "I had like four concussions, and I didn't want to go through that anymore because I was getting headaches and I didn't think my body could take it, so I was like 'I'm going to sing my ass off instead.'" He would practice in his spare time, but couldn't find the focus to sit through choir lessons. "There was always music around me, but I wasn't interested in the choir, it just wasn't for me. So I decided to just experiment and do my own thing."
This experimentation led him to a regular talent night at a local YMCA in his home town of Brampton, Ontario, where his ability to sing set him apart from the other contenders who would mostly rap. "All of the rappers would come out and be freestyling in a circle. I would go and come up with something completely different, my flow and lyrics were completely different. All those guys were talking about street shit, and I was talking about my past situations and relationships, plus I would sing too. All the girls would love the singing and they loved me."
He originally began his career under the moniker Pression, which he changed after speaking to one of his younger peers at his high school. "At first my name use to be Pression like in depression, and it wasn't working out for me. Then this little kid asked me about my name, and he was like 'You should change it, it doesn't fit you because you're not rocking with anything depressing.'" He changed it to Roy Woods after conducting an informal survey around his school's hallways and soon after, a star was born.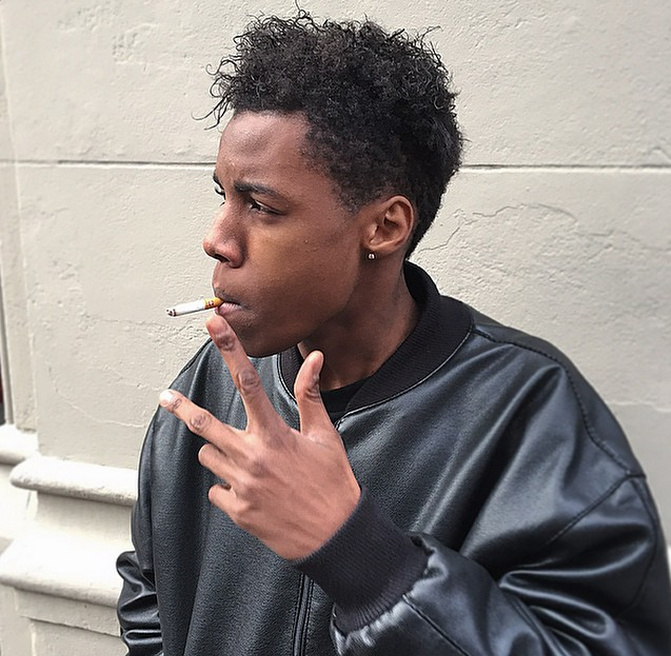 Woods credits his creativity to his inability to see genre lines, something that he believes will ultimately work to his benefit. "The old rappers that were known for old school rap or trap sounds, they didn't want to do anything outside of that. It was always the same thing over and over, and people got tired of it and didn't pay attention. I have an open mind; I can accept changes going on in the industry and in myself, and that's what's going to make me successful."
Roy Woods plans on releasing a project in 2015, tentatively titled EXIS. He's living in downtown Toronto and if slowly using the city's network to his advantage. "I was engineering myself for the whole year when I first dropped, it was myself and my boys and I was still learning. So when I was experimenting with different beats and sounds that I really wanted to get out, sometimes it wouldn't fit. When I came [to Toronto] the beats and the things that were around me gave me the inspiration that I can really do this. Now it's not just me engineering, I have people around me who can help me get my sound out better." If this newest single is indicative of this new direction, exciting isn't a strong enough word
Slava Pastuk is a writer living in Toronto - @SlavaP