Style Rider: Super Synthy Pop Duo MS MR Craft Their Own Tour Outfits
The New York pair survive tour with snacks, vapes, and arts and crafts.

Photo by Myles Pettengill, via
New York City's MS MR first announced themselves some with "Hurricane" back in 2012. Back then no one knew who they were, or who was behind that powerhouse voice, or the cut and paste tumblr-pop music video that accompanied it. But that was a long time ago and Lizzy Paplinger (one of the brains behind Neon Gold Records) and producer Max Hershenow, have long since come out of the shadows letting their dark, piano-driven tunes—which combine indie-pop weirdness with a shiny, synthy veneer—really fly. Back with their recently released second record, How Does it Feel? (out this past July) the duo are going next level—their pop progression as mesmeric as Lizzy's ever-changing hair colors. Check out their performance on Seth Meyers below for evidence. Please note Lizzy's glittering Tin Man power blazer dress and Max's pond-green feather shrug. Damn! Style-wise the pair are not afraid to let their freak flag fly, whether embracing shimmering fabrics or statement shades. They're down for DIY both in terms of what they're wearing and how they initially brought their music to the masses. Plus you might catch them sneakily vaping on the L train. Below are their touring must-haves.

CRAFTING TOOLS


MS MR: We've become obsessed with creating DIY show outfits. Fabric glue, paint brushes, rhinestones, goggly eyes, fringe… nothing is safe! We bring it all in case we want to completely reimagine what we've packed for tour.
OSTRICH PILLOW


Lizzy Paplinger: This has seriously saved my life on the road. I can pretty much sleep ANYWHERE but unfortunately after using it for 2 plus years the beads are starting to pour out if it so BONUS now it also serves as a way to trail where I've been :/
FAVORITE SUNNIES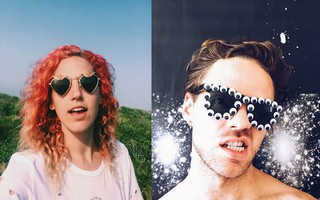 MS MR: Are we glamorous or merely hungover? Now you'll never know... Lizzy's are vintage sunnies from The Cast in NYC and Max created his own.

GIN-GINS GINGER CHEWS

Lizzy: Every time I pull them out I'm immediately made fun of for being an old women because apparently this is something grandmothers eat a lot of? But they're so. Fucking. Good. And additionally they help settle your stomach which is definitely helpful for motion sickness or after sketchy road food.

PAX


MS MR: We swear by the pax lyfe. A vaporizer is better for preserving our voices, and we can often use it in more public places on the DL. Shhh.
ONESIES


MS MR: They're brilliant because you're ready to go all at once BUT we will admit they make toilet life on the road a little more interesting… we've been naked in most gas stations across America.
MINI KEYBOARD / MOBILE STUDIO


Max Hershenow: I get most of my work done en route on this tiny keyboard… there's something about being so focused/miserable on a plane that helps all of the best ideas come out.
MS MR Tour Dates
9/8 – Copenhagen, Denmark – Pumpehuset
9/9 – Stockholm, Sweden – Debaser Strand
9/10 – Oslo, Norway – Parkteatret
9/12-13 – Berlin, Germany – Lollapalooza
9/24 – Houston, TX – House of Blues (w/ Circa Waves, Crater)
9/25 – Austin, TX – Emo's (w/ Circa Waves, Crater)
9/27 – Dallas, TX – House of Blues (w/ Circa Waves, Crater)
9/28 – Nashville, TN – The Cannery Ballroom (w/ Circa Waves, Crater)
9/29 – Atlanta, GA – Terminal West (w/ Circa Waves, Crater)
10/1 – Washington, DC – 9:30 Club (w/ Circa Waves, Crater)
10/5 – Boston, MA – Royale (w/ Jack Garratt, VÉRITÉ)
10/8 – New York, NY – Terminal 5 (w/ Jack Garratt, VÉRITÉ)
10/10 – Toronto, ON – Danforth Music Hall (w/ Jack Garratt, VÉRITÉ)
10/12 – Columbus, OH – Newport Music Hall (w/ Jack Garratt, VÉRITÉ)
10/17 – Denver, CO – Gothic Theatre (w/ Jack Garratt)
10/19 – Vancouver, BC – Commodore Ballroom (w/ Jack Garratt, Tigertown)
10/20 – Seattle, WA – Neptune Theatre (w/ Jack Garratt, Tigertown)
10/21 – Portland, OR – Crystal Ballroom (w/ Jack Garratt, Tigertown)
10/23 – Oakland, CA – Fox Theatre (w/ Jack Garratt, Tigertown)
10/25 – San Diego, CA – House of Blues (w/ Jack Garratt, Tigertown)
10/27 – Los Angeles, CA – The Wiltern (w/ Jack Garratt, Tigertown)
11/6 – Brighton, UK – The Arch
11/7 – Manchester, UK – Club Academy
11/8 – Glasgow – Art School
11/10 – London, UK – Electric Brixton
11/12 – Brussels, Belgium – Orangerie
11/13 – Paris, France – Trabendo
11/14 – Amsterdam, Netherlands – Melkweg (Old Room)
11/16 – Zurich, Switzerland – X-Tra
11/17 – Munich, Germany – Technikum
11/18 – Frankfurt, Germany – Batschkapp
11/19 – Cologne, Germany – Gloria
11/21 – Hamburg, Germany – Mojo