The Premiere of Milwaukee Banks New Track Delivers Some Early Morning Wooze
Dyl and Edo from Milwaukee Banks are as into basketball as they are beats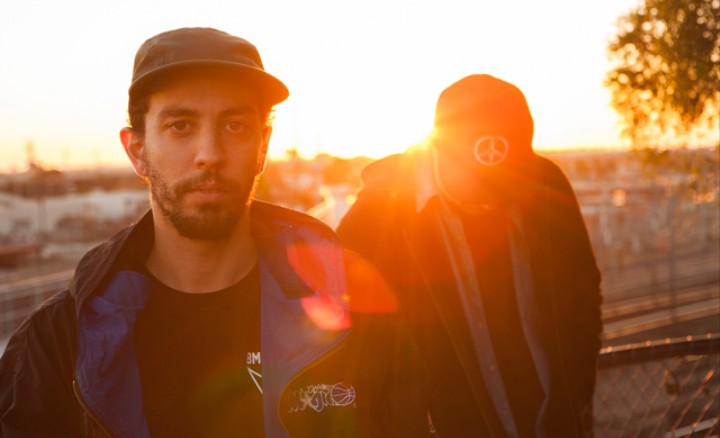 Milwaukee Banks' first single "Pluto Bounce" got everyone in a tizz when they realized Australian hip-hop could be done right. Now the Melbourne beats producers are back with "Rose Water" a new single off their EP of the same name.
Rhymer Dyl Thomas (from Melbourne hip-hop crew Polo Club) and producer Adrian "Edo" Rafter deliver a wooziness that is reminiscing of winding down after a rough/fast night/week. Or as the chorus puts it, "Cos I want to slow down, this guilt is killing me now."
Produced by Melbourne collective KIRA, who have written beats for Deniro Farrar and Pepperboy, it's a track that perfectly nails the odd light and feeling that come with early mornings—that transition from daybreak to 8AM.
Dyl and Edo filled us in on the track.
Noisey: One of the opening lines goes "Flashbacks from trying to break into that VIP". Got any VIP party busting stories?
Dyl: There was a time when I worked at a burger shop near a club called Lotus in Melbourne. It wasn't my type of place, but I heard Missy Elliot was having an after party so I thought I'd go with a friend after work and scope it out. We rolled up to the red tape VIP area and yelled out to Missy to get her attention and were acting like we knew her but we just wanted free booze. A bodyguard told us that our Australian accents were disrupting Mrs. Elliot and to please keep three meter radius from the VIP area. I thought that was too funny.
The track was produced by Melbourne collective KIRA. What's the story with them?
Edo: KIRA are a collective of beat makers here in Melbourne that I'm mates with. Dyl's worked with them all on various projects from time to time, and done some work in the studio with them before. We've really liked their beats for other rappers, so when we were writing our EP it made sense to ask them to write a beat for us.
You have a track called "Patty Mills" and one of you has an Orlando Magic jacket in a promo shot. What do you think of Dante Exum?
Edo: We hope Patty Mills can get a championship with the Spurs this year. Dante Exum is a huge prospect. I think he'll be crazy good wherever he ends up. I kind of hope he goes to the Lakers to be honest. Dyl will probably want him to go to Milwaukee. The next Aussie to watch out for is Ben Simmons. He is a beast.