A Taste of Pinoy Music: Five Filipino Bands You Should Know
Here's a taste of the best music coming straight outta the Philippines.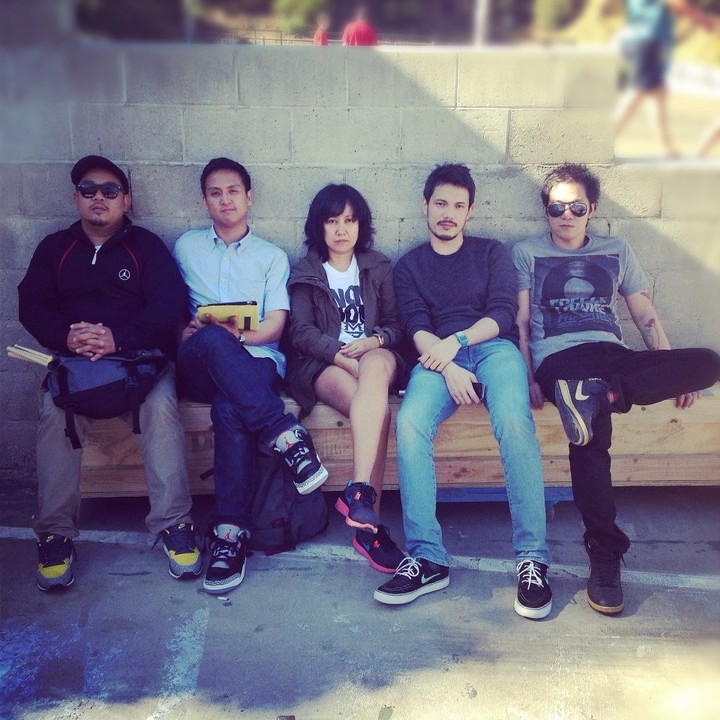 Photo via Sandwich's Facebook
Canada is known as a cultural mosaic, a nation that espouses people of various cultures, traditions and beliefs. One of the many minorities that consist of this mosaic are Filipinos (Pinoys) residing in much of western Canada. You might know a pinoy working at your nearby McDonalds drive-thru, taking your orders of five McDoubles while you're likely under the influence. Or, on the other end of the vocational spectrum, you'll find many of them working under the medical field, often as nurses and doctors. While these are the most common western stereotypes of Filipino culture, like it or not, they're very much part of your daily life, and many of them aren't going anywhere. Case in point, much of the Canadian workforce consists of immigrants and people within visible minorities that work in both low-skilled and high-skilled areas of employment. Unfortunately, with Prime Minister Stephen Harper having given Filipinos and many other temporary foreign workers the big fuck you, much of their hard work is unrecognized. For these Filipinos, known as Overseas Filipino Workers, or OFWs, much of what they earn is sent back to their families back home, where more than a quarter of the population (of 98.39 million people) still lives under the poverty line, living under one dollar a day.
With that said, the Philippines, has been—and still continues to be—significantly influenced by the west. Due to being colonized by the US in the early to mid 1900s, as well as having been previously under centuries of Spanish rule, nearly every facet of Filipino culture has been inspired by, if not directly influenced by these factors. Even the language, which uses the Roman alphabet, phonetically sounds quite similar to Spanish. This Western influence is also notably, and obviously evident with Filipino music or OPM (Original Pinoy Music). So, here are five Filipino bands/artists—both old and new—that would translate well in the western market.
Sandwich / andwich
"Buhangin" by Sandwich, from their album Debris (2015) Sandwich, often in the past stylized as
andwich, formed in 1998, is a prominent alt-rock band from the Philippines that has a place in the hearts of many. Their song "Sunburn" was my anthem, back when it was released in 2006. Before Sandwich, frontman Raimund Marasigan was the drummer of the formerly defunct Eraserheads (a band considered to be the Philippine's answer to the Beatles, which in some cases is true since they were one of the few Filipino acts to reach a global audience). The band is also one of the few post-punk/grunge/garage acts to break into the mainstream (where a majority of artists within major labels consist of R&B artists and songwriters that create the same, recycled love ballads to the point that it's camp). With 17 years and seven albums under their belt, the band has recently released their eighth LP, Debris, a bilingual album that showcases their lively, frenetic, and often experimental sound.
Up Dharma Down

"All The Good Things" by Up Dharma Down, released in 2015. Up Dharma Down is one of the few veteran indie post-rock bands that, within their 11-year span, have managed to reach an international audience. Their sound is eclectic though obvious influences would retro-pop, funk, and R&B. Having recently toured Singapore, notable acts that UDD has played alongside are Bloc Party and the Arcade Fire. If that isn't reason enough to check them out, singer and frontwoman Armi Millare did a Japanese rendition of their song "Luna."
Turbo Goth

"New Star Energy" by Turbo Goth, from their album Destroy Us All (2011) Indie/electro-pop duo Turbo Goth is, apparently, the only electro-pop bands to come out of the Philippines. Paolo Peralta, who does much of the production for the duo, composes a sound influenced by industrial, alt-rock, and experimental-pop into their music, which contrasts well with the soft, crooning vocals of partner Sarah Gaugler—in a way, similar to that of Stereolab or Broadcast. Currently based in New York, they're currently working on a follow-up to their album Destroy Us All. Gaugler is also an artist, tattooist, and model.
Asch Catabona and Clara Benin
It wasn't too long ago, maybe a decade or so, that much of what a majority of people in the Philippines consumed was either on television, the then newly-introduced Youtube, or through bootleg. Now, with music streaming platforms such as Youtube, Bandcamp, Soundcloud and now Apple Music reaching the shores of the Philippines, having access to indie and mainstream artists from around the world has never been easier.
With various genres of electronic music growing in popularity in the Philippines, its not surprising to see a new wave of independent artists and producers. Take Asch Catabona for example, a young creative who is an obvious example of this new surge of talent. Recently, Catabona collaborated with folk singer-songwriter Clara Benin, releasing a chill-wave track "Some Kind Of Magic" on Soundcloud, which you can hear below.
Miles and Mot
Just as how accessing music has gotten so much easier, so too has producing and collaborating with artists over long-distances. One particular duo that has taken advantage of the emergence of social networking, and file sharing platforms is Miles and Mot. Separated by 671 miles of land and sea, thanks to technology, Miles Malferrari and Francis Camomot have collaborated seamlessly, releasing their first LP, a sunny, indie/surf-pop effort titled
Island View
, which sounds not too different from Canadian act Alvvays.
Nikki Celis is a proud Filipino writer and journalist who really loves eating andwiches. Follow him on Twitter
Stories