Photos by Alison Green, except where noted
It's 11:45 AM, and the gates to Riot Fest and Carnival in Chicago's Douglas Park should already be open. Chalk it up to the first day on a new site or the weather, but a horde of attendees are still standing outside the main entrance when the brunt of the morning's ongoing storms finally hits.
Ah, rain. It's almost tradition at this point. It simply wouldn't be Riot Fest Chicago without it, and for the second year straight it came heavy on the first day, with the ensuing crowd helping to quickly turn the new host park into a familiar, muddy mess. Speaking of messes, outside we meet three of the fest's first drunks, stumbling around belching, tickets and Budweiser cans in hand, mumbling to one another that they can't find the entrance despite the crowd, despite the huge signs, despite the surprisingly accurate maps this year.
The delayed gates only postponed the start of music five minutes, with The Coathangers kicking things off. By the time they finished their set to polite but unknowing applause, Mustard Plug commented that the sun came out just for the Michigan ska-punks, and they successfully energized the crowd with a set that didn't ever slow for its 30-minute duration.
Living Colour proved the first true highlight of the day, taking the stage to some tech issues, which Corey Glover worked through by engaging the crowd and threatening to burn the place down as soon as the speakers started working, starting with the Ferris wheel. While the results were less damaging, Glover wasted no time using the scaffolding to climb atop a higher perch to perform and taking to the barricade to sing with fans. Meanwhile, bassist Doug Wimbish got so into the set antics that he took a spill on the (possibly slippery?) stage, looking to be in pain but laughing it off and continuing to play from there. It was the exemplar festival set — one that delivered its fans their songs while going out of its way to inform what might be an unfamiliar crowd before "Cult of Personality."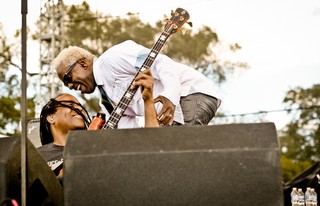 Living Colour making the best of a spill
The day also saw a spattering of Chicago bands on the main stages: There was Mest, who tried to use the fest to mount something of a comeback/reunion after lengthy absences from touring over the past decade. But if the band thought the fest might prove a bombastic homecoming, the indifferent crowd had other ideas. "Who's the the next band on this stage?" someone asked a photographer right before the beginning of the set. Later, a man in an Occupy Chicago denim jacket stumbled up to a girl bopping along to Mest. "What is this?" he asked.
"It's pop-punk," she replied.
"I've never heard of pop-punk."
"It's like Blink-182."
"No. It's not," he said, and walked away.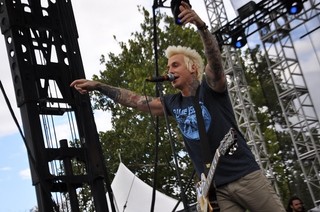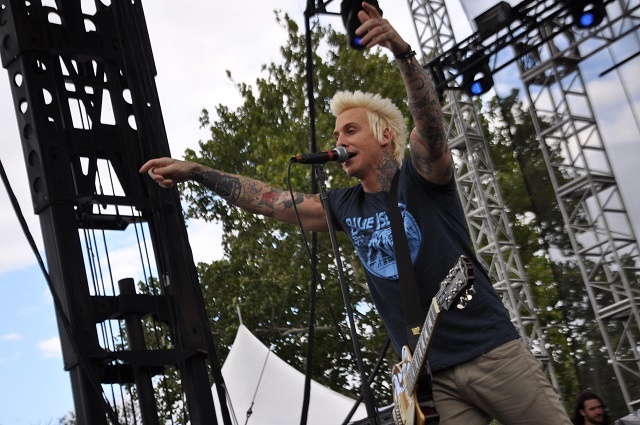 Mest, photo by the author
The band ultimately played a solid set, but their catalog was simply never that impressive and hasn't aged well. They struggled with tech issues early, had to cut songs and were met with indifference on many sing-alongs, with one guy responding to a request to join in with "We don't know the words."
Similarly, Chicago locals 88 Fingers Louie were met by a crowd simply waiting for the day's headliners. As a man wearing a Harley-Davidson shirt explained to me, "Do you think any of us are here to see this shit? We're here for Lemmy." Many others were camping spots at the Riot Stage for No Doubt, so bands who were going to make it there had to earn it. Mest and 88 Fingers did not.
Luckily, Alkaline Trio bailed out its Chicago cohorts with one of the better sets it has performed (that wasn't based completely around an album called Goddamnit) to close out one of the four main stages.
Now, Riot Fest probably thought it was doing good in scheduling Friday night (the most stacked lineup of the event), splitting the crowd with the pop of No Doubt, the heavy metal of Motörhead and the rap of Ice Cube and "special guests" (which some called the N.W.A. B-Team) performing a "Straight Outta Compton Remix" in full. But the crowd might not have proven as narrow-minded as organizers had hoped; there was movement aplenty during the final three acts as attendees bounced around to catch portions of sets between which they could not decide.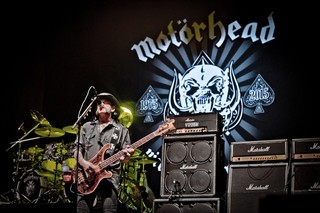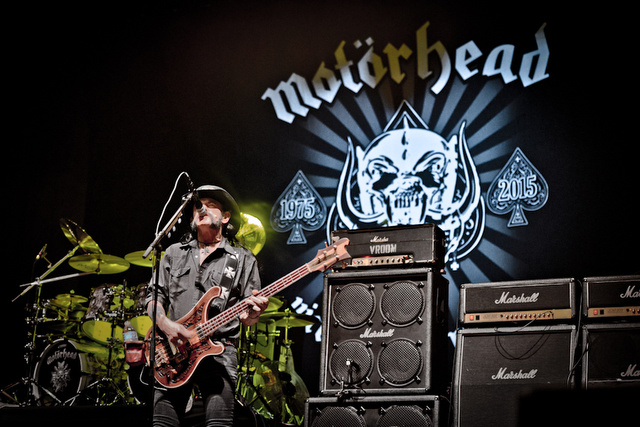 Motörhead
Despite Motörhead claiming headlines in the past week for the health of frontman Lemmy Kilmister and some canceled shows that went with it, the band saw the weakest turnout of the bunch. Sadly, it was probably for the better. Lemmy took to the stage with some of what has become his iconic mumbling, but ringing loud and clear in the midst of it was "We're Motörhead, and we play rock 'n' roll." It should have been a triumphant moment. Instead, "Ace of Spades" was a painful slugging, with the band playing full speed and Lemmy trying (and failing) to keep the lyrics anywhere close to time. It was good to see him standing, propped up as he may be at this point, but those thinking Motörhead is a band that should never stop might have thought twice about it after the set.
Every time I wandered by the stage for No Doubt, I seemed to catch songs from Rock Steady, as well as Push and Shove, which did not bode well for the setlist, in my opinion. I doubt anyone could have convinced the No Doubt diehards in attendance of its lack of quality, though. A girl in neon pink sat front and center from the moment the gates opened, along with three individuals proving their dedication by traveling from Argentina just to see the set. No Doubt rightfully closed with the strong combo of set closer "Just a Girl" and the encore "Spiderwebs."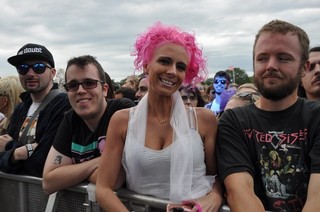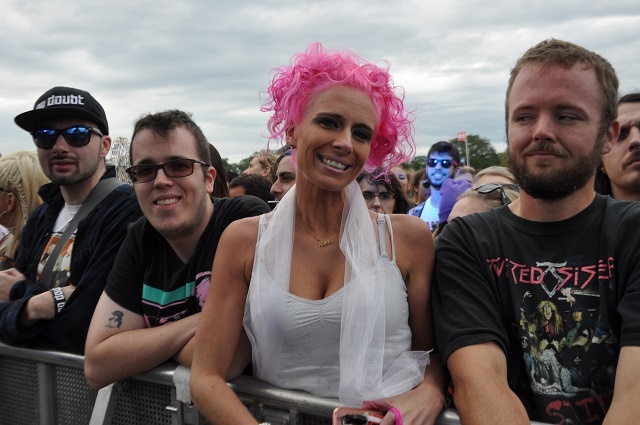 No Doubt fans, photo by the author
Ice Cube delivered the hits, starting with a few of his own—"Check Yo' Self," "Friday"—before dropping back into the N.W.A classics. It was familiar, nostalgic, but also peppered with video clips, including movie promotions. Its placement on the Roots Stage also created some complications: It drew the biggest crowd of the day to a stage that behind the soundboard was obstructed by a large tree.
The magic of Douglas Park as a site for Riot Fest Chicago is that, as opposed to prior years in Humboldt, there is no funky layout. There are no bottlenecks or weird park features to work around. The grounds at Douglas proved to be wide open Day 1, meaning there was no time needed to get acclimated, to make sacrifices because of long trips between stages. It was absolutely possible to see good chunks of all three headliners without missing much in between.
That said, the closeness and openness also led to a great deal of bleed-over in sound. A buddy and I found a spot we have dubbed the Four Corners of Riot Fest, at which point we stood and clearly heard all three headliners, which isn't necessarily a good thing. It might also be at least partly owed to Motörhead's amps being cranked to 11. They were louder than any other band on the bill that day.
Parting thought: In all the times I have seen Alkaline Trio, I never really noticed this, but at Riot Fest the most prominent sight was that of guys (often drunk) passionately singing their hearts out to every song, hanging on every word, and trying to engage their female counterparts, who just seemed totally disinterested.
Bill Jones can be found on Twitter when he is not trying to keep his phone dry at Riot Fest.