Remember when hip hop wasn't a cesspool of disgustingly rampant materialism? Remember when it was an expression of the collective struggle of the lower class? Rappers once sang about things that scared the living hell out of suburban house-moms like killing cops and robbing liquor stores. And now here we are in 2013 and the quality of rap in general is at its lowest point in history. Not that there isn't any good hip hop being produced, but the rappers who have "made it"—the ones who get played on the radio and have their words taken as gospel by millions of kids—have gotten so far detached from the real world that it's mind-boggling why any non-private-jet-owning person would ever listen to them. And while an entire book could be filled with lyrics that are thoroughly unrelatable to the common person, here are just a few of the most disgustingly egregious ones.
50 Cent - "I Get Money"
"Have a baby by me, baby, be a millionaire/ I write the check before the baby comes, who the fuck cares?"
Translation: "For a rich rapper who likes to get his fuck on like me, dropping millions of dollars in child support is just plain easier than paying for pregnancy tests or wearing condoms. It is literally worth at least a million dollars to have unprotected sex with some random woman. I am literally jizzing money over here."
Jay-Z - "Illest Motherfucker Alive"
"Basquiats, Warhols serving as my muses/ My house like a museum, so I see 'em when I'm peeing/ Usually you have this much taste, you European"
Translation: "Even though the nicest art most people who buy my albums will ever see is a spraypainted mural of Tupac, I've got a veritable museum right here in my shitter. You know, just in case I get mildly bored in the five minutes when I'm squeezing out a turd, and no, I'm not talking about Kingdom Come."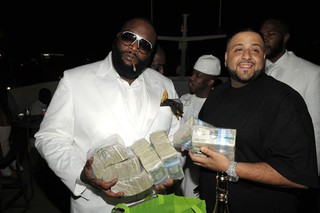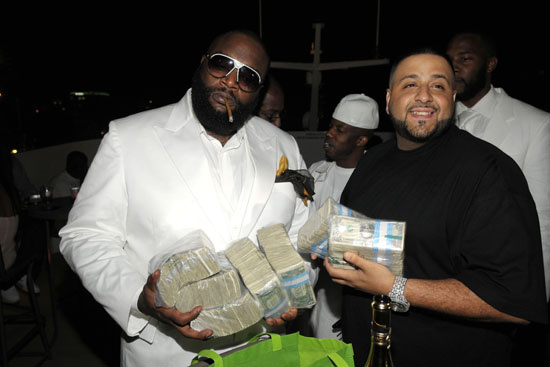 Rick Ross - "Rich Off Cocaine"
"Vacation to Haiti, it nearly broke my heart/ Seeing kids starve, I thought about my Audemar"
Translation: "My fat ass was having such a dandy time on vacay in Haiti until I noticed that it's a festering, disease-ridden third world country. Then I felt slightly guilty for wearing a $150K watch." And on that note...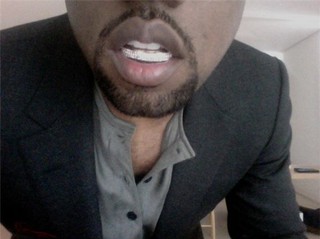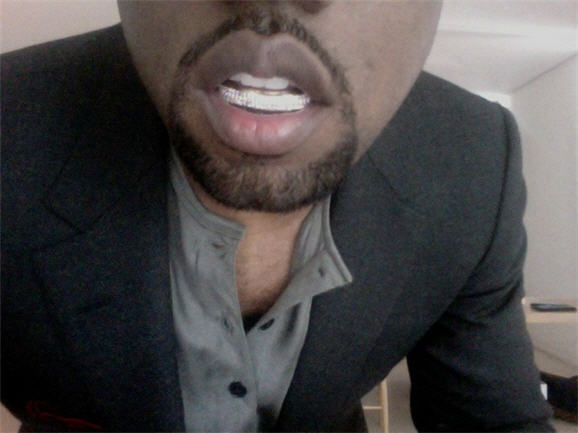 Kanye West - "Diamonds From Sierra Leone"
"I thought my Jesus piece was so harmless / 'Til I seen a picture of a shorty armless / And here's the conflict / It's in a black person's soul to rock that gold / Spend ya whole life tryna get that ice"
Translation: "Man, being a disgustingly rich black celebrity is hard! It's in my nature to want to wear hundreds of thousands of dollars worth of diamonds, but they come at the price of black kids in Sierra Leone getting their arms cut off... Oh well, check out how Gucci I look!"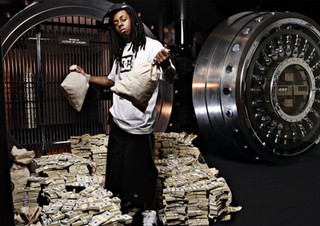 Lil Wayne - "Let the Beat Build"
"Used to think my shit didn't stink, boy was I wrong/ Approving million dollar deals from my iPhone"
Translation: "Yeah, I use the same cell phone as you common people, but I do way crazier shit with it. No Angry Birds for me. Sometimes I'll make a million dollar business transaction while you are getting email alerts from Chase that your balance just hit negative $4."
Bonus: Lil Wayne - "3 Peat"
"Got a million duffled up for the fuck of it."
Translation: "In case you haven't noticed, I do some weird shit with a million dollars. Sometimes, I'll fill a duffel bag with cash in case I need to skip town or want to whip homeless people with it or something."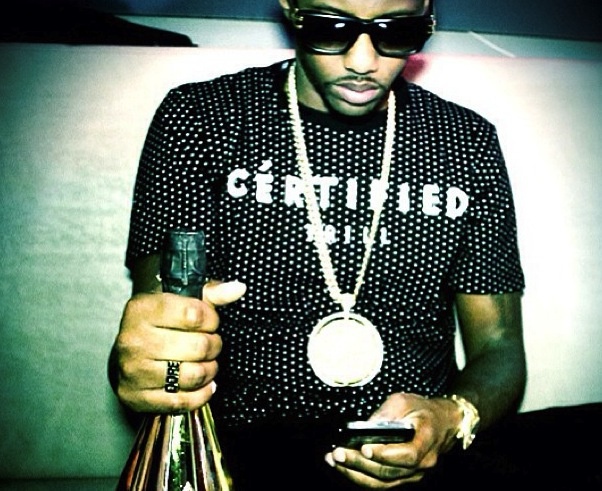 Fabolous - "Throw it In the Bag"
"Keepin' the baton, Louis Vuitton/ Gucci down to her feet, yup just like me/ I'm the one, with them ones/ Fuck the price on the tag, just throw it in the bag"
Translation: "Remember when the Geto Boys were rapping about killing sprees? Well, I am devoting an entire song to shopping sprees! Here's a song I wrote that sounds like I'm reading off a bunch of receipts. It also points out that I have absolutely no awareness of how tame rappers have gotten since I am wearing the same brands as the women I'm trying to fuck."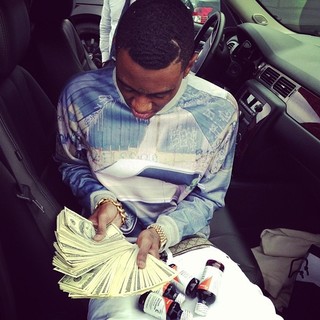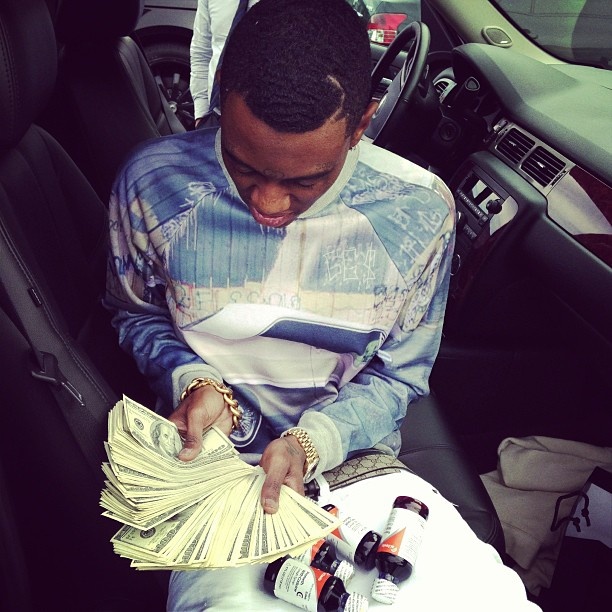 Soulja Boy - "Rockin' All My Chains On"
"50,000 dollars spent just to make my rims spin/ Half a million dollars spent on the house I live in/ Even more spent on the seat I sit my ass in"
Translation: "My understanding of money is so horribly askew that I think chairs should cost more than houses. There are plenty of wise financial decisions in ol' Soulja Boy's future!"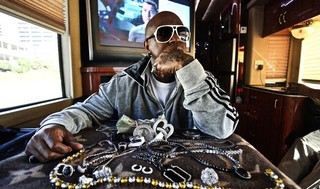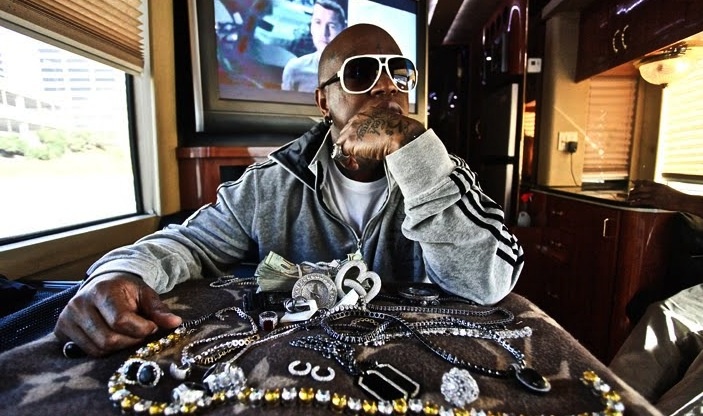 Birdman - "Money To Blow"
"I am on a 24-hour champagne diet/ Spillin' while I'm sippin', I encourage you to try it/ I'm probably just saying that 'cause I don't have to buy it/ The club owner supply it, boy I'm on that fly shit"
Translation: "In case you only envy me for my money, you should also know that I never have to pay for anything either since people comp me stuff for being a notable connoisseur of gaudy crap."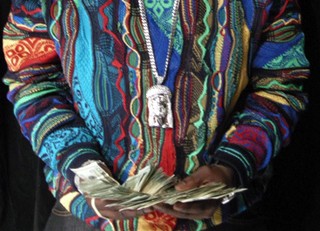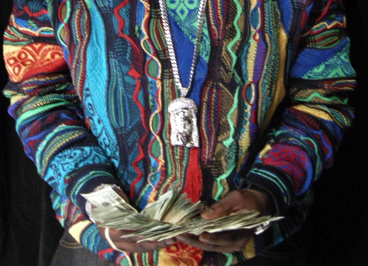 Jadakiss - "We Gonna Make It"
"My bathtub lift up, my walls do a 360/ We got the shit that the government got/ Talking money then you rubbing the spot"
Translation: "You ever seen that show MTV Cribs? I make that shit look like This Old House. Even my bathroom looks like something from the Men In Black compound."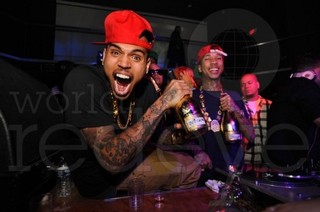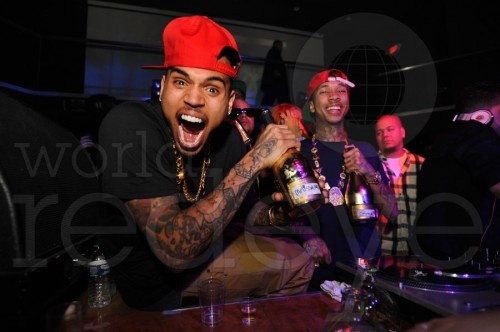 Chris Brown - "Why Stop Now"
"We can do anything, walk into anywhere and buy anything!"
Translation: "Help! I'm on a mission to be the most unlikable man in music but unfortunately, I have the creativity and vocabulary skills of a dead squirrel. But trust me, I've still got lots of money! Breezy out." *Punches own reflection in mirror*
Dan Ozzi runs Jaded Punk. Follow him on Twitter - @danozzi