David Moore, the pianist and composer behind the ambient ensemble, Bing & Ruth, is sat in his studio in Bloomville, a rural pocket of upstate New York, sheltered from the snow outside. We're speaking a few days after the national women's marches following President Trump's inauguration, and while Moore's music with Bing & Ruth might not be a direct response to these developments, it can act as a small corrective, a place of reflection amidst the noise emanating from the White House. The group have been crafting pockets of calm since their formation as students at New York's The New School in the mid-2000s, drawing on both the work of the institution's minimalist alumni, Steve Reich and John Cage, as much as ambient pioneers, Harold Budd and Brian Eno. Now, with the release of their third album, No Home of the Mind, and a move from RVNG Intl. to 4AD, Bing & Ruth are on the cusp of joining the big league of the American avant-garde.
"Since day one the focus has really just been on playing music like we do with the same sort of spirit and the same sort of human quality," the soft-spoken Moore explains over Skype. Bing & Ruth conjure some of that spirit by reaching into the deep past of American music traditions. Growing up in Kansas, Moore was surrounded by the region's folks traditions. "The big takeaway from bluegrass was this idea of a band being able to surround a microphone," Moore, now in his early thirties, explains. "But old-time music is much more about circular patterns. To me, it's sort of the country equivalent of drone music where it's a melody line just repeated over and over again. The focus is really on the feel of it and the human quality."
It wasn't just bluegrass and old-time music that Moore soaked up before moving to New York for college. Raised in Topeka, he moved to Kansas City as a teenager in a bid to strengthen his piano playing. "It's got a very rich history of jazz and swing music. I sort of moved there to really see if could go deeper into improvisation. I think in Kansas City there's a really large emphasis placed on the human quality of playing music—swing and keeping things in time. And I think I really walked away with that even though my focus shifted when I got to New York."
The landscape of Moore's childhood continues to find form in the the group's panoramic sensibility. "Growing up in Kansas there was definitely a sense of vastness that just sort of became a part of me. I think that's why, when I moved out to the coast, I just became obsessed with coming to the ocean all the time," he explains. "It was the only place in the city where I could get that vastness." Bing & Ruth channels some of the sublimity of the American wilds the silhouetted trees set against a dusk horizon in their "Starwood Choker" video, Moore's tumbling, arpeggiated piano lines working in friction against the slow, deliberate bows of the band's two upright bassists. It eschews the cosmic horizons and electronic textures of ambient contemporaries like Stars Of The Lid in favor of something unmistakably born from terra firma, the soft interplay of woodwind, piano and strings rooting the group.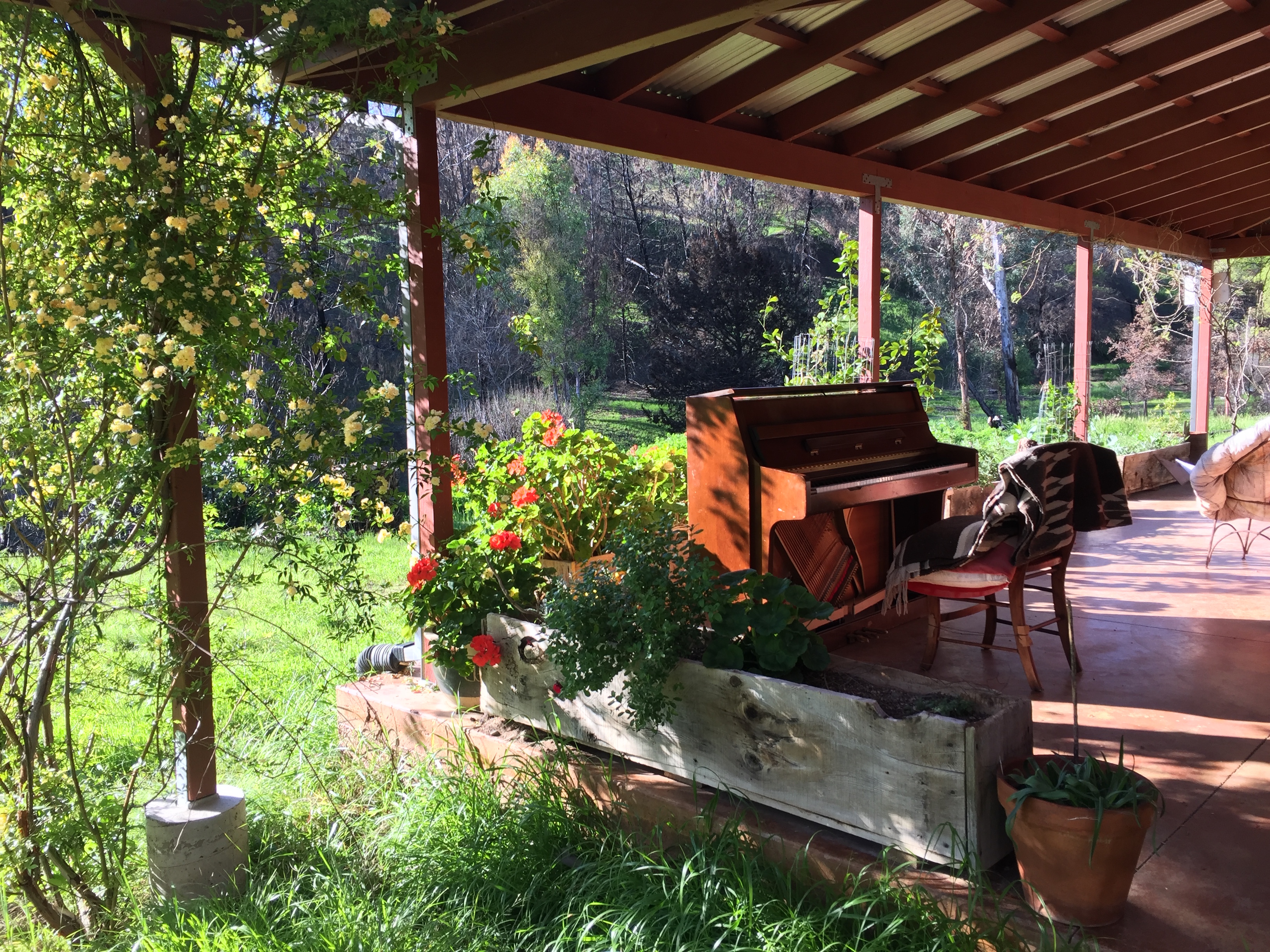 The new record, though, isn't just a reflection on the locales of Moore's life —it seeped out gradually from the sound and feel of the instruments on which he composed it. Having finished touring the group's last record, Tomorrow Was The Golden Age, in late 2015, Moore shut up shop and drove out to his friend's place in Northern California, a vast four hundred acre outreach in the heart of the Redwood National Park. He stayed there for a month, spending each day playing on an old Spinet piano at the house.

"That was kind of the beginning of defining the language that the new record would be. I was interested in taking the framework that we had and seeing what we could do differently, what we could approach differently, what things we could build off that we had already done." Moore speaks of another piano, too, a "cheap, little Wurlitzer", that he bought at a piano store in Sacramento. He chucked the piano in his friend's van and drove up to their place in Yolo County, but the piano never made it inside. "I set it up on their porch and I would go out and work everyday, just staring at the mountains." While there, Moore hashed out the flow and feel of No Home of the Mind, reflecting and reworking the compositions that would eventually make it onto the album. "I would just do a lot playing and hiking and being with my two best friends—it was really special, I love that piano."
As the record developed, Moore pruned the ensemble from the previous album's seven-piece down to five, honing in on the specific, personal qualities each member could contribute. That sort of refinement has been central to the group's recording process since its 2010 debut, City Lake, with each subsequent release featuring fewer instruments and a further relinquishing of control from Moore himself. "You know, for City Lake I had to direct everybody very clearly, there were clear scores. I think that default setting I had of writing scores for everybody really needed to be reexamined. We're still using the same language, we just have less people in the room now."

As Bing & Ruth funnel deeper into the poised ambient warblings of their latest records, the shared sensibility between their music and the jazz of Moore's past strengthens. It's present in the tight focus and instinctual playing of the group's New York-bred forebears like the Bill Evans Trio and the Miles Davis Quintet—lean, muscular ensembles dedicated to exploring and expanding the confines of their sound. Nearly ten years in, Bing & Ruth forges ahead in the same tradition. "They're all virtuosic in their own rights, but everybody just has such incredible taste and that's a very rare thing, where virtuosity matches up with real musical tastes," Moore says.
That trust and chemistry translates to the deep, almost meditative state Moore experiences during Bing & Ruth's live shows. "I more or less close my eyes at the beginning of the set and open them at the end. And if I don't, then I know that there's something wrong. We did a show last year and it was our first New York show in a while and I thought it was shit because I spent the whole time…" Moore tails off for a few seconds. "I never fell in." It's a sensation he recognizes in their audiences as well. "I've noticed talking to people it has this ability to change time for them, to sort of suspend linear time. And I think part of how that happens is that it slows people down, it sort of massages them into this trance.
"We really want it to be very human," Moore says. "We want it to put people in a place where they can experience humanity on their own terms."
No Home of the Mind is out now on 4AD.
Photos courtesy of David Moore.

Lewis Gordon is a writer based in London. Follow him on Twitter.