Like many Americans, I spent my St. Patrick's Day celebrating my Irish heritage by getting embarrassingly drunk in public. Unlike the rest of you, I abstained from the usual Irish pub bar crawl circuit and instead spent the holiday exclusively at the alcohol-serving 24-hour Taco Bell Cantina in Las Vegas.
Why choose this location for my holiday revelry? Two reasons: One, I've wanted an excuse to go there since it opened last fall. News and social media posts about the location made it seem like some sort of nightclub and, as a Taco Bell diehard who occasionally enjoys a bit of nightlife, this could very well be my pilgrimage to Mecca. Two, why the hell not?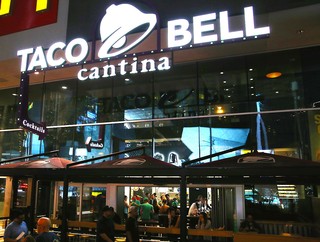 In my Uber Pool over to the two-story flagship in the middle of the Vegas strip, both the driver and other passengers remarked on how excited they were for me after I shared my plans for the evening. None had been before but had all heard the legends on social media, and were all kelly green with envy that I'd be spending my St. Patty's there.
Once at the location, I quickly assessed that this "Taco Bell club" I'd been hearing about for months was definitely not a club. It felt much like a regular Taco Bell, but with a DJ. Still, a fun, thumping EDM mix was blaring from the speakers and the crowd seemed pretty spirited for so early in the evening so I pushed aside all the preconceived notions I had about the place, got in line to order, and started my night.
My first drink was a Mountain Dew Baja Blast Freeze with tequila in it. It's supremely validating to see a concoction you've been whipping up at home for years make it to the big time with corporate's blessing. Because I planned on having a few of these over the course of the night, I splashed out extra to get it in an obnoxiously large plastic cyclone souvenir thing for the sake of refillability.
I explored the premises and mentally mapped out what was to be my domain for the remainder of the night. It didn't take long. The first floor was an outdoor patio area and an open-floor ordering and waiting space with some merch racks. The second floor had a seating area, the DJ, and restroom.

I spoke with the DJ and learned his name was Tony Sinatra and he'd been DJing for 18 years before winding up at Taco Bell. He seemed pretty happy with the freedom he was given, noting that as long as he kept profanity out of the music, he pretty much had carte blanche to do what he wanted.
"You play to the crowd and time of night," said Sinatra. "I find some fun remixes so it's not too Top 40. And trap usually gets everyone going."
I finished my Freeze in worryingly short time and made my way back downstairs for a refill and some food. The cashier informed me that my assumption about refills was incorrect and I'd have to purchase another dumb plastic tube cup if I wanted another large Freeze. Fucking the environment, I threw away my souvenir cup and ordered a lemonade and blue raspberry Freeze with tequila.
Cheesy Bacon Jalapeño Dippers were also ordered so I wouldn't be drinking all night on an empty stomach. The dippers were part of the location's exclusive "shareables" menu section. As I was alone, I did not share mine, but had I been with company I still wouldn't have shared because I am a gluttonous American and portions are a made up construct anyway.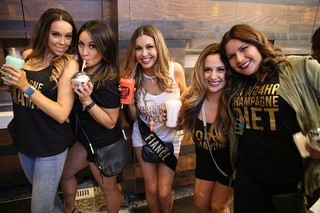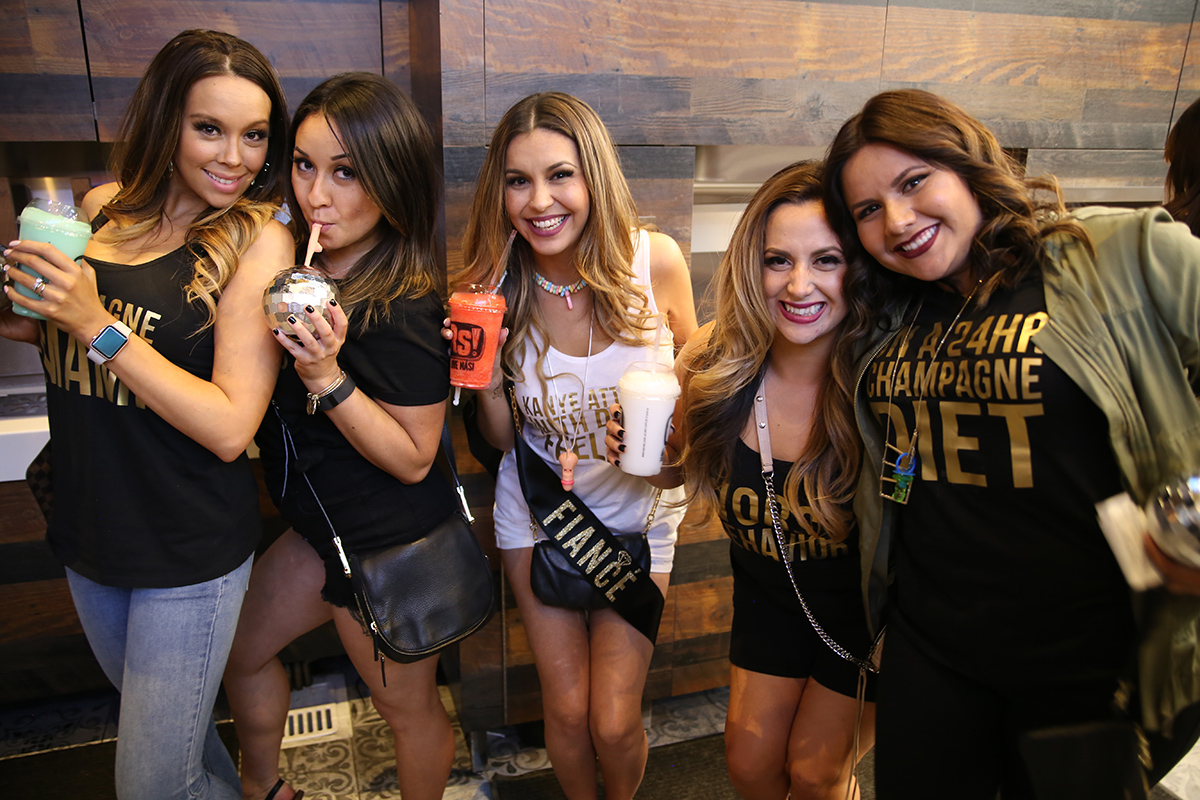 Now with a little liquid courage in me, I began chatting up guests to see why they, like I, were spending their St. Patty's in a fast food chain.
"We take an annual trip to Vegas each St. Patty's," said a representative from a bachelorette party visiting from Sacramento. "This place has been all over social media. We had to check it out."
"We're not spending it here. We're just eating, bro," said Antoine, a friendly guy visiting from San Diego who was dancing around the patio.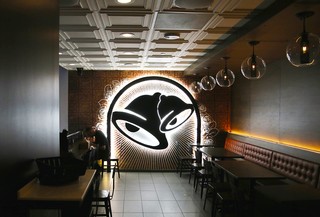 I flagged down the store's manager, Darren, to see if he'd answer a few questions for me about the place.
Darren told me that the place gets pretty wild in the wee hours after the clubs shut down. He also told me about their plan to start offering
$600 wedding packages
. Couples would exchange vows in front of the light-up bells on the second floor. I never got an answer as to whether or not the company would be getting their hot sauce packet mascot certified as a justice of the peace for these events.
Now a few hours into the night and during a lull where everyone was presumably out at their actual plans, I was scrounging for things to hold my attention. I frantically paced the building. I noticed a table with a reclaimed wood surface that said "In a previous life, I held up the floors of a legendary department store that was built in 1888 in San Antonio, Texas." The legend must not be that great, however, because when I asked Darren for more info about the department store, all he seemed to know was that it was based in San Antonio and built in 1888. This was the most interesting thing I could find in the restaurant.
I was beginning to think that, in spite of the social media hype, maybe a Taco Bell that's also a club might not actually be all that fun a place to spend an entire night.
I ordered another Freeze. I planned to only order from the same cashier for the rest of the night and try to build some sort of rapport as the night was starting to get a bit lonely. Vegas isn't exactly a town meant for solo missions. I told her dealer's choice and she gave me a margarita and cherry Freeze. It tasted better than it sounds.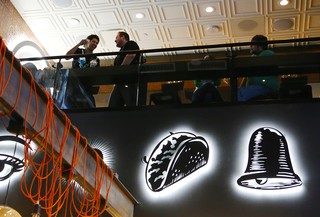 I ordered a green beer and a taco just as a rambunctious crew entered. I enjoyed those while watching the boys rain singles down on the crowd from the second floor. They ran out of ones and switched to throwing napkins off the mezzanine, which Darren seemed none-too-pleased with. Everyone (except me and Darren) seemed to be having a good time with their friends.
Near midnight, my boredom and loneliness were at their zeniths and my phone battery was dwindling. The luck baked into the Irish part of my DNA really came through, however, as I was greeted with an "UBER GUY!" from across the floor. The people from my ride over had decided to come try the Cantina out for themselves and check in on me.

Fully drunk by this point, I was beyond elated to see the couple, Holly and Michael, who might as well have been my best friends in the world at that moment. We shot the shit while they waited for their order and I did my best to not come off like a crazy person, despite their being fully aware that I'd just spent all night in a Taco Bell.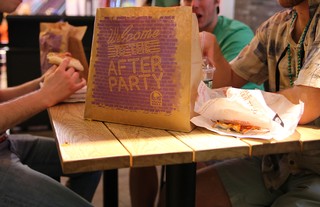 I left a little bit later once being drunk and with company was no longer fun, hopping in the Uber back to my hotel right as my phone died. Would I return to the Taco Bell club that isn't actually a club? Sure, someday. But probably with some people and for like, five less hours.

Follow Justin Caffier on Twitter.