Cantaloupe and Citrus Sorbet
You don't need any fancy equipment to make this sorbet. Just a couple of ziplock bags and some good old fashioned elbow grease (Pro-tip: add a bit of booze to this afterwards and make a cocktail because after all that shaking, you'll have earned it).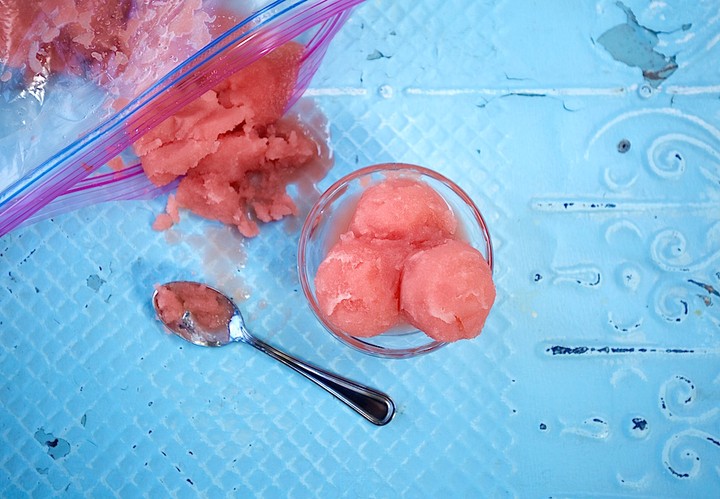 Photo by Jacqueline Ventura
Servings: 6-8
Prep: 15 minutes
Total:1 hour
Ingredients
1 large cantaloupe
1 1/4 cups|300ml fresh pink grapefruit juice
2/3 cup|150ml fresh blood orange juice
¾ cup|149 grams granulated sugar
1/2 cup|125 ml coconut water
1/4 cup|60ml fresh lemon juice
1/4 cup|60ml fresh lime juice
1 tablespoon|15 ml coconut milk
8-10 cups ice
1/2 cup|35 grams salt
Directions
1. Peel the cantaloupe and roughly chop it. Place it in a blender along with 2 cups water and purée until smooth. Pass through a fine-mesh strainer. Reserve 2 cups of the pulp and ½ cup of the juice.
2. Transfer the cantaloupe pulp and juice to the blender along with the sugar, the juices, coconut water, and milk. Purée until smooth.
3. Add the ice and salt to a large zip-lock bag. In a separate large zip-lock bag, pour in the sorbet mixture and seal tightly.
4. Place the bag of sorbet mixture inside the bag with ice and salt, making sure both bags are tightly sealed. Shake for 10-15 minutes, or until a slushy consistency is achieved.
5. Store the mixture in a container inside the freezer for 30-60 minutes before serving. Enjoy!
Stories