Whatever the surface, whether they be Ukrainian trains or old churches turned skate parks, Spanish street artist and muralist Okuda San Miguel works on a grand scale with ecstatic colors and geometric shapes and figures. With many of his murals, there is also an exploration of cosmic and spiritual themes. For Okuda's latest exhibition, Lost Olympus, now on at StolenSpace in London, the street artist recasts the legendary figures of Greek myths as contemporary icons pertaining to current events, as he does with the Trump presidency in Trump's Angel Reflections and with the refugee crisis in Refugee Goddesses.
San Miguel tells Creators that his last three exhibitions have featured references from classical mythology as well as Renaissance figures. They all begin with him taking photographs of classical sculptures during his journeys, or working from photos on the internet.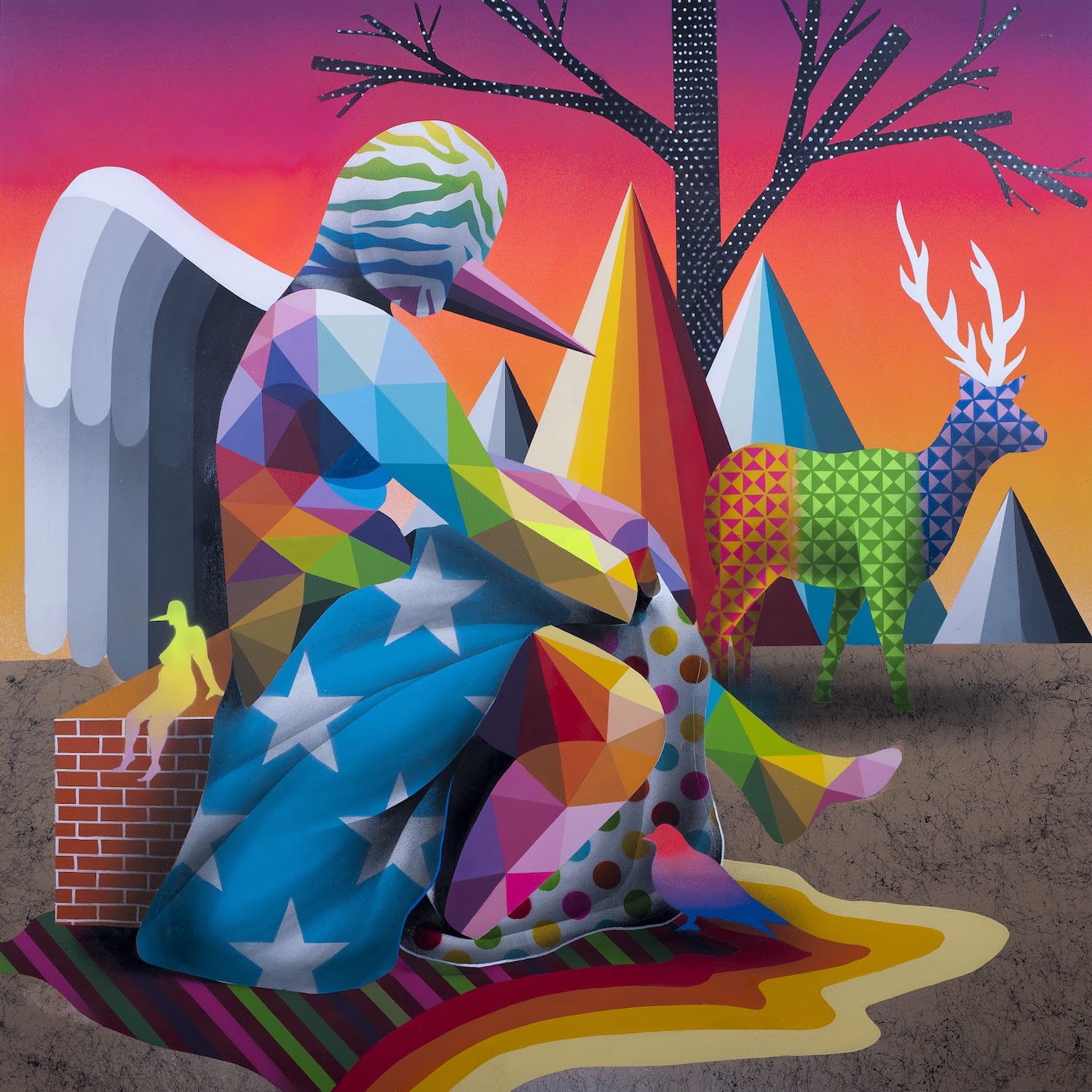 "I love to include them in my own into my world, in my paintings, and make them interact with animals, trees and strange characters," San Miguel says. "I love the contrast between the classic and the contemporary works."

The artist originally began using classical and mythological sculptures because he loves the poses and actions that they transmit through sculpture. He says he came across them all while studying fine arts and philosophy at university, and it seemed like the right time to work with this imagery.

"In the last three shows I've represented some different classic figures and myths like Victoria Tauroctona, The Three Graces, Aphrodites, Nymphs and Venuses, David, some sculptures that I found in a Neptune fountain in Berlin, too," he adds. "And I am working on my next solo show for Corey Helford gallery in LA, opening April 1st, with some new references like St Teresa's Ecstasy, the Statue of Liberty, and more Aphrodites and Venuses."

As with other exhibitions, Lost Olympus gives Okuda the opportunity to mix past and future. For him, the phrase "Lost Olympus" conjures a place where "freaky and different gods" live with "strange and personal new icons."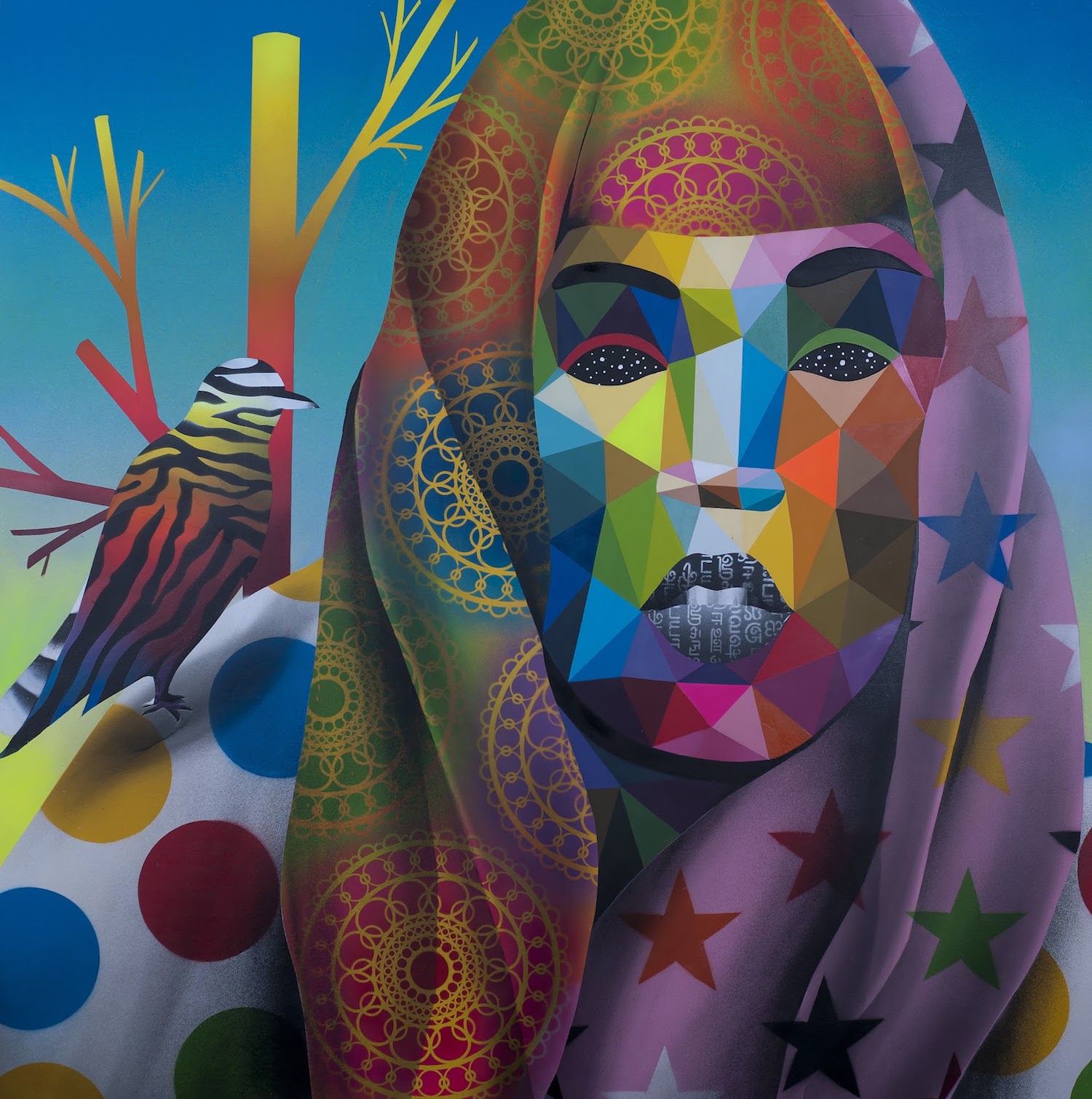 "I like to work on a global concept like this one and each canvas or sculpture is a part of a it," San Miguel says. "I prefer viewers to feel something different because each person lives his own life and it's interesting if they receive their own message. [But] I invite people to reflect on existentialism, freedom, identity, nature, capitalism, love, and peace."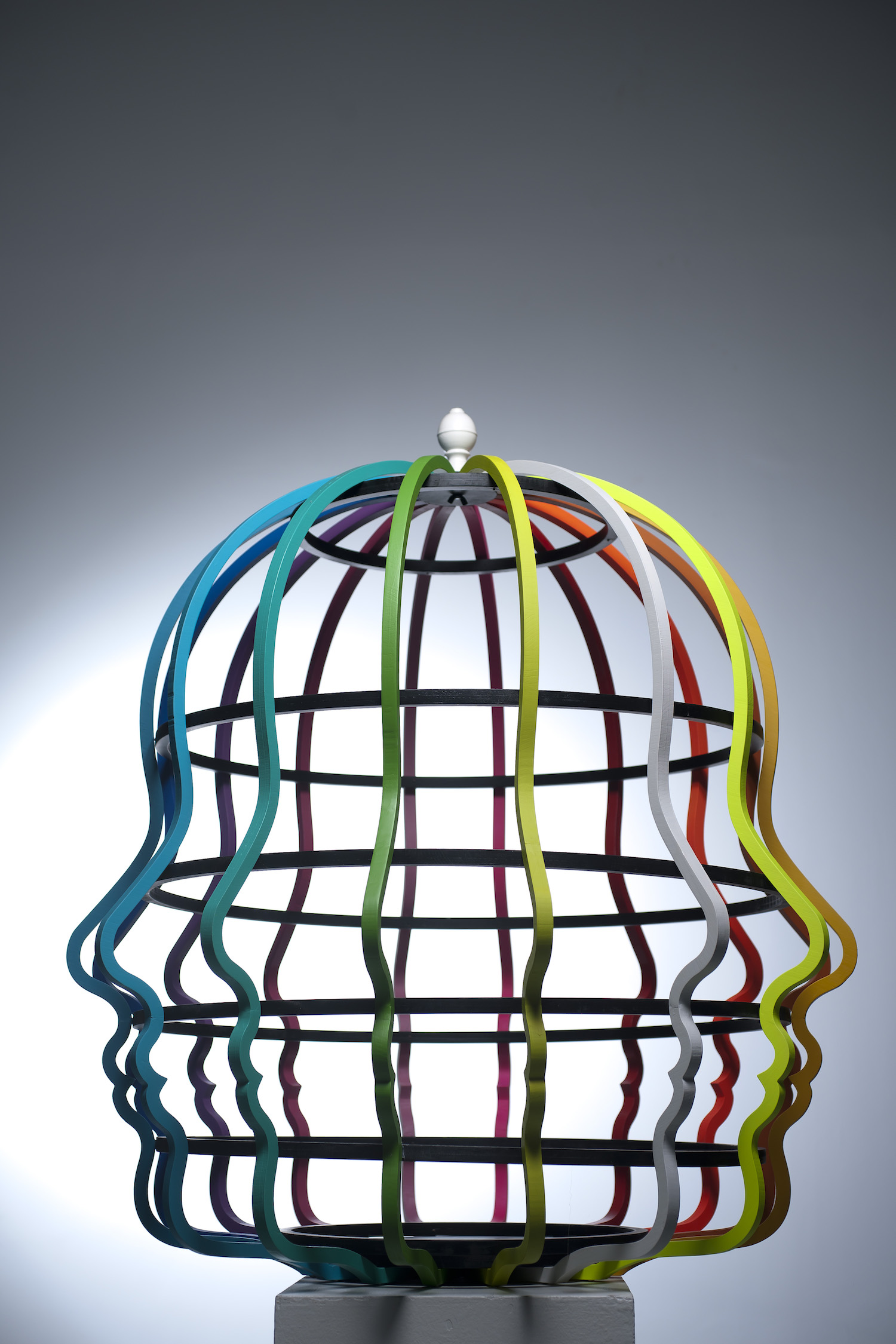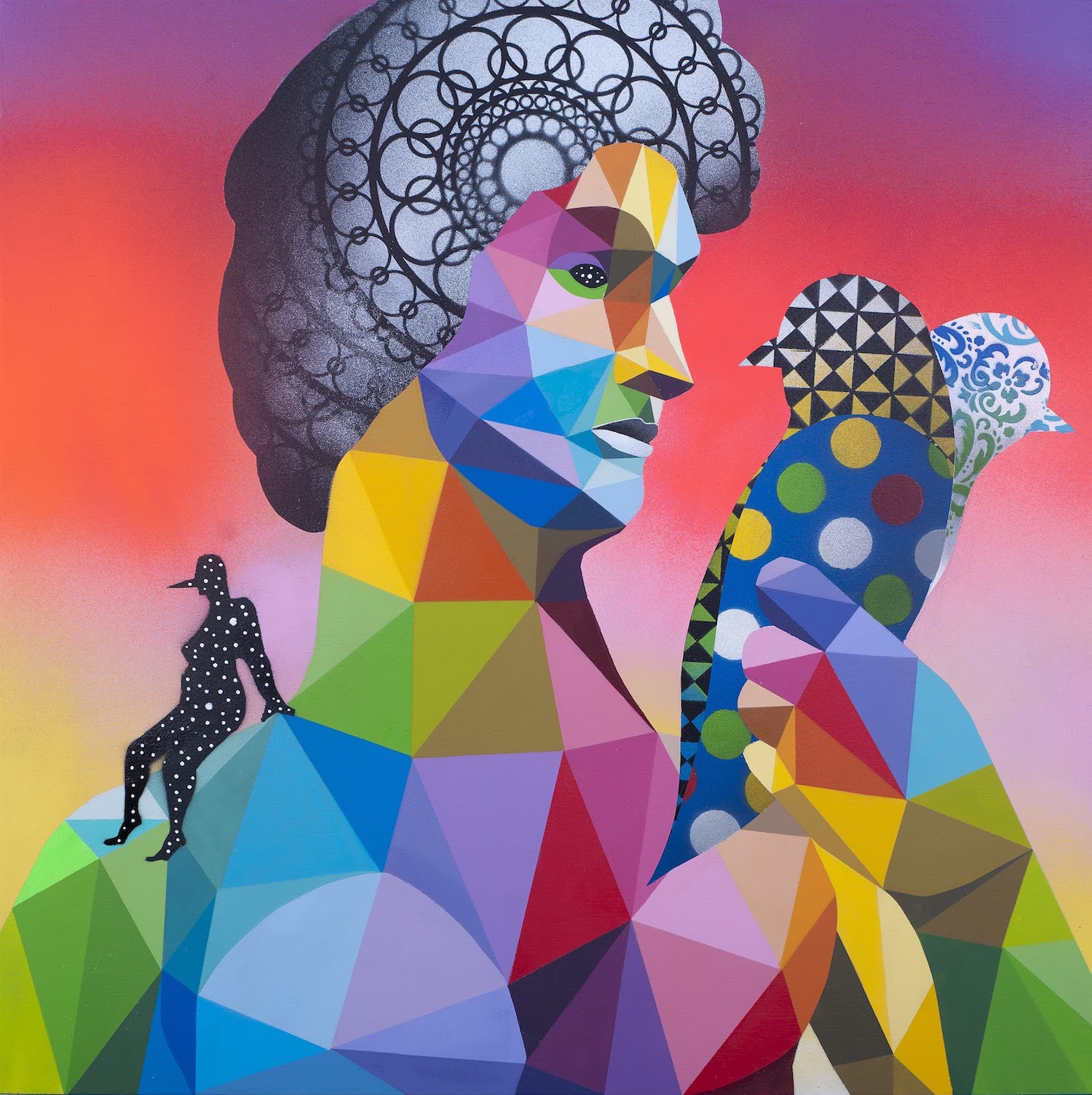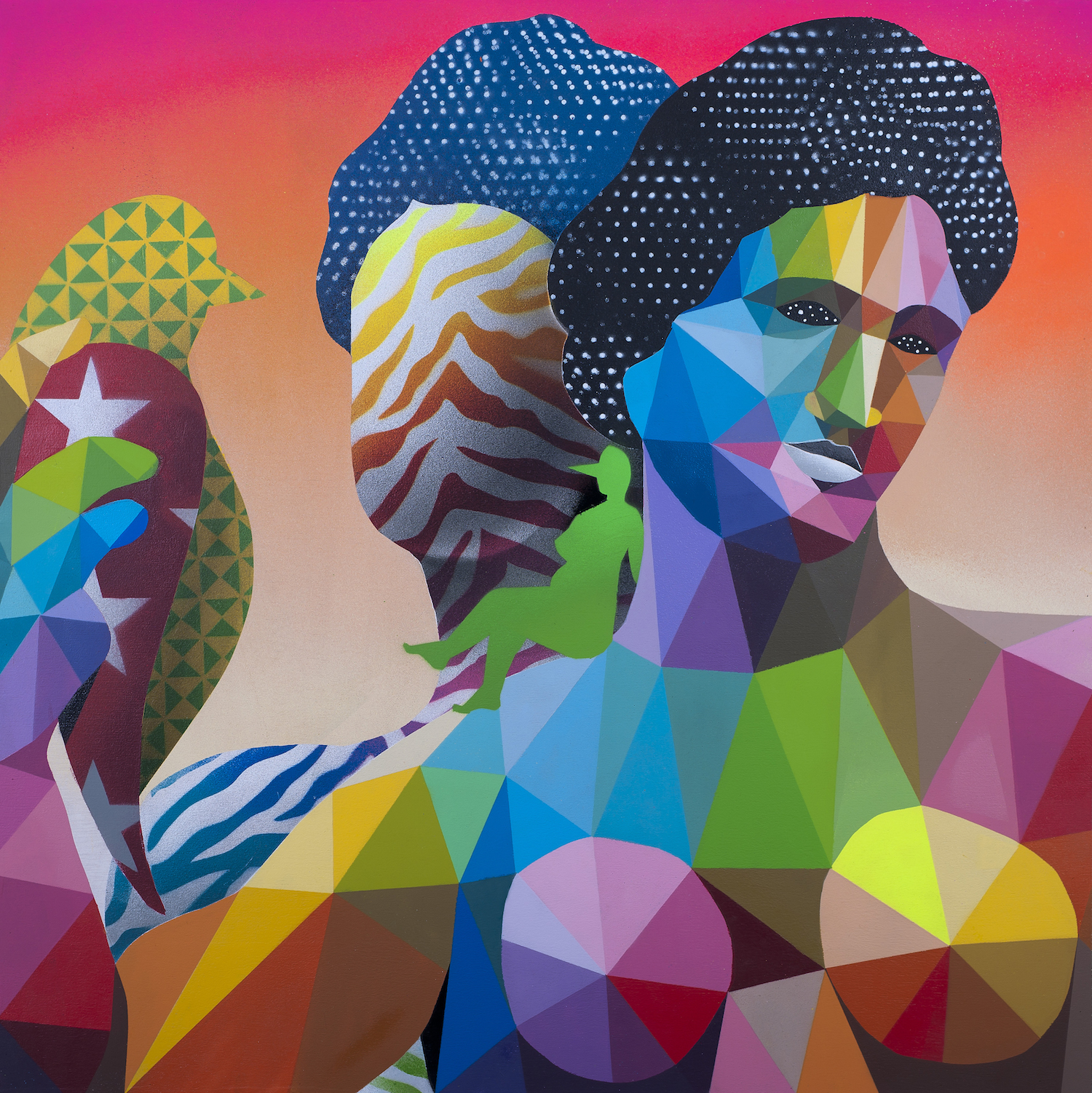 Click here to see more of Okuda San Miguel's paintings and murals.
Related:
The Rainbow Express Pulls into Kiev
Rainbow Geometric Murals Coat a Moroccan Chapel