Watch an Exclusive Clip from a 'Rick and Morty' Writer's New Adult Swim Show
Brian Wysol achieved his dreams by not giving a shit about his audience.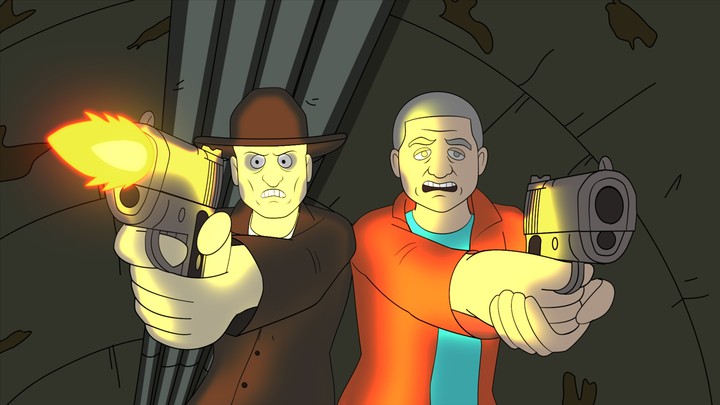 Adult Swim's new stoner cartoon Hot Streets is the kind of show you might find flipping channels on Rick and Morty's interdimensional cable. "L-look, Morty!" Rick might say. "It's a cop show from a universe where dogs help the FBI fight mummies and snake people! I'm in heaven right now!"
Hot Streets follows an X-Files-ish division of the FBI called, duh, Hot Streets. Mark Branski (J.D. Ryznar) is the bureau's top agent. He's like a gruff, less handsome Archer with a weird thing for apples. He rarely travels without his emotional, trenchcoat-and-fedora-wearing partner, Donald French (Scott Chernoff), whose tendency to freak out in stressful situations balances Branski's psychotic self-assuredness. Branski's niece, Jen Sanders (Chelsea Kane), is the show's tech wizard and resident girl. Chubbie Webbers (grunted by Rick and Morty co-creator Justin Roiland) rounds them out as a twisted, Scooby Doo-like canine sidekick who gets the gang into trouble as often as he helps.
Like Rick and Morty, Hot Streets originated in Dan Harmon's experimental short film festival Channel 101, where creator and showrunner Brian Wysol was a regular. "You'd watch Wysol cartoons and go, 'This guy doesn't give a fuck! At all! It's amazing,'" said Roiland, who also executive produces Hot Streets and voices many of its side characters.
Watch an exclusive clip:
But how does not giving a fuck land someone a job running an Adult Swim series? What does it mean to not give a fuck? "I'm not afraid to try new things and abstract types of comedy," Wysol explained to VICE. "It's about being experimental and not caring what the audience would think. I'm just trying to make something that pleases myself and makes myself laugh, vs a broader goal of comedy."
In other words, he said, "I'm trying to bring back the 'anything can happen,' psychedelic feeling of early Adult Swim shows. If you like Space Ghost Coast to Coast, The Brak Show, and Sea Lab 2020, I think you'll like Hot Streets." Like those classics, Hot Streets is the direct result of Adult Swim head Mike Lazzo betting big on viewers' appetite for weird shit they've never seen before.
The idea has been germinating in Wysol's cranium for nearly a decade. In the early 2010s he paid rent working a soulless property management job that he hated. He lived for the off-hours spent teaching himself to make short films with cheap animation equipment and submitting them to Channel 101.
His mini-TV pilots caught Roiland's attention in 2011, including police procedural We Solve the Crime and supernatural horror flick Hot Cross Buns. They're the same genre of exciting nonsense as Roiland's Rick and Morty prototype, The Real Adventures of Doc and Mharti, and almost as strange. Wysol combined them in 2012 to form an early version of Hot Streets.
Wysol shared his concept art with Roiland in 2013, and the next year was hired to work on Rick and Morty. He left after the first season for Stoopid Buddy Stoodios, but continued to mull over Hot Streets in his spare time. In October 2014, Roiland and Wysol pitched the show to Lazzo, and nearly flummoxed it.
"Despite having a background in sales, I'm not as naturally charming as you'd expect!" Wysol said. For example, in the middle of summarizing the show to me, he interrupted himself curtly to say, "At some point it just sounds like a load of bullshit." He had the same problem articulating Hot Streets' to Lazzo. Luckily, Roiland stopped him from talking the show to death and simply played Wysol's work. Lazzo quickly green lit the show.
Between Channel 101 and Hot Streets, Wysol wrote for Dan Harmon and Roiland's Adult Swim juggernaut Rick and Morty, including episodes like "Rixty Minutes," which introduced interdimensional cable. There, Wysol practiced Harmon's Story Circle, an eight-point plan outlined on the Channel 101 Wikia:
"(1) A character is in a zone of comfort, (2) but they want something. (3) They enter an unfamiliar situation, (4) adapt to it, (5) get what they wanted, (6) pay a heavy price for it, (7) then return to their familiar situation, (8) having changed." Here's a video explaining it more in-depth.
This structure holds together Hot Streets' volatile plot points. When writing each storyline, Wysol said, "We think about how we want the characters to grow and change and build around that. The jokes are dependent on the plot, and the characters are reacting, versus the improv style of comedy where characters are just talking all the time." In one episode, Chubbie Webbers falls in love with an alien who turns outer space into a breathable atmosphere, instantly introducing humanity to a galactic community as colorful as Rick and Morty's multiverse. By the end everything is back to normal (if such a thing exists on Hot Streets), except that Chubbie is heartbroken. "If you don't stick to one of these structures, you'll be working all day and then coming up with mush," said Wysol.
Hot Streets is freaky, surprising, and decidedly not mush. It's worth noting, though, that it's written almost entirely by men. "We had a female writer in our room, and there were others that weren't available, so I wound up with a largely male writer's room," said Wysol. "But the show itself has plenty of female characters. Women often play the straight man, so it was a priority to make complex, funny, silly, female characters."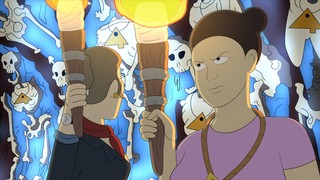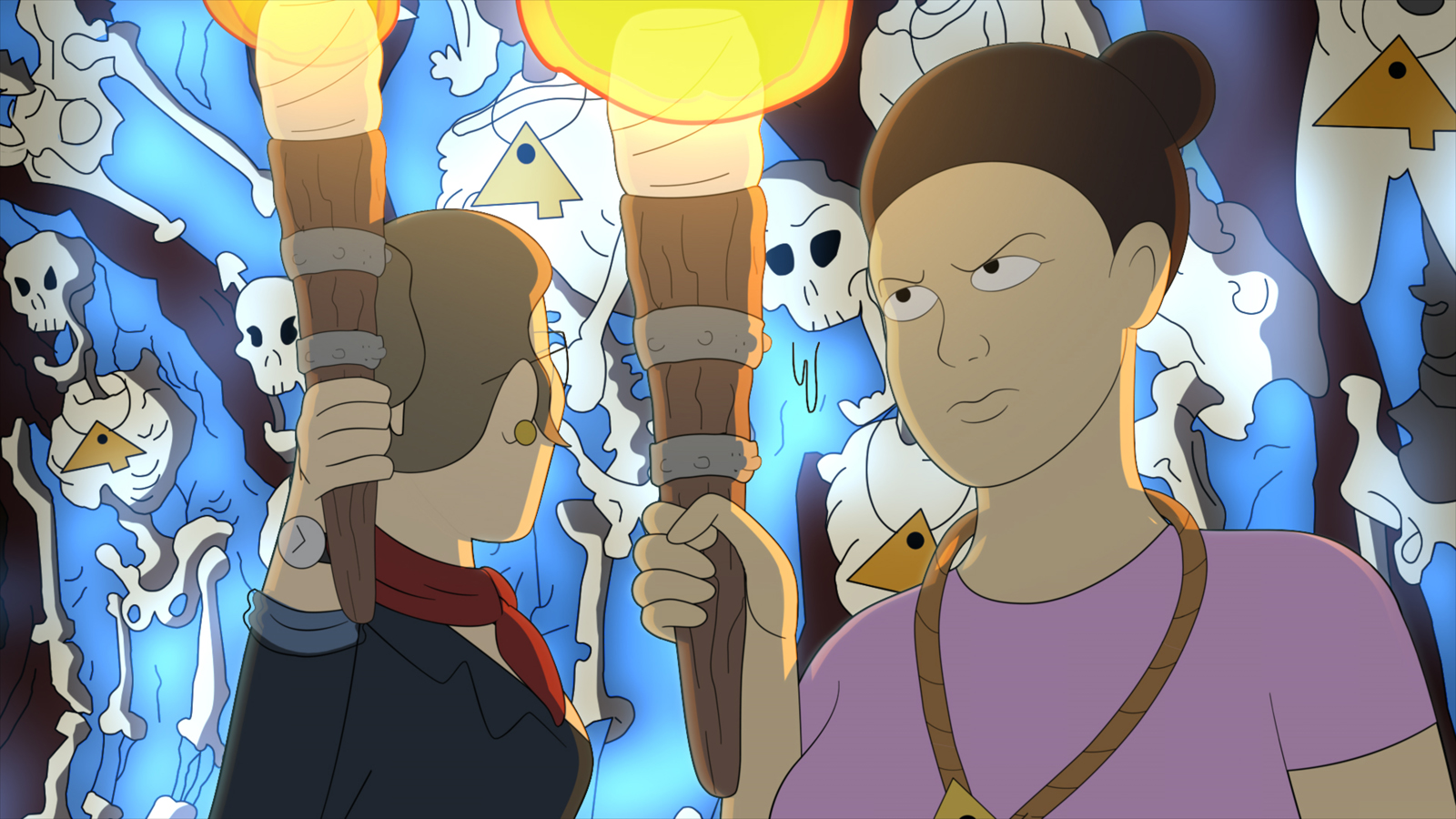 After Wysol left Rick and Morty, Roiland and Harmon brought on a group of female writers that evened out the gender disparity typical of most TV shows. New episodes aired in 2017, and a horde of online trolls responded by harassing the women for what they perceived as "ruining the show." Harmon issued a response in which he called the trolls "disgusting," which Wysol echoes. "Fan response to that was absolute bullshit," he said. "The fans were way off base."
It's unclear whether Hot Streets will be renewed for a second season, but if it is, it could offer an opportunity for Wysol to follow in his former boss' footsteps. When asked if he would seek to make his writer's room gender-equal in the future, he said, "All the current writers would be offered their same slots... Diversity is a focus of mine, but it depends on how many positions are allotted."
In the meantime, Wysol is focusing on making the show as funny and weird as possible. "This is my dream," he said. "I want to make this last as long as I can. I just love making the show so much that it's all I'm thinking about right now."
Hot Streets' two-part season finale airs February 11 at midnight on Adult Swim. Starting on Friday, binge episodes one through eight on adultswim.com without a cable login.

Sign up for our newsletter to get the best of VICE delivered to your inbox daily.

Shout your detective catchphrase at Beckett on Twitter.