I've preached the gospel of PES to anyone who'll listen for a few years now. It was Pro Evolution Soccer 16 that swung the balance between the Big Two, from FIFA to Konami's less-licensed, more-fluid competitor. FIFA brought in women's teams, finally, back in its 2016 iteration, which PES still hasn't caught up with. But when broken down to moment-to-moment play, slickness and style, to what football really feels like, PES edged it then—and arguably has since, even going into 2018 editions of the annual franchises, looking across the various previews.
The FIFA juggernaut remains out in front, however, and no amount of critical acclaim for the alternative will see the games draw significantly closer in sales figures. And now that I've played FIFA 18 on both PlayStation 4 (Pro—mmm, those long shadows) and Nintendo Switch, I've got to confess a potential betrayal. This could be the year when I move back over to EA Sports' interpretation of the so-called beautiful game.
And that's entirely on how good the Switch version is. With my home-console playtime increasingly pinched by the responsibilities of keeping up with a growing family, Nintendo's newest addition to its own litter of little ones has been a revelation. Big Games, on the go, brilliant. Without that portability, I'd have managed a third, a quarter maybe, of the Breath of the Wild hours ("135 or more," apparently) I've stacked up—and it's in handheld mode that I've got the most out of ARMS, Ultra Street Fighter II and Mario Kart 8 Deluxe. I expect I wouldn't have to ask around others of similar age and circumstances too much to find the same story, several times over.
FIFA 18 on Switch isn't the same game as you get on PS4 or Xbox One—it's built in an entirely different, wholly new custom engine, for one thing, whereas its siblings run in DICE's Frostbite engine. Because of that there's no "The Journey" in Switch FIFA, EA claiming that the game's melodramatic story mode can only run in Frostbite. Nonsense, of course—but clearly Switch is not the priority platform for this FIFA, given the number of units out there versus the PS4 and XBO user base, and sacrifices have to be made to meet yearly deadline demands.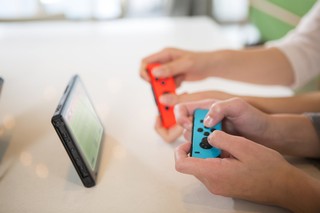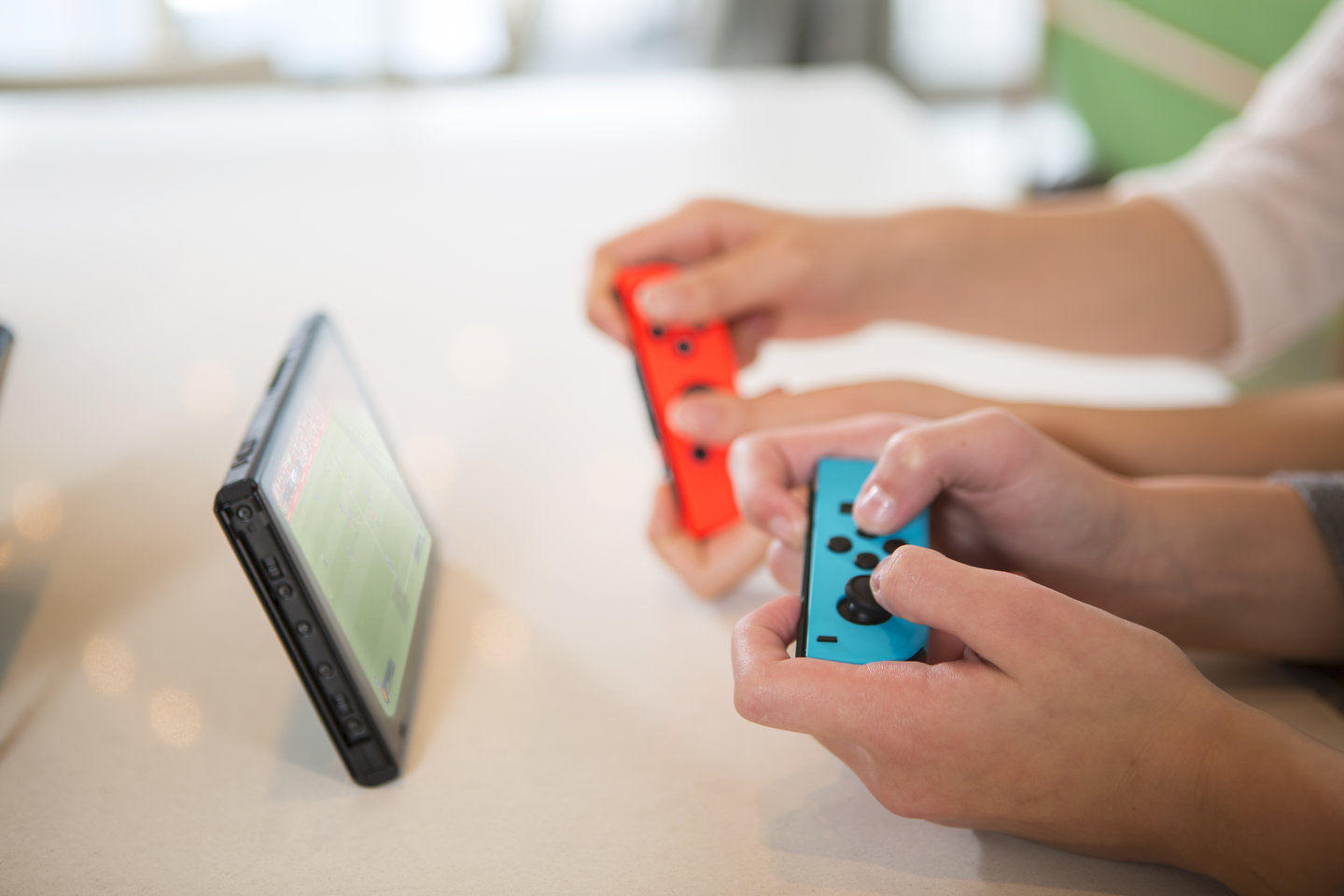 There are other wrinkles when you set one FIFA beside the other, like limiting the number of participants for online multiplayer matches—but brand-important stuff like a full career mode and Ultimate Team are present and correct on Switch. It runs at 60 frames per second, because Everything Has To these days. And, and this is the most important thing for me, it plays really well.
I've been getting by on FIFA 13 for Vita when it comes to virtual kicking sessions on crowded commuter trains, which suffers from inconsistent controls and bore no obvious benefits from the improvements made to its home console equivalents. FIFA 18 for Switch, based on just a few minutes in its company, kicks every portable FIFA before it into a bin—with all the effortless panache of John Barnes volleying a can of energy drink. This is fast, responsive, and pin sharp on the Switch's LCD screen. Although, if you go Joy-Cons free for head-to-head play undocked—at which point the control scheme switches to a slightly simplified four-button arrangement—you're going to want to get close to the action, because that ball is small.
No, the players, zoomed in, aren't as pore-by-pore detailed as their Frostbite counterparts. The crowds aren't as lively as they are on PS4, and there's no denying that Switch FIFA is in a slightly lower league when it comes to visual flair, by which I mean everything surrounding the pitch and the kits, the things that matter. But my takeaway from trying it out is: yep, this is the one I want, the one that I know I'm going to put time into, because I have the natural windows of opportunity to do so.
Without a 4K TV at home, and the time to really make the most of it, FIFA 18 on PlayStation or Xbox right now is rather wasted on me. But with no sign of Pro Evolution Soccer 2018 coming to Nintendo's newest platform, this is the best option available for the coming season—and it's a relief that, for once, a portable football game hasn't been handled as an afterthought. It's a Big Game, on the go, and it just might turn out brilliant.
All Mike really wants is Sensible Soccer for the Switch—come tell him he's a dreamer on Twitter.