This is where we're at, folks: We've literally become so stressed out and overwhelmed by our schedules that cooking more than one day's worth of food—the kind of activity a person with normal stress levels would set aside a Sunday afternoon for (and would probably go so far as to call therapeutic)—now has to fit into a 30-minute window.
That is, if you are realistically going to cook with the ingredients you dutifully purchased, and not repurpose them as cocktail garnish. Sure, you might have recently spent 15 minutes standing on the subway platform, writing the perfect Instagram caption—after getting off the train. But you're busy, dammit.
"If you're anything like the majority of the population, you probably find yourself in and out of drive-throughs or skipping meals because you just don't have the time or energy to spend in the kitchen," says sports nutritionist and Miami-based personal trainer Ainsley Rodriguez.
That's why we asked Rodriguez and eight other nutritionists, dietitians, food bloggers, authors, and culinary influencers to tell us what they cook to stay healthy, save money, and free up precious time. Just pick one that sounds good and go for it; you'll probably find it's less work than you thought, and the leftovers will mean you can go at least another day without seeing the delivery guy.
Breakfast
Sheet Pan Breakfast
With less than 15 minutes of prep, says nutritionist Jaimie Bailey, this recipe will deliver a balanced breakfast that should last you all week.
SERVINGS 6

INGREDIENTS
Coconut oil cooking spray
3 medium sweet potatoes, diced
½ tsp garlic powder
½ tsp salt
1 lb bacon, cut in half
8 eggs
10 cherry tomatoes, diced
2 jalapeños, sliced (optional)
Hot sauce, to taste (optional)
2 tbsp cilantro, chopped
2 tbsp green onions, chopped
Freshly cracked pepper, to taste
DIRECTIONS
Preheat oven to 375 degrees. Line baking sheet with aluminum foil and spray with coconut oil cooking spray. Add sweet potatoes to the sheet and lightly spray sweet potatoes with coconut oil cooking spray. Sprinkle garlic powder and salt on top, and toss well. Top sweet potatoes with bacon strips. Place in oven until bacon is crispy and sweet potatoes are soft, about 20 minutes. Place cherry tomatoes, jalapeños, hot sauce, cilantro, and green onions in a small bowl. Add pepper and mix until combined. Remove baking sheet from oven and increase temperature to 400 degrees. Use a spoon to create 8 little wells in between the bacon and sweet potatoes and crack the eggs directly into them. Return the baking sheet to the oven. Cook for 8 minutes. Remove baking sheet from oven and top with tomato mixture.
Warm Apple Pie Chia Pudding
"Think of warm chia pudding as a grain-free oatmeal," says Carolyn Brown, a registered dietician and nutrition coach at Foodtrainers. "It'll keep you full through lunch without the carb coma." This recipe yields four servings, but you can make a giant batch and add more liquid as needed.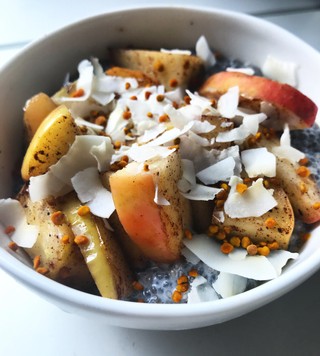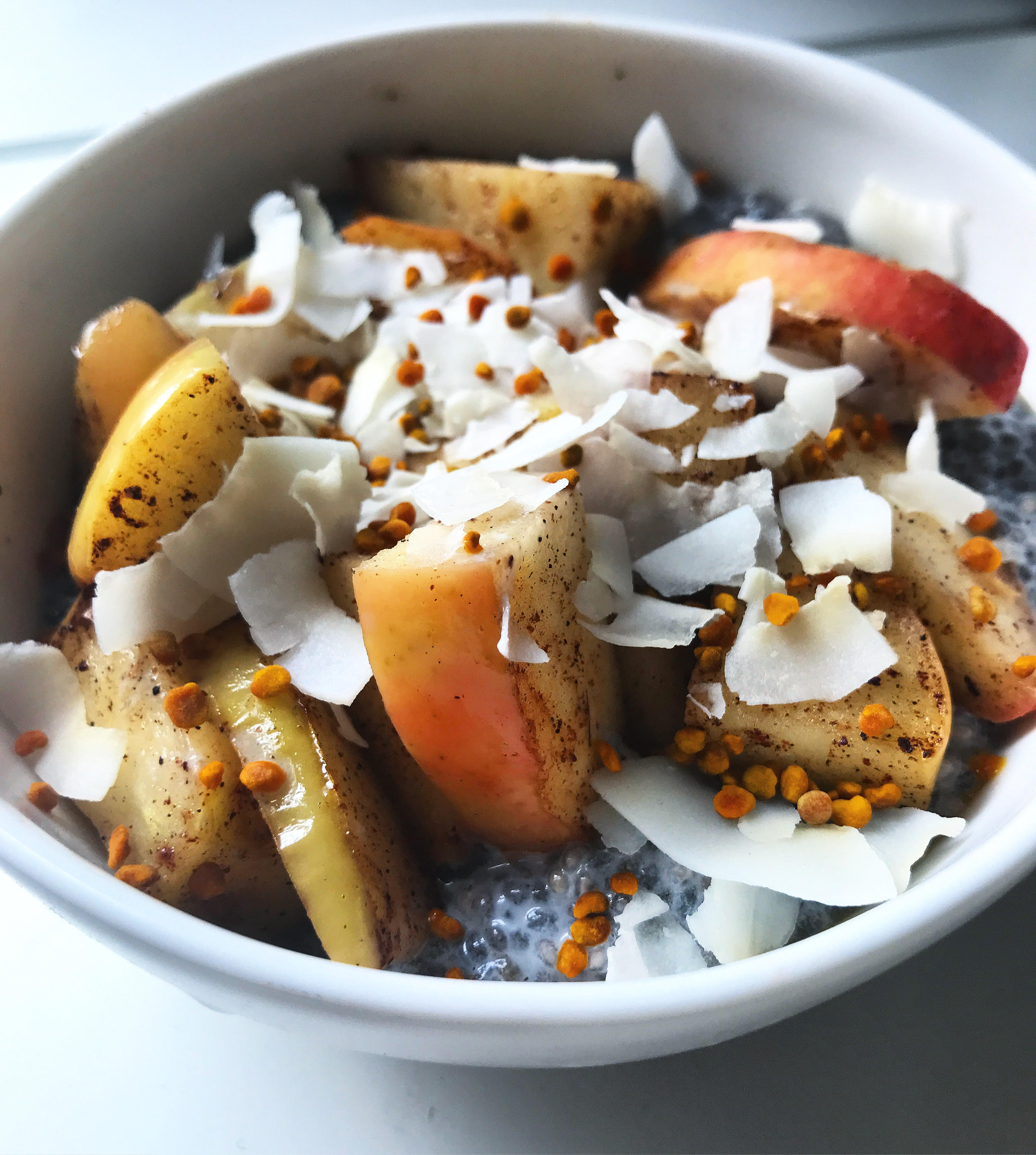 SERVINGS 4
INGREDIENTS
1½ cups unsweetened coconut or almond milk
½ tsp ground cinnamon
½ cup chia seeds
1 tsp coconut oil
½ apple, cut into bite-sized pieces

DIRECTIONS
Combine first four ingredients in a glass container or individual jars. Whisk well. Add chia. Whisk again. Leave in fridge overnight. Heat coconut oil in pan over medium heat. Once hot, add apple slices and cinnamon, sautéing until apple slices begin to soften. Remove apples from pan and place in a dish on the side. Using leftover coconut oil in pan, heat ½ cup chia pudding (one serving) until warm. Once heated, place warm chia pudding in a bowl and top with apples.
Supergreens Anytime Frittata
This eggy, cheesy breakfast bake is great cold or reheated and will keep in the fridge for four days, says Paul Kita, author of the A Man, A Pan, A Plan cookbook.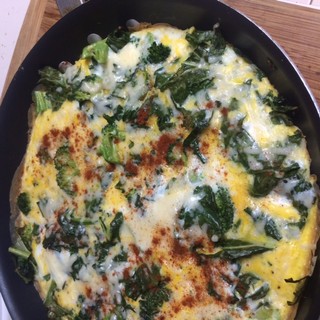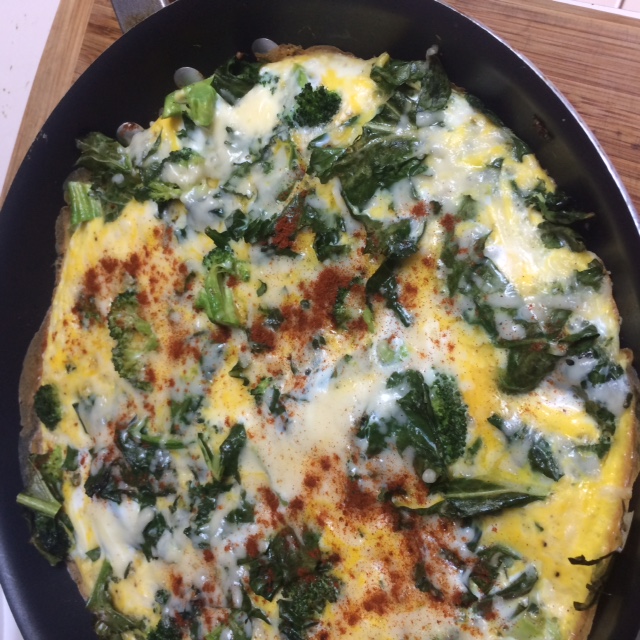 SERVINGS 4

INGREDIENTS
12 eggs
Salt, to taste
Pepper, to taste
1 tbsp olive oil
2 cups roughly chopped broccoli
2 cups roughly chopped kale
2 cups spinach
½ tbsp freshly grated Parmesan
Paprika, to taste
DIRECTIONS
Preheat your oven to 350 degrees. In a medium bowl, beat the eggs with 2 big pinches of salt and pepper. Set aside. In a large, oven-safe nonstick pan, heat the olive oil. Add the broccoli, kale, and spinach. Cook, stirring occasionally, until wilted, about 5 minutes. Adjust the heat to low and add the eggs. Swirl the pan so that the eggs sit in an even layer. Cook until the edges of the eggs begin to set, 1 to 2 minutes. Top with the cheese and slide the pan into the oven. Bake until the eggs set completely and the cheese melts, about 10 minutes. Using an oven mitt, remove the pan from the oven. Allow the frittata to cool for 5 minutes before transferring to a cutting board and slicing.
Gluten-Free Banana Bread Muffins
"As a fitness and nutrition expert, people think I only eat cardboard and drink protein shakes. Maybe they're right about the shakes, but not the cardboard," says Joey Thurman, author of 365 Health & Fitness Hacks That Could Save Your Life. "I love sweets, but I also know what they do to my body." For a healthier option, Thurman turns to this banana bread muffin recipe.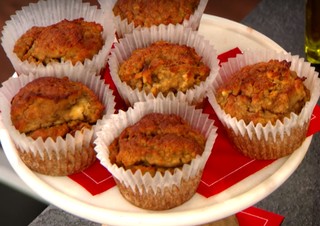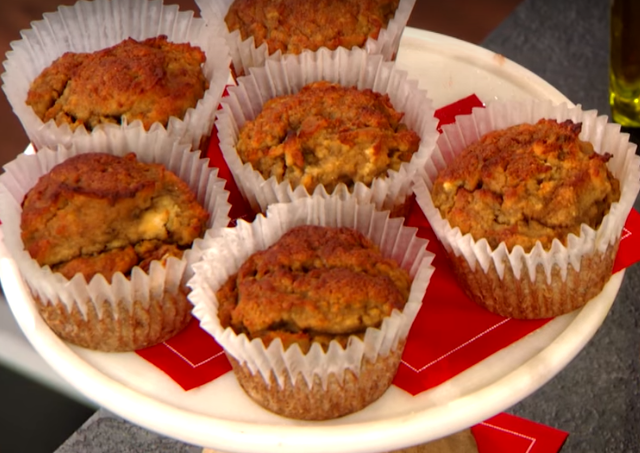 SERVINGS 10

INGREDIENTS
1 cup coconut flour (all-purpose flour or almond flour can be used as well)
1 tsp baking soda
¼ tsp salt
4 eggs
2 cups ripe bananas, mashed (4–5 medium bananas should do it)
1 cup coconut sugar
1 tbsp honey
½ cup unsweetened applesauce
1/3 cup oil (canola, almond, or walnut oil work well.)
1 tsp vanilla extract
½ cup chopped walnuts (optional)
DIRECTIONS
Preheat oven to 350 degrees. In a large bowl, combine the flour, baking soda, and salt. In a small bowl, whisk the eggs, bananas, sugar, honey, applesauce, oil, and vanilla. Stir into dry ingredient. Line muffin tins with paper cups and divide the mixture between 10 portions. Place in oven for about 25 minutes. To see if your muffins are ready, you can stick a toothpick inside one of the muffins; if it comes out clean, they're ready. Remove from oven and allow to cool for 10 minutes.
Lunch & Dinner
Gluten-Free Turkey Burger
You can't add more hours to the day, but you can add more burgers to the hours you have, says Allie Metselaar, a health coach and ambassador for energy supplement brand The Go Life. This recipe keeps things as simple as possible using seasonings and condiments that most people already have on hand.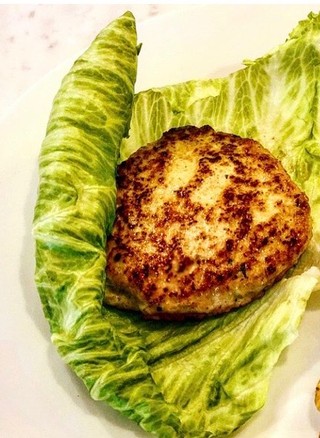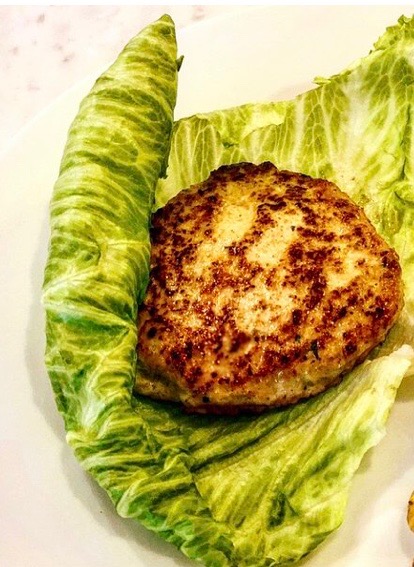 SERVINGS 9

INGREDIENTS
¾ white onion, chopped
1 tbsp fresh parsley, chopped
1 tbsp ketchup
2 eggs
Salt, to taste
Pepper, to taste
Paprika, to taste
2-3 lb ground turkey meat
1 tbsp olive oil
¼ head iceberg lettuce
DIRECTIONS
Combine onion, parsley, ketchup, eggs, salt, pepper, and paprika in a large bowl and mix well. When mixture is completely combined, add ground turkey and mix thoroughly. (If you're using your hands, the trick is to wet them first so the mixture doesn't stick.) When turkey mixture is completely combined, form into 9 turkey patties. Heat a drizzle of olive oil in a skillet or sauté pan. When oil is hot, switch to medium heat and cook the turkey patties, about 6–7 minutes each side. Cook to preference and serve between lettuce leaves. Place leftovers in an airtight container and keep in the fridge.
Quinoa with Tomatoes and Mushrooms
A grain bowl is an easy, nutritionally sound meal for those times when you want something simple—but also filling—that you can shovel into your mouth without breaking eye contact with the TV. This quinoa bowl recipe from Metselaar will keep for up to a week and reheat by the time you've put your sweatpants on.
SERVINGS 6

INGREDIENTS
2 cups quinoa
4 cups water
Extra-virgin olive oil
12 small white button mushrooms, sliced
2 large organic tomatoes from the vine
Salt, to taste
Pepper, to taste

DIRECTIONS
Add quinoa and water to pot on high heat. When water boils, switch to low heat, cover, and allow to simmer for 10 minutes. While quinoa is cooking, heat olive oil in medium sauté pan. When oil is hot, add mushrooms. Cook until mushrooms "weep." Dice tomatoes and add to mushroom sauté pan. Season with salt and pepper. Stir. Add cooked quinoa to mushroom and tomato pan. Stir to combine.
Baked Vodka Salmon
Odds are you'll already have at least one of these ingredients on hand. Nearly all the rest you'll find in a single aisle of the grocery store. While you're there, pick up a few extra ingredients to try this recipe a couple of different ways. "This works with virtually any fish," Metselaar says, adding that she's also used dover sole, salmon, arctic char, and sea bass.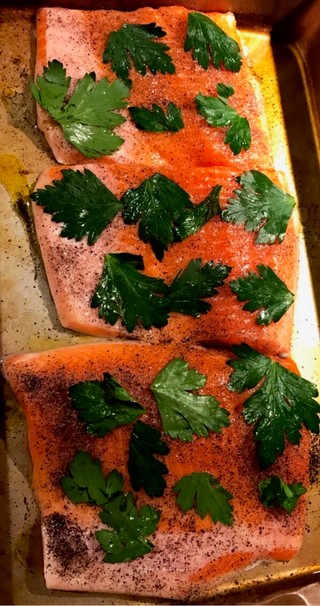 SERVINGS 4

INGREDIENTS
½ cup olive oil
2 bunches asparagus, chopped
Salt, to taste
Pepper, to taste
Garlic powder, to taste
12-15oz wild salmon, filleted
2 tbsp vodka
Fresh parsley, for garnish
2 lemons, sliced
DIRECTIONS
Preheat oven to 425 degrees. Cover 2 pans with aluminum foil. Drizzle olive oil to coat bottom of one pan. Leave other pan dry. Place fish on pan with olive oil and turn fish to coat both sides with oil. Place asparagus in dry pan. Drizzle small amount of olive oil on asparagus. Sprinkle salt, pepper, and garlic powder on asparagus, mix together, and place pan in oven for 30 minutes. Sprinkle salt and pepper evenly on top of fish, followed by a dash of vodka. Top with parsley. Place the lemon slices on top of the fish, trying to cover as much of the fish's surface as possible. Bake fish in oven until an instant-read thermometer reads 130 degrees for medium, about 10 minutes. (Put both pans in the oven at once to save time.)
Mexican Skillet
"Everyone loves tacos—but not so much the calories that come with them," Rodriguez says. Here's a quick and easy skillet that satisfies your craving for Mexican and keeps well for the entire week. You can use the mix to fill tacos or a wrap, or serve over rice.
SERVINGS 5

INGREDIENTS
2 tbsp Olive Oil
1lb ground turkey
1 red bell pepper
1 green bell pepper
¼ yellow onion, diced
½ tsp garlic, minced
1 cup corn
¾ cup chipotle salsa
DIRECTIONS
Heat 1 tbsp olive oil in a large skillet over medium heat. Add ground turkey and break apart with spatula. Cook until meat is cooked through, about 5 minutes. In another skillet heat 1 tbsp olive oil over medium heat. Add peppers, onion, garlic, and corn. Sauté until vegetables are cooked. Add the vegetables to the turkey skillet and add salsa. Stir over low heat until all ingredients are thoroughly mixed. Eat on its own or serve over quinoa or jasmine rice.

Chicken Zoodle Soup With Bone Broth
Keep this hearty soup on standby the next time you're feeling a little under the weather. The zucchini noodles and bone broth are the magic ingredients, Brown says. "It's so soothing. Feel free to doctor it up with hot sauce, garlic, turmeric, or ginger."
SERVINGS 5

INGREDIENTS
48 oz. bone broth
Hot sauce (optional)
Garlic (optional)
Turmeric (optional)
Ginger (optional)
16 oz shredded, leftover Rosemary (or rotisserie) chicken
2 zucchinis, spiralized into zoodles (You can buy these already spiralized.)
Salt, to taste
Pepper, to taste

DIRECTIONS
Heat bone broth in a pot, adding in optional hot sauce, garlic, turmeric, and ginger until simmering, Add shredded chicken and zoodles to pot. Cook for 5 minutes or until zucchini is al dente or cooked to your preference. Add salt and pepper as needed.
Cream of Roasted Tomato and Red Pepper Soup With Croutons
Canned tomato soup always tastes a little like, well, the can it comes in. This recipe will help you trade that aluminum undernote for a subtle smokiness, Kita says. Just remember, if you're batch-cooking, store the soup and croutons separately. "No one likes a soggy crouton," he says.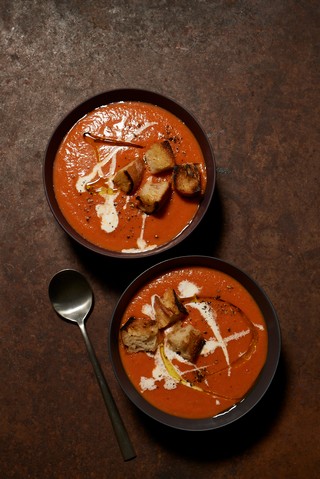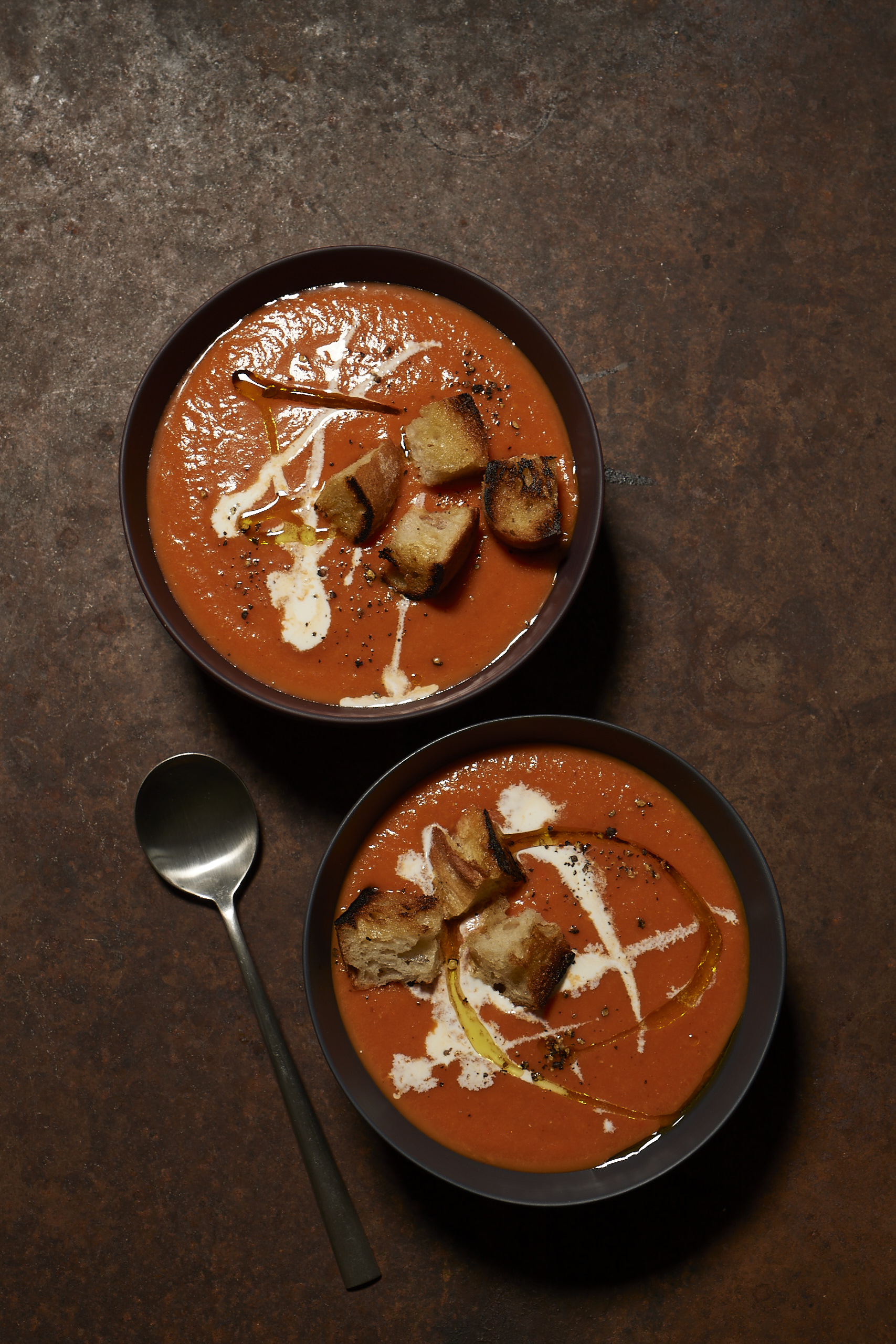 SERVINGS 4

INGREDIENTS
1 3-inch baguette, sliced
1 tbsp olive oil, plus more for brushing and drizzling
6 medium tomatoes, stem nubs removed
2 red bell peppers, seeded and chopped
Salt, to taste
Pepper, to taste
Heavy cream, for drizzling
DIRECTIONS
Lightly brush the sliced baguette on both sides with olive oil. In a large cast-iron pan over medium-high heat, toast the baguette until golden brown and slightly charred, about 1 minute a side. Cut the toast into cubes. Set the croutons aside. In the same pan over medium-high heat, add the 1 tbsp oil. When the oil shimmers, add the tomatoes and peppers. Cook, turning occasionally, until blackened in spots, about 5 minutes. Turn the heat to low, place a lid on the pan, and cook until the tomatoes are very soft, about 15 minutes. Transfer the mixture to a blender or food processor. Purée until smooth. Season with salt and pepper. Transfer a serving of the soup to a bowl and top with a drizzle of olive oil and heavy cream. Top with croutons.
Honey Sriracha Lime Chicken Wings
Crispy, spicy, addictive wings don't have to come out of a deep fryer. They can come from a cast-iron pan and the high-heat function of your oven. "You could switch up the flavors here, if you want," Kita says. "But the peppery heat is like an army of tiny hellions marching across your mouth—you don't want to miss that."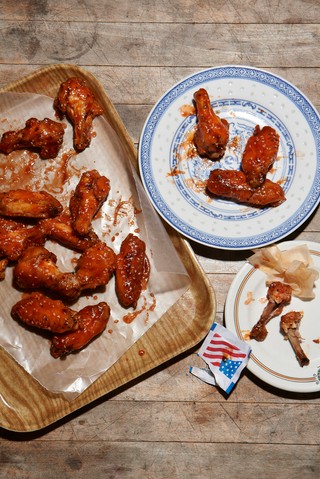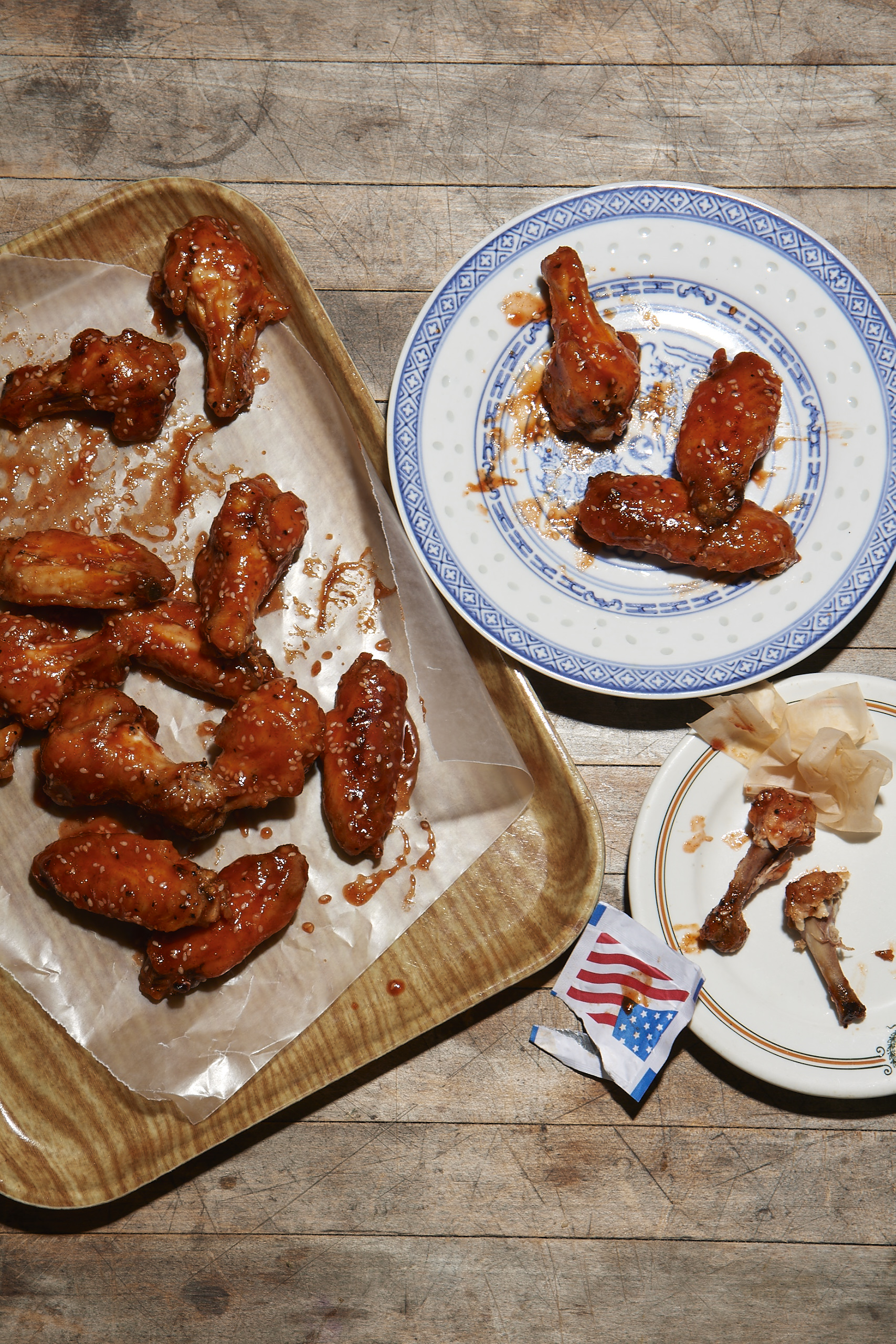 SERVINGS 4

INGREDIENTS
1 lb chicken wings
2 tsp canola oil
Salt, to taste
Pepper, to taste
2 tbsp sriracha
1 tbsp honey
Juice from 1 lime
1 tbsp sesame seeds
DIRECTIONS
Preheat your oven to 500 degrees. In a large bowl, toss the wings with the oil and ½ tsp each of salt and pepper. In a large cast-iron pan, add the wings, leaving space so they don't touch. Place the pan in the oven. Roast the wings for 10 minutes, carefully flip them with tongs, and continue to roast until cooked through, about 10 more minutes. Set the oven to broil. Cook until the wings are crisp, about 5 minutes. Wearing an oven mitt, transfer the pan from the oven to a heatproof surface. In a large bowl, mix the sriracha, honey, lime juice, and sesame seeds until well combined. Add the chicken wings and toss well to coat.
Butternut Squash and Apple Soup
Butternut squash is one of the most underrated vegetables out there. "It delivers an ample dose of dietary fiber," Thurman says. "It also provides significant amounts of potassium and vitamin B6, which is essential for the proper functioning of the nervous and immune systems."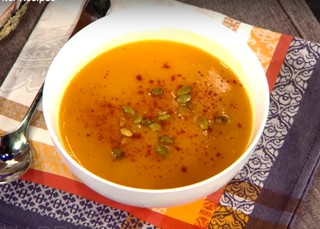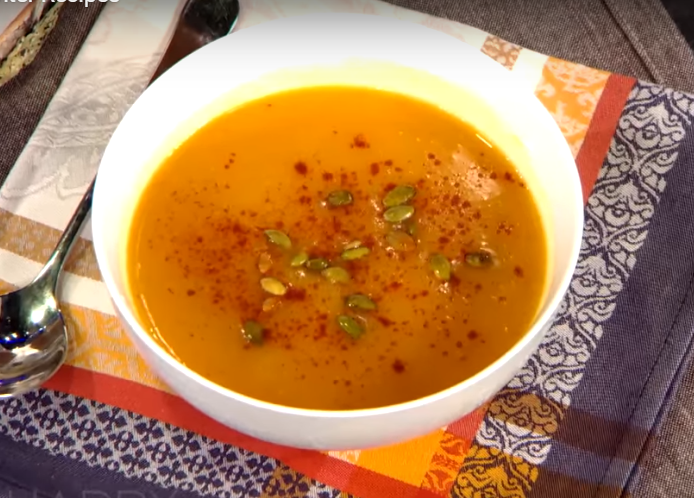 SERVINGS 5

INGREDIENTS
1½ lbs butternut squash, peeled, seeds removed, and cubed
2 apples, peeled and cubed
2 cups water
½ onion, chopped
2 stalks green onions, chopped finely
1 bunch thyme sprigs (Do not remove from the stems.)
¼ cup coconut milk

DIRECTIONS
Add all the ingredients except the coconut milk to a large pot over high heat. Bring to a boil, stirring once or twice. Reduce the heat to medium low and cook until the butternut squash is fork tender, about 20 minutes. Remove from heat. Remove the thyme with a slotting spoon. Using an immersion blender, puree the soup ingredients until combined and smooth. Put the soup back on the stove over medium heat and add the coconut milk and stir. Cook for another 5 minutes.
Sides & Snacks
Green Cauliflower Rice
This simple, satisfying recipe is especially useful if you're really, really pressed for time. "You can replace all the herbs with vegan pesto and call it a day," Brown says. If you end up with extra green sauce, save it; it's great over grilled veggies, grilled chicken, or fish.
SERVINGS 5

INGREDIENTS
4 tbsp olive oil, coconut oil, or ghee
2 riced cauliflower (You can buy it, or make your own in a food processor)
30 basil leaves
½ cup fresh parsley
½ cup fresh cilantro
Juice of 4 limes
2 cloves garlic, chopped
4 tbsp water
Salt, to taste
2 cups spinach
Pepper, to taste

DIRECTIONS
In a large skillet, heat oil or ghee over medium heat. Add cauliflower and cook until all water has been removed, about 8 minutes. While cauliflower rice is cooking, add herbs, lime juice, garlic, 4 tbsp water, ½ tsp salt, and spinach to a food processor or blender. Process until mixture is fully combined into a sauce. Add additional 2 tbsp water if needed. Process again and taste for salt. Add another pinch of salt if needed. Take rice off heat and add 5-6 tbsp of the green mixture. Stir to combine.
Carrots with Ses-a-dress
"When I first started playing with black sesame, I tried this recipe and couldn't make it any better than it already is," Brown says. Whether you're making these carrots for yourself or a large group of dinner guests, they will not disappoint.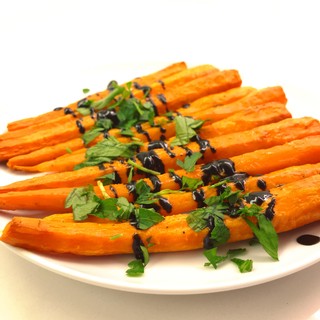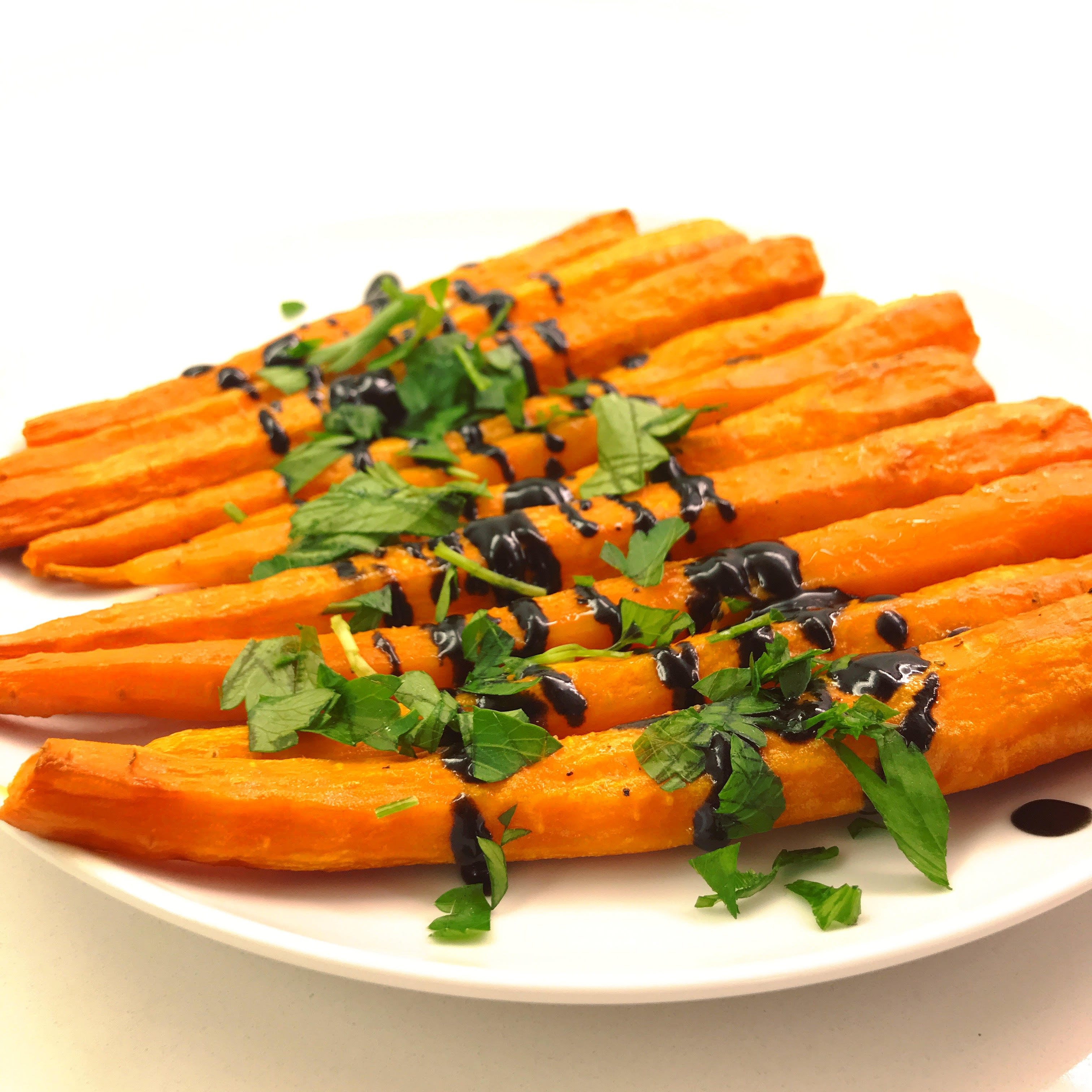 SERVINGS 4

INGREDIENTS
2 lbs whole, peeled carrots, ends trimmed (If carrots are super thick, slice in half, lengthwise.)
4 tbsp extra-virgin olive oil
Kosher salt, to taste
Black pepper, to taste
2 tbsp black sesame paste
2 tsp fresh juice from 1 lemon
Fresh flat-leaf parsley leaves, minced, and tender stems, for garnish
Finely grated lemon zest, for garnish (Zest before you juice your lemon.)

DIRECTIONS
Adjust oven rack to center position and preheat oven to 400 degrees. Place carrots in a bowl and drizzle with 2 tbsp olive oil, salt, and pepper. Transfer carrots to a parchment-lined baking sheet, drizzle with just enough olive oil to coat, and roast until softened, about 35 minutes, turning once or twice during roasting. Meanwhile, in a small bowl, whisk together sesame paste, 2 tbsp olive oil, and lemon juice. Season with salt. Arrange carrots on a serving plate, drizzle with sesame sauce, and garnish with parsley and grated lemon zest. Serve.
Chocolate Banana Walnut Protein Bar
"Most protein bars are pretty much candy bars," Thurman says. He's got a point; just look at the labels. These bars are loaded with everything your body needs to recover and rebuild—and none of what it doesn't.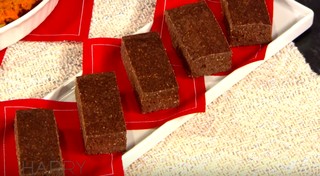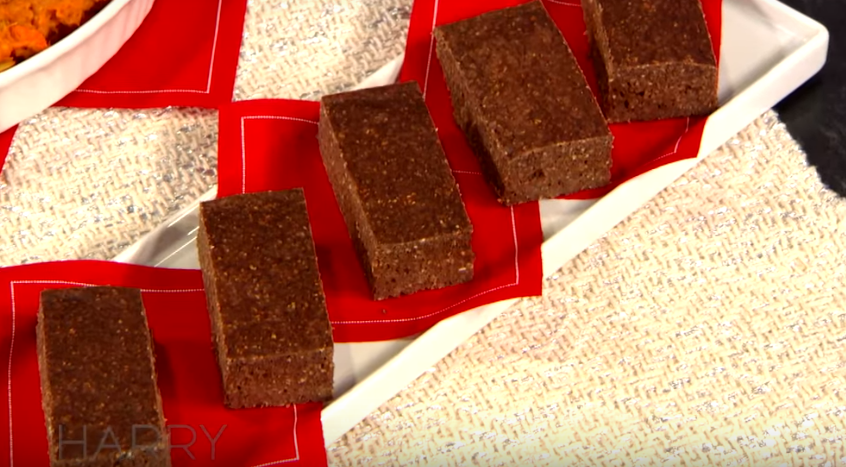 SERVINGS 6

INGREDIENTS
2 cups instant oatmeal
1½ tbsp cinnamon
5 servings chocolate protein powder
3 tbsp peanut butter
3 medium bananas, mashed
1 oz honey
5 egg whites
4 oz skim milk
½ cup walnuts, ground
1 tbsp vanilla extract
DIRECTIONS
Preheat your oven to 350 degrees. Place the oats in a blender and blend until they reach a flour-like texture, then transfer to a mixing bowl and add in the cinnamon and protein powder. Next, add in the peanut butter and mix thoroughly. Mash your bananas and add them to this mixture, along with the honey and egg whites. Mix well. Finally, add the skim milk and mix again. Pour batter into a 9x9 or 9x13 greased baking pan. Bake for 15 to 20 minutes, or until a toothpick comes out clean from the center of the pan. Remove bars from oven and allow to cool.
Green Tea Yogurt Cups with Seed "Granola"
"Popular for its antioxidant load, Japanese matcha is made by grinding green tea leaves into a powder," says Dave Zinczenko, author of The Super Metabolism Diet. "Whisk it with hot water for a beverage, or add it to recipes like this one." At just 218 calories per serving, it's hard to go wrong.
SERVINGS 5

INGREDIENTS
5 cups unsweetened coconut milk yogurt (Greek yogurt works, too.)
5 tsp matcha powder
1¼ tsp ground turmeric
1¼ tsp vanilla extract
2½ cup fresh berries, e.g. blueberries, raspberries, or sliced strawberries
5 tbsp chopped nuts
2½ tsp mixed seeds, e.g. sunflower, sesame, or chia

DIRECTIONS
In a small bowl, combine yogurt, matcha, turmeric, and vanilla extract. In a small storage container, layer half the berries and half the yogurt mixture; top with the nuts and mixed seeds.
Almond, Blueberry, Cinnamon Skillet Granola
"You can buy granola from a bag, sure. But you can make your own, too," Kita says. "It takes mere minutes to make, costs eff-all, and is way more delicious that the pre-packaged stuff. Double a batch and use it as a fiber-rich snack all week."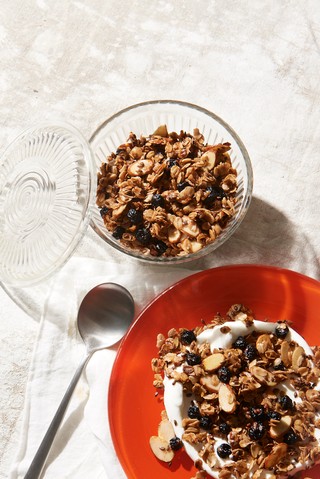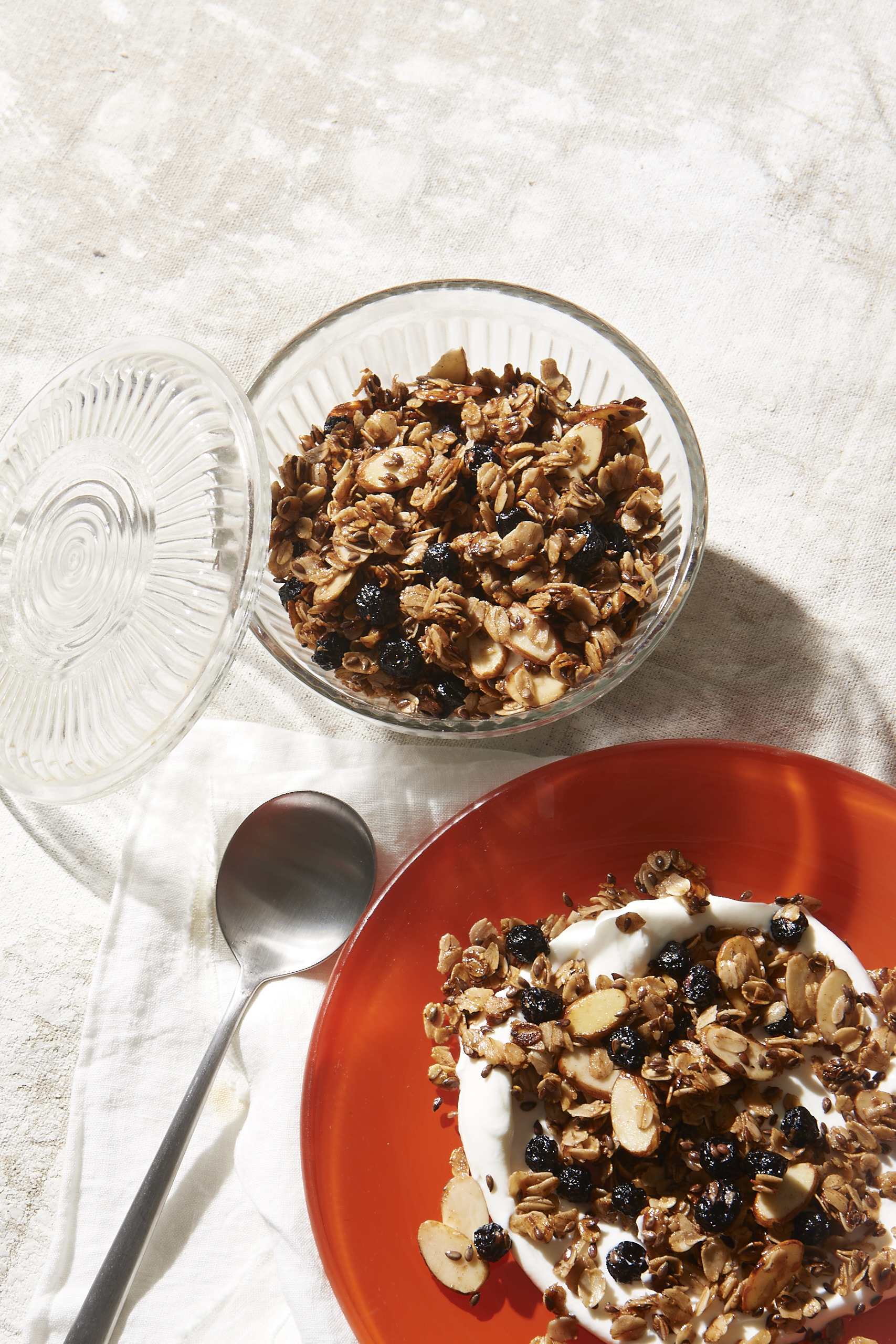 SERVINGS 4

INGREDIENTS
2 tbsp butter
2 tbsp honey
2 tbsp flaxseeds
2 tbsp dried blueberries
1 cup old-fashioned oats
¼ cup sliced almonds
½ tsp ground cinnamon
DIRECTIONS
In a large nonstick pan over medium heat, melt the butter. Stir in the honey and mix well. Add the flaxseeds and blueberries and cook, stirring frequently, until aromatic, about 3 minutes. Add the oats, almonds, and cinnamon, and cook, stirring continuously, until the almonds are golden brown and the mixture is slightly sticky, another 3 minutes. Spread the granola on a sheet of aluminum foil and allow to cool. Store in a lidded container or serve with plain or vanilla Greek yogurt.
Sweet and Savory Sweet Potato Mash with Toasted Pumpkin Seeds
"Sweet potatoes are nutritional powerhouses," Thurman says, "but more often than not they're baked with way too much sugar." You won't mistake this healthy mash for a dessert, but that's not to say it isn't delicious.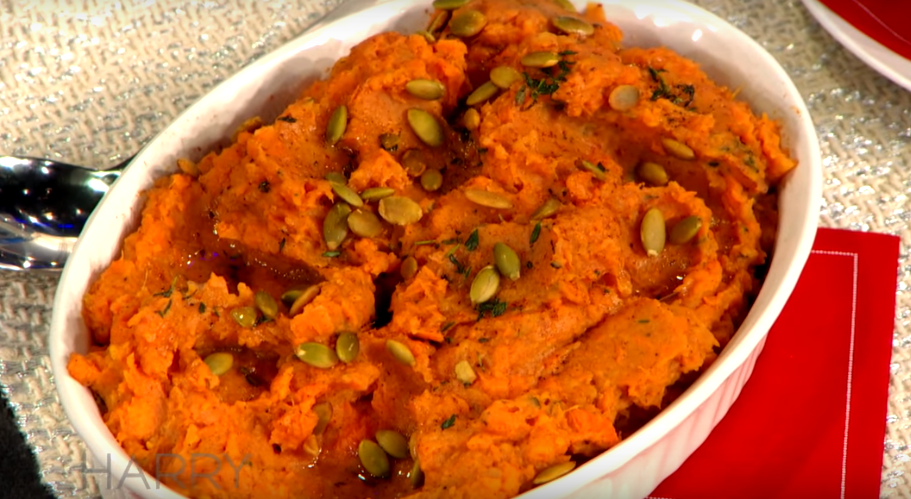 SERVINGS 5

INGREDIENTS
1½ lbs sweet potato, peeled and cubed
1½ tbsp grass-fed butter
1 tbsp extra-virgin olive oil
2 tbsp thyme, chopped
¼ cup coconut milk
½ tsp sea salt
1 tsp cinnamon
¼ tsp black pepper
½ cup toasted pumpkin seeds (Toasted pine nuts work well, too.)

DIRECTIONS
Add potatoes to a large pot and fill with water until potatoes are submerged by about 2 inches. Bring to a boil, reduce heat to medium, and then simmer until potatoes are tender, about 15-20 minutes. Remove pot from heat. Drain and return potatoes to pot. Combine butter and olive oil in a small skillet over medium heat; cook until browned. Remove from heat and stir in thyme. Add coconut milk, salt, cinnamon, and pepper to potatoes. Mash with a potato masher or hand blender to desired consistency. Drizzle with butter mixture and gently stir once or twice. Dust the top with more cinnamon and top with toasted pumpkin seeds (or pine nuts).
Chocolate-Chip Protein Cookie Balls
For those looking for a quick-fix vegan protein snack, this high-protein, gluten-free recipe for will help satisfy sugar cravings pre and post-workout, says Andrea Hanneman, founder of earthyandy.com and ambassador for plant-based supplement brand OWYN.
SERVINGS 6

INGREDIENTS
2 scoops vanilla protein powder
1 cup gluten free oats
6-8 large medjool dates, pitted
1/3 cup almond milk
1 cup organic nut butter (Try peanut butter or almond butter.)
1 tbsp coconut oil (optional)
¼ cup vegan chocolate chips
DIRECTIONS
In a food processor or mixer, add vanilla protein powder and oats. Mix for 30 seconds to combine thoroughly. Then add dates, almond milk, nut butter, and optional coconut oil. Mix until the mixture has a thick, smooth consistency, like cookie dough. Empty mixture into a medium bowl and add vegan chocolate chips. Churn the mixture until chocolate chips are distributed throughout. Your chocolate chip portion cookie balls should be about the amount of 2 tablespoons. Use your hands to roll the mixture into balls—think about using approximately 2 tbsp of mixture per serving—and place them in an airtight container in the fridge.
Sign up for our newsletter to get the best of Tonic delivered to your inbox weekly.