Support the Planet's Most Vulnerable Community on World Refugee Day
Your daily guide to what's working, what's not and what you can do about it.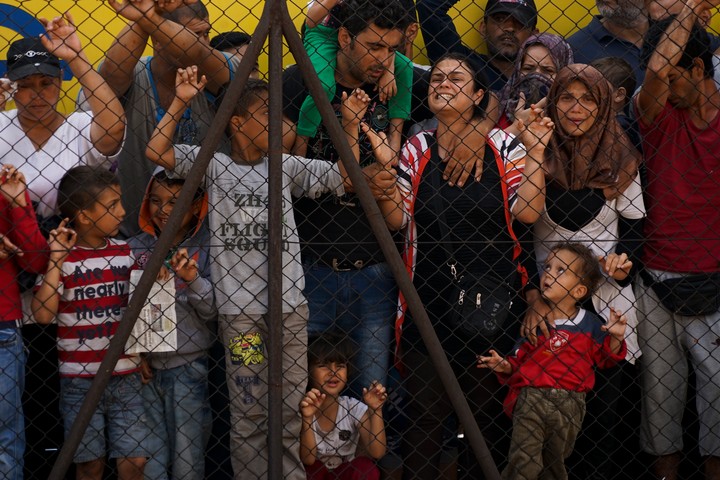 Photo via WIkimedia Commons
Coming together: June 20 marks World Refugee Day and VICE Impact is honoring those who have been displaced as result of violence, hardship, and the pursuit of a better life. If you are to stand with refugees in their struggle for basic human rights, you can support them by signing the UN's #WithRefugees petition. In adding your name to the petition you send a message to governments across the world that rights of refugees need to be protected.
Stalemate: Senate Democrats are on the offense as Republicans do their best to repeal Obamacare in secret. Monday night, Democrats started using political tactics on the Senate floor to throw a wrench in the GOP's legislative machine while calling on Republicans to keep the entire governing body in the loop. GOP Majority Leader Mitch McConnell isn't budging on the closed talks, but anything passed in the Senate has to go back to the House for final approval before Trump can make it a law.
Midnight Train to Georgia: Today is the day of the special election in for the Georgia House seat that was left vacant after President Trump tapped former congressman Tom Price to be his new Secretary of Health and Human Services. The race has been a real nail-biter between the political noob, Democrat Jon Ossoff, and Republican vet Karen Handel. Both have poured millions of dollars into their campaigns, but stakes couldn't be higher given their divergent views on the current political climate.
Crossing the Line: Throughout US history, people of color have been discriminated against in the voting process. Today it's with voter ID laws. This autumn, the Supreme Court will likely decide whether gerrymandering — the redrawing of district lines to favor one's political party — is legal or not. Democrats have long complained that the GOP manipulate electoral boundaries to their advantage, but until recently, this practice has gone unchallenged. In May, the Supreme Court found North Carolina's gerrymandering unconstitutional and argued that Republican redistricting had been done to limit the voting power of African-American residents.
A tragic loss: Nabra Hassanen, a 17-year old Muslim girl, was murdered early Sunday morning in Fairfax County, Virginia. Hassanen and a group of friends were heading to the Mosque around 4 AM during a break in Ramadan prayers when a man, Darwin Martinez Torres, attacked them. Torres emerged from his vehicle with a baseball bat and chased the teenagers. Hassanen's body was later found in a body of water later that day, and Torres was detained and charged with murder. Police say this wasn't a hate crime, but Islamophobic attacks — as seen recently in Seattle and London — appear to be on the rise.
Supreme fail: On Monday, the Supreme Court ruled that offensive trademarks are totally fine and are guaranteed protection under the First Amendment. The ruling comes after an Asian-American band wanted to call themselves "The Slants" in an effort to reclaim the slur. It might be a win for free speech, but it's a gut punch to minorities who will have deal certain prejudiced brands (cough, cough--Redskins).