Kendrick Lamar-Inspired Hackathon Aims to Prep Kids for Future Jobs
The hip-hop themed event is showing students they've got coding in their DNA.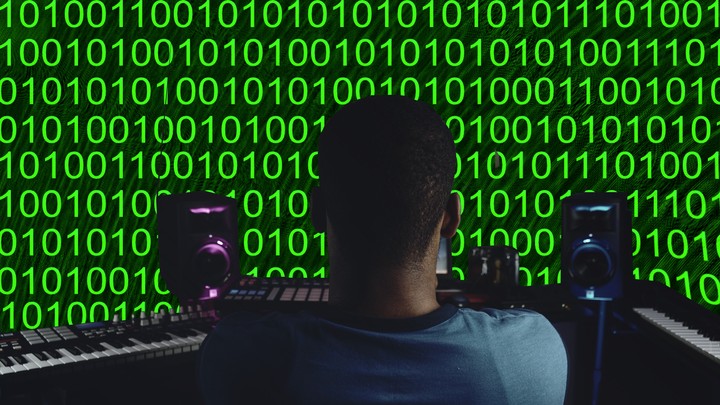 Image by Aaron Barksdale
A hackathon is basically a cross between a summer camp and a think tank. Young people crowd around computer screens to build something from their imagination and turn it into a reality. An increasingly digitized world has made us all consumers of technology, which is rapidly changing the landscape of the workforce.
According to the World Bank, four out of five children entering primary school today will likely have jobs that do not currently exist. Old jobs in pencil pushing and manufacturing are largely out and new jobs that require advanced computer skills are where the future of work lies.
Bryan Bethea is the Executive Director of Hip-Hop Hacktivist, a free social coding event in New York City that caters to high school students. Bethea came up with the idea for a hip-hop inspired hackathon as an offshoot from his organization "The Art Department," which he describes as a creative agency that encompasses his work in music production and tech.
"The primary goal of Hip Hop Hacktivist is to use the appeal and influence of the hip hop culture to introduce the tech industry and its opportunities to youth belonging to minority and underrepresented groups," Bethea told VICE Impact in an email interview. Hip-Hop Hacktivist then was a natural way to combine his interest in music and tech and introducing a potentially foreign concept like coding to young people in a language they could understand.
"The hip-hop movement has become an inseparable part of the way our youth perceive and share information"
Before getting into the tech industry, Bethea started his career as an independent artist and a freelance audio engineer. The theme of the event is Kendrick Lamar's song "Alright," which touches on subjects of social injustice, police brutality and the resiliency of marginalized communities. "As someone who understands the cultural presence of hip hop music, I believe the hip-hop movement has become an inseparable part of the way our youth perceive and share information," Bethea said.
---
Check out some more video from Vice:
---
Each student that participates gets support from two professional software developers and a designer. The Hackathon boasts tech mentors from high-profile companies such as ride-sharing app Uber, social media platform Tumblr, professional networking site LinkedIn and digital sports publisher ESPN. Not to mention a partnership with VICE Impact, The Source, Tumblr and others.
Tumblr community manager Christian Carranza-Walters is playing a major role to make the hackathon as successful as possible by coordinating media partnerships and working with student participants as a design mentor.
"With automation on the rise, and new companies, software, and hardware popping up each day, I think it's definitely the sector of the economy that young people should gravitate towards to now," Carranza-Walters told VICE Impact in an email interview.
Carranza-Walters was introduced to Bethea through fellow Tumblr employee and engineer Kenny Durkin and quickly jumped on board after learning about the Hip Hop Hacktivist mission. "I hope that this event is as educational and as fun as possible for the students registered in order to get them excited about a potential career in the tech industry," Carranza-Walters said.
The event takes place in New York at Tumblr's Manhattan office on Saturday, June 24. It lasts all day from 10 am to 11:30 pm, but includes breaks for three meals, an industry panel, an award ceremony and a big finale with a surprise musical guest. Attendance is competitive so potential hackers must register by June 14. There's no need for any prior experience just a willingness to learn, an active imagination and a love for hip hop.
Bethea credits his team for giving Hip Hop Hacktivist the momentum to launch the event, including the mentors, organizers and hackathon media partners. But there's still more work to be done. If you're interested in supporting Bethea's mission to create culturally relevant avenues for underrepresented groups to learn more about the tech industry here's how you can help.
Volunteers can sign up to be mentors, but if you can't make it to the event you can help by becoming a sponsor. Donations from sponsors go directly to the students either for their travel fare or financial awards for the finalists.
"There's no question that technology is the wave of the future and to be honest, the future is already here"
For Bethea, teaching young people about programming is the best way to prepare them for careers in the constantly evolving technological landscape. According to Bethea the skills that come from developing computational thinking applies beyond a job in IT and can be used in any field that requires innovation and problem-solving.
"There's no question that technology is the wave of the future and to be honest, the future is already here," Bethea said.
That's an exciting, but uncertain future and we encourage our audience to take the necessary steps to be ready for. If you want to join click here to register.
Stories