Illustration by Lia Kantrowitz
Austin's Dance Scene Is as Weird as the Rest of the City
Enterprising DJs, promoters, and producers explain how they're making a space for electronic sounds in "the live music capital of the world."
Illustration by Lia Kantrowitz
Austin's known as the live music capital of the world, which puts DJs and underground dance music in a tough position. Traditionally the city's sound has always centered around guitar-wielding songwriters like Stevie Ray Vaughan, which leaves nightlife without the cultural context or or historical significance you'd find in hubs like New York or Detroit. Building a scene is an uphill battle, but that hasn't stopped a dedicated cast of DJs, producers, and promoters from creating a community that can feel as vibrant and raw as anywhere in the country, on a good night.

The city may not have electronic music in its DNA, but it still supports a broad spectrum of sounds. Gritty techno dominates the late night DIY scene, rock clubs welcome synth-heavy producers and bands, and EDM and contemporary house blasts from dance clubs powered by Void and Funktion-One systems. Head-nodding beat producers pack sweaty warehouses, disco rears its head at more queer functions, and a vogue crew from San Antonio boomerangs between cliques.
Few of the downtown clubs welcome underground sounds, which has led to a surge of DIY parties in warehouses, fitness studios, and even Mexican restaurants. During a busy month you can dance until afterhours every weekend, but the type of marquee bookings commonplace in other cities are few and far between. In dry spells social media fills in the gap, with Youtube links to obscure Chicago house and cutting edge techno flooding a secret Facebook group which counts nearly everyone featured in this story as an active member. The result is a close-knit and appreciative scene of experienced DJs, many sitting on hard drives-worth of tracks to release.
It's hard to capture a snapshot of a movement because things change so quickly. The frustrations of fighting against the city's musical current, even in a relative electronic music boom, leads many DJs to live with a foot out the door. During the time it took to write this story, several influential members of the community packed their bags and left. That DJ drain shows that the city can groom great new talents, but that there's still a ceiling to Texas DJ booths.
To gauge the pulse of Austin's dance music underground, we polled 13 influential figures that are raising that ceiling. They told us their favorite producers and venues, the challenges building the scene, and community's overall spirit. This is by no means an exhaustive list of important players, there's dozens more working hard to build the community, but you'd be hard pressed to find a group more dedicated to keeping the city dancing.
1. Andrew Brown
The Exploded Drawing party brought Low End Theory-style beat music to the Third Coast in 2010 with a monthly series of DIY parties. Brown helms the operations alongside Butcher Bear, as well as producing dusty sampled beats as soundfounder and running the Exploded Records shop inside Juiceland.
Hometown: San Antonio, Texas

Favorite Local Producer/DJ: Botany.

Best local venue: For a fancy venue, The Moody (aka ACL Live). The sound is unbelievable. The best DIY venue is Austin School of Film.
Spirit of the scene: For us, it's definitely originality. We wanted to create a space that's free of pressures of genres and dancing is not the top priority.

Challenges building the community: Noise ordinances are always a bitch. Whether you go with a traditional venue or DIY spot, you can get popped with complaints either way.


2. Joshua Cordova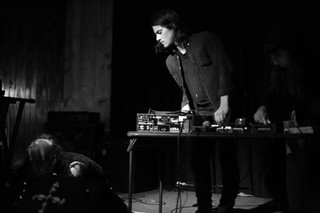 As a recent arrival to Austin, Cordova's breathed new life into the scene booking cutting edge DJs, producing banging techno alongside Katrina Fairlee as Permian Basin, and deconstructing it live with the improvisational group Maramuresh.
Favorite local DJ/producer: Sam de la Rosa's new record is sick, he's also a hard working dude. He should be playing out more.
Best local venue: Things pop up, they disappear. A print shop, a gallery, a bar, a bridge, a church. Recently Las Cruxes has been the spot.
Spirit of the scene: Smack your truth.
Challenges building the community: Honestly I feel like it's been very smooth, it seemed like the community was here waiting for us. I think it's because everyone is hungry for a party.
3. Bill Converse
The first pick to play any afterparty or open for a touring act, Bill's been DJing in Austin since 1998 and has established himself across genres as one of the most knowledgeable selectors in town. Lately his sets skew towards hard and fast techno, which match his two acid-tinged LPs released through Dark Entries.
Hometown: East Lansing, Michigan
Favorite DJ/Producer: Slugbug, a project from Paul Millar. Nobody sounds quite like he does and he puts on an amazing show too.
Best Venue: RIP Chain Drive. It was a leather bar sort of frozen in time since the 80's, no sign on the building and hidden on a dead end street near downtown.
Spirit of the scene: Young, experimental, and hungry for it.
Challenges building the community: The only available and affordable venues to rent out are too far away for any promoter to sink in a few hundred dollars and expect to break even. There's clubs here of course, but people want a place they can party after 2 am.
4. Jes Elliott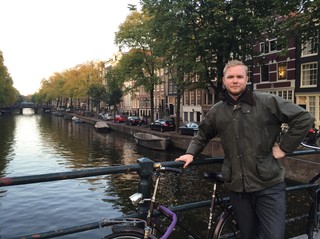 For years DJ and electronic offerings at SXSW were slim, which changed when Elliott took over the booking reigns in 2013. Now international DJs land in Austin every March, introducing the city to talent that would never otherwise consider a trek to Texas. He's also an accomplished DJ in his own right under the name Jes Carpenter, and can be found throwing parties called Loose Fit alongside partner Hayden Edward.
Hometown: Austin, TX
Favorite local producer/DJ:
Ben Zink aka Son Fjord, 1/4 of Flying Turns, 1/2 of Waikiki Leaks. [Full disclosure: the author of this article also DJs in Flying Turns.] If there was a DJ to play my funeral, it would be him.

Best venue: The spaces that have recently become successful at championing that sense of "all are welcome" within the context of underground club culture have been DIY spots.
Spirit of the scene: Rome wasn't built in a day, son!

Challenges building the community: On the touring circuit, folks are not ready for it at a consistent rate that LA or NYC can sustain simply because the market is still so small. To get the same turnout as Father John Misty, you've gotta book The Chainsmokers. Several wonderful people or crews are taking big cracks at it though, and I'll always remain optimistic.
5. Katrina Fairlee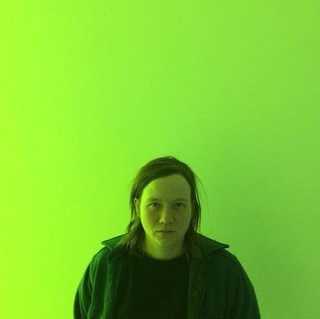 Katrina Fairlee's solo work is mostly unreleased, but she can be found performing along Joshua Cordova under the moniker Permian Basin, DJing blistering all-vinyl techno sets, and organizing the weekly podcast Timelife Methrave on the internet radio station Intergalactic FM.
Hometown: Austin, TX
Favorite local DJ/producer: Bill Converse
Favorite venue: A lot of us prefer venues to be raw and less conforming than bars. I'll forever miss the days of Tamale House, a family-owned Mexican restaurant during the day that served as a DIY venue occasionally at night.
Spirit of the scene: There's not a whole lot of us, so it makes for some truly intimate nights on packed dance floors.
Challenges building the community: Austin is smaller than Dallas and Houston, so what warehouses that were here have disappeared with the growth. The upside is that locations are constantly changing and there are more people throwing parties.
6. Jason Jenkins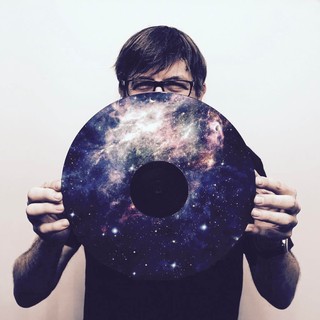 For nearly 30 years Jason Jenkins has kept dancefloors moving with progressive house and techno, now with one foot in contemporary EDM sounds. His radio show Hypersonic is a great entry into the Austin scene, and he can be found DJing at rooftop lounge Ethics at least once a week.

Hometown: Houston, TX

Favorite local DJ/producer: Edward Braillif aka Shreddward, who is also in the band Bright Lights Social Hour.

Best local venue: Ethics Music Lounge is in the heart of downtown Austin off Congress Avenue and 5th Street. It's worth the climb to their rooftop just to hear the Void Acoustics sound system.
Spirit of the scene: Keep on Austin. Keep us weird.

Challenges building the community: Finding venue operators that understand house music and are willing to work with local promoters. And I find the scene lacks local promotion crews cooperating together, it's very clique-ish.
7. Adam Jones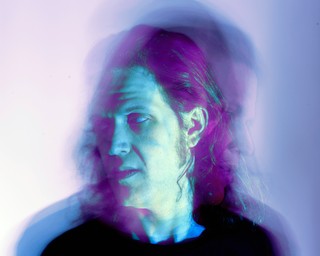 Once every few years an electronic act from Austin will make national waves. Thanks to Jones' hard work co-managing Holodeck Records, those breaking acts are coming much more often. In addition to running the label, he plays synthesizers as a member of one of those breaking band, S U R V I V E, as well as Troller and Thousand Foot Whale Claw.
Favorite DJ/producer: Dylan Cameron and Bill Converse

Best local venue: Mohawk is the best place to play, but Cheer Up Charlie's is the best place to hang out as a show goer.
Spirit of the scene: Original ideas are more important than tropes.

Challenges building the community: Keeping your standards high when the weight of economics and mass culture aims to water down your art.
8. Jenni Kaye
Boasting homegrown directors like Richard Linklater, Austin's a city steeped in film lore, and the Hyperreal Film Club carries the torch of experimental and DIY video. Kaye's one of the group's driving forces curating events that combine music and film with exciting results, including re-scores to films like Kwaidan and Jurassic Park. She's also behind cassette label Pleasure Cruise Press and launched a website to help venues book underrepresented bands.
Favorite DJ/Producer: Dylan Cameron, who has been making modular techno/acid house in Austin for years.
Best venue: Cheer Up Charlie's—from its enormous efforts for inclusivity, to the fact that they always make sure to pay out the band.
Spirit of the scene: Austin is a very transitional place. And its casual nature makes it easier to take risks. It'd be more challenging for us to exist somewhere like New York.
Challenges building the community: Keeping spaces safe, which means making the space available to everyone who would like to participate and express themselves freely.
9. Ian Orth
Austin's dance music community's growth owes a huge debt to Learning Secrets, a 13-year-strong party spearheaded by Ian Orth. It's less active now that Orth has taken responsibilities as marketing and creative director at booking agency Margin Walker Presents and Sound On Sound Fest, but in the meantime he's doubled down on his own live electronic band Orthy.
Hometown: Austin, Texas
Favorite DJ/producer: Prince Klassen knows how to read a room better than anyone I've seen.
Best venue: The trend of underground and makeshift spaces that's been happening here is pretty exciting and brings a certain energy that's needed in the city at this time. I do worry though that it's creating a type of dance music fan that looks down on, or is afraid to take the risk of going to a proper club, which, looking at the city currently, is a massively lacking commodity.
Spirit of the scene: My hope is that it's "anything goes."
Challenges building the community:
My biggest frustration is showing up to a venue and hearing the staff eye-rolling about booking local DJs. As long as that attitude is there at the venue level, it's gonna be a struggle and that's where the importance of friends comes into play when building any scene. Strength in numbers.
Second, nobody wants to spend money or venture out of their comfort zone. I don't care how much money a DJ gets in other cities, they're not gonna make that here. Until agents and DJs are willing to work with door deals and a fee-based system that's more inline with tour bands, I think that's always going to be a struggle. So there's a bit of an ego check that has to happen when coming to Austin. Hope you like being picked up in my Honda CRV.
10. Veronica Ortuno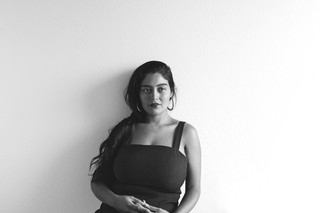 For over a decade Ortuno's been an active member of Austin's music community, but in recent years her focus has shifted towards electronic sounds, booking DJs and producers for in-stores at her boutique Las Cruxes, recording online radio show Cease to Exist, and DJing live under her own name.
Hometown: Santa Ana, California / Houston, Texas
Favorite DJ/producer: Chulita Vinyl Club, who's an all-female POC DJ crew with several chapters in the U.S. They have an appreciation for every style and genre of music from funk to disco and soul, which speaks directly to me.
Best venue: Cheer Up Charlie's. Not only are they an inclusive space, but they showcase a lot of under-represented musicians and POC, and are a beacon for the LGBTQ community.
Spirit of the scene: The dance music scene is a place where the freaks, weirdos, and the conventional type can all congregate, so I feel there is a sense of inclusivity within it. People support one another and collaborate to put on shows.
Challenges building the community: There aren't many female DJ/promoters within this subculture in Austin and more specifically, Latina DJ/promoters. That in and of itself is a challenge because as the tale as old as time goes: you're not taken very seriously in that role as a woman.
11 and 12. Andrew Parsons and Kelly Gray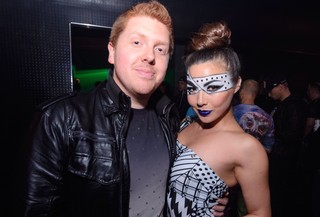 Bringing guest DJs into Austin is a struggle, but if there's one operation that's cracked the code it's RealMusic Events. Helmed by Andrew Parsons and Kelly Gray, they bring a steady flow of EDM, house, and techno DJs to their homebase: Kingdom. Parsons can also be heard DJing under his own name, and Gray manages and dances with The GoGo Gadgettes, a welcome addition to any party.
Hometown: Waco, Texas (Andrew) and San Antonio, Texas (Kelly)

Favorite Producers/DJ's in Austin: Tritonal, we've literally seen them come up from their first gig to now playing massive festivals.
Best venue in Austin: Kingdom Nightclub. It's an intimate spot with professional bells and whistles and a blanket of energy that really allows you to be enveloped in the music, feeling it so much more strongly than at massive venues of scale.
Spirit of the scene: What's special about the Austin scene is the collective energy. The scene feels like family to so many. People dance and they dance hard. It feels real.

Challenges building the community: One of the biggest challenges has been getting people to listen to new styles of music. Commercial stuff is just so much easier for mass audiences to grasp, but our house and underground scene is still quite alive and well.
13. Jeremy Von Stilb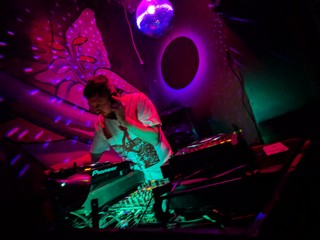 Within the LGBTQ community, few people keep as busy as Jeremy Von Stilb, aka DJ Mouthfeel. He's one of the forces behind parties like Service, Queer Up Charlies, and Deep Inside, has raised the bar on drag shows, runs the Homo Arigato film series, and even threw a dance party at the governor's mansion protesting the anti-transgender bathroom bill.
Hometown: Tucson, Arizona
Favorite local DJ/producer: Dylan Reece. A ying yang of a human being that makes soulful house and one of the originators of seapunk oddly enough.
Best local venue: Cheer Up Charlie's
Spirit of the scene: Texas is a conservative place, so I feel there is an activist undercurrent to the dance scene. Throwing a party is an opportunity to connect groups of people that usually wouldn't intersect, and I've seen a lot of dance events be used as spring boards to help out causes or organizations. You meet in the dark for one purpose, then meet later on in the light for something else.
Challenges building the community: Right now there aren't any actual dance clubs for underground music. That in turn pushes people to get creative with what might work for a night. A Mexican restaurant will get turned into a techno dungeon with a margarita machine and smoke machine sitting side by side. A jewelry store holds an analog synth showcase. A guest house becomes the site of a sex party with a DJ from New Orleans playing house music.
Dan Gentile is a writer and DJ based in Austin. You can find him on Twitter.
Stories