The City of Los Angeles and Elon Musk are having a bit of a moment.
In June, Musk boasted about "promising conversations" he'd had with Los Angeles Mayor Eric Garcetti regarding a tunnel network that would ferry vehicles and pedestrians underneath the city. All of this would ostensibly be built by Musk's newest brainchild, The Boring Company.
This was classic Musk form—and something we saw him do again one month later, when he claimed to have gotten "verbal" government approval for a Washington, DC to New York City hyperloop line. At this time, Garcetti's office would neither confirm nor deny Musk's cryptic claims, but in a statement to Curbed, the mayor appeared amenable to innovating the city's transportation infrastructure.
I was curious to know whether Musk and Garcetti's relationship was fact or fiction. So in June, I submitted a public records request to Garcetti's office for their email correspondence, and any emails pertaining to Tesla or The Boring Company specifically.
While I didn't obtain any messages between the two men, I did learn that Garcetti's alleged enthusiasm for Musk's ventures was apparently genuine—at one point. Two years ago, Garcetti's office hoped to partner with Tesla to launch a groundbreaking driverless car program. And earlier this year, the two parties were speaking once again about an unnamed "commission" for the city.
Although Garcetti and Musk (seemingly) didn't email each other about this, Borja Leon, who serves as Garcetti's Director of Transportation, did get in touch with Musk's office at Tesla. On April 17, 2015, he wrote Musk with a question:
"The purpose of this note," Leon wrote, "is to ask and see if you would be interested in partnering with the City, Los Angeles Metro and an academic institution (UCLA, USC) to study and explore a test bed for driverless vehicles."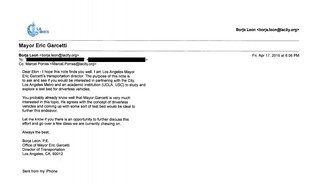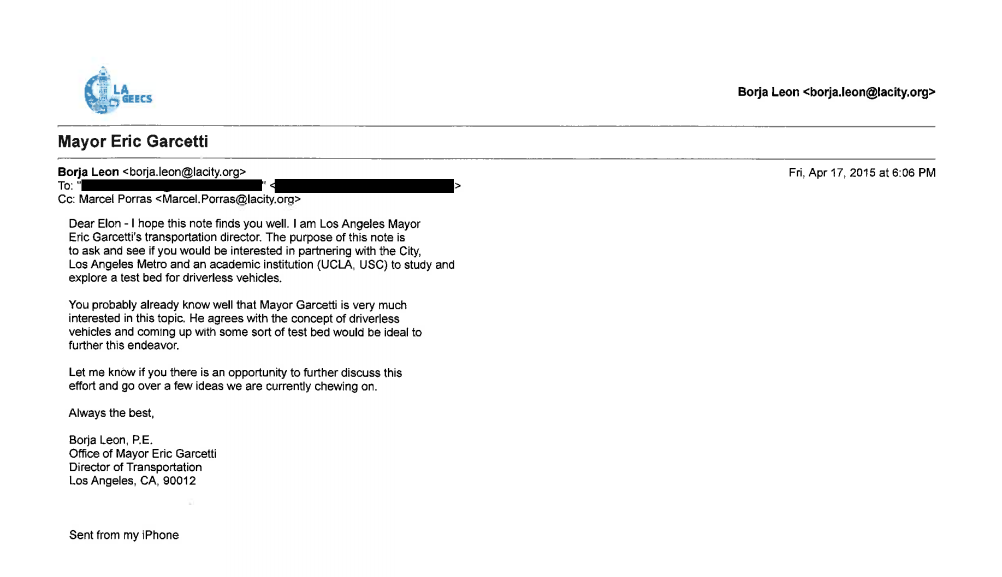 By then, the city's desire for self driving cars was public. Garcetti's office announced in 2014 that, in partnership with UCLA, it hoped to convert the Westwood neighborhood into a testing ground for autonomous vehicles, possibly piloted by Uber or Lyft. He's said before that Los Angeles could become the first metropolis with a "driverless car neighborhood."

No reply from Tesla was provided to me. Since my records request specified that entire email threads be included, I'm assuming the company either did not respond, or followed up through a different communications medium.
I've asked Garcetti's office what, if anything, materialized from this query, but haven't heard back yet. Likewise, I've also reached out to Tesla, and haven't received a response.
Despite Garcetti's technophilia, not much has happened in Los Angeles on the driverless car front. Cities like San Francisco and Pittsburgh have pioneered their own messy programs, and, as a result, autonomous car regulations are being forced to catch up. But Garcetti also faces the city's gridlock problem. Driverless cars may one day reduce traffic, but the addition of more cars—driverless or not—doesn't seem to be an immediate panacea.
Tesla, on the other hand, has been testing its own autonomous vehicles on California roads since late 2016. This is according to the California Department of Motor Vehicles, where Tesla is required to send any and all "disengagement" reports, or instances where the cars' drivers were forced to take the wheel.
Musk claimed in April that Tesla's cars will be driving themselves between Los Angeles and New York City by the end of the year.
As for Musk's mysterious Boring Company tweet, perhaps he was telling the truth.
A second email provided to me shows Diarmuid O'Connell, Tesla's Vice President of Business Development, asking the city to chat about "the composition of the commission and its mission and purpose." This email was sent on January 23, 2017.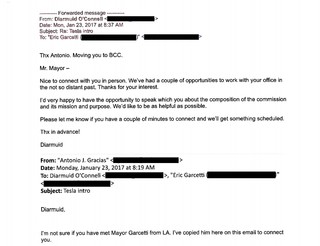 It's not clear which "commission" he's referring to, since the conversation stops there. I've asked Tesla whether O'Connell is speaking about a driverless car program, or The Boring Company's tunnel project.
If it's the latter, maybe Musk really does intend to bore underneath Los Angeles—beyond the SpaceX parking lot, and with the city's blessing, that is. We still don't know for sure, because despite his promises to deliver a public good, Musk has done little to engage with the citizens he claims to be helping.
In the meantime, please remain skeptical of Elon's tweets.