Kampala is more compact and less well-known than Uganda's regional hub Nairobi, but the country's capital is a bit like your favorite small music festival—it's so cool you don't want too many people to find out about it. Among its hidden gems is DJ Rachael, East Africa's first female DJ, and the exciting emerging electronic music scene which surrounds her.
She's just celebrated 20 years as a DJ—a milestone we are marking today on THUMP with the premiere of her latest track "Kirooto", streaming below. Her illustrious career has spanned a wide range of genres, from deep house to dubstep, drum and bass to prog house, and now she's using her position of influence to help younger generations of women in East Africa to get training in DJing and music production, through her collective Femme Electronic.
When we meet close to midnight on one Tuesday evening, the petite 39-year-old greets me with a high-pitched voice. She's dressed in a peak cap, dark blue jeans and a black t-shirt branded with "The Rapture," the name of an event she put on to celebrate 20 years on the decks.
Earlier in the evening, the artist and her team missed a flight to Italy (they didn't realize they needed some paperwork), where she was booked to play a few gigs and headline the opening of Impact Hub, an arts space in Florence. While she's visibly stressed trying to arrange a new flight, she exudes an air of cool that makes it clear she's determined not to be rattled by the setback.
Uganda isn't the easiest place to be a DJ. "DJs here are living for the day, having unplanned gigs, being paid total peanuts, no record stores, no access to online music sales," Rachael Ray Kungu explains.
She also says Uganda's electronic music artists are hampered by expensive internet rates—most people just use 3G on their phones as a month's broadband access in Uganda can cost up to $120, three times more than neighboring Kenya. This makes the cost of uploading and downloading music unaffordable for many trying to start out in the industry.
Still, Rachael says the community is growing quickly, citing underground parties and annual festivals helping the scene "catch fire," such as such as Bayimba (where KANEKASI - Santuri Safari (Esa's Dark Meme Remix) was recorded on site by an array of Ugandan and international artists) and most recently Nyege Nyege, the festival now in its third year which has helped bring the deep afro grooves of Femme Electronic's DJ Kampire to the for. "The people love house, dubstep, drum and bass and reggae dub here in Uganda," she says.
In addition to economic hardship and a lack of access to resources, aspiring female DJs in Uganda also have to contend with the country's widespread gender inequality. Uganda came in at 163 out of 188 countries in the UN's latest Gender Development Index, which measures gaps in human development between men and women in health, knowledge and living standards.
In 2014, the country made international news when anti-pornography legislation effectively banned miniskirts, leading to groups of male vigilantes to strip women on the streets they deemed to be dressed inappropriately.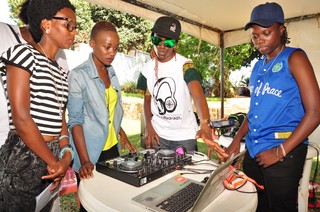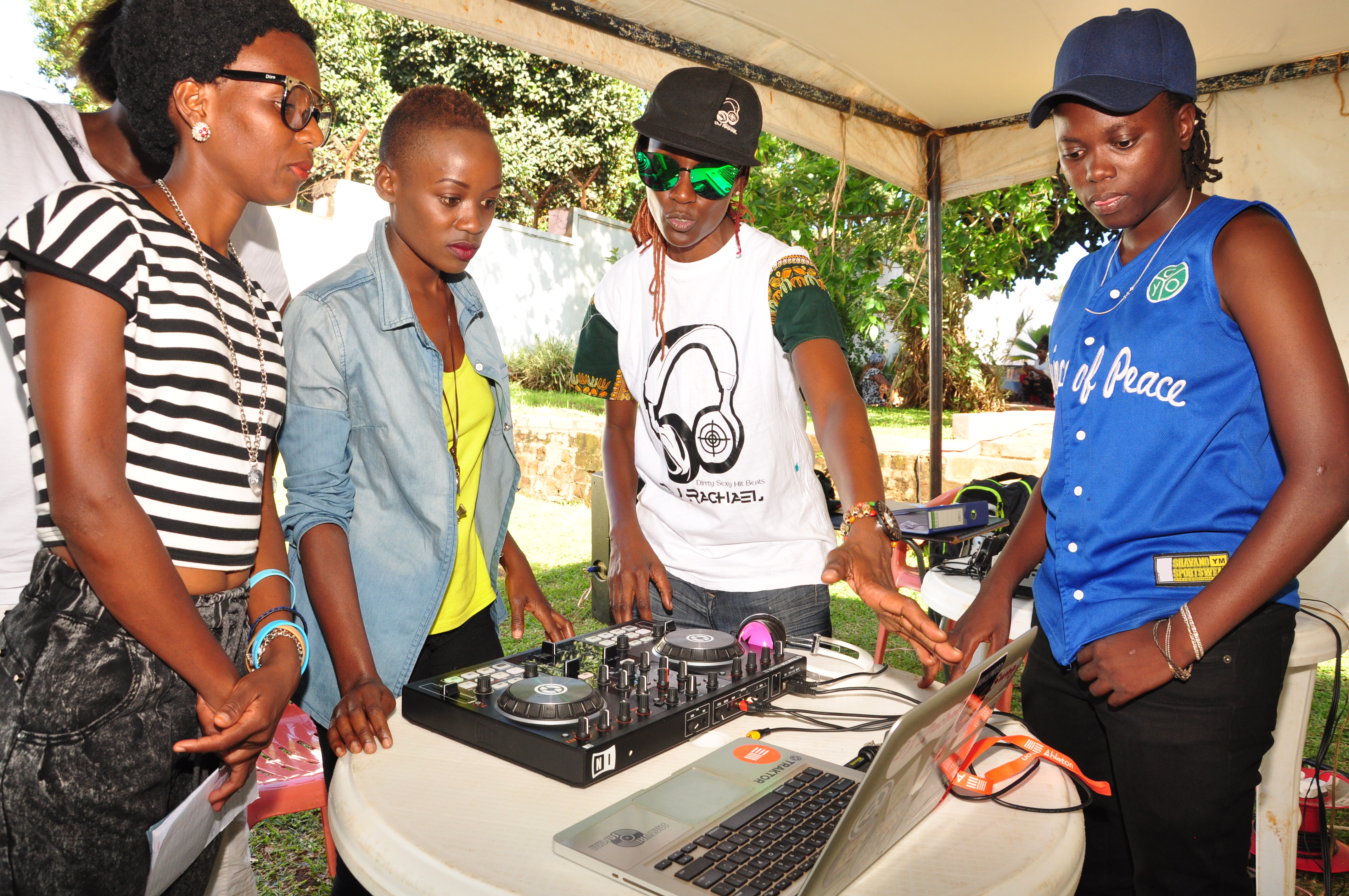 Sexist stereotypes perpetuate in the music scene as well. "Electronic music is high energy and fueled by aggressive dancing, so I guess it's more associated with males. It's rare to find women here who follow electronic music ardently," explains DJ Rachael.
"But when you do find these women, they are usually very energetic, passionate, and totally immersed in electronic music—the ones I know never stop dancing till the end of the party."
DJ Rachael says she's been musical since an early age, growing up rapping, singing and dancing in her living room at home. This, she says, was with the support of her family, who Rachael thinks "probably felt I was taking after my mum who was similar when she was young."
As a teenager she began MCing with "cool sweaty kids my age speaking the same language of hip hop, rap and R&B, jumping up and down to Slam and singing along".
When Rachael was 17, she took part in an MC gig that gave her first taste of DJing and got her hooked. However some of Kampala's clubs are unsafe for younger girls because of older men who, according to the artist, "take advantage of them and coerce them into leaving home and getting married... there's lots of older men dating girls younger than their daughters".
This might have been why her mom—despite her own love for music—was less than thrilled when she found out about her daughter's new DJing hobby, and turned up at a club where she was playing one night to interrogate management.
"Maybe she also thought I would stop school...but later she became a fan, though my aunty was always the cooler cat, the one who let me attend parties, with a chaperone", the artist chuckles.
Rachael has been DJing ever since. "I was just playing my music and loving it. Though I always wanted to do a European or US tour I had no access to anything or anybody", she explains.
But bits of international media attention and gigs around East Africa began to get her recognised, and after entering a mix she was selected to play at the WOMEX World Music Expo in Spain last year.
Thousands of DJs applied, and only a handful of African DJs were successful. But despite this newly found attention, like many DJs Rachael cannot survive on the money she gets from gigs alone. To get by Rachael runs a small business—Skit Mobile Events—a soundsystem which she rents out for private parties in Kampala.
DJs in Uganda are clearly not in it for the money, least of all Rachael, who has set up a number of not for profit initiatives in Uganda including Femme Electronic, an organisation that aims to get more women in East Africa into DJing.
Since April last year DJ Rachael has been holding workshops in Kampala at least once a month as well as organising showcases and residencies for the 25 female participants. Femme Electronic's Kenyan edition will launch later this year.
"I felt that women DJs were missing out on good gigs and big festivals because they didn't get enough pushes from all around them…they were invisible" says DJ Rachael, adding, "I also thought they would be stronger as part of a group than being solos, as it has always been."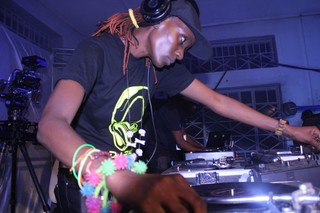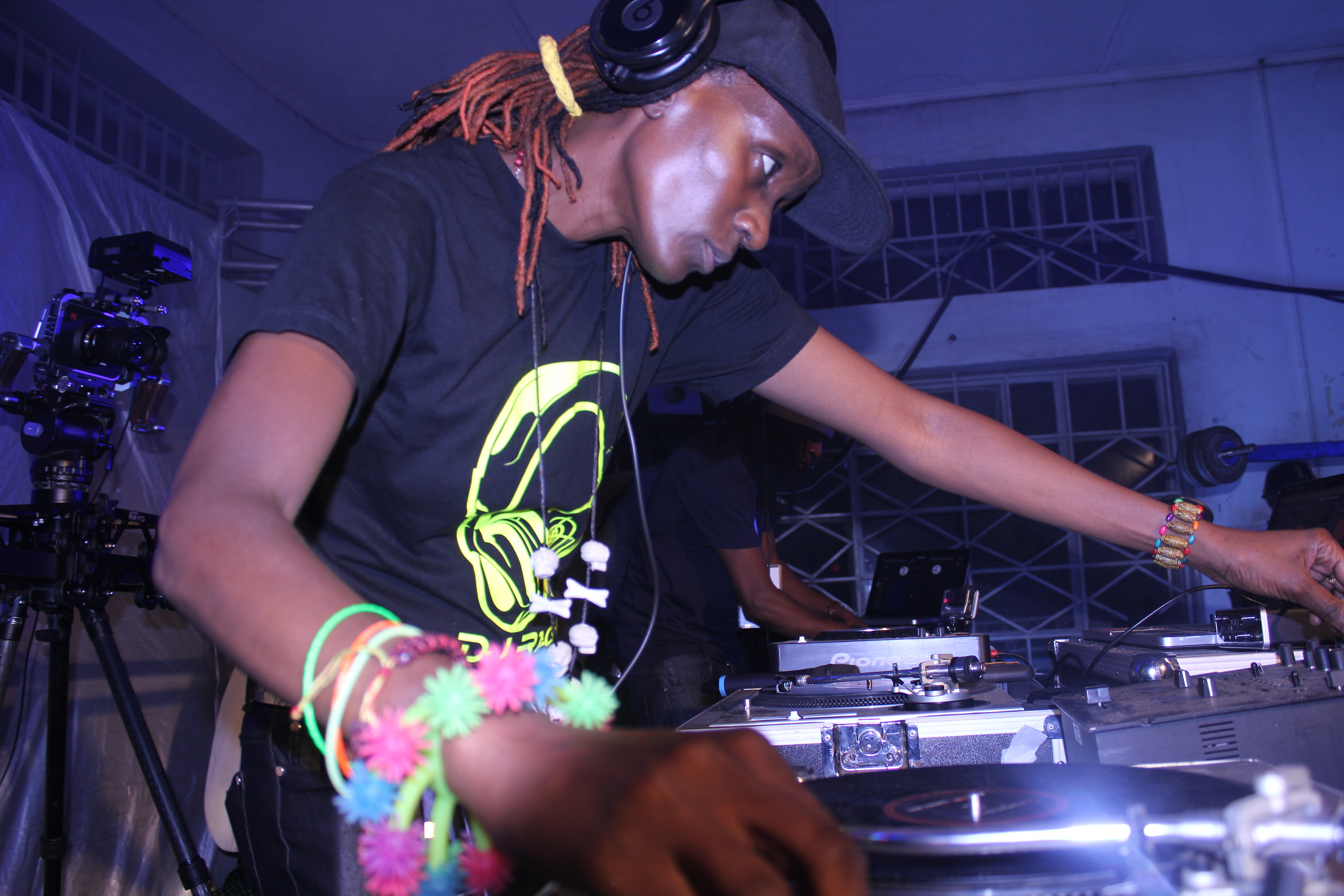 As well as mentoring from DJ Rachael herself, the collective has had training from international female acts such as Ena Lind from German female DJ collective Mint Berlin and well-known feminist DJ The Black Madonna, also known as Marea Stamper.
Stamper's DAPHNE series of parties celebrates female and non-binary DJs, and she got DJ Rachael over for one event in Chicago in January of this year. Stamper's "manifesto" highlights the importance of women sticking together in the male-dominated industry: "Since there are so few women compared to men... we can sort of engineer peer groups for them. That's happening at the moment, there are several networking groups for women that weren't around five years ago".
Back at Rachael's house, she is ruminating on a topic that has been weighing heavy on her recently—where to go from here. A life in Uganda versus a career abroad is a dilemma that many creatives in Sub-Saharan African countries face, as their need to make a living becomes at odds with any passions they might have for improving the arts scene at home.
DJ Rachael has had a long career, and when asked about this dilemma, she replies that she has given a lot to the local scene already and is ready to move beyond her home turf. "But there's still a lot more I can offer here for those who continuously follow and love me," she says. "So I guess that can keep me home regularly. Home is where the music is."