Photo via Twitter/criscyborg
A day before allegedly punching Angela Magana in the face for talking shit on Twitter, UFC fighter Cristiane "Cyborg" Justino tweeted a picture of a much more cordial on-the-street stare down with Invicta FC featherweight champion Megan Anderson, tagging UFC matchmaker Sean Shelby in the post.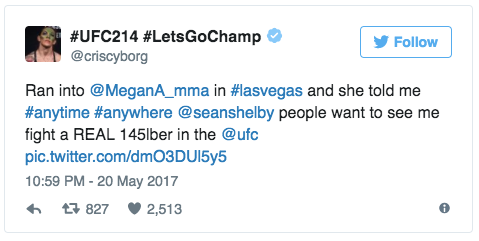 That'd be cool, right? It's shaping up to be a long, not-super-exciting summer for high-profile MMA across genders, and a bout at UFC 214 on July 29 between the current Invicta champ and the terror who surrendered her Invicta belt for the UFC's brighter lights would be as compelling as any on the horizon. But then, in a meta moment, you realize you only want this fight to happen because it fills a vacuum. Isn't this just Cyborg versus someone else? That's not to demean Anderson, who retweeted the picture and has guts lobbying for the fight without any nudging from the UFC. Instead, it speaks to the problems of propping up a weight class that doesn't truly exist.
Cyborg is the center of gravity at 145 pounds. Ever since she demolished Gina Carano, the first feminine celebrity in MMA, all other fighters from bantamweight on up have fought in relation to her. The problem is that Cyborg is an incredible, accomplished, violent fighter operating on fallow ground: for the moment, it doesn't take much to get into the top 15 at featherweight. Her 140-pound catchweight bouts with Leslie Smith and Lina Länsberg were squash matches. The "division" the UFC implemented for her becomes a hollow gimmick as soon as you scroll through the part under the UFC's women's featherweight rankings that says "no rankings available for this selection," more than three months after the division named a champion.
The championship turnover at bantamweight—the division where Cyborg's nemesis Ronda Rousey reigned until her ostensible retirement—along with Cyborg's draining efforts to hit 140 pounds and the promotional impetus for the UFC to put another pay-per-view-headlining belt up for grabs brought us to where we are, and here is nowhere good. The cruel joke is that once the UFC stopped making Cyborg dehydrate herself until she turned into food for astronauts, she was sidelined due to a now-resolved beef with USADA, the formerly anonymous UFC bantamweight Germaine de Randamie stepped in to fight fellow 135-pounder Holly Holm for the inaugural featherweight title and the only women's 145-pound fight in the promotion's history, and de Randamie won a dirty, contested decision. Holm shrunk back to 135 pounds, and de Randamie has been publicly silent for months, something her management credits to unnamed personal issues and police academy commitments in her native Netherlands. Cyborg lobbied to fight de Randamie at UFC 214, but de Randamie had more enthusiasm for Holm or hand surgery.
Anderson, meanwhile, was Invicta's first post-Cyborg featherweight champion. She's on a four-fight winning streak—all TKO finishes—since 2015, defeating Charmaine Tweet and taking her title a few weeks before the de Randamie-Holm debacle. Back then, Anderson wanted no part of the Cyborg fight, and for good reason: she's only been fighting since 2013, and even her wins evince a work in progress. "I'm not running from [Cyborg], but yes, I know that I need to work on my skills if I'm going to fight the best pound-for-pound female in the world," Anderson told ESPN in February. "I would want a few more fights. It doesn't mean I'm ducking her. I just want one or two more fights, especially on a big platform. I don't want to be fed to anyone. I don't want to be anyone's stepping-stone. I want to make sure I'm set up and my career is being looked after as well. I'm not cannon fodder, if you will."
But more importantly than figuring out Cyborg's next challenger, there's an existential question the UFC needs to answer: if it's the showcase division for Cyborg, does it matter if Anderson, de Randamie, or a retired 135-pound champion who doesn't want to cut weight again is in the opposing corner? If so, the UFC should cannibalize Invicta's entire featherweight roster WEC style, starting with Anderson. Say that divisions have relevance beyond the fighter holding the belt and prove it. Make rankings, too.
If not, the UFC should drop the pretense of contenders and championships and treat Cyborg like a video game boss, an ultimate challenge for the non-cutting 135-pounders, the Invicta champs who want to get off of Fight Pass, and elder-abuser (and sometime training partner) Gabi Garcia. That certainly sounds easier, in light of the past. From EliteXC to Strikeforce to Invicta and now the UFC, no one has ever found where to put Cyborg into the usual workings of a promotion. The UFC's women's 145-pound division was always scaffolding to support a star without much concern for the supports. It was an ill-conceived experiment, and sometimes experiments end with a plume of smoke and a chemistry teacher shrieking. We are all shrieking chemistry teachers.