Seven Policy Explanations Were Quietly Dropped From Trump Team Website
Trump's team has a reputation for deleting once-public information.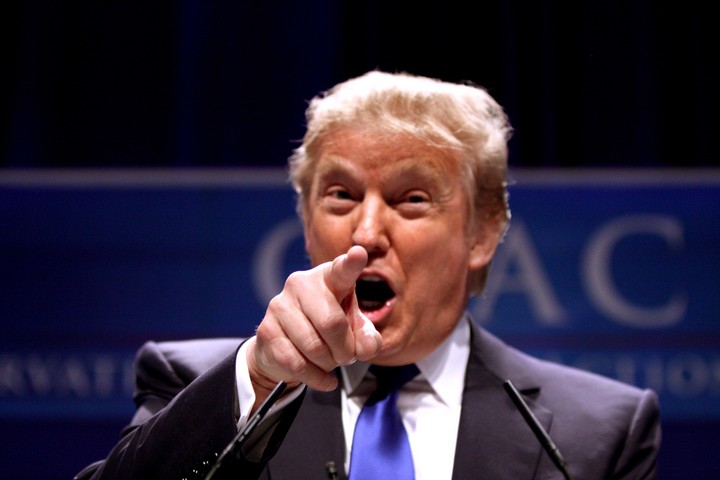 Image: Gage Skidmore/Flickr
With less than a week until the inauguration of President-elect Donald Trump, it sometimes feels like what's going to happen after January 19 is becoming less and less clear.
The billionaire's ascension has been characterized as a gaslighting of the American electorate due to Trump's habit of confidently declaring inaccurate statements as fact. (After finally conceding that Barack Obama was in fact born in the US, after falsely implying otherwise for years, Trump wrongly claimed that Hillary Clinton started the rumour. And that's just one example.)
It doesn't help that some of the information relating to the Trump administration's transition plans and policies seems to have disappeared from the internet.
GreatAgain.gov is a website created to inform the American populace about the efforts of the incoming transition team. Originally, the website included 12 policy statements filed under a drop-down menu titled "Making America Great Again."
"Announcing important policy then erasing it is very problematic"

After a full redesign of the site on December 12, 2016, that menu was nowhere to be found. Only five of the 12 statements were implemented in the new design, and they're buried on the bottom of the front page. The other seven appeared to be deleted and are no longer accessible.
This is according to Russ Kick, who curates a website devoted to making sure erased government information stays accessible. Kick used the Internet Archive's Wayback Machine, which archives web pages for posterity, to make his discovery.
The website's initial 12 different sections went into detail about a battery of Trump's policies, according to Kick's blog post and confirmed by the Wayback Machine, a tool to check archived versions of web pages.
Only the details of the defense, energy, healthcare, constitutional rights, and transportation policies survived the deletions, it shows. Pages that outlined details about immigration, Trump's tax and trade reform plans, education changes, and how he plans to unravel 20,000 regulations from the Obama administration and the Dodd-Frank financial rules, appear to have been deleted.
These are a cross-section of some of the more controversial of Trump's plans.
Transition team spokesperson Jessica Ditto, when reached by Motherboard for comment on Wednesday, denied that policy pages had been deleted.
"The policy pages are still on GreatAgain.gov. Please correct any misreporting you may have done on this matter," said Ditto in an email. She did not reply to repeated follow-up emails asking her to clarify her statement.
All seven deleted policy pages are screenshotted and saved on Kick's blog.
Read More: Here's 520 Hours of Trump Interviews So You Can Fact-Check the President
The Memory Hole 2, which was relaunched in June 2016 after being hacked and shut down in 2009, is named for one of the censorship mechanisms in George Orwell's dystopian novel Nineteen Eighty-Four. The memory hole was a chute that led to an incinerator, where embarrassing and troublesome documents were disposed of.
Kick's blog keeps track of those sorts of documents from the various levels of the US government. In the blog's original run, Kick chronicled the removed web documents of the George W. Bush administration.
"Announcing important policy then erasing it is very problematic, in a totally different league than deleting a tweet about [Vice President-elect Mike] Pence getting lectured at Hamilton," Kick told Motherboard over email.
The Memory Hole 2 isn't the only place tracking Trump's online deletions. Politwoops, for example, tracks deleted tweets from elected officials, including Trump. Scientists are working furiously to archive research that could be removed from the web under his administration, as Motherboard's Jason Koebler previously reported.
The incoming president's penchant for deleting information has been highlighted before. In November, he was criticized for taking down the plans to ban Muslims from immigrating to the US. That info was restored after public outcry.
Get six of our favorite Motherboard stories every day by signing up for our newsletter.