This article first appeared in VICE UK.
What is it? *Extremely English Literature at AS Level but was refused access to the course at A Level by an unprecedented petition from the entire staff of the English department voice* One might call it… a room with a view!
Where is it? Chiswick by way of Gunnersbury, which sounds more like an answer to an obscure pub question about technical London tube stops rather than an actual place to live, but what do I know;
What is there to do locally? Walk out onto the North Circular and pray for the sweet and rapid release of death, I would've thought;
Alright, how much are they asking? EIGHT. HUNNER. FIFTY. ON THE. MONTHLY.
A studio apartment, as we have been taught by New York-set sitcoms and moody Hollywood thrillers alike, is a roaming space with a gigantic kitchen – shiny brass pots hang above exposed brickwork, that sort of thing, which all melts past a concrete breakfast bar and by way of transitional cheese plants and ferns to the lounge-cum-living area, all leather sofas and exquisite rugs, with rigid black metal inlays dividing up the wall of window behind it all, so not only is it spacious it is airy, the studio, and the friends come over, in these New York sitcoms, saying non-sequiturs on the plush leather sofas, playing beer pong and falling in love; and in the thrillers, assassins steal into these studio apartments, these lovely places, in the grey-blue dead of night, where they try to shoot our hero in the head with a silenced gun, but instead end up in a grappling fight and get pushed backwards through a glass coffee table, unconscious with their balaclava pulled up and a single trickle of deep black blood at their temple – and we think of these places, these studio apartments, as a very modern sort of way of living, palatial almost, the ideal. Millennials, it seems, don't like staircases, or clearly defined room boundaries. We like large open living spaces with hard floors and unlocked external windows, and those are our churches. This is the best way to live now. This is the ideal. This is the—
Hmm.

IS THIS A STUDIO APARTMENT OR IS IT ONE OF THE SHITTEST SMALL SPACES IN THE WHOLE OF CHRISTENDOM – AND THEREFORE SHOULD WE ARGUE THAT WHOEVER INVENTED THE TERM "STUDIO APARTMENT", HANDING IT TO ESTATE AGENTS AND PROPERTY MANAGERS TO BESMIRCH AND SMUDGE AND BASTARDISE AND RUIN, TO A POINT WHERE IT WOULD BE ACCEPTABLE FOR THEM TO DESCRIBE THIS AS THUS, SHOULD WE FIND THAT PERSON AND, FOR THEIR CRIMES, HANG THEM? – AN INVESTIGATION:
– You will notice of course that the shower, crammed in a small crevice between the wall and the window, you will notice that the shower – with transparent doors! – the shower is in full view of the entire studio apartment – commas heavily inverted – and that stepping out of the shower immediately exposes you and your naked butt/butthole arrangement to the window, which opens out, un-curtained, immediately onto the road. A Good Start.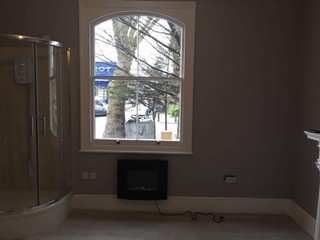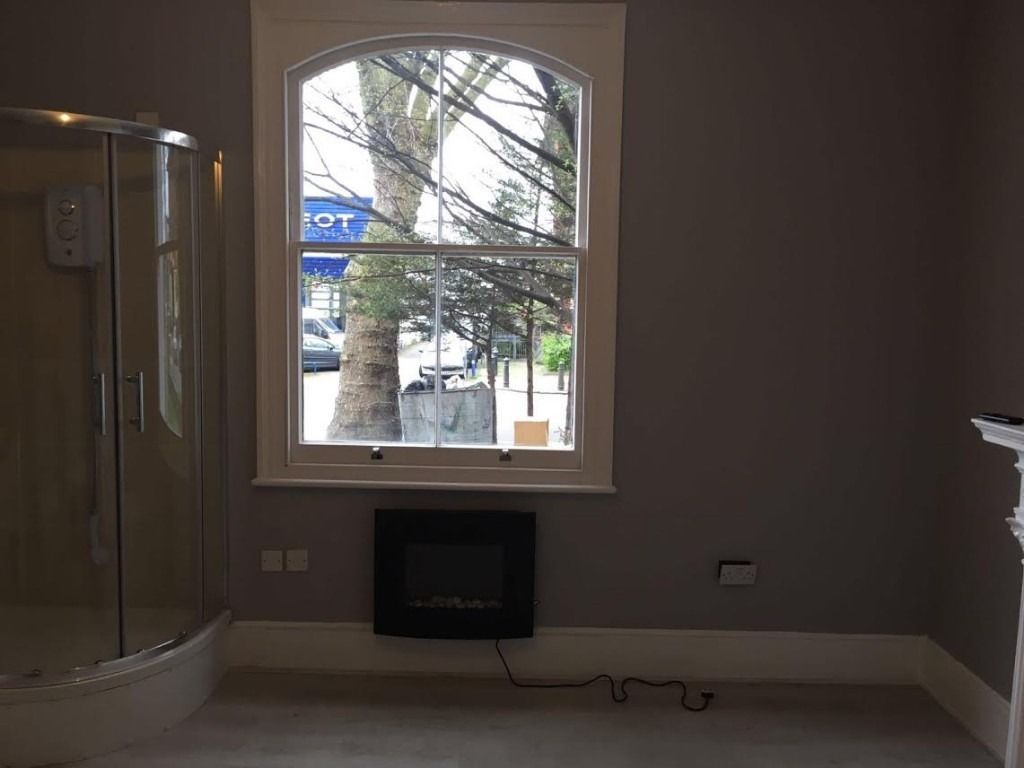 – The only source of heat seems to be an electric fireplace fitted beneath the aforementioned window and not fitted ­like, oh, I don't know, ACTUALLY IN THE FIREPLACE; THE ACTUAL FIREPLACE INSTEAD BEING BOARDED UP: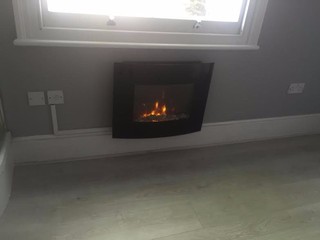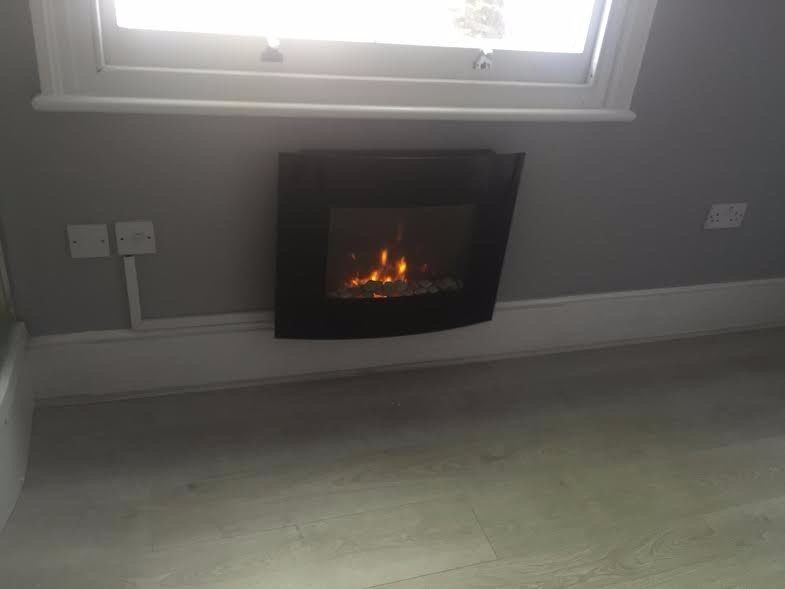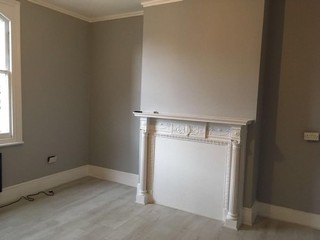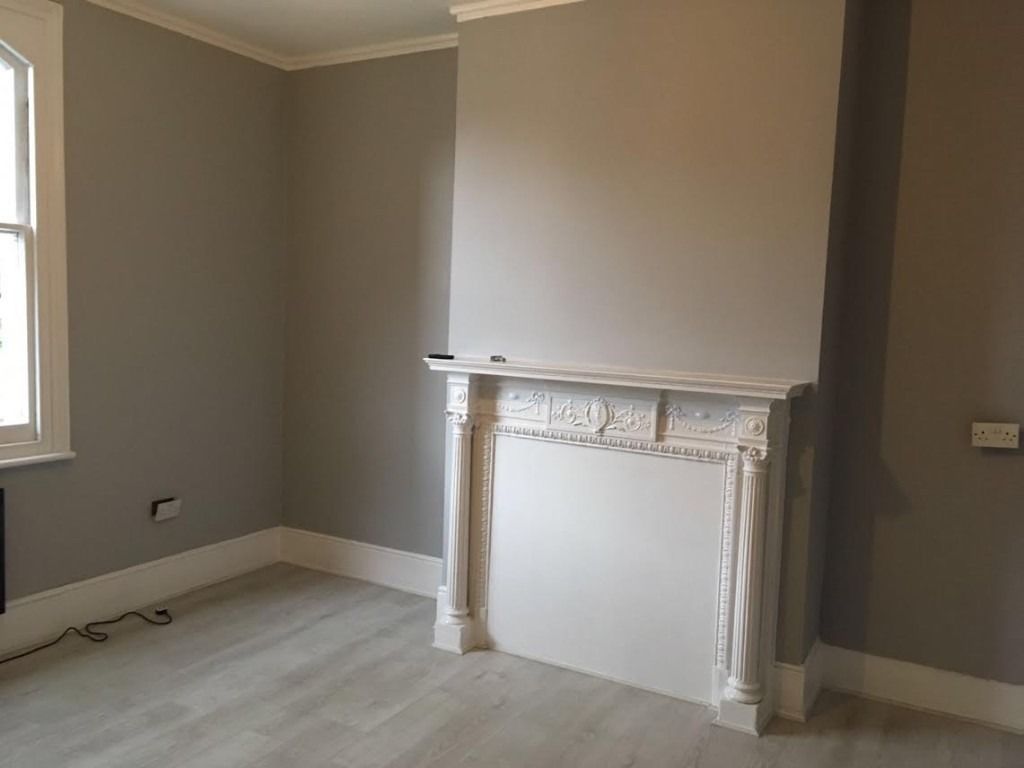 SO WHAT IS THE POINT OF THE FIREPLACE
– This seems to be a new-build kind of place, which brings up questions all of its own. Firstly: the walls look freshly skimmed with plaster and the floor looks un-scuffed, and everything is tastefully muted modern greys and clean white paint, and also two of the photos of the fireplace show one with a trailing wire and an electrical socket hanging out of the wall, and one with a neat boxed-off wire to the fireplace and the electrical socket screwed in, meaning people have been working on and taking photos of this place by the day, meaning it has been designed, meaning this space has been custom-built to sustain a small miserable amount of human life and I'm still not 1000 percent sure it can do that seeing as there is nowhere to either shit or sleep—
– I have never seen "Number of beds: 0" listed on the Gumtree website before, and I'm puzzled as to why that would be an option in the drop down box for whoever created this advert (Gumtree: wys?), but yeah: there is no bed here. And I'm not sure where, exactly, a bed would go. Maybe you could run a single bed at a diagonal angle across the room? Maybe you could run it parallel to the redundant fireplace, if that doesn't block the front door and the door to the fridge too much? Maybe – just maybe – you're going to have to suck it up and pay £850 a month to lay on a camp bed on the floor, folding it up behind you each and every morning of your life, and also you have to buy the camp bed yourself;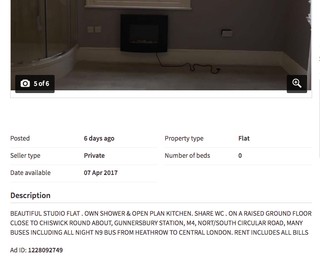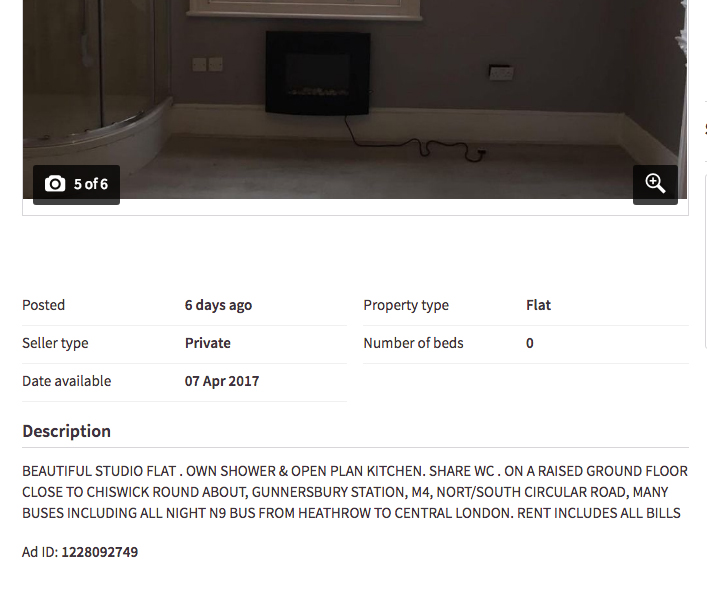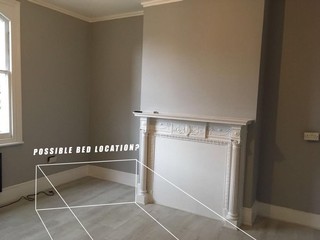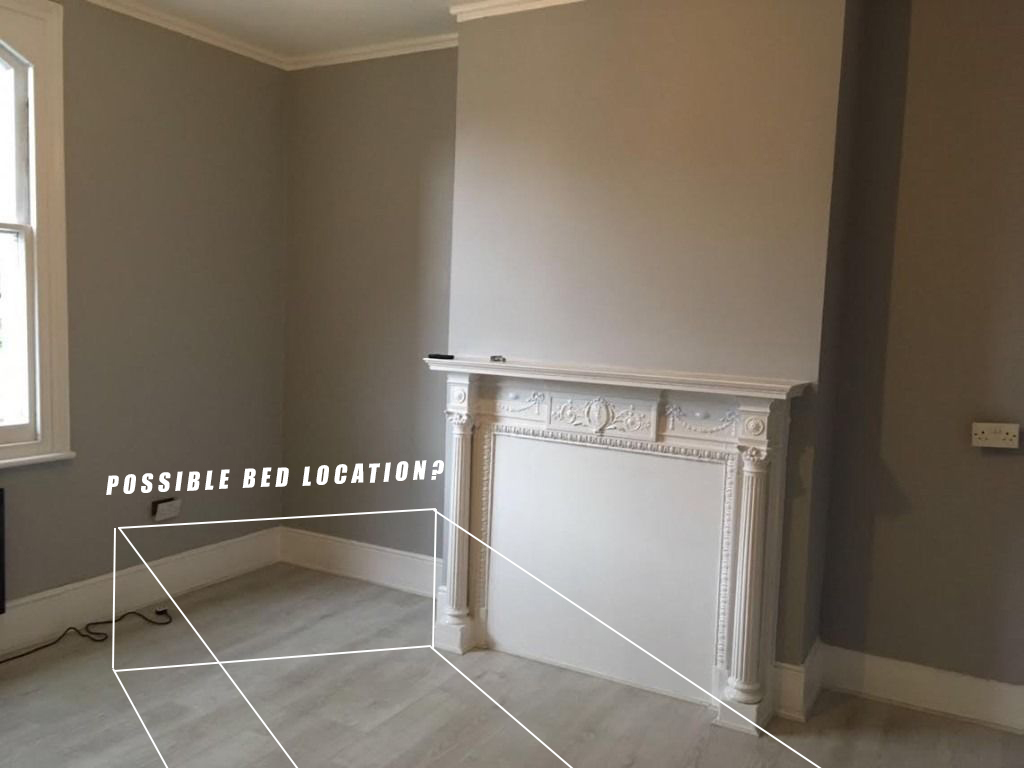 – If we learn anything from this, it is: do not ever buy anything from anyone who writes their advertisement in all capital letters;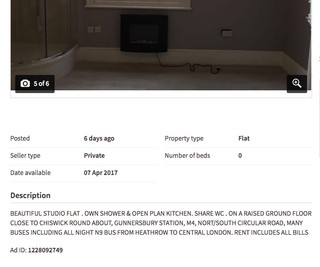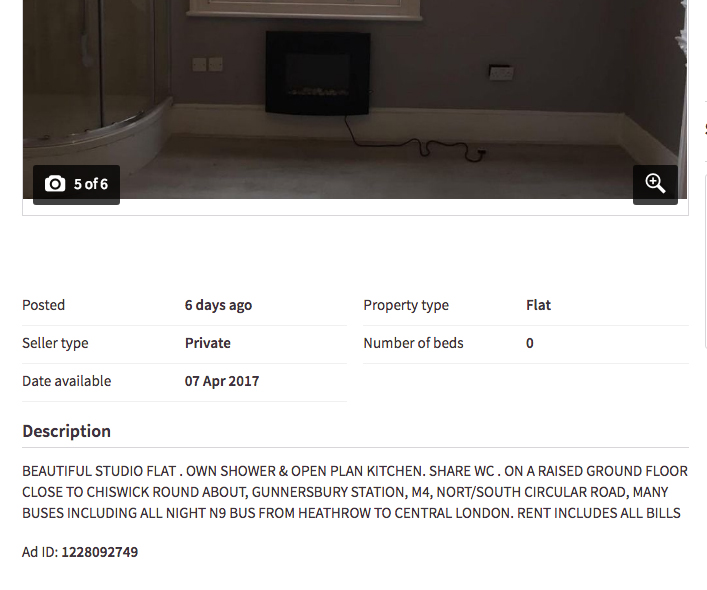 – Who exactly are you sharing the WC with, and is there a shower in the room the toilet is in, and are you (as the renter, here) are you allowed access to that? Because right now I'm getting the vibe that this is a single room that someone – a maniac – has decided to rent out in their house, to make ends meet. But I think it actually might be more sinister than that – that this room is just one of, say, five, spread across the same building, filled, all of them, with extremely puzzled study abroad students, who double-lock their door each night and nod silently to each other in the tight corridors in the moments they spend between pissing in the communal toilet and going back to their room to have a weird exposed shower in front of no one;

– Eight hundred and fifty pounds. Eight hundred and fifty pounds! In Chiswick!
– Take a look at the shower for me. Come on, let's look at it together. Now: am I insane, or—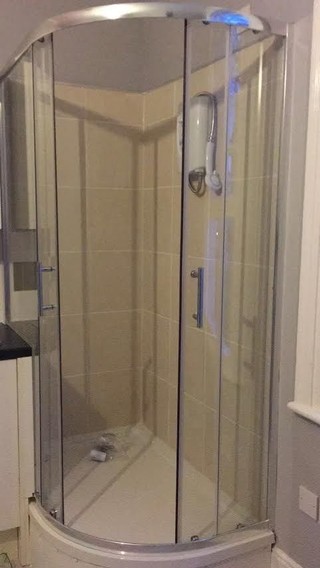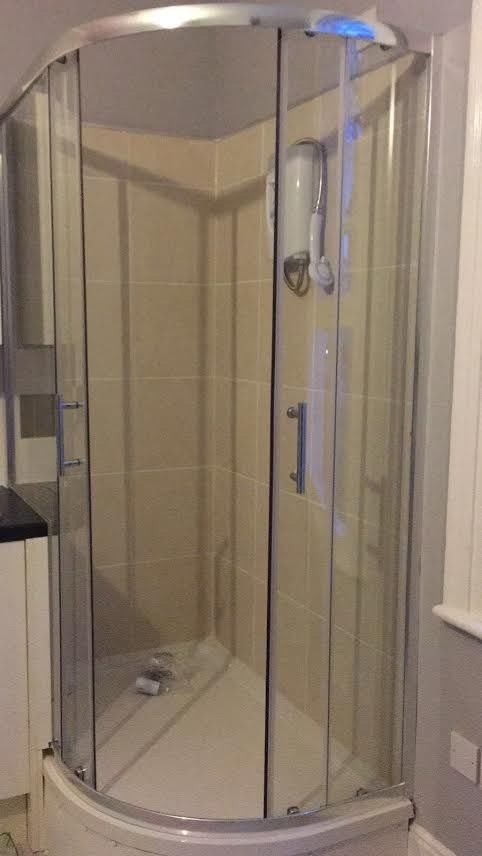 Has someone mounted the shower unit–

But not mounted the accompanying vertical pole that holds on to the shower head–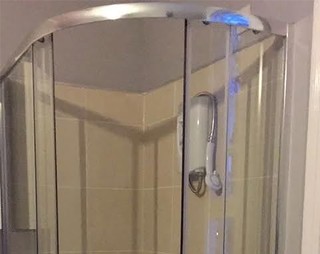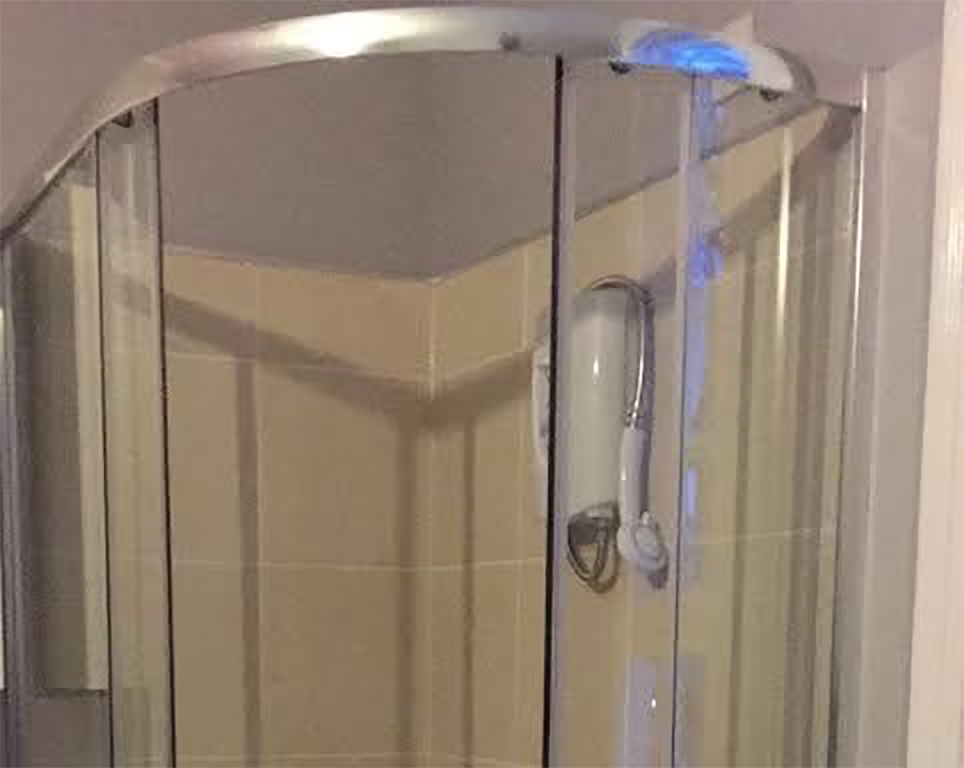 Meaning that to have a shower in this–

You have to hold… the shower head… over your own head?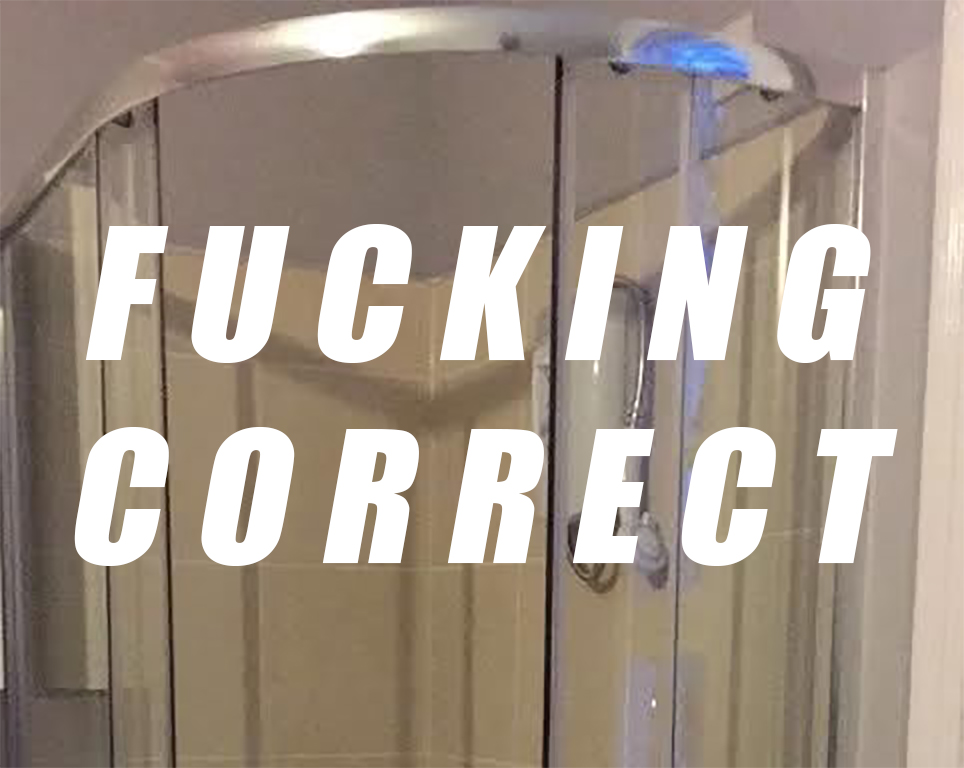 Welcome to big, big 2017, where you have to pay £850 a month to hold your own shower over your own head. And they say London doesn't need rent reform!

AND SO DID WE CONCLUDE WHETHER THIS WAS ACTUALLY A STUDIO APARTMENT – I.E. FITS THE PARAMETERS YOU MIGHT LEGALLY AND MORALLY BE COMFORTABLE IN DESCRIBING THIS A STUDIO APARTMENT AS – OR DID WE GO WILDLY OFF TOPIC AGAIN AND JUST START POINTING OUT WHAT WAS WRONG WITH THE APARTMENT AND SAYING "£850. £850!" A LOT, LIKE DID WE ACTUALLY COME TO A CONCLUSION OR WHAT
No, we didn't. Don't rent this studio apartment in Chiswick.
@joelgolby (h/t @ehgillett)
More stuff from this series:
A Weirdly Uplifting Chat With a Guy Who Used to Live in One of These Shitholes!
Potentially the Worst One Yet!