If you're a New Yorker (or a Brooklynite) then you've most likely heard about the L-train shutdown. In 2012, Hurricane Sandy wrecked New York City causing widespread destruction to homes and city infrastructure, including the L-train, that we are still dealing with nearly five years later.
I live in Bushwick, a gentrified neighborhood (for better or worse) in north Brooklyn on the edge of Queens and East New York and smack-dab in the middle of the L-train's route. For the past year, local residents have been shitting their pants over the train's impending closure, the primary source of transportation for local residents, and how it will affect our lives for better or worse.
In April 2019, the L-train's service between 8th Avenue in Manhattan and Bedford Avenue in Brooklyn will be shut down for 15-months, effectively turning the neighborhoods in Brooklyn into a dead zone for commuter traffic and the 225,000 people who rely on the train to get into the city for work.
The Sierra Club, a conservation group, and certain city council members see the closure as less of a challenge and more of an opportunity to make the city's transit more environmentally friendly. Their organization has a national initiative that urges local mayors to move towards 100 percent renewable energy, which ultimately means taking the necessary steps to address climate change, create new economic opportunities, and avoid apocalyptic superstorms like Sandy in New York and across the country. This is part of a larger trend of more and more cities and towns embracing renewables and sustainability, largely for economic reasons.
The Metropolitan Transit Authority (MTA) proposed a fleet of diesel-fueled buses as a replacement for the train. The only problem is that those buses run on fossil fuels, which means more carbon emissions that increase greenhouse gas and heat the planet.
---
Check out some more video from VICE:
---
City Council Member, Rafael Espinal -- who represents District 37 in Bushwick, Brownsville, Cypress Hills and East New York -- has partnered with the Sierra Club on a resolution that calls on the MTA to use a fleet of electric buses instead. According to the Sierra Club, a fleet of electric buses would dramatically reduce carbon emissions -- approximately 575,000 metric tons of C02 per year -- and could even save residents about $100 in healthcare too.
I spoke with Council Member Espinal about how the L-train closure is both a climate issue and social justice issue, and what the future holds for L-train commuters like myself.
VICE Impact: How did you, other council members, and the Sierra Club develop the proposal for an electric bus fleet?
Rafael Espinal: The Sierra Club has been pushing the MTA for a few years now to create a pilot program on introducing an electric bus fleet to the streets of New York. They felt like they weren't getting any traction on the issue and saw that the L-train shut down was the perfect opportunity for the MTA to live up to their promise.
I saw this as a great opportunity. One: Because I represent the districts in which the L train runs through. Two: North Brooklyn has some of the worst air quality in the city. Three: We have a federal administration that's looking to dismantle the EPA and pretty much disregard the issues of climate change.
How would an electric fleet be more affordable than a fossil fuel bus service? Are there long-term benefits that could potentially benefit residents?
An electric bus fleet's upfront cost is not more affordable than buying the everyday buses the MTA currently uses. We believe that in the long run, this will save the MTA hundreds of thousands of dollars on fuel, which, in turn, would make up for the cost of buying the bus.
And the buses themselves would run on renewable energy which won't further pollute the air in the immediate area, which has some of the worse air quality in New York City.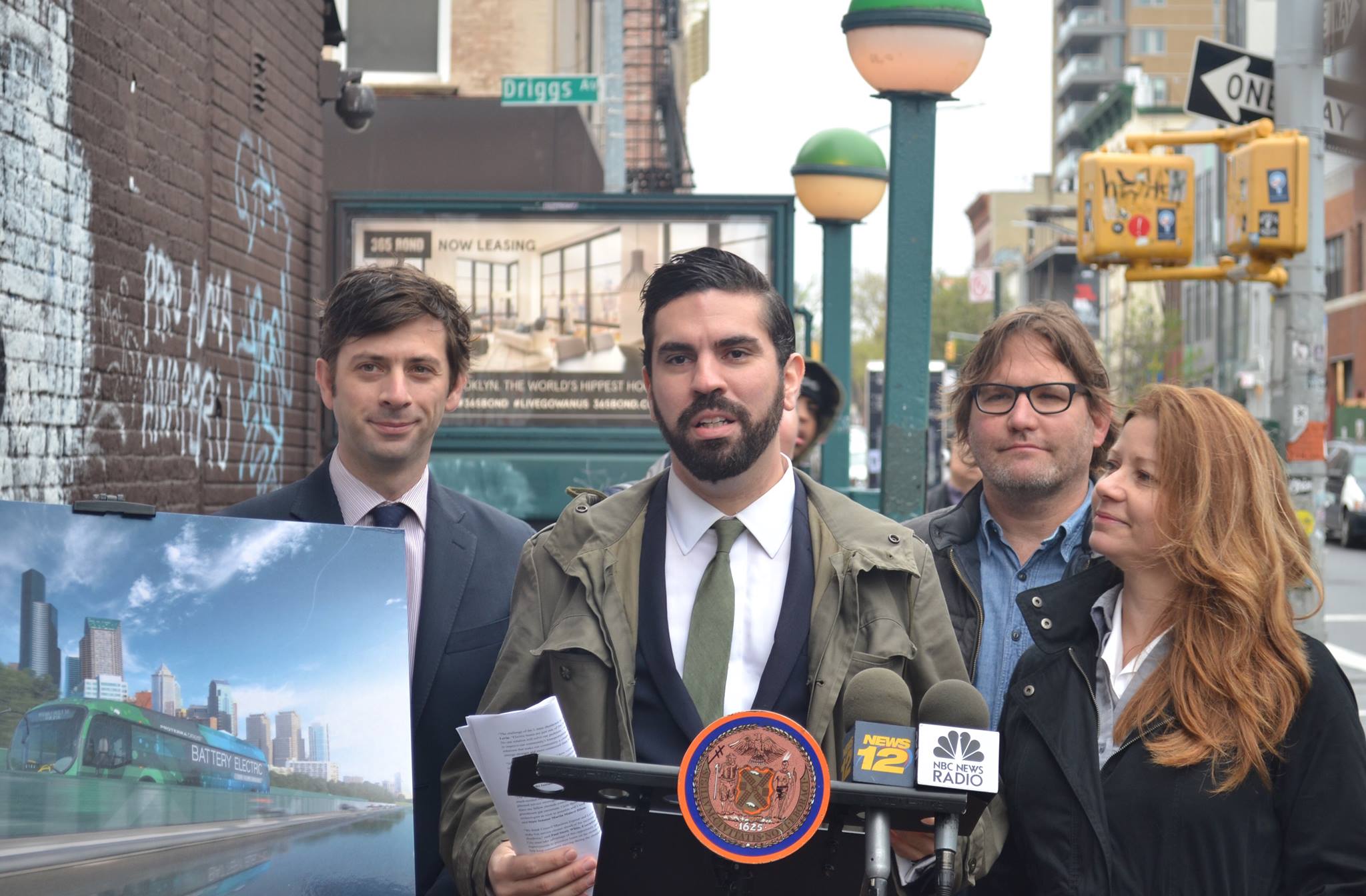 How can an L-train commuter support the electric bus fleet initiative? What are the next steps to make this idea a reality?
This is all going to come down to local advocacy. I can't do it on my own. The Sierra Club can't do it on its own. We're gonna need everyday Brooklynites to come together, whether it be through petitions or joining our campaign so that the MTA and state can realize that it isn't just an official and an advocacy group pushing this. This is thousands and thousands of Brooklynites pushing on this issue.
We're going to continue pushing, of course, on our administrative front and continue with the resolution that we have in the city council, but it's going to come down to the folks living and affected by the L Train shutdown.
After hurricane Sandy, the R-train was shut down for over a year, and the G-train shut down for two months. How will the L-train closure look different?
I don't believe there were green alternatives [for the other trains]. I think the R train has many different transfer points through its route that commuters were able to transfer over to get into the city. For the L train, from Williamsburg all the way to the beginning of Bushwick, there aren't really any other options for them to transfer to another train. So that why, especially if you live in Williamsburg, the MTA has to create a plan to make it easier for New Yorkers to mobilize.
What are the green alternatives that the city, MTA, or other council members are proposing for commuters besides the electric fleet?
As of yet, none.
Why is this climate and transportation issue also a social justice issue for the communities that use the L-train?
Because of the effects of climate change, we're being inconvenienced and we're going to have to find alternative ways to get into work. I'm sure if you're a low-income New Yorker that hailing an Uber or a cab is not feasible and you rely on this transportation, so it's going to be much harder for you to get into work. This affects New Yorkers, and mostly low-income New Yorkers, because low-income New Yorkers don't have a wider option of alternative transportation. They have to rely on the MTA.
How does this issue in New York have relevance in other states and cities around the country?
If New York city can accomplish switching their entire fleet to 100 percent renewables then this will set the tone across the country and across the world [for] how we should be moving forward to play our role in the issues of climate change. Cities across the globe account for 70 percent of greenhouse gas emissions and every little [thing] we can do to lower that percentage plays a role in dealing with the global effects of climate change.
What's your call to action for local residents and people outside of New York?
I believe it's our time, locally, to get involved on the issues because we have a federal government that has no regard for our globe and our planet. If we're really serious about making an impact we can't rely on a top down approach it starts with us as citizens and as residents and as inhabitants of the globe to do something.
This interview has been edited for brevity and clarity.