Modern-day depictions of HIV/AIDS have made the epidemic feel like a defanged snake—dangerous, but not lethal. While significant strides have been made in treatment and prevention, the virus hasn't lost its bite. In America alone, the Center for Disease Control reported there were 39,513 people diagnosed with HIV in 2015, and a disproportionate majority are black men. Globally, the epidemic is much worse. According to the World Health Organization, in 2015 more than 1 million people died of AIDS-related illnesses.
Flashback to 1982, Gay Men's Health Crisis (GMHC), a New York-based non-profit, emerged when the government was too afraid to acknowledge the plague ravaging the nation. That same year, there had already been 853 deaths in the U.S., the virus was seen as the "gay plague" and widespread homophobic attitudes allowed the government to sweep the epidemic under the rug. If you think that Sean Spicer is bad, listen to Reagan's Press Secretary and a pool of journalists literally laugh at the thought of AIDS and those who were dying from it. This was not only fucked up, but the homophobia that reduced AIDS to a "gay men's disease" would later impact women, straight men, injection drug users and hemophiliacs— all unnecessary deaths that could have been prevented if people in power had given a damn.

Trailblazers stood up in order to pave the way for the medical advancements in science that turned a diagnosis from a death sentence to a chronic illness. Since then, they've been fighting the virus head on, dedicating their mission to public health education and the prevention of HIV/AIDS. At a time when LGBTQ people had even fewer rights than they do now, grassroots groups like the GMHC took the lead in advocating for civil rights and saving lives.
The organization's advocacy comes in many forms, but perhaps the most well-known is AIDS Walk New York. The event is a six-mile loop around Central Park in New York City that tens of thousands annually attend to show their pride and their support. The inaugural walk took place in 1986 when a young activist named Craig R. Miller approached the GMHC with the idea for the walk and now more than 30 years later he still serves as the Walk's Senior Organizer.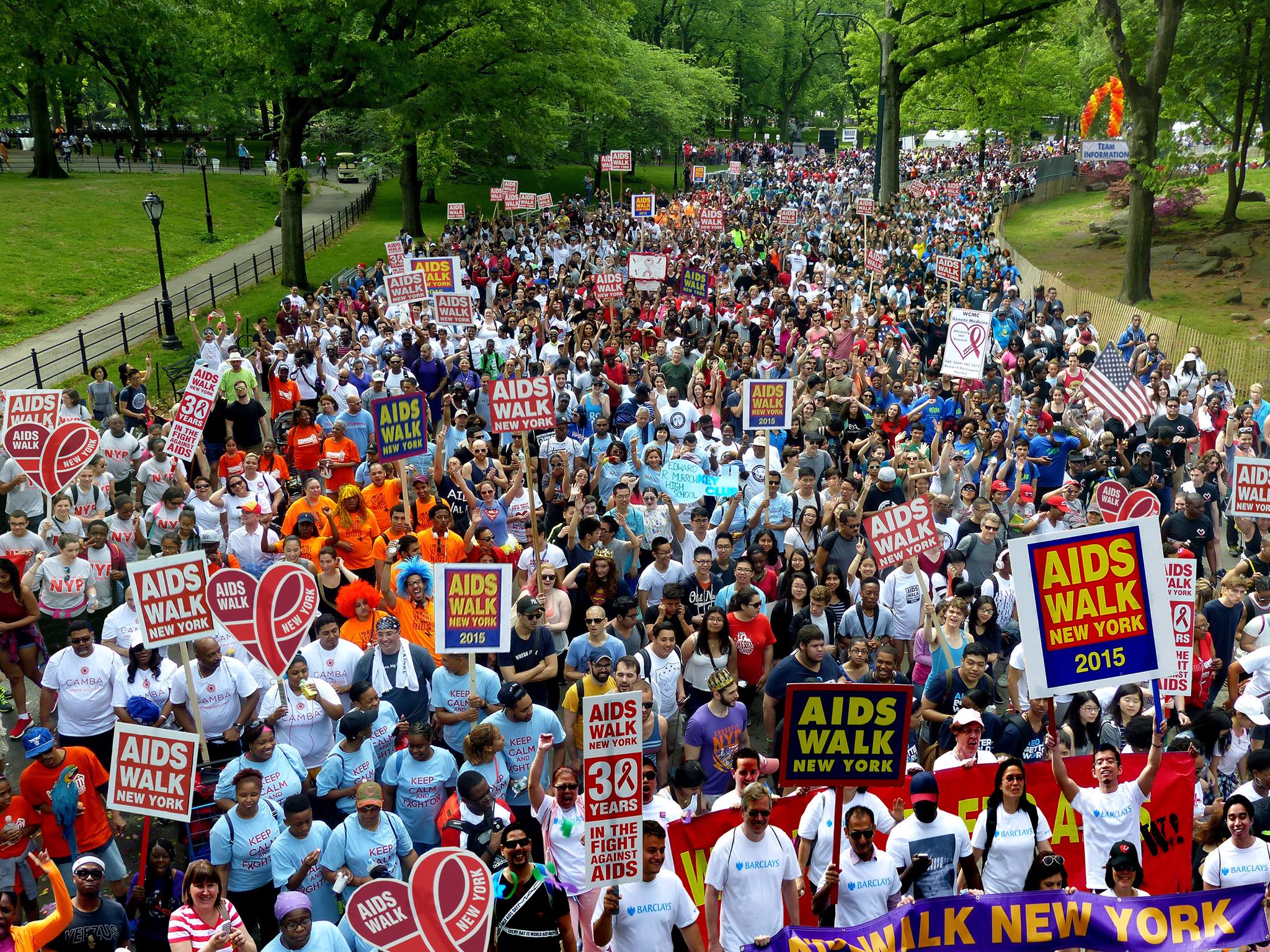 Since its inception, AIDS Walk New York has become more inclusive in benefitting people who are living with or affected by HIV and AIDS, reaching out to women, people of color and other marginalized communities.
VICE Impact spoke with the Event Director for AIDS Walk New York, Emily Parson, GMHC Director of Community Relations, Krishna Stone and GMHC Vice President of Public Affairs and Policy, Eric Sawyer to learn more about how AIDS Walk New York has transformed over time and the new battles they are facing.
Vice Impact: How has the march changed over time?
JS: There remained room for activism, but also a more hopeful outlook – a sense that we're all basically moving in the right direction in fighting AIDS. Huge issues remained, and persist today, but progress was being made, and government funding levels were increasing. [Former president] Obama created the first National AIDS Strategy; Governor Cuomo put together the Task Force to end AIDS in New York State by 2020 — two initiatives GMHC was honored to help shape.
For our readers who might not be informed, what is the overall status of HIV and AIDS in the U.S.? Is this still an epidemic?
ES: Yes, it is still an epidemic, but there is some positive data that has come out of the recent statistics. For years the number of new HIV infections were flatlining. Around 50,000 people per year were newly diagnosed in the U.S., but the number from the most recent release showed a slight decline to around 39,500 people. That's about a 19 percent reduction in new infections.
Which communities are most impacted by AIDS, how the does march help them?
KS: The funding from AIDS Walk New York primarily benefits GMHC which has services for women, men and families living with or infected by HIV and AIDS, which is about 10,000 of our clients. Also, it benefits our prevention programming, our HIV testing and public policy work. And then, AIDS Walk New York also benefits dozens of other smaller AIDS organizations which are working with these specific populations.
What's also remarkable about the day of the walk is that we have about 35,000 people -- families and corporate employees, faith communities -- and that day provides an opportunity to raise awareness about these critical issues. It's what I would call, as a parent, a teachable moment. And we provide free HIV testing on the day in Central Park.
How has the political and social climate changed towards the event?
JS: Today we are confronting a very different environment. We continue to have strong support from the Governor and other New York leaders, and of course New Yorkers generally. However, I don't think it's news to anyone that the policies of the current leadership in Washington, D.C. are some of the least friendly we've seen in decades to the people GMHC serves. The event has, in turn, shifted again to a greater sense of urgency and activism that is needed today.
What challenges have AIDS Walk organizers faced in the past?
JS: In the past, we've faced challenges of declining interest in the issue itself – battling against the perception that HIV is "over," when in fact in some communities, it is actually resurging. In today's environment, though, we're seeing a renewed interest in how HIV affects disadvantaged people, and a greater understanding that HIV spreads when we don't take care of the people who most need our help.
What can people do if they can't make it to the walk? How can people in their hometowns take action the rest of the year?
JS: We encourage participation worldwide! Anyone can register and "virtually" walk. We encourage virtual participants to wear a red ribbon and change their profile pictures for the day to help raise awareness, and to fundraise on their personal web pages on the website.
You can learn more about AIDS Walk New York, which is happening on May 21 in New York City from 8:30 a.m. to 12:30 p.m. Here's how you can be a part of the solution.
This interview has been edited for brevity and clarity
Correction (5/12/17): An earlier version of this story said that Craig Miller worked for GMHC when he came up with the idea for AIDS Walk, but in fact, he was not employed by the organization. Also, GMHC was incorporated into the event 1982, not 1981.
Correction (5/15/17): An earlier version of this story attributed Ms. Parson's quotes to GMHC rep Jen Shykula.