The Story Behind the Cover of VICE Magazine's June Issue
This guy voted for Clinton.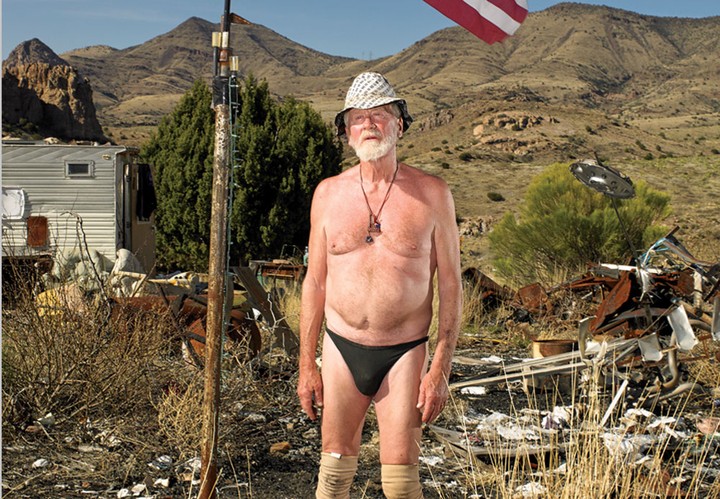 This story appears in the June issue of VICE magazine. Click HERE to subscribe.
Naomi Harris, a photographer from Toronto, studied at the International Center of Photography in New York. Her projects include Haddon Hall , about the last senior citizens of Miami Beach; America Swings , an in-depth look at the phenomenon of swinging; and Oh Canada! , where she traveled across the country photographing its oldest citizen, the world's largest coffee pot, and albino twins. For this issue, she lived out of her car while road-tripping across the United States for President Trump's first 100 days in office.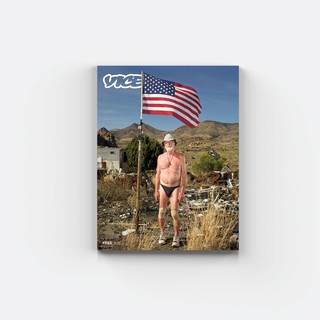 At first we were hesitant about using this cover image because we wrongly assumed it was taking an easy shot at "backward" Red State Trumpers. But this guy voted for Clinton.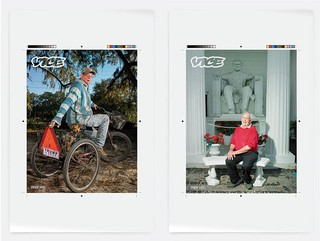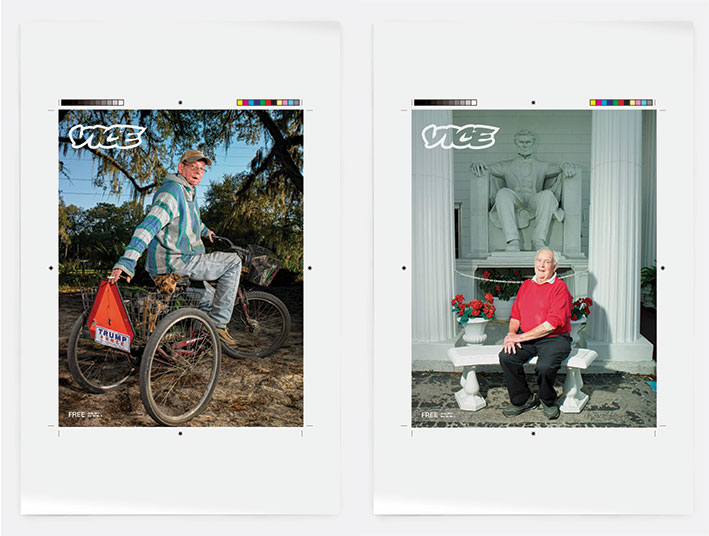 Choosing the cover photo was difficult because there are so many amazing subjects in Harris's series, like these two guys pictured here.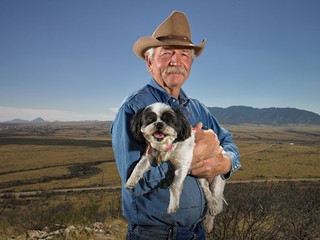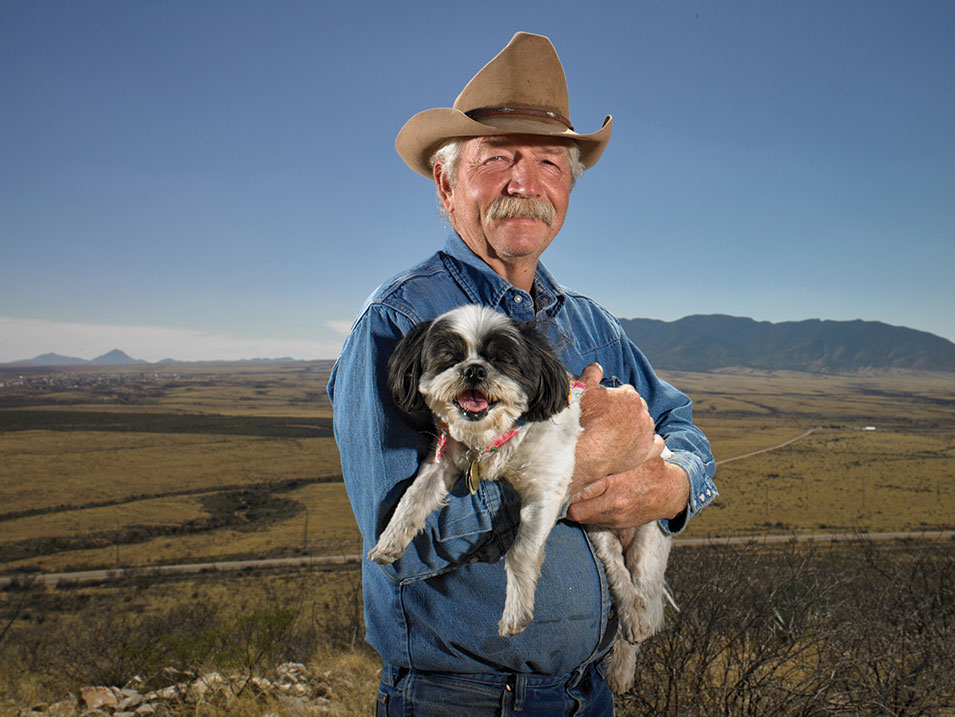 Harris posed her beloved Shih Tzu, Maggie, with nearly every subject she met on the road for this project. Pictured here is John Ladd, a rancher from Bisbee, Arizona.
VICE: Tell us the story behind our cover image.
Naomi Harris: I had just finished driving through the Gila National Forest, a beautiful, windy road and was going along the 191 in Arizona when I noticed a man off in the distance working in his yard. The fact that he was wearing nothing but sneakers, a sun hat, and a G-string definitely caught my eye. I pulled over and honked my horn a few times to get his attention. Richard Toll Ward came to the gate and let me in. We had a nice little visit where he told me he was a Vietnam vet and that he voted for "Hillarity," and then let me photograph him. I left there with two loaves of delicious homemade sourdough bread with olives in it!
What motivated you to start this project?
I needed to find out for myself how—when the polls and the media all said Hillary would win by a landslide—did we wake up to our current reality. Sitting at home posting articles and memes on Facebook is preaching to the choir. Everyone shares the same point of view, and nothing new is learned. Getting out of coastal-elite America and hitting the road to other parts of the country, meeting real Americans, was, for me, the only way to learn, straight from the horse's mouth, why so many people voted the way they did. Because no media was really covering this—be it mainstream, fake news, or otherwise.
You were on the road for so long. What are some of the craziest things you encountered along the way?
Fortunately, there were no really crazy experiences—though many call me crazy for sleeping in my car night after night in Walmart parking lots. Rather, I had many memorable experiences. I suppose the most dramatic thing to happen was when I was talking to a couple in Brownsville, Texas, in the backyard of their home, which is on the border. I reached out to touch the fence, and at that very moment, four teens with absolutely terrified looks on their faces hustled by, followed by another two women—a little older, maybe in their 30s. And because the gate was open (it had been all day), they ran through it and across the street! The woman said the immigrants time the Border Patrol's rounds, which isn't difficult to do, as she herself pretty much knows when the agents come around. And 20 minutes later, when Border Patrol showed up to close the gate, they noticed the footprints in the dirt, and like a pair of Keystone Cops, they started scratching their heads and looking around like, Where could these people have gotten off to?
What are you currently working on?
I'm working with designer Teun van der Heijden on my upcoming book, EUSA, which will be published by Kehrer Verlag this autumn. I'm planning a ten-week canoe trip in Ontario next summer as part of an art project tracing the fur traders' route through the eyes of British painter Frances Anne Hopkins, thanks to a Canada Council for the Arts New Chapter grant.
UPDATE 5/22/17: Naomi Harris was planning to attend graduate school in Germany. She is no longer doing so. An answer has been reflected with this change.