The drive from our motel to the Shoreline Ampitheatre, the site of Rolling Loud, was just about all I'd seen of San Francisco. I had wondered, then, while coasting on the highway through the Bay Area, whether the picturesque mountains encasing Silicon Valley and their accompanying, gauzy midday smog could produce the sort of knock Miami had, three years in a row.
Rolling Loud's swollen, rap-centric lineup was meant to satiate concert-goers dreams by straddling a crevasse—namely, one that bridges industry newcomers with hip-hop doyens. I realized that—umbrellaed under headliners like Travis Scott, Lil Wayne, Lil Uzi Vert, SchoolBoy Q, Lil Yachty and Young Thug—was a dense bouquet of upcoming artists. In fact, the majority of the day was slotted with internet and Soundcloud sensations like Trippie Redd, Lil Pump, Smoke Purpp, Kodie Shane and Young Nudy. The blueprint for Rolling Loud was directly evocative of EDM festival programs, and I pondered whether or not these rappers massive Instagram followings would transcend their photo likes into true fans who actually cared enough about their music to show up and see them perform.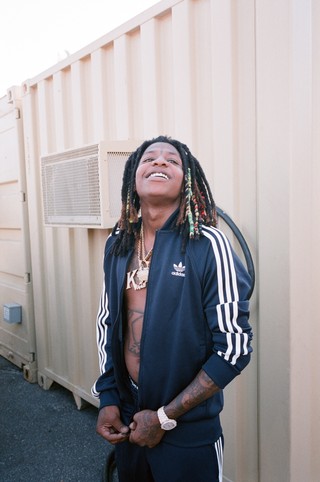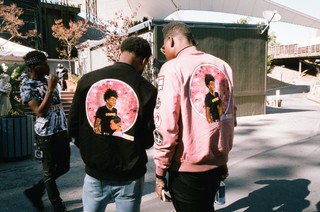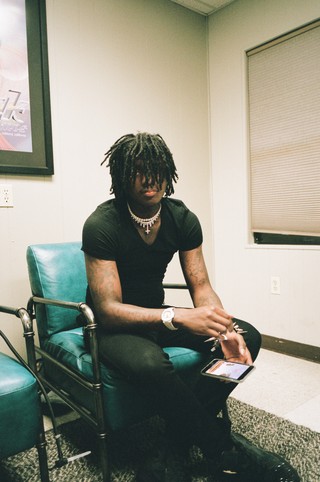 When I was ushered backstage early afternoon, the scene was already pulsating with excitement and chaos. It was here—in the broad grassy expanse littered with trailers, dormant EMS trucks poised for usage, and slews of security—where just as much of the event's antics happened off stage as it did on. At different points during the weekend, Lil Yachty would casually saunter past, blinding onlookers with his elaborate diamond jewelry. Kodak Black would rip a fresh Polaroid from a photographer's hand, frankly uninterested in the emailed copy he was offered. The most unfortunate point would come when Lil B would allegedly have an exchange with A Boogie Wit Da Hoodie and PnB Rock that lead to an ensuing fight where he was jumped. Bravely he appeared on stage anyways, where he apologetically announced to faithful fans that he would not be performing.
Every so often, black golf carts whizzed by, driven by overtly stressed people radioing in on lines that always seem busy. I overheard one woman say, "Alright, going to pick him up now, he's up next," before zigzagging off into the labyrinth that eventually leads to an artist area, where they all are able to hang out in concealment.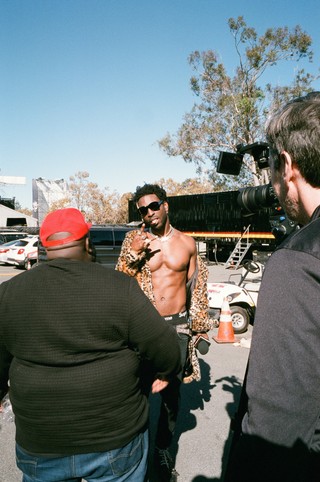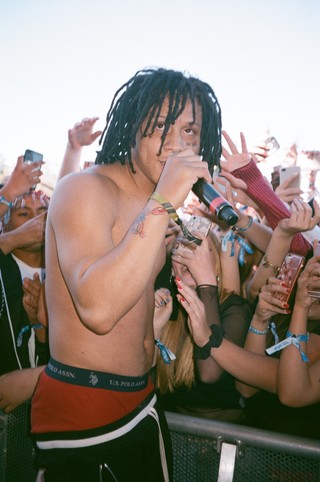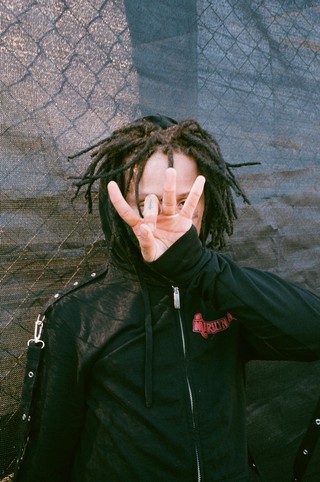 Eventually the woman returned, transporting a boy with chin-length dark dreadlocks to the entrance at the back of the stage. 18-year-old Trippie Red is part of the elite group of idiosyncratic newcomers who have emerged from Soundcloud, enhancing their fame further through crafting unapologetically, un-puritanical internet personalities. He had first come to my attention on Instagram, after I had seen a video of him burning a 100 dollar bill and then proceeding to chew on what was left of it. Today was was the Ohio rapper's first Rolling Loud, marking a pivotal point in his young career which began just a few short years ago after releasing a track called "Angry Vibes" onto his Soundcloud. However, judging by the bellowing roar of the crowd, his status as a new artist did not translate into poor fan turnout.
From the moment he stepped onto the stage, he was surrounded by his friends. Amidst shrieking fans, Trippie veered into his hit track, "Love Scars," and propelled himself into the crowd, trying to stay decently upright enough to still perform as the crowd clamoured to help lift him. His girlfriend stood demurely to the left of the stage, smoking a blunt while bobbing cooly to the music as thousands of people screamed his lyrics.
"I fucked with it, it was fun. It was a lot of energy," Trippie said after he finished his performance, flanked again by his squad. "I like to feel other people's energy when I perform. It makes my [own] better."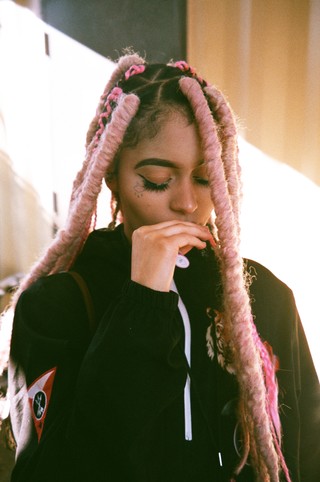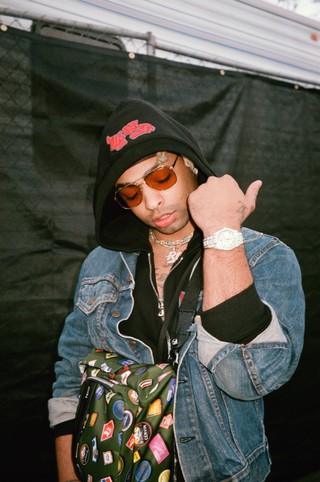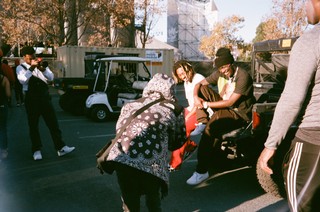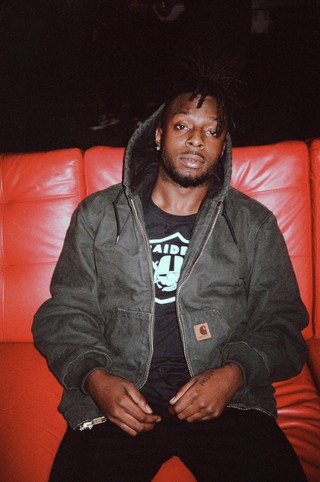 I caught Trippie performing again later that evening at XXXTentacion's drama-filled set and people were just as elated to see Trippie on stage again as they were to see the Florida rapper, whose own career was birthed through erecting a Soundcloud following. One young fan, who looked like he wasn't out of high school yet, was pressed up against the metal barricade, bearing the brunt force of an entire crowd aggressively pushing forward when he screamed, "YOUR MUSIC SAVED MY LIFE TRIPPIE!" Eventually, after failed attempts at crowd surfing with XXXTentacion, the rapper walked by and the boy was able to garner his attention for long enough to summon him over. In the middle of all the commotion, the two stood there talking, each on one side of the fence, from two different worlds, finding common ground.
Backstage, Smoke Purpp was candidly making cocktails on camera. He was taking the segment seriously, but not so much so that he wasn't able to interject his infamous, obnoxious, teenage-boy flare. "Essskkketit," he blurted out. This line has become his trademark, which he has cemented over the course of the last two years since releasing his first songs under his current moniker in July 2015.
The 20-year-old's performance a few hours prior was the rap equivalent of a punk rock concert where he orchestrated three different moshpits and yelled at the crowd to "turn the fuck up" and "rage." At one point he made security haul three devoted fans out of general admission, prompting them stand on the large speakers at the foot of the stage.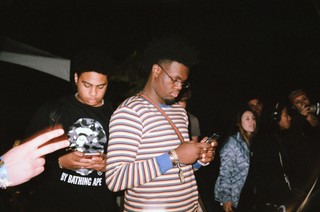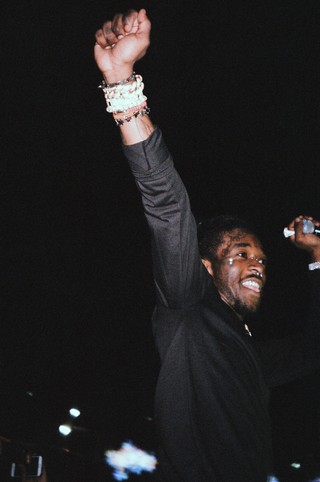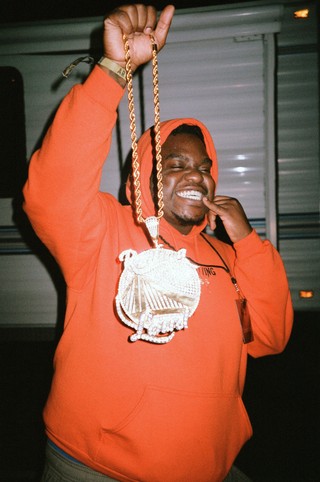 "On the count of three I want you all to jump," he yelled, before beginning his countdown. The explosiveness in his voice is commanding and at that moment I knew he meant business. But, the leap was generous and I had no idea how he expected them to clear it without breaking a bone. The three chosen ones, originally bursting with excitement of being on stage, now looked around at each other in horror. After two tries, they finally all catapulted themselves into welcoming hands and the people were riotous.
"I have way more fans than the last Rolling Loud. Like, The last Rolling Loud was when I first started buzzing. But this Rolling Loud, I was on the main stage, like really doing my thing, you know. It was a lot of people. It was crazy. I threw my like, one million follower cake in the crowd," Smoke Purpp recalled.
At 4:30 PM on Sunday, herds of people swarmed around the stage to watch Lil Pump, the rambunctious 17-year-old rapper from Miami, who received an astronomical number of Soundcloud streams in the last year for songs like "D-Rose," "Flex like Ouu," and recently, "Gucci Gang." As the music started playing he barely needed to perform, instead exchanging vocal riffs with the crowd as together they rapped every word. At one point, a burly security guard yanked a girl from the mass of entangled sweaty limbs and gyrating bodies. Her mouth was pooling with blood that gusheed from no visible point of exit, but unforgivingly dripped all over her hands and legs. Before running off, she stuck out her crimson tongue and smiled for her friend's Snapchat, which allowed viewers to see how close the girl was to the stage. Adrenaline-charged, she was completely unfazed by her injuries, instead focused on her thrilling new vantage point.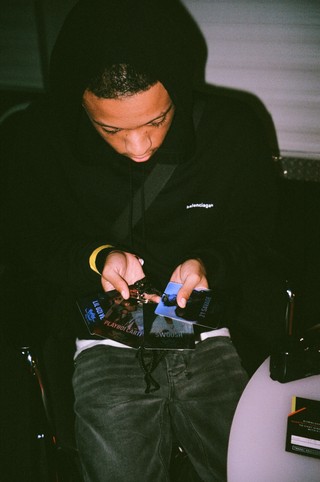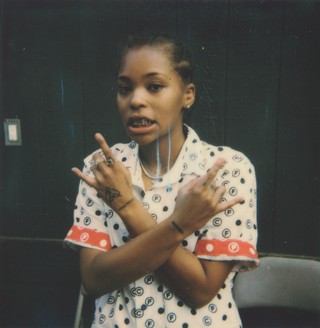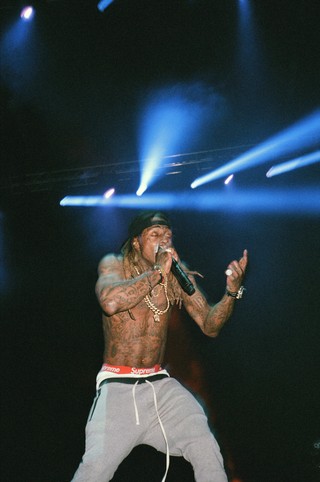 The momentum of the weekend was driven by new talent, as people seemed to interact with the same level of vivaciousness as they did when hip-hop perennials came on stage. When Travis Scott began performing on an animatronic bird, urging the crowd incessantly to "protect Lil B at all costs," and Lil Wayne veered into "A Milli," vitality crested like a wave, flooding into a pandemonium that had everyone yearning for one last song.
I spent the duration of Lil Wayne's set mostly thinking about how lucky I felt. Like always, he had banned press from the pit, but at the last minute I guess his mind had changed. There we all were—photographers, rappers who had performed earlier and employees—as fans ourselves, vibing to the legend who stood in front of us. "I know we all ain't shit without the man up above," he said. "And I ain't shit without you... I ain't shit without you." I stood there, amidst erupting pyrotechnics and whimsical ejections of confetti, taking that statement in. No artist—big or small—can amount to anything without the support of their fans, and if the Bay Area spectacle was a testament to the climate of today's passion for rap music, there are plenty of ears to go around.