Lee vs Ferguson: The Fight for McGregor
UFC 216 features an intriguing matchup of two men who should by all rights be next in line to fight Conor McGregor. It's likely neither will get the chance.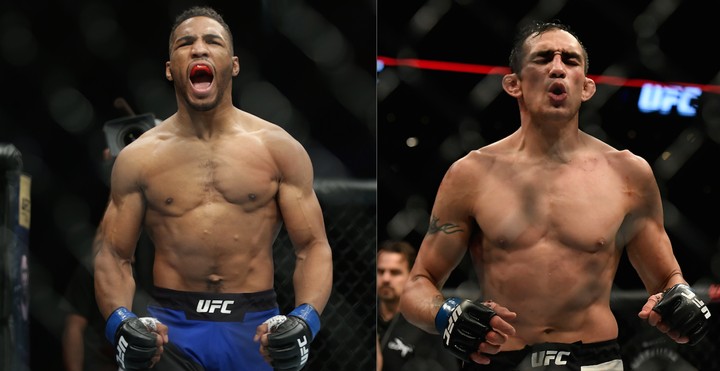 Tony Ferguson is probably the most proven lightweight in the world right now. The consistency he has shown in MMA's deepest shark tank is unmatched. After his umpteenth booking against Khabib Nurmagomedov fell through, we were finally allowed to move on and now Ferguson has been booked to fight up-and-comer, Kevin Lee at UFC 216 this weekend. But the real belt is on Conor McGregor and it's staying there as long as it needs to (after all, announcing McGregor as the 'defending' UFC lightweight champion for a boxing match would just be silly otherwise). So Lee and Ferguson are fighting for the interim championship—a gimmick which allows the UFC to slap two belts on the poster for a "champion vs champion" fight at some point down the road, but don't let that distract you from the quality of the fight. At present there are two lightweight divisions in the UFC—the one which contains only Conor McGregor and Nate Diaz—and the one which has all the best fighters in the world duking it out and handing each other losses. Ferguson and Lee have clawed their way to the top levels of that second division.
Tony Ferguson is a striking coach's worst nightmare and I'm sure there are many out there who are hoping he doesn't become the next big thing, just to avoid kids trying to fight like him in the gym. His head is often straight up in the air, he changes stances under fire, he throws long loopy punches and opens himself up to counters constantly. Yet he consistently wins exchanges and batters world class lightweights. In November he put Rafael dos Anjos through the meat grinder like no one else could and even showed some salsa while he was at it.

As we discussed in The Growth of El Cucuy, Ferguson's game largely revolves around pace and pressure. He keeps up a great work rate and he hits the body consistently throughout. A technique which flies under the radar but which makes a huge difference in his fights is his front kicks. Marching forward or off the counter, he digs these to the midsection and exhausts his man.
Ferguson seldom goes for takedowns of his own but draws attempts out of his opponents. It is from here that he is at his best. Sprawling on takedown attempts and snapping up the front headlock, Ferguson's
go-behinds
, guillotines, and
D'arce chokes
are where he can finish the fight. His long arms allow him to punch through and consolidate the D'arce grip alarmingly easily even against elite grapplers. At one point Ferguson owned almost a fifth of
all
D'arce choke finishes in the UFC. It is not just off his opponent's shots that Ferguson can catch these though. Against Lando Vannata, Ferguson was able to snap down "The Groovy One" when he attempted to weave under blows.
While Ferguson isn't a household name, he is the known commodity in this fight. The 25-year-old Kevin Lee is still under construction in many respects. Lee is known as a wrestler but his frame has striking coaches everywhere salivating: sporting an absurd seventy-seven inch reach at lightweight. Lee sometimes has the Stefan Struve problem of stepping into his opponent and giving them a fair exchange when they should be made to work for it. Famously against Santos—six foot one but still giving up reach—Lee stepped in with a long, naked right uppercut and was caught with a hard punch coming back.
Against Francisco Trinaldo, himself riding a seven fight winning streak, Lee looked his best on the feet so far. Using the right straight and right high kick to keep the southpaw Trinaldo upright, Lee could feint his right hand and set up his takedowns perfectly.
By flicking in the right straight well, Lee was also able to bring Trinaldo's left hand in, then high kick through his guard—putting Trinaldo on wobbly legs and bringing about the finish of the fight on the mat.
Summoning the spirit of Kazushi Sakuraba with his cartwheel uchi-mata in the process.
Hypothetical Gameplans
While Lee will be giving up a couple of inches of height to Ferguson, it isn't enough that he will be punching up and should be able to avoid getting clipped while swinging short as Rafael dos Anjos and so many other Ferguson opponents have. Out in the open is where Ferguson does his best work—winning exchanges with long, looping counters as he rolls with punches, and forcing the opponent onto the defensive. Unless Lee can immediately shoot on Ferguson and power him to the ground in the early going, the striking is going to be important and there are a couple of things it would be good to see.
Firstly, limiting the number and length of exchanges would be good for Lee. Michael Johnson handed Ferguson his only UFC loss in a fight where he measured his work and, while he kept a good pace, he threw one shot at a time and then circled off. The southpaw Johnson's left straight to the body and left kick to the lead leg allowed him to score points, break Ferguson's stance before he could step in, and slow him down a little. By holding off on head strikes and combinations, Johnson could make a big impact when he did use them, catching Ferguson clean with hard left hands to the head. What Lee probably wants to avoid are those exchanges. Rafael dos Anjos can drive a furious pace, but getting caught mid-combination by Ferguson's counters changed his demeanor very quickly. Kevin Lee isn't the slickest ring general, but there are other ways to cut an exchange short which we will get on to in a second.
Lee could benefit greatly from following Jon Jones's lead, particularly in the Daniel Cormier/Quinton Jackson/Vitor Belfort fights. Using long, linear strikes, Jones gave ground and allowed his opponent to walk onto his strikes. Given how aggressive Ferguson can get, playing the matador might work well. This brings us to that second means of stopping an exchange, rather than leaving range the fighter smothers his opponent. The old punch 'n' clutch. It would be good to see Lee circle, give ground, and attack Ferguson's legs with inside low kicks and long side and oblique kicks. If this pecking brings more aggression out of Ferguson, Lee could look to intercept his advances with a right straight or an elbow and fall straight into the clinch—eliminating the threat of Ferguson's counter punches.
While Lee times his shots well generally, the front headlock plays a huge part in Ferguson's game. As Lee's game is wrestling, punching into the clinch and then attempting to trip or throw Ferguson from there, or move him to the fence in the clinch before dropping on his hips with good posture, could be a safer bet than trying to time a shot on a man who is waiting for it. Lee might also be able to take Ferguson's mind off the shot if he repeatedly punches into the clinch, puts Ferguson off balance with an attempted takedown, and then hits hard as he breaks from the clinch. This could result in shots for Ferguson's hips as he advances being more successful in the later going.

Lee's clinch striking is an underrated threat.
The time when it is worth punching in combinations against Ferguson is when he is off balance or has a kick caught. Ferguson will attempt to pull his head back away from whatever his opponent throws, but only has so far to go while on one leg. Against Dos Anjos he ate a number of shots on one leg but managed to take some of the heat off them by pulling back. Michael Johnson was able to crack Ferguson hard on his second or third punch, countering in combinations when he knew Ferguson was at a disadvantage.
For Tony Ferguson, the plan is likely to put the pressure on Lee and give him the choice between exchanging, something he is certainly less comfortable doing, and making a poorly timed shot at Ferguson's hips. Lee has been drawn into poor shots plenty of times in his career—most notably against Francisco Trinaldo who found himself holding the front headlock numerous times during that fight. It will be very interesting to see how Lee holds up if Ferguson can get to work on his body. Bodywork is so underused in the rest of mixed martial arts that fighters can often be paralyzed when put in with a fighter who is good at using it. The one body blow Trinaldo snuck in saw Lee dive for a poor shot and give up the front headlock.

The match up on the ground is a peculiar one. Ferguson is a guy who is more than comfortable—perhaps too comfortable—giving up top position and attempting to work from his guard. Eddie Bravo is often in Ferguson's corner and his influence is clear—from Ferguson's dives for leg entanglements from the feet, to the attempts at rubber guard on the bottom. Despite his unorthodox looks, there is something old school about the way that Ferguson plays the bottom game—aiming for submissions and hammering away with elbows until the opponent stands up, then he will upkick or scramble up. Most fighters in the bottom position in the modern era of MMA are keen to get an underhook, or a two-on-one, and work to their knees, wall walk, or stand up outright. Lee is a great guard passer and can hit well from inside the guard, but he rarely gets kept there for long and often advances as his opponent tries to open up and get out from bottom position.
There are a lot of questions heading into this bout, partly because Kevin Lee is still something of an unknown. It will take some doing for Lee to pull it off, but a victory here places him right at the top of the heap and lines him up as perhaps the most surprising match up for Conor McGregor. If Tony Ferguson gets the win, he could wind up adding another great name to his record and twiddling his thumbs while the UFC runs back Diaz—McGregor for the easy money.
Pick up Jack's book, Notorious: The Life and Fights of Conor McGregor .