The icon who fought for our right to marry passed away yesterday. She was unforgettable—and hopefully she'll remain that way, too.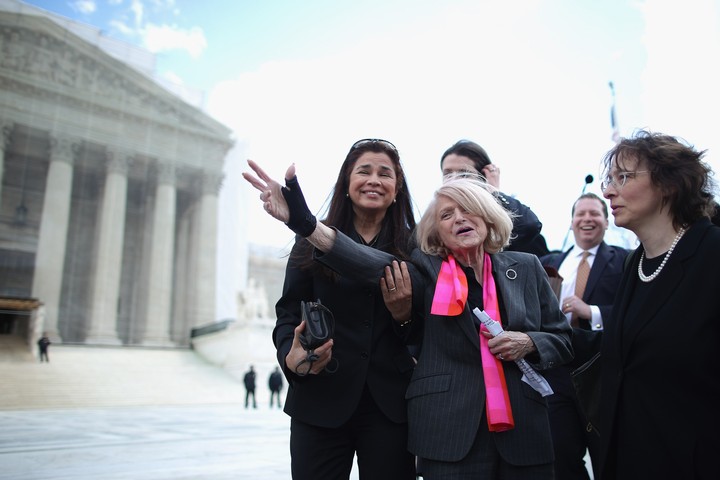 Edith Windsor exits the Supreme Court after oral arguments for Windsor v. United States. Photo by Chip Somodevilla/Getty Images
I'd certainly agree with Barack Obama's characterization of LGBTQ icon and marriage equality pioneer Edith Windsor (Edie for short) as a "quiet hero." The 88-year-old Supreme Court plaintiff, who died Tuesday, was incredibly soft-spoken the few times we met, to the point where I often strained to hear her.

But I wanted to hear her; I needed to hear her—the woman whose victorious battle against the federal Defense of Marriage Act in 2013 ushered in same-sex marriage nationwide and forever cemented her place in modern American queer history. Who could forget the photos of the frail-but-spunky octogenarian celebrating her high court win immediately after the decision was announced by throwing her arms in the air as if to say, "We did it!" It didn't get more adorable than Edie Windsor—the lesbian widow who could—that summer.

I had the privilege of briefly interviewing Edie twice, both times at LGBTQ events in New York City. The first was at Logo TV's 2014 Trailblazers Awards ceremony, which coincided with the 45th anniversary of the Stonewall Riots. She told me how wowed she was by the "enormous growth" LGBTQ people had experienced as a community, and how it helped with our collective "self esteem." Edie's lawyer, Roberta Kaplan, who was standing alongside her, added that the "brave kids" of Stonewall also deserved recognition for their contributions to America's queer narrative, noting that it's the job of the older generation to teach youngsters about their "ancestors."

I thought about Roberta's statement the next time I saw Edie. I had taken a break from interviewing attendees at a party celebrating the 2016 OUT Magazine 100, honoring LGBTQ movers and shakers. And as I stood behind the crowd, a colleague interrupted me to say, "Oh my God, isn't that Edie Windsor?" Sure enough, the impeccably dressed legend was slowly making her way down the red carpet, her hair coiffed to perfection (as one should expect).
But as she made her way toward me, she kept passing millennial reporters who appeared unfazed by her presence. Not one reached out to ask about her monumental case, responsible for no less than their right to marry, should they choose. Nor did anyone ask her to comment on the state of LGBTQ affairs, considering Donald Trump had just won the presidency, essentially threatening the progress achieved by her then three-year-old case. So I stepped forward.
Edie's handler asked me to keep our chat short, and I happily obliged. Ten minutes, ten seconds—I didn't care. History-makers come once in a lifetime, so I took whatever time I could get, perhaps because I knew a day like yesterday was inevitable.
---
Watch "ACT UP and the Fight Against AIDS":
---
Again, when I describe Edie as soft-spoken, I mean it. Not only was I competing with soft-rock music blaring in the background, but it sounded like she was battling a cold, to boot. Either way, Edie shared an anecdote about visiting kids at the Hetrick-Martin Institute, an LGBTQ youth organization, saying they were becoming "realer and realer," referencing their bold sense of self-identification. I then asked her about the reality TV show host who, just weeks before, stunned the nation with his electoral win. Edie said while she didn't think Trump was "going to attack us," she acknowledged the growing strength among queer Americans in the face of adversity, particularly after the past five years. She also took a subtle dig at Mike Pence.
I last saw Edie as I marched in New York City's Pride Parade with homeless youth this June. As we neared the end of the parade route, there she was, front and center, decked out in rainbow gear and waving to the throngs of folks whose lives she changed by standing up for her own. I gleefully waved back, as did the other adult volunteers. The kids among them had no clue.
And maybe I should have expected that. I'm sure homeless teens have more on their minds than an elderly woman's influence. But what about those red carpet reporters? The ones clamoring for a moment with this fashionista or that social media star? Surely, they should've known better and offered their thanks (or even just a sensible greeting) to a living legend. Did they even care?

Because, frankly, Edie was among the last of a dying breed of LGBTQ legends. I'm talking everyday citizens—not celebrities or Instagram stars—who decades ago grew frustrated with how queer people are treated in our society, sacrificing their livelihoods to fight for equality knowing exactlyl how dangerous that could be. Of course, there are the titans we all know, like Larry Kramer, the prolific HIV/AIDS activist and Gay Men's Health Crisis founder. He's still with us, as is Cleve Jones, who rose up alongside Harvey Milk to claim his own formidable place on the mantle of queer liberation. And then there are our fallen brothers and sisters, like Milk himself, or civil rights organizer Bayard Rustin, or Mattachine Society founder Frank Kameny, or transgender icons and Stonewall participants, Marsha P. Johnson and Sylvia Rivera.

We know about each of these brave souls because, as Roberta Kaplan suggested to me in 2014, previous generations took it upon themselves to educate those of us now enjoying the fruits of their hard-fought labor. It's these icons—among countless others whose contributions to queer liberation have yet to be memorialized, or have been forgotten to history—who paid the price for the freedoms we enjoy today. Those freedoms weren't just handed to us. We need to care how they arrived in the first place.
Which is why I also think it behooves the LGBTQ community to know its own background and care about its roots. It wasn't until a lesbian coworker chastised me for asking who Frank Kameny was—she turned to me stone-faced and said "know your gay history," before walking away—that I realized I needed to give a shit about my queer forefathers and mothers. We should all know about Del Martin and Phyllis Lyon, who together founded our nation's first lesbian rights group, and Ruth Simpson, who launched the first lesbian community center in the US. Then there's Jack Baker and Michael McConnell, the Minnesota couple who applied for the nation's first same-sex marriage license in 1970, 43 years before we met Edie.

These legends matter, and their stories are essential in understanding our own. If you're an openly queer person at home or work, if you and your partner enjoy full spousal benefits, if you're about to refill your Truvada prescription, if you're walking around your town as you, then you have someone to thank for it. It might not be Edie, specifically, but it's someone like her, a "quiet hero" who's pissed and unafraid to show it.

So thank you, Edie. Please say hi to all of our friends for us. And may we never forget your name.
Follow Xorje Olivares on Twitter.