Simidele Adeagbo decided early on she wasn't going to freak out. The sport of skeleton, which sends athletes down an ice track at nearly 80 miles per hour on a metal frame with no steering mechanism, is daunting to even the most seasoned athletes. Adeagbo, a four-time All-American in the triple jump at the University of Kentucky, had the speed and explosiveness of a top-tier competitor. She had no experience, however, with what she described as "going down a frozen water slide, head first."
But it was October 2017, less than six months before the Winter Olympics, and if Adeagbo wanted to make history at PyeongChang 2018, she had to get accustomed to the sport quick. After taking her first run this morning, Adeagbo is now the first African and first Nigerian female skeleton athlete to compete at the Winter Olympics. She is also the first black female skeleton athlete to compete at the games, all while being a member of the first Nigerian Winter Olympics team. This is all to say, there was a lot at stake—and she'd never done anything like it before.
"I was scared," she said in an interview the morning of the Opening Ceremonies. "My heart was beating kind of fast. I made the decision before I got on, I wasn't going to be the person that screams down the whole track. You have to just belong, you have to embrace this, because this is what you're going to be doing."
On Friday, Adeagbo, 36, made her Olympics debut in the women's skeleton heat, and will become the first Nigerian athlete to compete in the Winter Olympics. There are seven African nations competing at PyeongChang 2018, and this marks the Winter Olympics debut for both Nigeria and Eritrea.
Adeagbo, whose first name means "accompanying me home," was born in Canada, then moved to Nigeria a few months later. She lived in Nigeria with her parents until the age of six, and then moved back to the States. Home, however, was always a Nigerian household, regardless of the country or state.
"Nigeria is my foundation. The culture is my foundation," Adeagbo says. "I was initially inspired to do this because of the opportunity to break barriers in sport… what I'm doing allows other people to see what's possible, and inspire the next generation of athletes."
Her journey began in December 2016, when she read an article about the Nigerian women's bobsled team, a crew of Division I track stars-turned-winter athletes looking to represent Nigeria in its first Winter Games. (The team, which made an Ellen appearance and filmed a Beats promo in the leadup to the Games, begins competition Saturday).
Adeagbo reached out to the team, and though they already had the three-women roster set, she was encouraged to explore skeleton. There are several components of a skeleton race—an initial 30 to 40-meter sprint, body awareness, explosiveness—that translate well from track and field experience.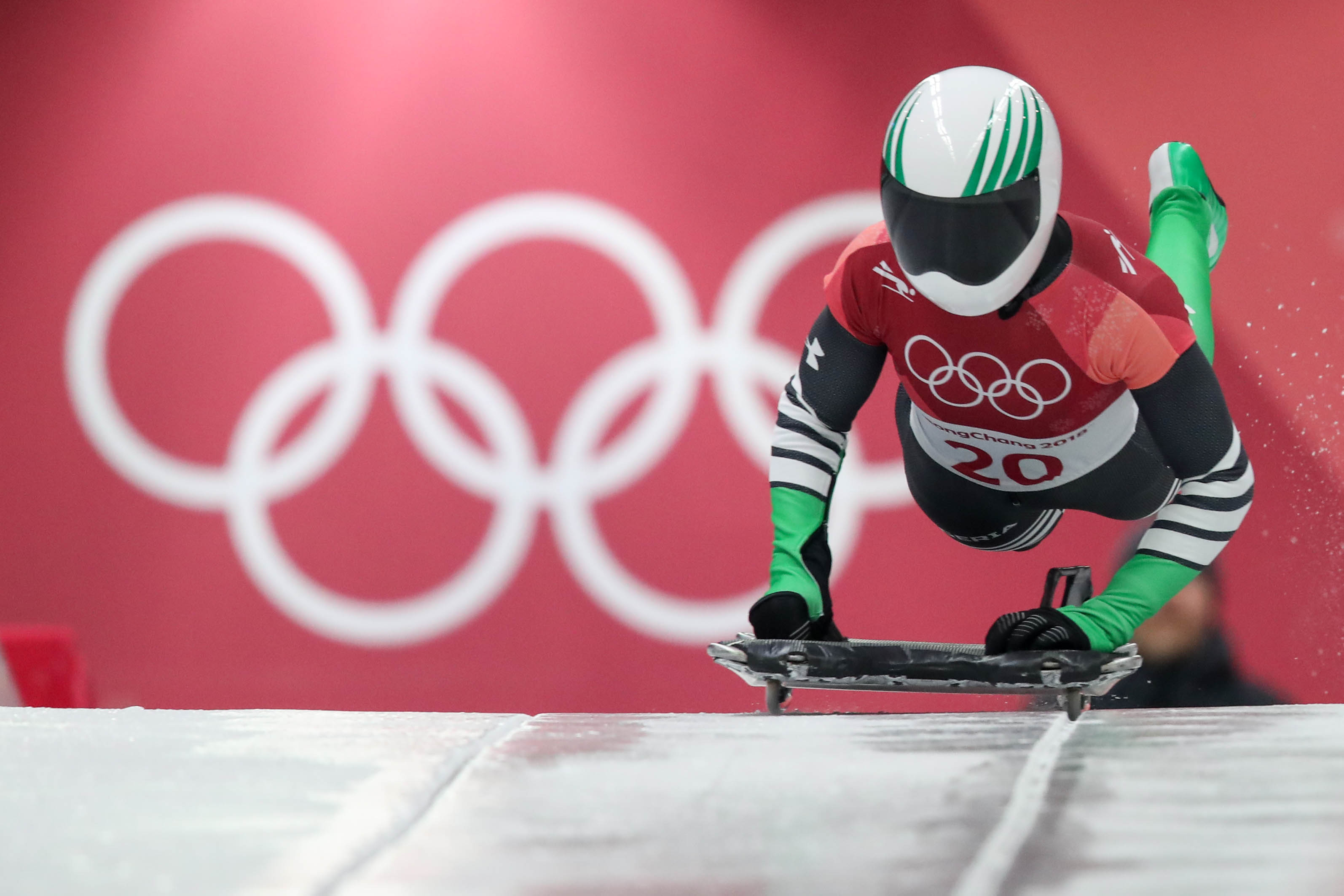 She touched a sled for the first time in September, and took her first run a month later. Her first two-week stint of timed training runs in Canada was rocky. Adeagbo's initial characterization of the sport—"violent and turbulent"—didn't quickly diminish.
"At any given time, you're at the edge of danger, but also at the edge of control," she said." "It's like this perfect storm."
She had several crashes, and at one point, sped down the track feet first. Skeleton requires a racer to speed down the curves face down and head first. Adeagbo zoomed so close to the ice she could smell it. In her first runs, her body was moving so quickly, her brain couldn't catch up to the speed. The composure and spatial awareness that had taken her within inches of a 2008 Summer Olympics berth in triple jump (she was a two-time Olympics trials finalist) were gone. It was like nothing she had ever experienced in her life, and it was, to that point, the "boldest thing" she had attempted.
Every aspect of her journey to the Olympics was fast-tracked. Adeagbo fit in as many runs as possible within the last five months. On a daily basis, preparing for a race in Lake Placid or training in Park City, she either opted for two sessions of runs a day, or one session on the ice and a session of conditioning, weight training, or sprints in the afternoon.
She could have walked away in the first week, she said, when the runs were still rough, and everything would have gone back to normal. Adeagbo would have returned to her career in marketing for Nike and her home of Johannesburg, South Africa.
"But I would have never gotten to this point where I was having fun, where I was learning how to control this sled, where I was seeing my potential, and that I can really compete," she said. "You're flying down this track, but you're somehow in control, and that just feels so amazing."
Eventually she gained command on her turns, confidence on the ice, and with that, a surprising string of top finishes. Instead of ending each run in a blur, she could remember and identify different parts of the track.
Adeagbo qualified under the "continental representation" provision, which allows for athletes from non-represented continents to earn an Olympic berth outside of the typical qualifying process. Once athletes from countries that have already met their quota are taken off the list, any athlete from a non-represented continent (such as Adeagbo) can gain entry if they finish in the top 45 and complete five qualifying races. In her first two races, she came in 14th and 15th, then 21st in back-to-back competitions in late November. In her final qualifying run in Lake Placid, she finished third to become the first African athlete to medal in skeleton in an international competition.
Early on in the journey, Adeagbo picked up a pre-race habit to help her focus: listening to Nigerian music. One artist of choice is Davido, an Atlanta-born artist who, like Adeagbo, attended college in the U.S.
"It keeps me grounded on the bigger picture," she said. "I am throwing myself down a frozen water slide … but this is for Nigeria, for the country, for the continent, for the people."
The door has to be open, Adeagbo said, for others to be inspired to compete. Someone had to be the first to suit up, in green and white, to careen down icy turns and represent her country in a sport most recognized in mountainous European regions.
In the team's visit to Nigeria before departing for the Olympics, Adeagbo and the bobsled team were met positively. Knowing the bigger picture had kept Adeagbo going in the initial, shaky moments of her skeleton career; now she could see her potential impact in real time.
"Even if they don't understand the sport, they understand what it means to be first and make history," Adeagbo said. "There's so much pride Nigerians have to see us representing Nigeria on the Olympic stage."