'I'm Ready to Go to Battle': Inside Planned Parenthood's Organizing Boot Camp
How the organization is expanding its advocacy by training hand-picked volunteers to run their own campaigns across the country.
In a drab hotel ballroom on a gray Friday evening, hundreds of people excitedly snap their fingers and nod in agreement. Activist Brittany Packnett stands on a small stage in front of a pink banner, addressing the crowd with conviction: "We are not a phase. And our work is not a fad…They tried to stop us, but they forgot we move mountains."
A young woman to my left whispers excitedly to her friend, "This is why we do this shit."
We're at the #IStandWithPlannedParenthood Organizing Summit in Charlotte, North Carolina, an invite-only gathering that's Planned Parenthood's latest move in a shift toward becoming a more volunteer-focused and -led organization. The goal is to gather roughly 1,000 of the organization's most promising volunteers and encourage them to amplify their advocacy efforts by giving them the tools to create "intersectional grassroots organizing campaigns" in their own communities.
Once mostly known as a resource for affordable reproductive health services like abortion and birth control, Planned Parenthood has more recently grown into a totem of women's resistance to the Trump administration. After Donald Trump's presidential victory in 2016, the organization received a record-breaking 250,000 new volunteers, according to its press office.
Over the last year, Planned Parenthood launched numerous massive phone-banking campaigns against Republican-led attacks on reproductive rights and healthcare access, including the multiple attempts to repeal the Affordable Care Act, the birth control mandate rollback, and the Office of Refugee Resettlement's attempts to prevent undocumented minors from receiving abortions.
And the organization's work isn't getting lighter: Title X—a federally funded low-income family planning program—is rumored to be on the chopping block, and a Supreme Court battle over whether or not crisis pregnancy centers can lie about abortion under the protection of the First Amendment looms in the future.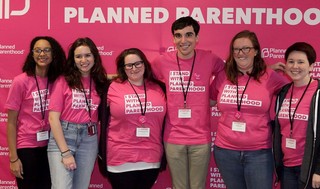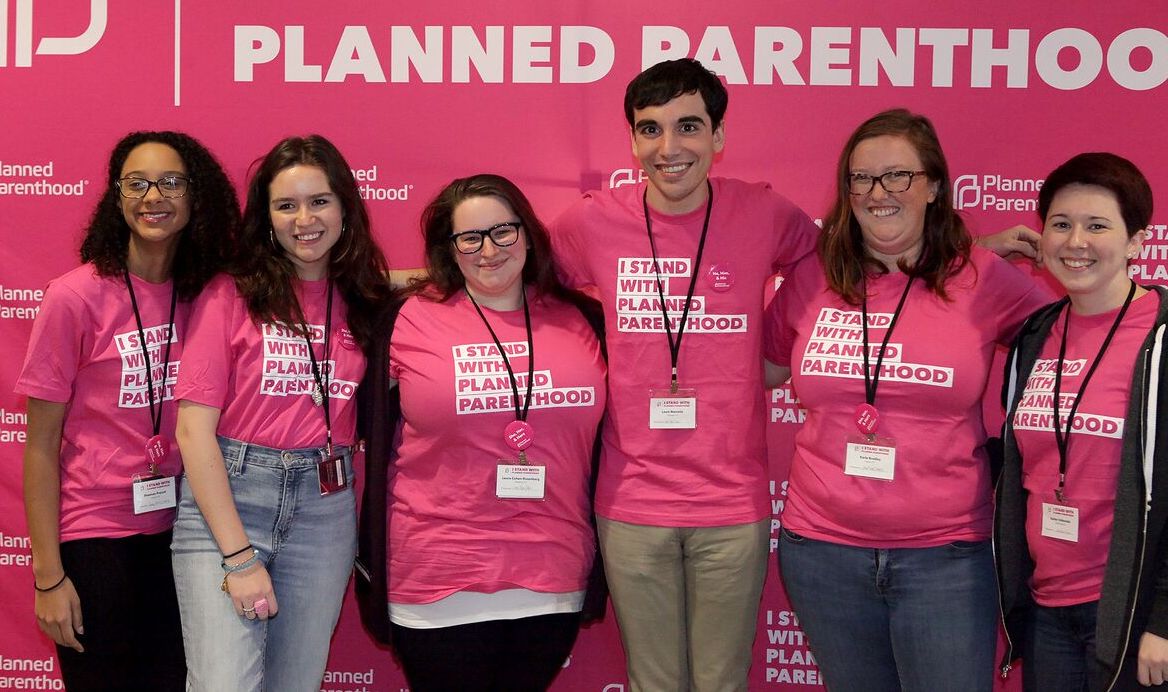 The Charlotte event is the last in a series of four summits held since September, and takes place just days after former Planned Parenthood president Cecile Richards announced she was stepping down. A group of 300 volunteers have traveled to the southern banking city, all expenses paid. The oldest participant is 74; the youngest 15 (excluding the six-year-old accompanying his mom). Eighty-six percent are women, nine percent are men, and four percent are non-binary or genderqueer (one percent chose not to answer). At least one has plans to run for local office.
Of the dozens of people I talk to over the course of the weekend, Trump's 2016 victory is, indeed, a common motivator—along with having personally benefited from Planned Parenthood's services. One woman tells me, "I thought Barack had things handled. And then." She grimaces. Jessi Coble of the Virginia League for Planned Parenthood, which runs three health centers, says that while they normally get five to 10 calls per week asking about volunteer opportunities, more than 300 people signed up in the two weeks after the election.
Now, the question from all attendees is: What should we do next?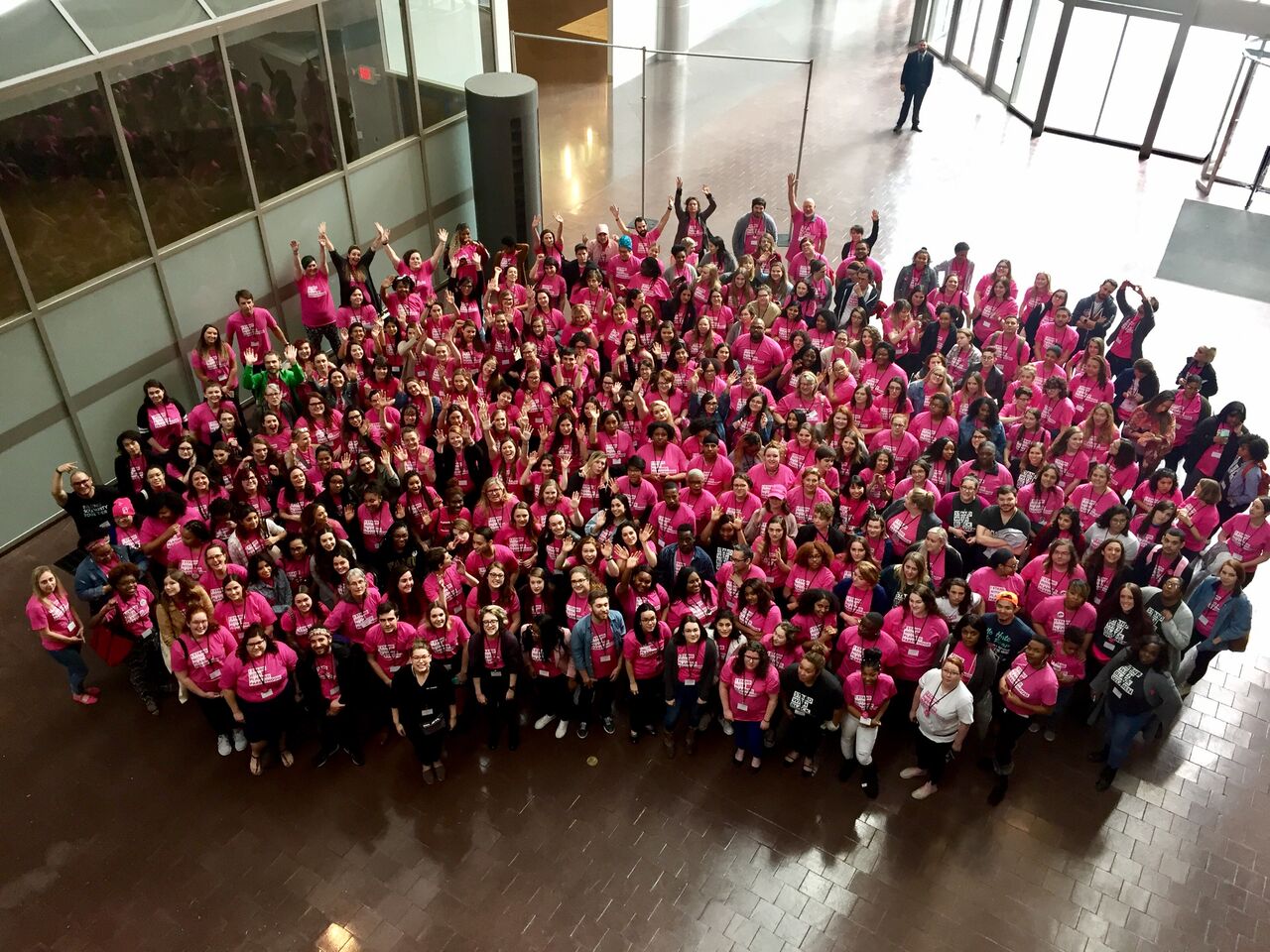 Early Saturday morning, the ballroom is a sea of identical, pink Planned Parenthood T-shirts. So far, the summit feels akin to a summer camp or a weekend retreat. Conversations about power, truth, and being a "warrior for change" employ rhetoric bizarrely akin to that used at some Christian boot camps such as Camp Joshua—an anti-abortion camp that promises to make prayer warriors of its young attendees—although the content is obviously at odds.
Long conversations about reproductive justice are punctuated by participants idly making flowers and jewelry out of pipe cleaners. Light-hearted group songs follow intense strategy sessions. I often find myself standing off to the side while hundreds of people dance or stretch together at the behest of the weekend's "fun coordinator." The summit, I will learn, is designed for attendees to confront some of the ugliest realities of our country without being overwhelmed.
Meanwhile, there are warnings: Don't wear your badge outside of the safety of the third floor, Don't geotag your social media posts, and always "keep on your toes." Signs outside of the reserved area make no mention of Planned Parenthood. In fact, a Charlotte police officer tells me he was hired by the hotel partially due to size, but largely due to politics: "You'd be foolish not to err on the side of caution." In the end, we were never bothered, but the added security makes sense, considering that Charlotte has recently been the site of increasingly intense anti-abortion protests.

The day's agenda is jam-packed. From 9 AM until 6 PM, participants will learn how to create actionable campaigns, step by step. From building one-on-one relationships, to telling their personal story in a compelling way (the secret is "balancing the head and the heart") to determining a problem that is fixable and building a campaign that will actually fix it.
And then they'll phone-bank for two hours, working through a list of roughly 11,000 names to ask for their support at various advocacy events. (The group ends up knocking out the list in just over an hour.)
The best-case scenario for Planned Parenthood is that these four summits will lead to the creation of at least 600 "action councils"—essentially, small volunteer-led teams that take the advocacy skills the nonprofit has carefully honed over the years and use them to create progressive campaigns on local and state levels.
And as the day progresses, that scenario shapes up to be playing out perfectly with at least one group—a four-person team from Hampton University.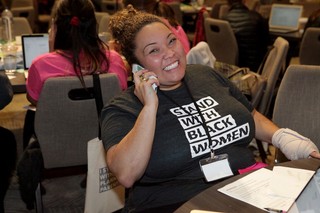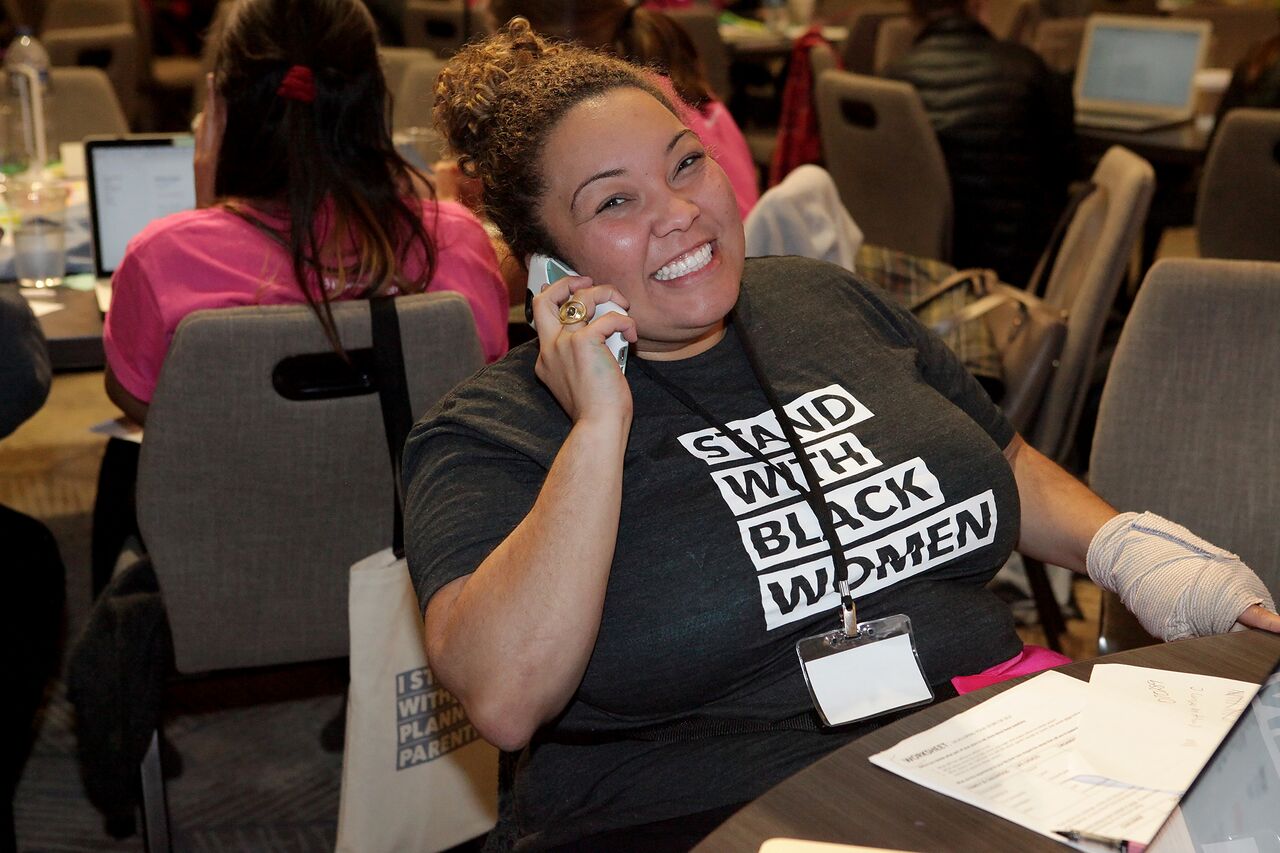 "I didn't feel like I was the best for this job, but I felt that Hampton needed this," Michyah Thomas, the 20-year-old president and founder of Hampton University's chapter of Planned Parenthood Generation Action, the nonprofit's student activist network, tells me when asked about starting her chapter last August.

In just one semester, Hampton's chapter has accrued 65 members, despite not yet being recognized by the university. Because of her drive, Thomas was invited to this summit by community organizer and campus liaison Thia'a Rahman. She brought along her vice president, Aman Tune, and two active members, Samantha Robinson and Kayla Lipscomb.
Now, the Hampton team is huddled in the hotel hallway following a directive to identify a reproductive justice-related problem in their community and devise a way to solve it. I observe from a slight distance, a little intimidated and a little doubtful. After listening to numerous discussions of patriarchy, racism, and xenophobia—abstract, seemingly insurmountable issues—it's difficult for me to imagine developing any sort of actionable agenda.
For the Hampton students, though, that's not the case. They quickly decide to take on their university health center's limited birth control options. And after a few minutes of brainstorming and debate, they come up with the first step of their campaign: survey at least 1,750 students by April 30 in order to determine if they're aware of their on-campus birth control options and ask what other choices they'd like to be available. Then, deliver those survey results to the health center and the university president by the end of the semester. They've achieved their planning goal for the day.
The next morning, national organizing director Kelley Robinson, in a session on "bringing it home," discusses how to identify the end-goal of a campaign: the target can't be the man, she gesticulates wildly, or society. (As with everything else this weekend, goofiness and absurdity are intertwined with hard truth.) Instead, she says, it has to be a real person you're aiming your change at; think concrete.
And so the Hampton team does just that. After attending sessions on digital organizing, working with the media, and engagement tactics, the small group meets again.
They sit on the floor, charting out the next six months of their campaign. By the end of maybe two hours, they have determined when and how to approach the university president, who, they say, is "a big part of the problem." They'll make a big show of the meeting, they decide, using one of the 198 protest tactics provided by Planned Parenthood to drum up student interest. Then, they write out a list of potential allies and ideas of how to use the campaign to start discussions about sex ed and consent.
At this point, other break out groups—and even the coaches and staff—are huddled around the Hampton students, discussing their birth control campaign. One staff member says, "Tell us what happens, we'll come down and party with you." I find myself nodding along.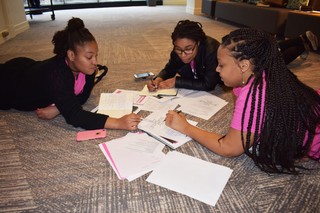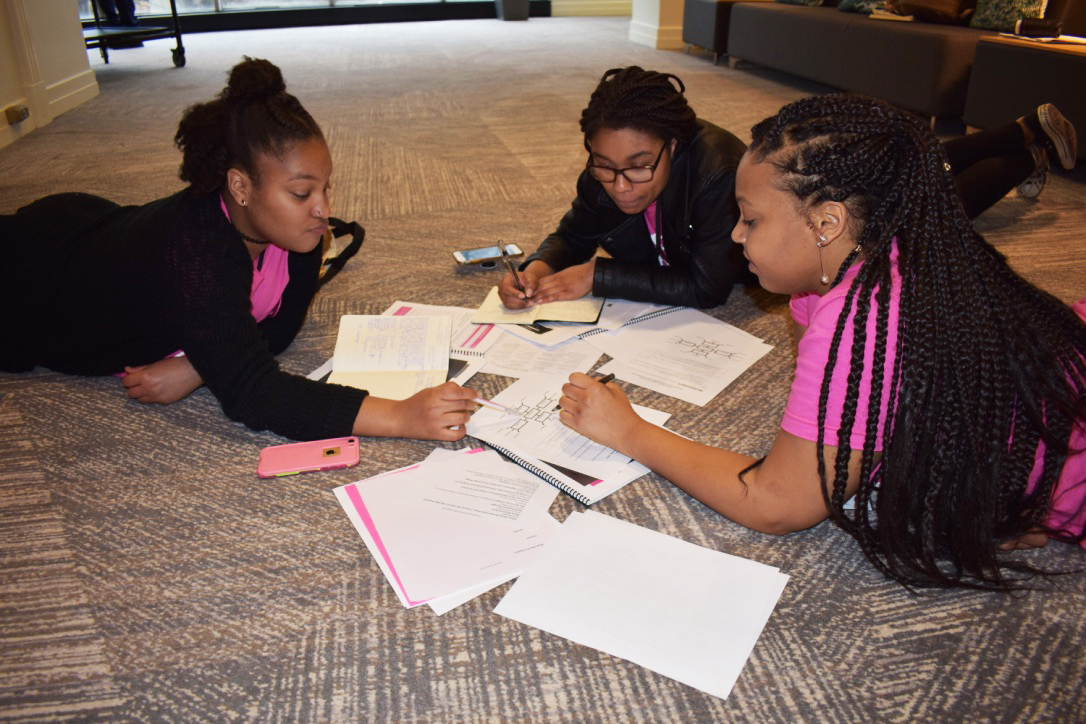 Walking into the summit, I was hesitant. As someone who spent a fair share of their childhood at various unfulfilling summer camps and spiritual retreats, I wasn't sure what the weekend would really achieve beyond making participants feel good. But, where I expected journaling and abstract discussions about feelings and fears, goals and gripes, I found participants walking away with a nearly 70-page-long program guide, chock full of organizing tools, strategy charts, and worksheets. Even though some summer camp tropes did make an appearance, the event proved packed with substance.

Rahman, Hampton's liaison, tells me that she's done plenty of organizing in the past, but that Planned Parenthood has provided new material that will actually help alchemize ideas into action.
"You saw how we went from one complaint to a full-on campaign," she says. "I am sure we will continue this campaign."
In an age of hashtag activism and commodified feminism, the summit showed a refreshingly pragmatic, grassroots approach to rallying the troops and actually equipping and challenging them to enact change. And at the very least (or perhaps most importantly) the collective earnestness from both the educators and attendees seemed to nurture something increasingly rare in the US: A genuine sense of hope and agency.
As I snuck out late on Sunday, I caught one more whispered exclamation from a young attendee to her friend: "I feel like I'm ready to go to battle."