Woman Loses It After Realizing Amazon Charged Her $1,000 To Ship Paper Plates
Should have kept the password to her ex-roommate's Prime account like the rest of us.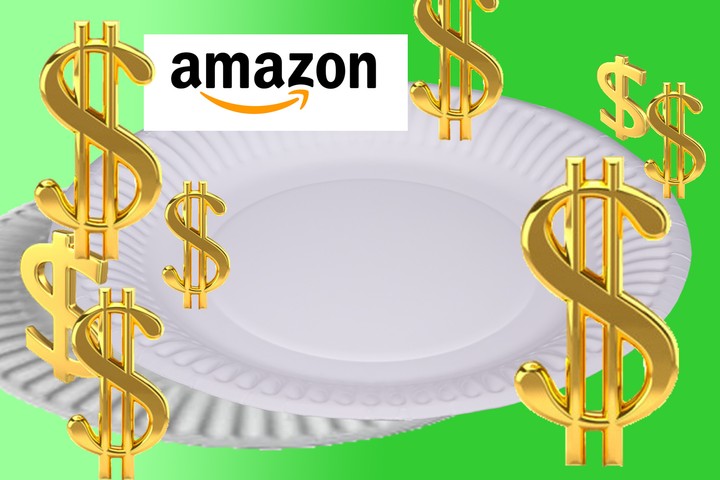 Composite image by MUNCHIES Staff
Amazon currently has more than 3,000 listings for paper plates, and more than 2,000 of them qualify for free shipping with an Amazon Prime membership or have reduced shipping prices for shoppers who subscribe to receive a new delivery of disposable plates on a regular basis. Unfortunately, Lorie Galloway didn't buy any of those plates. Instead, she ordered a stack of 100 paper plates that retailed for $24—not counting the $1,080 shipping charge.
Galloway had no idea that she'd been stuck with a four-figure shipping fee until her husband asked her what, exactly, she'd added to her Amazon cart the month before. "He sent me a text," Galloway told NewsChannel 5. "'What did you order at Amazon?' And, I'm like, 'What?' He said, 'Our bill is a thousand and something dollars.'"
The couple tried to contact the seller to explain why it cost A GRAND to mail some paper plates from Atlanta to a town just north of Nashville, Tennessee, but their calls and emails went unanswered. (Our working theory? He or she purchased this 2001 Oldsmobile Alero and used it as a shipping container.) When they called Amazon, the customer representative's response was, "Wow, that's ridiculous."
But when Amazon opened an investigation, the company told Lorie that she was "not overcharged for the transaction." The seller apparently shrugged and said that she had selected an "expedited shipping service" and confirmed the $1,080 fee at the time she ordered her plates. (OK, as someone who does a bit of frequent—some would say excessive—amount of online shopping, I'd still argue that that's ridiculous, unless the paper plates arrived sandwiched between two pairs of Yeezy Boosts).
The couple has apparently spent most of this year trying to get their credit card company to refund the shipping charge, and according to the news station, they've recently gotten their money back. And, although Amazon pretty much just shrugged in the Galloways' direction, a customer representative told them that the seller has been removed from the platform for pulling similar shit on other customers.
Earlier this week, an Atlanta woman said that when she ordered three boxes of toilet paper from Amazon, she was charged more than $7,000 in shipping fees. Barbara Carroll—a building manager who deals with the "janitorial needs" of the properties she works with—told WSB-TV that she couldn't believe what she saw on her credit card statement.
"There was this order for three cases of toilet paper for $88.17 and shipping $7,455 for a total of $7,543.12," Carroll said. "After I screamed I thought, 'Oh this is not a problem, this is Amazon and Amazon will take care of it.'"
Except, uhh, Amazon did nothing of the sort, instead reportedly telling her that since she'd purchased the TP from a third-party seller, they couldn't help her. Much like the Galloways, she'll probably spend countless hours trying to get SEVEN THOUSAND DOLLARS back from her credit card company.
If you're buying paper goods online, pay special attention to those shipping charges. Or just do what I do, and steal all of your toilet paper from the gym.
Stories