Congresswoman Cheri Bustos just hinted at how Democrats may target President Donald Trump during the 2018 midterms, when she slammed him for making a "slew of broken promises" to rural Americans with his trade policies.
"He made some really grand promises about making America great — he zoomed in on the kind of towns that we're visiting today, the people in rural America, the people that I represent — and these are now broken promises," Rep. Bustos, a Democrat from Illinois, told VICE News on Thursday between events in her district, Illinois 17th.
Bustos is one of a dozen Democratic representatives re-elected in districts Trump won in 2016, and House Democratic leadership has now tasked her with helping her party figure out how to target the white, working-class, rural voters they lost in droves last cycle. Her comments offer a preview of the messaging Democrats could try to spread about Trump's economic policies in key swing districts this fall. Democrats need just 23 seats to take back the House — and many of their top targets represent rural areas like Bustos', where foreign tariffs on agricultural and manufacturing exports could hit hardest.
"Right now there's a whole slew of broken promises, when it comes to our family farmers."
Bustos' comments about Trump's economic vision came the same day China released its own list of tariffs targeting up to $50 billion in U.S. products, in retaliation for the Trump administration announcing $50 billion in tariffs on Chinese goods the day before. Those Chinese tariffs haven't been implemented yet, but they would target 106 products, including soybeans and airplanes, which Bustos said would affect farmers and manufacturers in her district. She also slammed a Chinese tariff on pork products that went into effect this week.
"[Trump] needs to make sure he doesn't treat us like flyover country," she said. "And right now there's a whole slew of broken promises, when it comes to our family farmers, and when it comes to making sure that we're doing everything we can to prevent these companies who want to go over to China or Mexico as opposed to building things in America."
China was the second-largest market for U.S. agricultural exports in 2017. Hiking prices on American-produced goods could reduce consumption and demand in China, which would significantly impact U.S. farmers' revenues. Those counter-effects of Trump's original tariffs could offer Democrats an opening on the economy.
Trump appealed to rural voters, in part, with an economic, populist message and a pledge to crack down on foreign trade abuses that he argued have contributed to the decline in manufacturing jobs in those areas. Coming out of the 2016 election, many Democrats — including Bustos — have expressed concerns that the party failed to articulate a compelling economic message and focused too much on divisive social issues that appealed more to the Democratic base.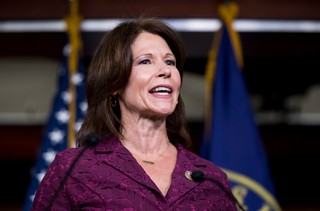 This fall, Bustos said, her party should tell voters: "We know that you lost faith in us as Democrats, but we're asking you to put faith back in us again, because we're going to focus on the things that matter to you" — what she called "bread-and-butter" issues, like bringing down the price of prescription drugs, expanding access to trade and vocational schools, and making student loan debt more manageable.
Bustos said those are the issues her constituents back home focus on — not hot-button topics, like guns and abortion. And she warned the party against getting too wrapped up in the protests that have revved up Democratic base voters nationwide this year and last.
Bustos counseled that the party should focus on those issues instead of "the issues that divide people." She suggested the debate over gun control was a particular sticking point for many of the voters Democrats need to win over.
"A lot of folks around here don't like the idea of protests, so to speak. You know, yelling, getting up at a microphone and yelling," Bustos said in-between visits with a local school group and a local library, where she planned to drop off books donated by the Library of Congress. "You just don't walk into a room and start by talking about the issues that divide. But there are also issues that bring families together that they, that people around here, and I think people in these swing districts all over want us as Democrats to fight for."
The school group and library were just two of five stops for Bustos on a packed day, during which she also chatted with constituents at a grocery store and worked briefly at a plastic products manufacturer.
Bustos predicts her party will take back control of the House next fall — but she said candidates need to compete in rural districts like hers if they hope to get there.
"We need more Democrats in these swing districts, and we're not going to win those kinds of districts if we go in and have this divisive language. We're going to win on an economic message."
If Democrats don't learn how to articulate an economic message, she said, "we will perpetually be in the minority."
Cover image: Farmer Jeff Rehder looks over some of his pigs, in Hawarden, Iowa, on March 26, 2018. Rehder stands to lose potential revenue on his hogs after China responded to Trump's announced plans to impose tariffs on products including Chinese steel, with a threat to tag U.S. products, including pork, with an equal 25 percent charge. (AP Photo/Nati Harnik)