Ahnnu's 'Special Forces' Is an Ambient Transmission From Another World
Leland Jackson might be best known for his footwork pieces, but he's capable of so much stranger.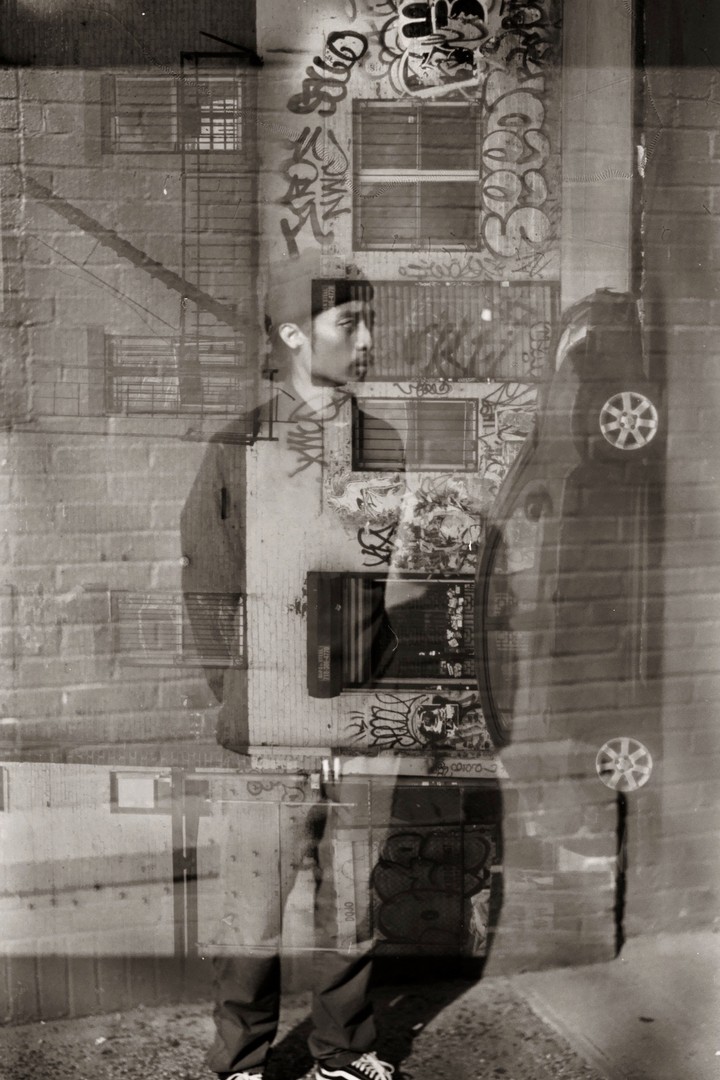 Photo by Daniel Bashin
Most electronic musicians are only lucky enough to develop a command of one signature sound. There's plenty of side-projects and one-offs where say, a techno musician demonstrates his taste for drone music or an EDM star makes trance music for a season, but it's rare to find someone like the Los Angeles-based producer Leland Jackson, who seems to innately understand the grammars of basically any music he touches. As Cakedog, he's become one of the producers at the avant edge of footwork—offering a wonderfully loopy and absurdist take on the Skip-It kick drums and furious sample chops of that genre. Thanks in part to the fact that he was mentored by one of the genre's greats RP Boo, his productions demonstrate an understanding of how the style is body music rather than just the high-bpm headrush most outsiders end up making.
But that's not Jackson's only outlet, nor was it his first. Since 2011, he's also been releasing music as Ahnnu, which is basically the opposite of what he's done as Cakedog. He's called his footwork riffs "social" music, but Ahnnu has traditionally been more insular. He makes stretched-out drones and synthesizer excursions, offering suggestions of rhythms but nothing so rigid that you can nod your head to it. It can be meditative or unsettling, but it's always a head-trip. It's just as engaging as the Cakedog stuff, despite being situated in a totally different universe. Jackson said in an email interview that he thinks the projects are "attached," in that they come together to give a full picture of his creative impulses: both introverted and boisterous, fleet-footed and completely still. "I do really like having multiple outlets for myself though because truthfully it is how I feel," he said. "But they're only parts to the whole of the work."
The Ahnnu portion of the story continues this week with the release of Special Forces on the esteemed experimental label NNA Tapes. Jackson says it's been in the works for a couple of years and that he considers it a part of the same "lineage" as his last couple of releases under the moniker, World Music, Perception, and Battered Sphinx (which also came out on NNA back in 2013). Like those records, this new one is a stew of woozy synth patches and lumbering percussive elements, a slow-moving journey through watery ambience. But Special Forces also feels, well, special. Even more so than the last couple Ahnnu releases it feels unmoored from traditional electronic songwriting. There are repeating loops on occasion, but the way each of the parts interacts feels totally unpredictable.
Jackson explains that one technique that informed the record was attempting to make percussive tracks with only melodic sounds, which contributes to the dizzy energy of the whole thing. On something like "Senseless," he treats synth sounds like drum hits, weaving an unsettling and seasick instrumental out of a few tentative chirps and swells. Tracks can be built around sunrise ambience (like "Return of Junkman") or stuttery industrial bursts (like "War Stage"), but what's more interesting is how freely he floats between the two. Layers of loops will interact and overlap differently in given moments, meaning it can feel harsh in one second, then healing the next—and sometimes it'll be more than one at once. Jackson explains that both the sonic and emotional jumpiness is part of the record's concept. "It's really a patchwork of musical approaches; but I wanted to build a free-form and expressive quality in the music similar to what I feel in some classical, early electronic and soloist music," he said. "I also wanted to continue the theme of the records that preceded it by moving through a range of moods."
As a result, the record isn't a didactic listen, at least not when taken as a whole. Over the course of its 13 tracks, it tugs on different emotions, but it never tells you exactly how to feel. There's room for you to explore on your own, so go, get lost in it.
Ahnnu's Special Forces is out tomorrow, December 1, on NNA Tapes, it's available for preorder now over on their website and on Bandcamp.

Colin Joyce is on Twitter.
Stories