Update 8/13/18: The FDA approved Natural Cycles for use in the United States, making it the first app in the US allowed to market itself as a contraceptive. The company's clinical trials cite a "typical use" failure rate of 6.5 percent, meaning that 6.5 women out of 100 who use the app for one year getting pregnant because they had sex on a day when the app predicted they wouldn't be fertile or because their contraceptive method failed when they had sex on a fertile day. By comparison, the "typical use" failure rate for the pill is 9 percent and, for the IUD, 1 percent. In a release, the FDA noted that the app shouldn't be used by women using forms of hormonal birth control since they affect ovulation nor should it be used be women "who have a medical condition where pregnancy would be associated with a significant risk to the mother or the fetus."
An app that claims to use algorithms and body temperature readings as a contraceptive tool has been reported to Swedish authorities after 37 women using it had unintended pregnancies.
The app, Natural Cycles, combines temperature readings and software to determine when women are ovulating and most likely to become pregnant. In that sense it's like many fertility monitors. But Natural Cycles specifically bills itself as a contraceptive—a tool for avoiding pregnancy rather than courting it. It's a higher-tech version of the "fertility awareness method," which simply means knowing when you're ovulating and avoiding unprotected sex on no-go days around that time.
A pair of studies commissioned by the company claimed to show that women who used the app properly could prevent pregnancy 99 percent of the time. That data helped lead to its certification as a contraceptive device in the EU—reportedly the first of its kind.
But Södersjukhuset, a hospital in Stockholm, says that it's seen several dozen women who use the app seek abortions for unwanted pregnancies. The hospital reported that 37 of the 668 women who sought abortions since September said they were using Natural Cycles as their birth control method.
"It's a new method and we are seeing a number of unwanted pregnancies, and therefore we are now reporting this to the Medical Products Agency," Carina Montin, a midwife at Södersjukhuset told Siren, which first reported the news. The hospital has reportedly filed a complaint with the Medical Products Agency, which is also the authority that approved Natural Cycles in Sweden.
Though it's approved as a contraceptive device in Europe, in the United States it's billed merely as a fertility monitoring app—at the very bottom of its app store description, way below its billing as a "birth control app." It has not yet been approved by the FDA as a contraceptive. Tonic has reached out to Natural Cycles for comment on describing the app as birth control in the US despite lacking FDA approval; we'll update this post when we hear back.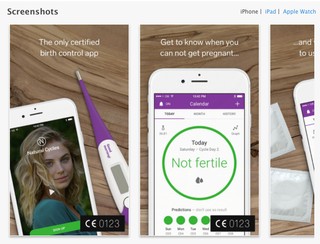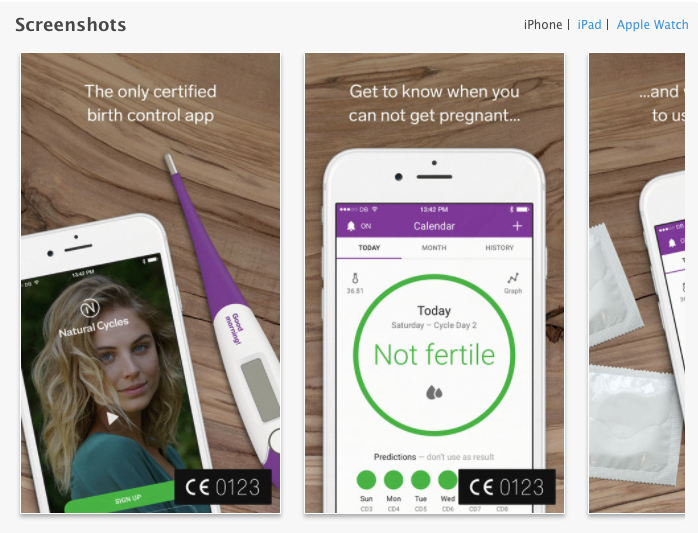 It's not yet clear why women using the app still got pregnant. The app requires taking your temperature with a basal thermometer every morning before getting out of bed, as well as strict adherence to its advice (e.g. not having unprotected sex on the days it says not to do that). The company says it's better suited for women who have regular menstrual cycles.
Under perfect conditions, the Natural Cycles website says, it can prevent pregnancy 99 percent of the time; but with typical use, that number drops to 93 percent. (The typical-use effectiveness rate for the Pill is 91 percent.) The app also has a 45 percent dropout rate, which may suggest it's a harder regimen to follow than many users expect. "Perhaps it's the case that young people should use a safer contraception," Montin said.
In a statement to The Verge, Natural Cycles noted that no method of contraception is 100 percent effective—no, not even sterilization—and reiterated the app's high rate of effectiveness. The company said it's begun an internal investigation and that it has not been in touch with the hospital, though it communicates with the regulatory agency. It also said that with 700,000 users worldwide, the unplanned pregnancies may just be a product of its popularity. (Sweden is the company's second-biggest market behind the UK.)
"At first sight," the statement continues, "the numbers mentioned in the media are not surprising given the popularity of the app and in line with our efficacy rates. As our user base increases, so will the amount of unintended pregnancies coming from Natural Cycles app users, which is an inevitable reality." It's a reality would-be users may want to consider.
Update 1/17/18: Natural Cycles said in a statement that the app is 93 percent effective with typical use, which is similar to other methods, and like in the statement to The Verge, that more unintended pregnancies will be reported as their user base grows. They added:
Today there is a big trend for women to move away from hormonal contraception, and Natural Cycles can provide a helpful option for these women. We therefore expect, in fact, overall to decrease the unwanted pregnancy rates because we're increasing contraceptive choice, and see that many of our users are women who have not used any type of contraception before.
We'd like to reassure the medical community and the public that Natural Cycles is an effective, clinically proven, form of contraception, which hundreds of thousands of women worldwide trust as their birth control to prevent or plan a pregnancy. Our goal is to increase contraceptive choice so that all women find a suitable method of contraception.
Regarding the marketing of the app in the United States, the company says that "in its marketing communications including its website it makes it clear that the app in intended for fertility monitoring in the US and as a contraceptive in the EU."
Read This Next: Are Vasectomies the New Condom?