Chance The Rapper, Baby Asahd, and More Joined DJ Khaled Onstage at the BET Awards
They performed "I'm the One," from DJ Khaled's new album 'Grateful.'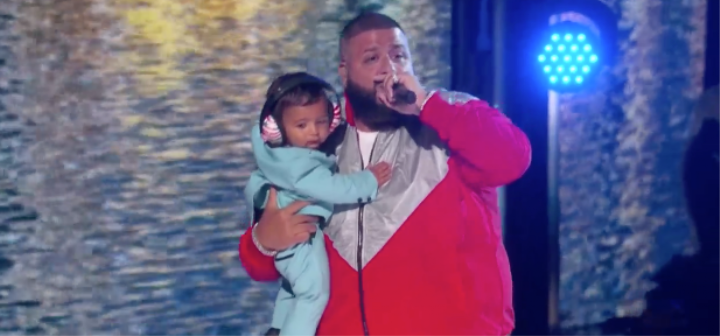 Is Asahd Khaled the world's most famous baby? Considering that we have not yet met the newborn Carter twins, his only true competitors (Blue Ivy is now a 'child' rather than a 'baby' so does not qualify as a rival), I would say: yes.
Last night the official world's most famous baby deigned to appear onstage at the BET Awards alongside his father, DJ Khaled, for a performance of "I'm The One," one of the lead singles from his new album Grateful which, as Khaled reminded the BET crowd at various junctures, is "in stores now." Asahd, who at eight months old is now a successful recording artist (he features on the final track on Grateful), attended dressed in matching tuxedos with Gucci Mane. Onstage, he rocked a pair of headphones, as his dad led a "When I say ASAHD, you say KHALED" chant.
The performance, which took place on a fake ship named you've guessed it, ASAHD, featured all of "I'm The One"'s guests, apart from Justin Bieber, though a vacation-ready Quavo, a dapper Chance the Rapper and Lil Wayne, wearing Bieber merch, more than made up for his absence. Watch here, and pray that you will one day be as loved as Asahd Khaled.
Follow Lauren on Twitter.
(Image via BET Awards)