At least 15 people have died so far in a Texas superstorm that still hasn't let up more than three days after touching down. Hurricane Harvey hit the Gulf Coast Friday night with winds well over 100 mph, proceeding to ravage Houston and the surrounding area. Some weather stations recorded between 30 and 40 inches of rain, and as of Monday, the National Weather Service was still predicting the total amount could hit 50 inches. In all, Harvey—since downgraded to a tropical storm—is already being dubbed one of the biggest rainstorms in American history.
Thousands of people have been rescued by local police and the National Guard, some 30,000 may be need in of shelter, and nearly half a million could ultimately claim federal disaster relief. President Trump was in Corpus Christi himself Tuesday, having taken a keen interest in overseeing relief of the storm that struck around the same time he pardoned Sheriff Joe Arpaio of Arizona. Meanwhile, overnight heroes have been made of everyone from the "Cajun Navy" of Louisiana's rescue teams to the reporter who helped save someone's life during an on-air broadcast.
Images of the storm—with city streets turned into raging rivers, cars floating like pool toys, and people stranded, waiting for rescue—are reminiscent of those that documented Hurricane Katrina, which hit New Orleans almost exactly 12 years ago. But pictures can only convey so much of what it feels like to be living through one of America's worst natural disasters ever. So we talked to six people who are currently—or were very recently—in the thick of the storm for a sense of exactly what it's like on the ground.
Here's what they had to say.
Traynor Swanson, Student at the University of Houston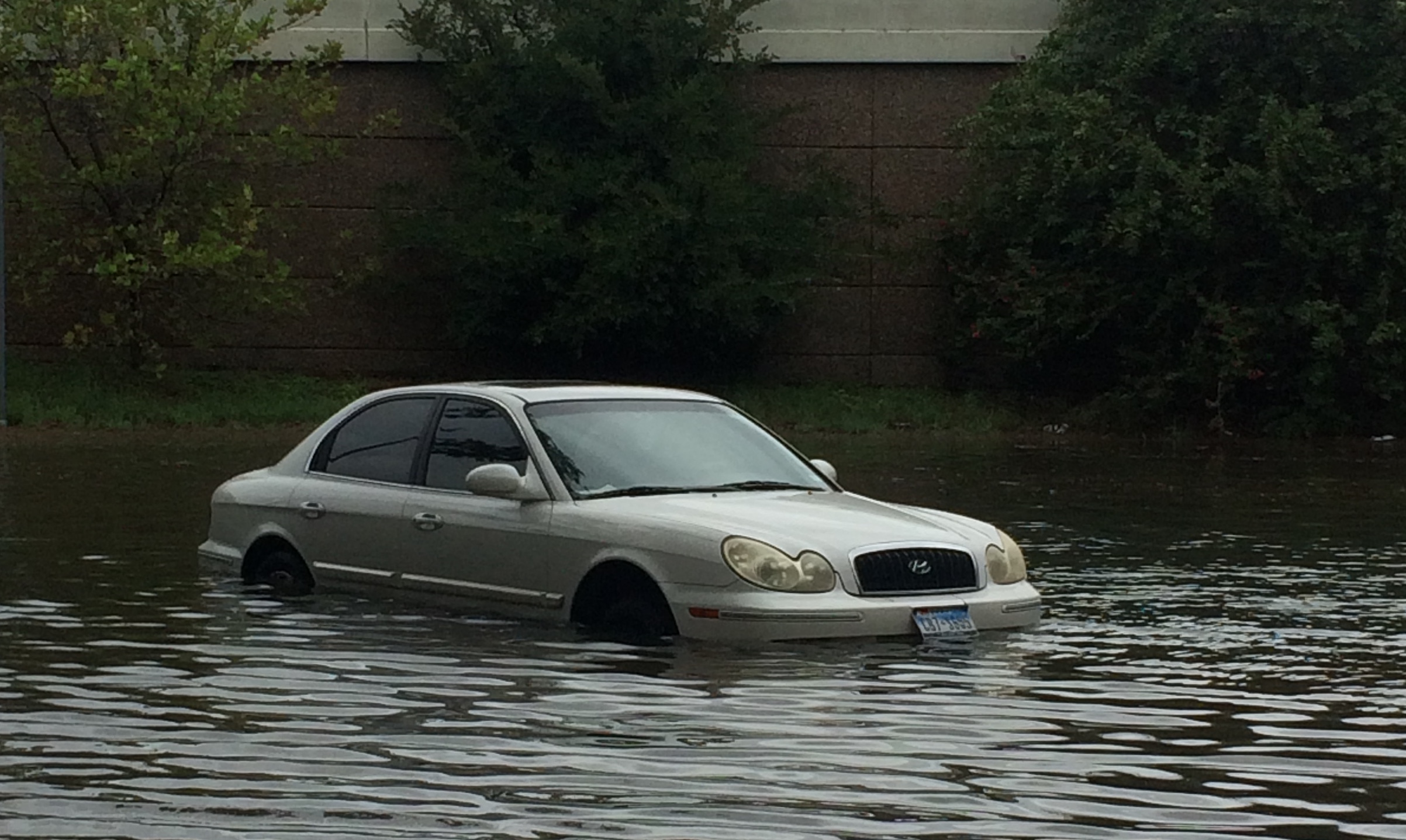 I live over between Greenway Plaza and River Oaks, kind of on the west side of the inner city. I work as an intern at the Houston Chronicle, which is in a flood-prone part of town. I was working a copy-editing shift on Saturday night from 4 to 10 PM. This is a slow-moving storm. Friday and Saturday during the day it was drizzling a bit, but it wasn't anything torrential. At 8:30 on Saturday night, there was one big heavy rain that stalled over us. People there were reporting on it, so I thought I was in the know about what was happening.
I went back yesterday to get a few things out of the car, and it looks like an alligator's head sticking out of the water.
I got off at ten and tried to leave and get back as quickly as possible before another band hit. I exited the Chronicle onto an access road, and it was dark, so I was driving and pretty much came into floodwater. I had my window down in my Hyundai Sonata as a safety precaution—it's a little sedan. All of a sudden, there was water coming over the hood of my car, and into the doors, and at one point, I think one of my headlights went out. I could see a traffic light ahead, and it was green, but then it turned to flashing red. I tried to get out of my car as far as I could. It was too late to reverse.
There's not a lot of businesses at that intersection, but there was a guy who happened to be standing there—probably waiting for someone to rescue him. We tried to push the car from behind, but it wasn't moving. I tried to put the parking brake on to try and keep it there to save it, but I think it's ruined. I went back yesterday to get a few things out of the car, and it looks like an alligator's head sticking out of the water.
Lindsey Treadway, Nurse
We're pretty close to Dickinson, Texas, which is kind-of in-between Houston and Galveston. We're getting hit pretty hard, but Houston is doing worse because all the creeks and bayous are flooding over. I worked Friday and Saturday at Memorial Hermann [hospital system]. The medical center is underwater. I was scheduled to work on Sunday, but my husband woke me up at two in the morning to say I wasn't going anywhere. There was nowhere to go.

It was very confusing, because Friday I showed up to work with my air mattress and my bag packed for a week. When they shut us down, we're there to stay. They kind of kept blowing it off, like, "It's just a little rain, we'll be fine, you can go home." Sunday comes around, and not one nurse can go to work. They had night shifts sleep in shifts to run the hospital for 24 hours. It was a complete nightmare.
They said they're fine. I've been able to talk to them by text and Facebook. The nurses who are scheduled to work can't get anywhere. There are no routes. My husband is an ER nurse in Clearlake, and he had the mayor of Webster, Texas, pick him up in an emergency flood vehicle and drive him to the hospital.
Marisa Hoffman, Photographer
We lost everything. I've lost track of time. Saturday, during the day, the forecasts were dire, but because the weather didn't really seem that bad and we didn't really get any rain beyond drizzle, we got complacent. I even went out and got Chinese food takeout. I came back home, and Saturday night it started raining. I didn't sleep all night. I have three very large geriatric labrador retrievers. I kept waking up, and the water level kept rising, and it was just a deluge. It was definitely biblical proportions. At some point, I put a stick down to measure the water level. It kept coming higher and higher and higher.
When it came up to the door, I decided we were gonna have to swim to get out. I would never leave my dogs, ever, and people were saying we should try to get up to the roof and chop through it [from below] with an ax. I got the ax, but I didn't know how I would get my dogs through the attic. I decided to take them one by one and swim across the street. I have a neighbor there with a newer home built on a higher foundation. I went back to get just a few items and some old photos, and we've been staying with the neighbors for a day, and now we've left to stay with another neighbor.

We can see my house from across the street. There was a boat rescue coming up and down the street, but we decided to stick it out. It's just like living on river now. I've never seen anything like it. We had heard that the storm was supposed to come back around or something. It's pouring today [Monday]. The water has drained some—the level on the street has gone down. But now it's just a matter of dealing with the devastation. Based on the weather reports, it could flood again. I don't know if we're done with this, to be honest with you. We lost power on Sunday. I have been not able to see the news. I would not turn down [a rescue boat] now. But having three hard dogs would make it difficult.
I've been trying to file a total loss claim with FEMA. I'm sure the process will be painfully slow. I was on hold with them forever, and they didn't even get on the phone. They just disconnected me right off the bat. I just don't even know what to do.
Ryan Clark, Bar Owner
I live in Downtown Houston, a block away from Allen's Landing [Park], where the city was founded. The watershed from both Buffalo Bayou and Water Oak, which are two of the more significant bayous in draining the city, kind of converge, so we've had some pretty significant flooding around through that watershed. A lot of roads and bridges [have been] completely just subsumed by the flood waters.
I keep my eye on the weather, same as any person, I guess. We knew the storm was going, but no one was ready for this. There's no ready for this, because there hasn't been a "this" before. As an example, the building I'm in has a parking garage underneath it. It has a basement. It did not flood during Hurricane Ike. It didn't flood in [Hurricane] Allison [in 2001]. [We] got some storm gates installed. The flood waters rose so fast that we thought we were installing the gates with a reasonable amount of time to spare, but by the time we were done putting the four-or-five-foot structure in, we were already up to our knees in water. The floodgates really only bought us about five hours of time before the basement was flooded. The building is on Commerce and Main, and it backs up to the bayou itself. It happened so fast—I've never seen anything like it.
We're not out of this yet. We have water coming out of the sky and out of the creek.
You're always alarmed when a hurricane is pointed at you. I boarded up for Ike and for Rita, which came after Katrina, and nothing happened. I've been here for long enough to take them seriously, and I know we have a lot of new residents here. A lot of folks didn't really understand the risk of a storm like this. But this happened so fast. In 72 hours, it went from the leftovers of a tropical storm to one of the largest rain events in the city's history. There's nothing you could have done to prevent that. There was no evacuating. Everyone would have died on the roads when the freeways went underwater.
It's raining pretty hard where I am now. I moved to just east of downtown to get a shower and some hot chow. The forecast says there's enough rain coming to worry about even if we hadn't just had what we had [Sunday]. The other concern is there are two dams west of here called the Addicks and the Barker reservoirs. They're flood control reservoirs that we sort of fill up and drain out as we need to as a way to mitigate large influxes of water. I guess they're as high as they've ever been, so they've started to try and release water from them to take pressure off, which will flood some of the neighborhoods over there. But it'll also raise the level of the bayou on the entire system. We're not out of this yet. We have water coming out of the sky and out of the creek.
Paola Soto, EMT
Shortly after Harvey made landfall in Rockport, we got a call for a very sick premature—eight-hour-old—baby on the north side of town. Since the weather was still pretty good in Houston at that point, we headed out. On the way back with our patient loaded in our ambulance, it started raining hard and at the same time we had to start neonatal CPR. We continued CPR all the way back to Texas Children's [Hospital] and all the way up to the neonatal intensive care unit. The team up there took over and continued for about ten more minutes before calling it. In the five years I've been on the transport team, I've never lost a patient. So, that's how Harvey started out for me: holding a newborn taking its last breath only eight hours after it took its first. The mother was still recovering from a cesarean section and had not been released yet, and the father stayed with the mother. I didn't want the baby to pass not being held, so they wrapped her in a blanket, and I held her.
It's very hard knowing that sick kids are out there, and we can't get to them
The Transport Team has been grounded since the flooding began. We are still getting calls from all over Houston for critically ill pediatric patients in need of our services. It's very hard knowing that sick kids are out there, and we can't get to them. The Coast Guard and the US Army have kicked in to transport as many of them [as they can] to one of our campuses. When we are able, we meet the helicopters at a safe landing location and take over from there.
Emily Burleson, Student at the University of Houston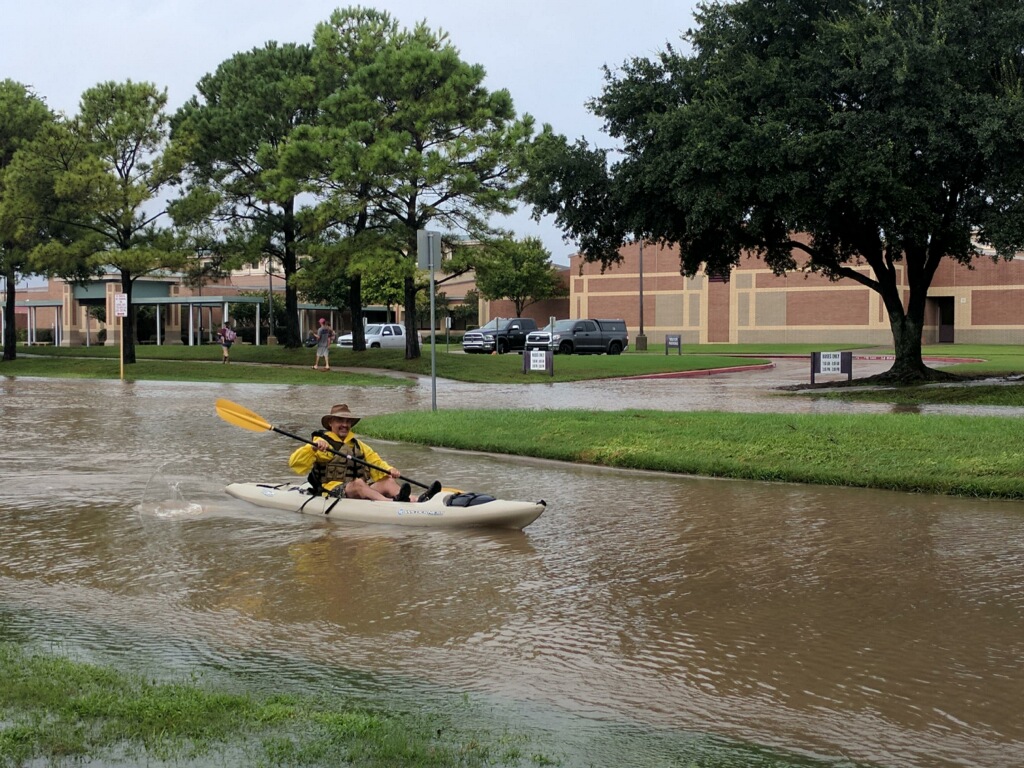 I'm at my parents' house. I just moved into an apartment in the medical center, but I came home to be with my parents this weekend and help out. [They] live in Cinco Ranch, which is in the Katy area—less than a mile from the Barkley [Dam] Reservoir. We have about seven inches of water on our ground floor. We are the only family left on our street. It's flooded for sure.
There are boats and jetskis going by our house every few minutes.
[My parents] didn't really believe it was going to flood until maybe 36 hours ago. We started bringing furniture upstairs and putting paint cans underneath our couches and stuff. A paint can underneath under each leg of the couch to elevate it six inches or a foot. We don't even live on a flood plane. We don't have flood insurance, because my parents weren't required to buy any. They didn't do any independent research, which is, I think, pretty reasonable. The house has never flooded before, and it's 18 or 20 years old. No one's ever had to evacuate. We also moved to Texas after Hurricane Ike.
We do have power. We do have plumbing, cable, internet. The water has only rise to outlet-level in one room, so we've only turned off one breaker. As we're speaking, my parents are debating leaving the house. There are boats and jetskis going by our house every few minutes. For the past few hours, they've been whistling to see if anyone needs help. We have two dogs and a cat, so it would be pretty difficult for us to move. One of my brother's friend's family was told they had to leave their dogs upstairs.
It sounds like most people have been pretty nice about pets. It's just difficult to travel with one or two bags each and pets. No one can believe it. It's a disaster, but I don't think people know. They just realize what's happening in their neighborhood. It's just impossible to absorb.
Half of my family lives in New Orleans and were heavily impacted by Katrina. Every time I'd visit my aunts and uncles there, they'd say stuff like, "That restaurant used to be really good," or, "This looked so nice before Katrina." They didn't stop doing that until like, two years ago. And they're saying that this is gonna be our Katrina.
I think we could stay at least a few more hours. But if we have to turn the power off it's gonna be really bad. It's still raining. The water is still rising. It's probably risen about an inch downstairs in the past two hours.
If you want to help those affected by Harvey, please consider donating to the Houston Food Bank here, or other organizations recommended by the Texas Monthly here.
Correction 8/29/17: An earlier version of this article suggested Katrina struck New Orleans 17 years ago, when in fact it was 12. We regret the error.
Follow Allie Conti on Twitter.