Whether it's rocky love lives or dealing with boys' club politics at the office, HBO's Insecure looks at the lives of black people through a different lens than what audiences have been used to. Creator and star Issa Rae has captured the essence of what it means to be a young black person today, with an all-too-relatable cast of characters.


Among them is Molly, Rae's best friend played by Yvonne Orji. Molly stands as the show's harsh voice of reason as well as its sexually liberated Mr. Miyagi, as we watch her navigate a career and hectic while struggling to find the perfect guy to check all of her boxes. Molly's a charming hot mess of a character wrapped in designer suits; you love to watch her struggle because of her picky and slightly unreasonable standards, but you love to love her because you can see a tad bit of yourself in some of the decisions she's made.

Although the 33-year-old comedian and actor may not share her character's erratic personality, Orji mirrors Molly's driven personality: In addition to her work on Insecure, she's currently developing a semi-autobiographical TV show of her own, about a Nigerian girl who trades in medical school for a career in comedy. We discussed Orji's road to Insecure, how she feels the show lends itself to black culture, and how her relationship with God led her to where she is today.
VICE: What's it like working with Issa?
Yvonne Orji: She's great—what you see is what you get, and then some. She has her awkward moments, and she doesn't like a lot of attention. Issa's really generous, super fun, and drama-free, which sets the tone for the rest of the cast. If the creator of the show speaks to the rest of the crew like their human beings, then you don't get to wild out for no reason. She and the writers' camaraderie lends itself in the stories they tell.

Do you guys stick to the scriptm or do you riff off each other?
Issa wears so many different hats—she's really good at compartmentalizing. While we're going over a scene, I'll say, "What if I say this?" And she'll be like, "Oh, that's super funny, let's do it."

In the first season, we had a Drake lyric in every episode, and in season two, we had a Frank Ocean lyric. Those are the only things that Issa wants to be said just as written. We stick to the script, but every actor brings something different.

How do you feel Molly has grown from season one to two?
In the first season, she thought she was perfect. In the second season, she's realized that she has some problems and some things she needs to work on. Now, you see her trying to work on them as best as she knows how.

It always seems like Molly's character gets the shit end of the stick.
Our showrunner always says to me that no one wants Molly to win. If she does, we won't have a show! She can't get married and she can't be happy—if she did, she'd turn into Tiffany Dubois, and we already have a Tiffany Dubois.

What's it like to switch betweeen working on your own project and acting in someone else's?
It's a different muscle. FirstGen is my baby, and I'm still trying to make it happen, but I really appreciate the experience of creating my own vision when I'm serving someone else's vision. One day, I'm going to need a Molly in my life for the project that I want to do, and right now, I get a front seat to see Issa and all of her moving parts.
People are like, "Oh, you have an idea, and it'll be on TV tomorrow." But nah, boo, it was years in the making. Watching Insecure take shape has allowed me to pace my own project and hone in on what's important. Issa is fighting for the voice she wants to convey, and I see her being more open and collaborative. It's an amazing preview for what I feel like is coming for me.
How do you feel Insecure has pushed boundaries?
What we've been able to do successfully is be very specific. When the show first started, Issa said, "This isn't going to be a show for every black person. Every black person isn't going to relate to it or be happy with the language we use or the topics we discuss." The show is about her group of friends and the world she lives in, and being so vocal about the specificity of the show allows it to be all-encompassing.
She has the freedom to portray black people as regular human beings navigating the life and world as we see it, without any extra sauce added. You've seen a lot of white shows where white people are just allowed to live normal lives. Why not us? We don't have to be solving the world's problems. Black people are enough, and Insecure's about showing a slice of life of the enoughness and fullness of black people.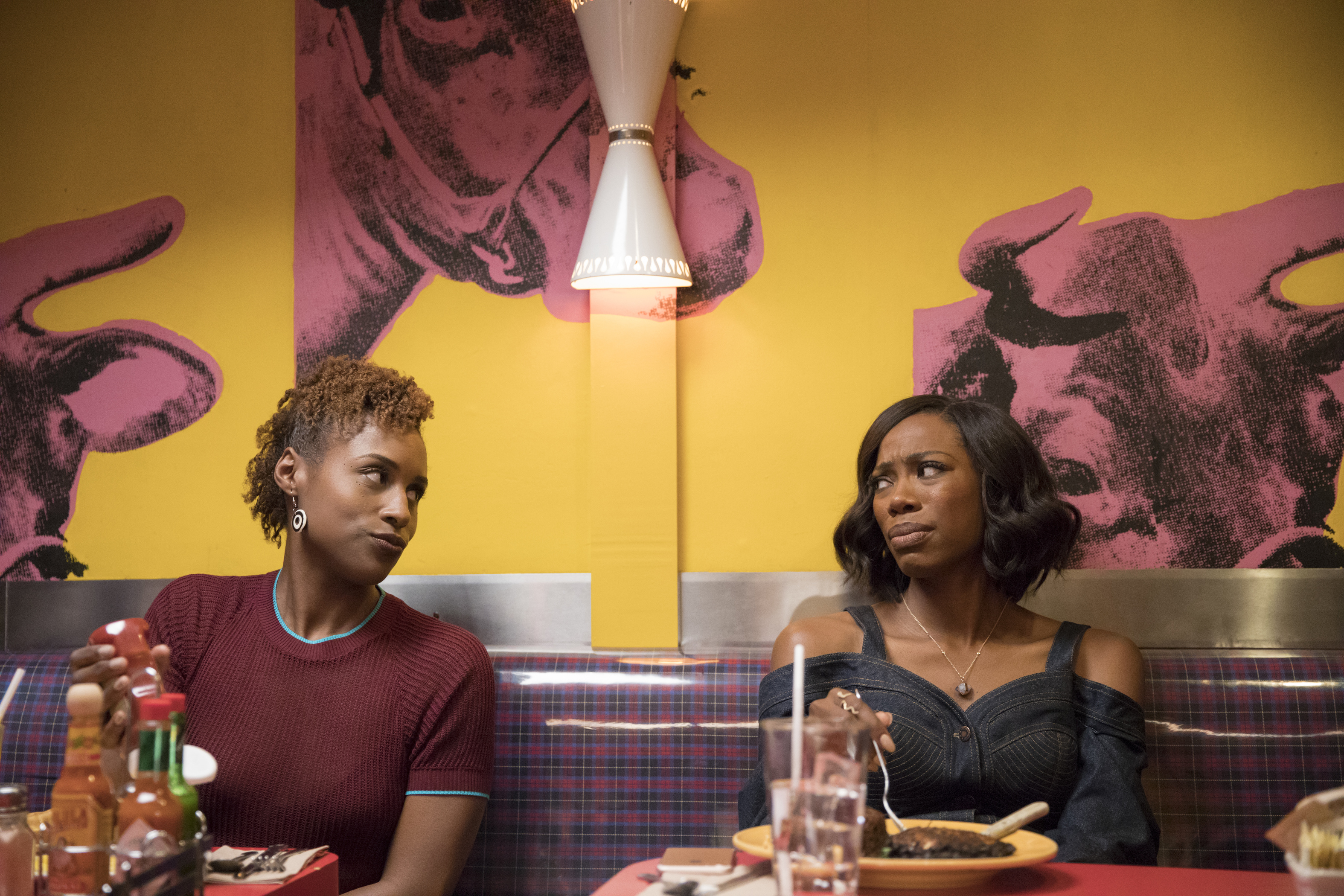 What were some of the hurdles you overcame as a woman in comedy?
I've always said that, as a black woman in comedy, you can never be pretty, skinny, and funny. You have to be overweight and funny, but if you're pretty, then you're not that funny. I'm sorry to break your expectations, but I'm different. When I first started at comedy shows, I'd be asked if I was there to do spoken word or poetry. I'd be like, "Naw son, I'm slanging these jokes." I'd come at people really hard.
I grew up with three older brothers, and I love listening to DMX. Don't let the heels fool you. I will come at you like a gangster—just kidding, I'm not a gangster, I have two degrees. You can't be a gangster with a masters degree. But I'd never let people talk about me. Just let me perform, and I'll leave it all on the stage for you to figure out how talented I am. If you think I'm funny, then I'm funny—if not, then it is what it is.

Did you always want to be on TV?
Yes. I was always using comedy as a segue to TV. In TV, someone has to cast you to find you beautiful or worthy to be on their show—and you don't know when that is going to happen. With comedy, you are your own boss, and you know immediately if the crowd likes you.

What's it like to be a virgin in real life while playing a sexually active character?
It's just like anything in acting—you're given a script and told the vision for the scene. I definitely had a conversation with God before I even got to Hollywood. I asked God, "Is everything going to be a Tyler Perry movie for me? If so, that's cool—but if not, how do I navigate all of these possible things?" Cursing isn't a deal breaker for me, and sex scenes aren't either, but those scenes have to be very well thought out. Nudity isn't an option. I'm just very blunt about what I am and am not comfortable with.

How has your relationship with God shaped your journey?
I don't think I'd have this career if it wasn't for my relationship with God. In 2006, God told me that he wanted me to do comedy, which is something I've never done. I entered a pageant as a talent, and it opened up something that was dormant in me.
I'm forever grateful, because there was a large part of me that thought, This is crazy, I'm not doing this. But if I'd listened to myself, then I would've missed so much by letting fear rob me of this opportunity. In 2009, He gave me a promise of things to come—and when things got dark, I kept going back to that promise. I'm so happy I trusted him because going back to that promise led me to writing the pilot for FirstGen, which led me to auditioning for Insecure—and two years later, here we are.

What do you want next for your career?
I feel like my purpose is to inject joy into people and help them live their best life. I know how soul-crushing it can be to not reach the purpose that was predestined for you. By me succeeding in my journey, I want to show people that they can succeed in theirs. I've always just wanted to tell good stories that matter, and Insecure teaches you things that you can't learn from school. Being on a show like this opens up opportunities for conversations and dialogue in the greater landscape of what it means to be human—and what it means to be American.
Follow Janae Price on Twitter.