Vegan Green Bean Casserole
Our favorite part of this casserole is the crispy onions on the top.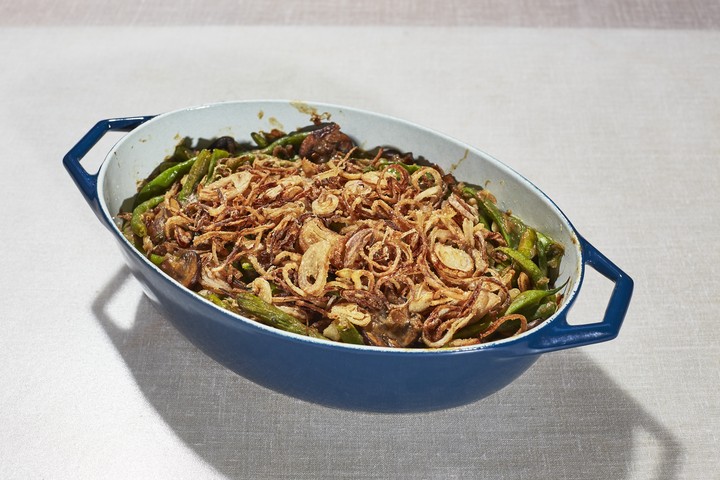 Photo by Heami Lee
Servings: 6
Prep: 45 minutes
Total: 1 hour
Ingredients
1 cup|170 grams all-purpose flour or gluten-free baking mix, divided
½ teaspoon kosher salt, plus more to taste
6-8 large shallots, thinly sliced into rings
Canola oil, for frying
1 ½ pounds|680 grams fresh green beans, trimmed and halved
½ cup|250 ml olive oil, plus more
1 medium onion, finely diced
12 ounces|360 grams cremini mushrooms, thinly sliced
2 cloves garlic, minced
½ teaspoon finely chopped fresh thyme
½ teaspoon freshly grated nutmeg
2 tablespoon dry sherry
1 tablespoon low-sodium soy sauce
1 cup|250 ml vegetable broth
1 cup|250 ml unsweetened hemp milk
Freshly ground black pepper, to taste
Directions
1. Combine ¾ cup flour and ½ teaspoon salt in a medium bowl. Add sliced shallots and toss to coat. Heat 2 inches canola oil in a 4-qt. saucepan over medium-high heat. Add shallots in 4 batches and fry until deep golden brown, about 1 to 2 minutes. With a slotted spoon, transfer shallots to a paper towel-lined plate. Repeat with remaining batches; set aside.
2. Bring a large pot of salted water to a boil. Add green beans and cook 1-2 minutes. Remove with a slotted spoon and transfer to an ice bath. Cool completely, drain, and pat dry; set aside.
3. Heat 2 tablespoons olive oil in a large skillet over medium-high. Add onion and cook until golden, 5 to 6 minutes; push onion to edges of skillet. Add half the mushrooms and cook until golden brown, about 5 to 6 minutes, adding more oil as needed; push mushrooms to edges of skillet and repeat with remaining mushrooms. Add garlic, thyme, and nutmeg and cook until fragrant, 1-2 minutes. Add sherry and soy sauce and cook until liquid has evaporated, 1-2 minutes more. Add remaining ¼ cup flour and stir to coat vegetables; cook 2-3 minutes more until flour is no longer raw. Add broth and hemp milk and reduce heat to medium. Cook, stirring constantly, until thickened, 3 minutes. Season to taste with salt and pepper.
4. Heat oven to 350°F. Fold ⅓ of onions and the green beans into mushroom mixture. Spread into an oiled 3-qt. baking dish and bake 15 minutes until bubbly. Top with remaining shallots and serve hot.
Stories