Inside an Immersive Theater Project Confronting Sex Trafficking in Suburbia
I visited a human trafficking "horror house" in Georgia that aims to shed light on the often-overlooked issue.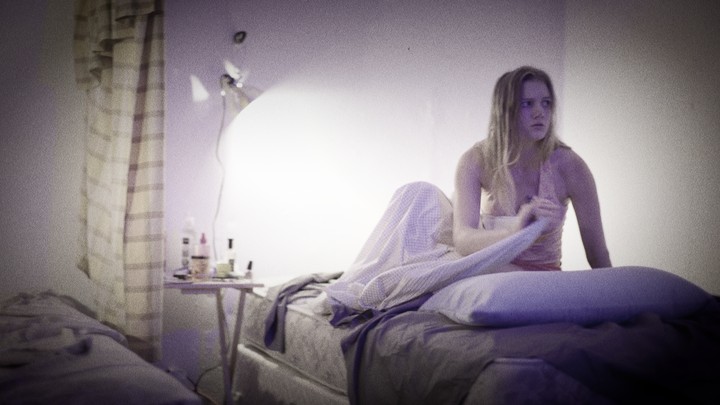 Photos courtesy Suburban Horror House.
In March 2017, metro Atlanta-area police arrested a 33-year-old man known as King Lop for allegedly holding eight adult women against their will in a million-dollar mansion in Sandy Springs, Georgia. According to reports, King Lop, whose real name is Kenndric Roberts, promised the women money and a shot at a modeling career. Instead, one 19-year-old survivor told 11Alive, he forced them to work at nearby strip clubs as dancers, kept the money they made, and had sex with them. He called them his "Diamond Kitties."

When local media first reported his arrest, many wondered how something like this could happen in such a quiet neighborhood.
The truth is that human trafficking occurs in communities all over the US. Since 2010, January has been designated National Slavery and Human Trafficking Prevention Month. According to the Polaris Project, there were 8,042 reported cases of human trafficking in 2016, though that number is expected to be much higher. One 2016 study estimated anywhere between 8,914 and 10,507 teenagers are sexually exploited commercially in the US each year.
Often described as an issue that happens in the shadows, human trafficking is a problem that's not going away anytime soon. In an effort to draw back the curtain on these awful realities, advocates have gotten creative, turning to virtual reality, live theater, film, and even dance. In Atlanta, a local nonprofit recently took over a suburban home in Decatur to host an immersive theater project dubbed "Suburban Horror Story." Instead of being seated to watch actors perform on a stage, attendees become a part of the show.
The purpose, explained Street Grace president Bob Rodgers, was to highlight that sex trafficking is happening in communities and cities around the country, including in Georgia. "It's easy for folks to feel like this is somebody else's problem," he told Broadly. "But a nice home in a middle-class neighborhood in Decatur is an illustration that hopefully will drive home that we all need to be vigilant about this issue."
Because the Atlanta area is a huge transportation hub—it's home to the world's largest international airport, not to mention a number of major highways intersect there—trafficking is a serious issue there. In a 2014 study, it topped a list of eight cities for how much money is generated in the illegal sex market: In 2007, the industry in Atlanta raked in $290 million.
In order to better understand what human trafficking may look like in the suburbs, I decided to travel to Decatur to experience the theater project in person.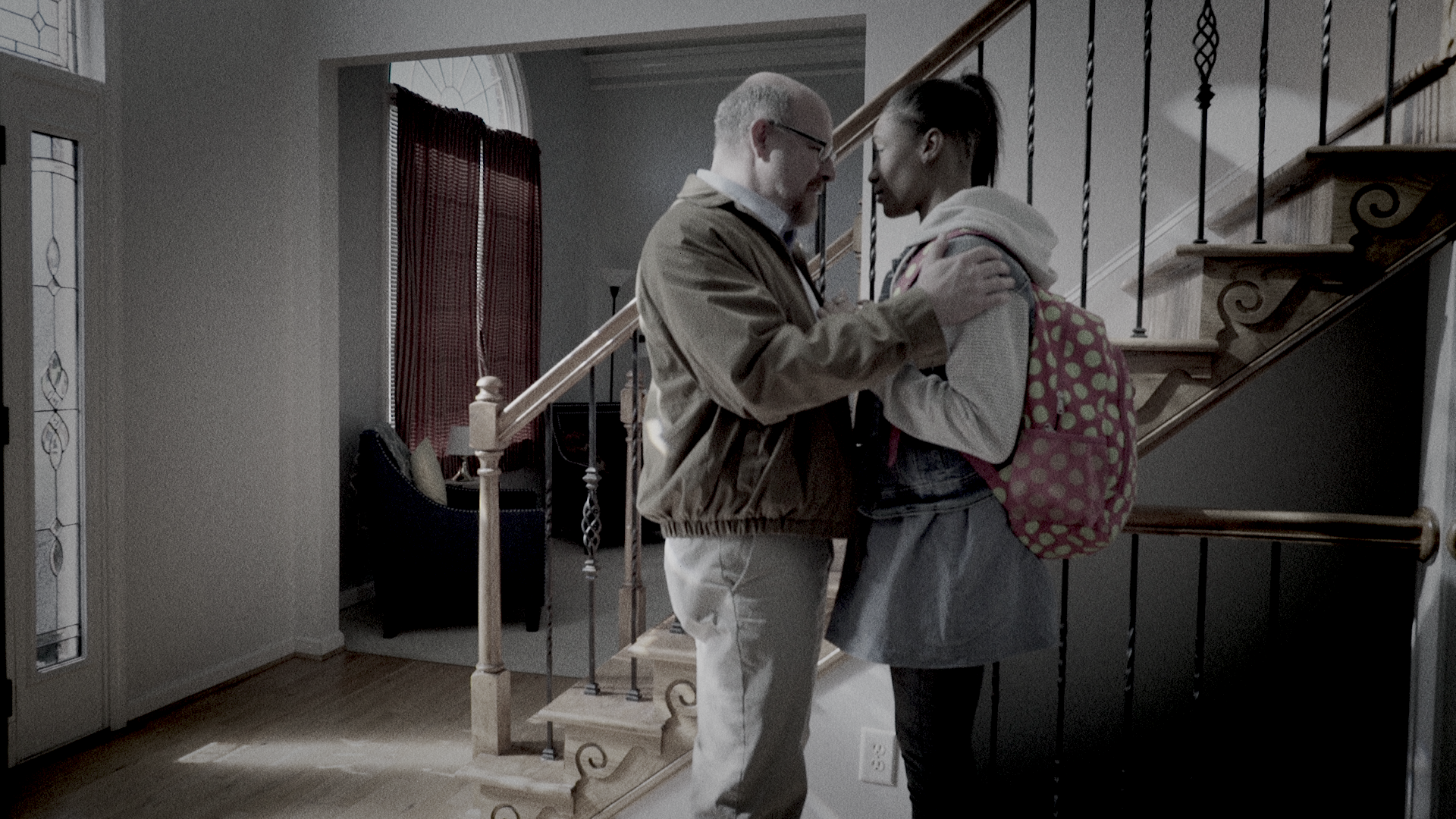 The October day I attend the free tour (for which lawmakers, attorneys, advocates, and other media people have been exclusively invited in an effort to help raise awareness), it's bright and sunny—nothing in the day indicates I'm about to embark on a sinister journey. The meeting point is a church, and I find myself a bystander in a group of important people, including a local mayor, a prosecutor, and even a woman who'd once posed as the bait in a To Catch a Predator episode.
A plain white van finally pulls up, and a balding, middle-aged white man in glasses greets us cheerfully. His name is Paul, and he tells us he's "so excited" to show us his house. And so the event begins. "We've just got to make one stop before we start the tour," he says.
Within a couple of minutes of leaving the church, the van stops at a gas station, and Paul jumps out to greet a young black woman sitting on the curb under a light pole. Her hair is pulled into a sideways ponytail; the pink and green bookbag she's carrying makes her seem childlike.
Paul introduces the girl as Jamie, and the two talk with familiarity. She's excited to be working with a photographer because she's always wanted to be a model. When she mentions posting a photo on social media of a ring he'd given her, Paul reacts by using her phone to delete the photo. "Next time," he tells her, "ask me before you post anything." When she confides that she's nervous about her photoshoot, he replies, "There's nothing to be nervous about. You're gorgeous."
A short drive away, we pull into an average-looking neighborhood in suburbia: big, cookie-cutter houses, finely edged landscaping. Paul acknowledges just how easy it is for him to blend in here: He points out how the blinds are all drawn at these neighboring houses.
The first stop on our tour of the home is the medium-sized kitchen, where we find a young woman sitting at the island. She has dark circles under her eyes, and the open resentment on her face is uncomfortable. Paul introduces her as Angie, but she retreats silently with a glare. Jamie is led upstairs to "prepare" for her photoshoot—she casts a look of uncertainty toward Paul, whom she clearly trusts—and we walk through the dining area and foyer into the office, where he and another man show us how they use several computers to "meet" young women online and connect them to men responding to ads on Backpage.
During all this, there are two interruptions. The first comes in the form of a knock at the front door, which causes Paul to grab a handgun and hold it behind his back before sticking his head out the front door to speak to a neighbor about the upcoming homeowner's association meeting. The second interruption is a woman who appears to be Paul's second-in-command, asking him to talk some sense into Angie. He argues loudly with the younger woman behind us in the foyer.
It isn't until Paul takes us downstairs to the finished basement that it's obvious bad things happen here. It's a classic scene picked right out of Law & Order: SVU—thick smoke hangs in the air (punctuated by the smell of burned oregano, I learn later), "doped-out" clients ranging from middle aged to probably a college student, and prescription bottles scattered about. Later, in a sparsely decorated bedroom, the second-in-command comes in and gives the victims, including a guy, something out of a pill bottle to perk them up. Angie locks herself in a bathroom. Paul politely excuses himself and goes into the bathroom with her. We hear crashing noises, as if he's thrown her against the wall.
The sounds, the smells—it's visceral. Marking the end of the tour, a young woman unexpectedly bursts through the back door of the basement, allowing some of the creepy to slip out. She talks about how she's a survivor (she actually turns out to be another actor) and suddenly the tour feels like a performance. The victims recite where they're from, and talk about the need for help—it's the only time they stand tall and proud, instead of appearing beaten down.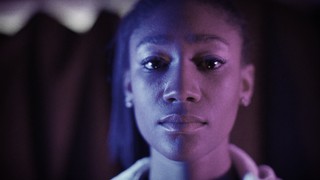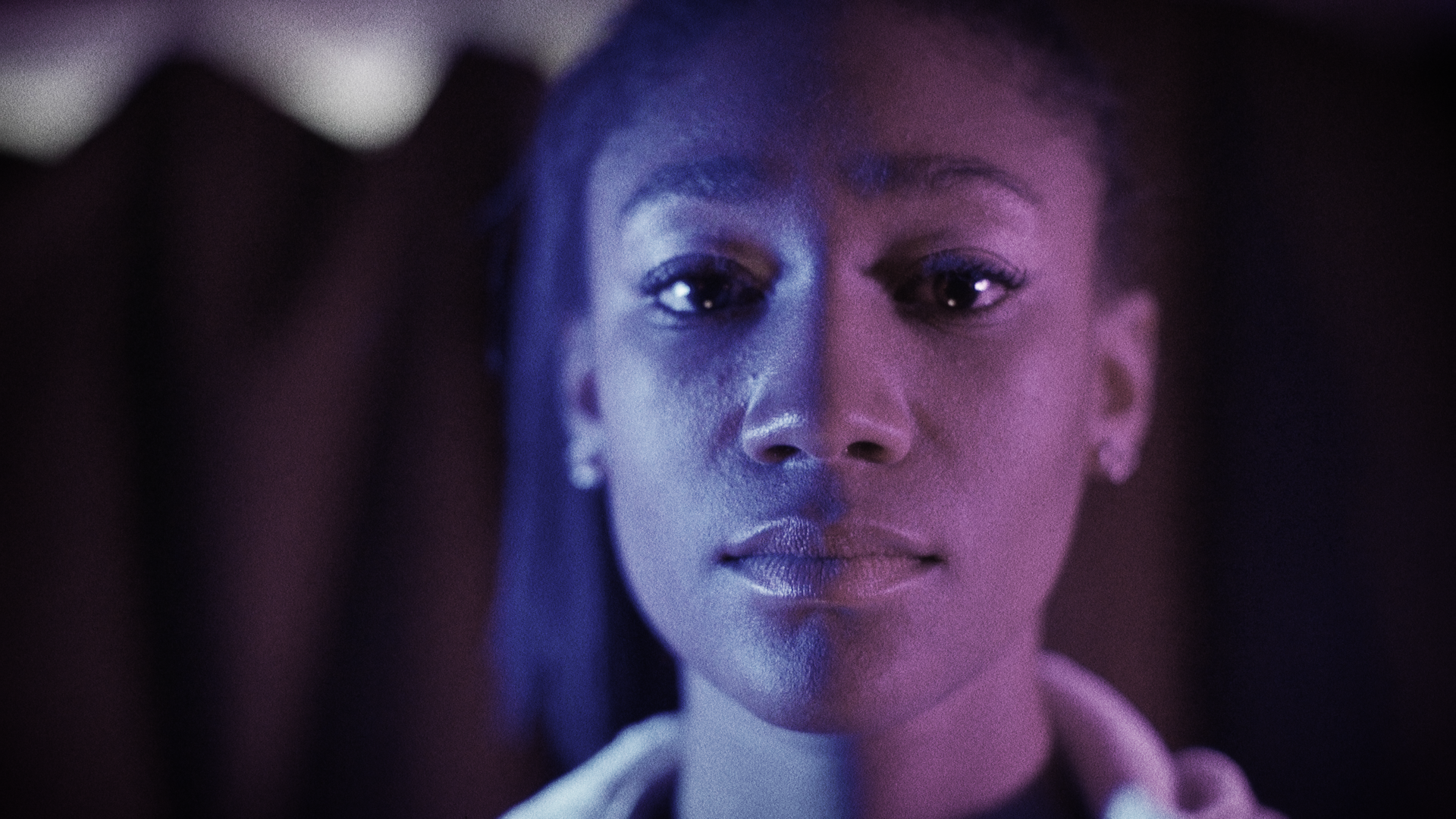 Robin Fitzgerald is the chief creative officer of BBDO, the Atlanta-based advertising agency that partnered with Street Grace for this project and spearheaded the production. She told Broadly that the idea for the experience, which has since been recreated online in a virtual tour, came from several team members who were appalled at the number of news reports citing domestic minor sex trafficking happening in suburban Georgia. "You think this is a crime that happens in dark alleys of big cities, but not in a seemingly picture-perfect neighborhood where little kids ride their bikes and neighbors stop by to invite you to a barbeque," she said. "That's the most horrifying part about it, and that terror is what led us to launch the experience just before Halloween. … We thought it was an ideal time to shine a spotlight on the real-life terror that is happening in the house next door."
Four survivors with connections to Street Grace were interviewed for the project, Fitzgerald said, and the script is credited to playwright Edith Freni, who'd done previous research about trafficking for her MFA thesis.
Jessica Holt directed the production. In a statement sent to Broadly, Holt said that it was important for the tour to convey how sex trafficking in the US cuts across race, ethnicity, class, and gender lines—thus, the varying ethnicities of the actors. She also explained how her set choices were intentional. "In our research and in speaking with survivors, we realized that many of these houses, condos, and apartments where kids are sold are transformed into places where it feels like a 24-7 party—a very, very dark party to be sure, but a party nonetheless. Traffickers will trick out spaces, rig some simple lighting, play some music, and make sure to have a supply of drugs for clients but also for their girls and boys, to ensure those kids are pliant and dependent."
"Many people had reactions like, 'I had no idea this happens in nice neighborhoods' or 'I had no idea this was so prevalent'"
"Bob Rodgers spoke to this," Holt continued, "as did Kayti, one of the survivors we featured. In fact, when Kayti toured the basement (on her own rather on our tour, which she would not do because it would be triggering) she came back up and said that everything looked exactly right, that she had spent many a night in rooms that looked just like that, and her one note was that the bedroom wanted to be even messier (which we then did)."
Fitzgerald said overall, the performance was eye-opening for those were able to attend. "Many people had reactions like, 'I had no idea this happens in nice neighborhoods' or 'I had no idea this was so prevalent,' so the fact that we were able to open their eyes to it and get them talking and sharing the site and their experience was a really positive outcome for Street Grace."
For me, the whole experience was reminiscent of the hell houses I would visit with my church as a teenager. The annual event in my town, dubbed Hell's Fury, was also an immersive theater production, though designed to scare us into doing right by God by showing us real-life scenarios, such as whether or not to get an abortion or drive drunk, and the repercussions of those decisions. Characters who made "good" decisions, according to evangelical Christianity, were escorted to heaven by angels when they died. Characters who made "bad" decisions were snatched by scary demons to the pits of hell.
For a naive teenage girl who grew up in a religious household, it was effective. I remember my first year going through the hell house—I left crying.
Here, too, I left feeling disturbed. Though it was all a performance—Paul, the evil trafficker who's trying to make money and have a good time, is actually an Atlanta-based actor named Matt Lewis—I still felt heavy from the toil of witnessing young people enslaved. If the intent of the project was to drive home the horrors of this issue, it certainly was effective. At the same time, though, it bothered me that it took a theater experience for me to really see what modern-day slavery looks like.
Before loading up into the van again, I asked Rodgers, the president of organization that hosted the tour, if the Suburban Horror Story project took any inspiration from this hell house concept. He said no. But, he added, "you could certainly say that folks who have been victimized by this, who are survivors of this, have gone through their own living hell."
If you suspect someone is being trafficked, you can call the National Human Trafficking Hotline at 888-373-7888.