What It Was Like for Survivors When Bill Cosby Was Sentenced
Women who have accused Bill Cosby of sexual assault gathered in a Philadelphia courtroom on Tuesday with the hope of healing from decades of trauma.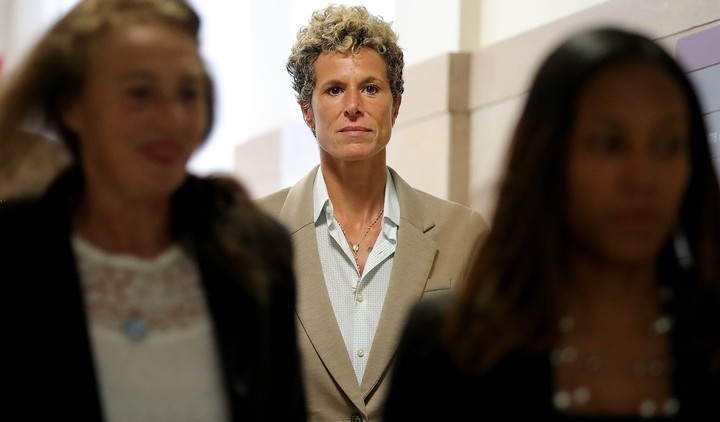 Photo by David Maialetti-Pool/Getty Images
On my way to the airport after Bill Cosby's sentencing, my Uber driver, Sarah, asked me why the women who accused Cosby of assault waited so long to come forward. After a night of celebrating the justice delivered to Andrea Constand, the former Temple University employee who Cosby drugged and assaulted in 2004, and other Cosby accusers, Sarah abruptly brought me back to the reality that rape culture dies hard.

On Tuesday, I witnessed the befallen comedian's sentencing with women who say Cosby drugged and raped them at some point over the past four decades. Lili Bernard, an artist and mother of six; Therese Serignese, a registered nurse; Victoria Valentino, an artist and author; and Linda Kirkpatrick, a business owner, all have recounted horrifying experience with the man formerly known as "America's Dad." I witnessed firsthand the sacrifices that these women and so many others made to hold this fallen icon accountable, even if it was from the gallery of the Philadelphia courtroom.
When the foreperson read the"guilty" verdict in April, the emotional floodgates opened. Serignese, who had been waiting for justice for nearly 40 years, collapsed in tears on my left, and Bernard, who had been waiting 25 years for this verdict, wailed uncontrollably on my right and hit her head on the bench in front of us. We had to leave the courtroom for breaking decorum, so I grabbed both women and held them up as we walked out.
At the sentencing this week, more than a dozen women who accused Cosby of sexual assault over the past four decades attended, including comedian/model Janice Dickenson, school teacher Lise-Lotte Lublin, and dietician Chelan Lasha, who testified at the second trial. They were joined by actor Sunni Wells, likely the first Cosby survivor, as well as entertainment executive Cindra Ladd, attorney Tamara Green, model Sarita Butterfield, and talk show host Stacey Pinkerton. We quickly bonded during hours of waiting in the dark outside the courthouse each morning to secure seats.
Women who have accused Cosby traveled from all over for the sentencing. Stacey Pinkerton, who had remained anonymous until the sentencing, traveled from Spain where she fled after Cosby allegedly raped her 32 years ago. Tamara Green drove her RV out from California but had to abandon it at a garage in Virginia after a gas station attendant topped off her diesel tank with gasoline. One woman spent her last penny to fly out, and on the second day of sentencing, I discovered that she had not eaten anything since breakfast the day before.
The women who attended the trial gave up much more than their time and money. Throughout the trial, they faced daily harassment and occasional physical violence from an army of what appeared to be coordinated Cosby supporters. I was one of a small group of people who did what we could to shield the women from these brutal humans.
The women also faced the daily reality of being triggered by details of sexual violence in the courtroom and a frequently smirking Cosby. On the last day of sentencing, Cosby answered a series of questions—the most he had spoken the entire trial. Just hearing his voice caused one woman to go into a dissociative state and emotionally incapacitated several others.
The damage Cosby has wreaked on the lives of so many is staggering. Women shared frank details about their alleged rapes and the aftermath during the trial and after the sentencing. Common themes included suicide attempts, failed careers, failed relationships, and fleeing the country. Dickinson escaped to Milan. Pinkerton fled to Spain by way of Hawaii then Europe: "No place was far enough away from Mr. Cosby," one woman put it. Bernard and Valentino saw their careers decline in a PTSD haze. Wells and Constand spoke about their loneliness in not being able to maintain relationships since their alleged rapes.
Compared to the two trials, the sentencing felt more like a relief. Every decision broke in favor of survivors. First, Judge O'Neill ruled that it was constitutional to classify a felon as a "sexually violent predator." Then, after more than a day of agonizing testimony from two woefully underprepared experts, the judge ruled Cosby a "sexually violent predator," which means counseling and reporting to authorities for the rest of his life.
The third victory for the women was the sentence: three to 10 years in prison. Cosby could have received parole or mansion arrest, but the judge considered Cosby's lack of remorse and the severity of the crime in determining his sentence. Most of the women I spoke with were satisfied that he would be behind bars, but some expressed anger about light sentences for rape more broadly.
After the sentencing came down, the lauded comedian started rolling up his sleeves for handcuffs, laughing so hard his shoulders were bouncing. Cosby's publicist, Andrew Wyatt, was yucking it up with him like it was all a joke. Their nonchalance stung. The ever fearless Dickenson responded by faux cackling so loudly a court officer threatened to remove her.
As an officer approached Cosby to affix handcuffs, we all stood up and put our hands over our hearts. Tears streamed down most of the cheeks of the Cosby accusers as we solemnly stood in place. For safety reasons, we had to leave the courtroom before the handcuffs were placed on his wrists, which rightfully incensed some women who wanted this finite moment of closure.
"The bottom line is this whole thing is so much bigger than Cosby"
As we filed out, Wyatt blew accuser Lublin a kiss and winked at her. This ugly parting gesture was unfortunately par for the course at this trial.
Cosby's three to 10-year prison sentence—the maximum on the high end— marks a substantial victory for survivors in the first high-profile case of the #MeToo movement. Only one-third of survivors report their rapes, and only 2 percent of rapists will ever see a day in jail, so Cosby's guilty verdict and sentence of three to ten years in prison is remarkable. But this case also demonstrates how the law is stacked against survivors. Arbitrary statutes of limitation barred over 60 survivors from seeking justice, and light sentences for this felony crime means that a rapist who left numerous women with life-long trauma could be a free man in three years.
For More Stories Like This, Sign Up for Our Newsletter
"The bottom line is this whole thing is so much bigger than Cosby," Valentino said during a press conference afterward. "This is about a woman's worth. This is about rape culture in our society. This is about the fact that we as women are not equal under the constitution in 2018."
Cosby's mugshot —when he finally stopped laughing— brought catharsis and closure to many Cosby survivors, but for some, it also brought about the weighty realization that closure can be healing, but it cannot fully erase the trauma. These women may carry the emotional burden of abuse for the rest of the lives, but with the survivor sisterhood, they will not carry it alone.