Like many people in their 20s, the WNBA is spending a lot more time downtown these days.
Three years ago, the league took 5,736 three-point shots over a full season, averaging 32.9 percent from deep, with 19 players notching at least 100 attempts. Two-thirds of the way through the 2017 season, they're on pace to take 7,303 threes, and average 33.5 percent, with 32 players on pace for at least 100 attempts from deep.
None of this is surprising. Like much of the basketball world, the league has been moving steadily in this direction for years. The Washington Mystics, under Mike Thibault, have long emphasized perimeter shooting from all of their players, even bigs. The Minnesota Lynx revamped their offensive philosophy over the off-season with an emphasis on shooting more threes, remaking 6'2'' Rebekkah Brunson into a stretch four who can space the floor.
More and more players are extending their range and improving their accuracy, and the future of the league looks to be set by bigs capable of doing it all, like Breanna Stewart in Seattle, Elena Delle Donne in Washington, and Nneka Ogwumike, the league's reigning MVP, in Los Angeles.
But a funny thing happened on the way to the perimeter-dominant future.
Traditional fives are feasting.
Rather than making the position obsolete, the WNBA's gravitational shift to the outside is giving old-school back-to-the-basket centers room—literally—to thrive. For proof, look no further than Minnesota's Sylvia Fowles, a post-bound five who is the clear favorite right now to capture the 2017 MVP award.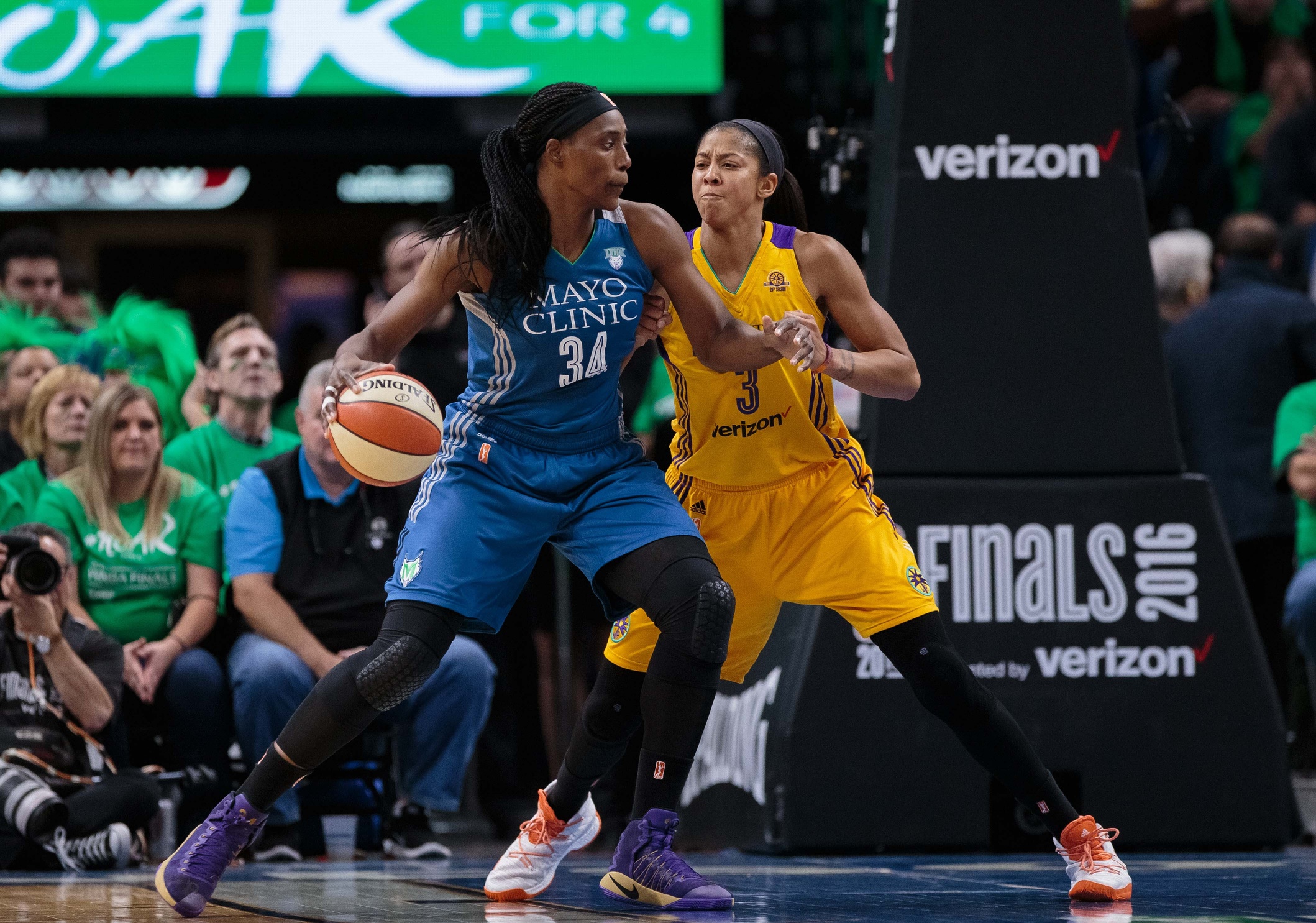 Fowles is one of only two Lynx who haven't attempted a three this year (the other, Temi Fagbenle, has played just 52 minutes all season), but the 6'5'' star is shooting 67.1 percent from the field, by far the best mark of her career—and her career average of 58.7 percent happens to be the best in the history of the league. Her player efficiency rating of 33.6 leads the league and would rank third all-time in WNBA history, and she's doing it in a purely traditional way.
It's a relief to Lynx head coach Cheryl Reeve, who wasn't sure her team would adapt to a more perimeter-based attack.
"We were always about protecting the paint, points in the paint," Reeve said, standing on the court in Seattle's KeyArena Friday during open practice for the WNBA All-Star weekend. "And now it's become a lot more about the three ball. For our opponents, I don't think they were really used to that. But I wasn't willing to focus so much on that," she added, gesturing to the paint, "and give up too much of this," pointing to the three-point line.
Fowles is merely the most impressive example of a true five benefitting from her team's additional three-point threats. The Mercury's Brittney Griner, ranked third in the league with a PER of 29.6 and shooting nearly 58 percent from the field, is enjoying the best season of her career so far, all without attempting a single shot beyond the arc. Only one other player in the entire history of the league, Yolanda Griffith, has been as efficient without the help of the three.
"When you put more three-point shooters on the floor, it stretches the defenses, it puts these great post players in even more one-on-one situations," Connecticut Sun coach Curt Miller said. "Everybody still wants to play and establish inside first. And the more there's perimeter shooting around the league, I think it's only increased the opportunities for the post players."
The ripple effect isn't limited to the league's consensus best fives, either. The Atlanta Dream is averaging 16 threes a game this season, up from 13 last year, which has allowed second-year center Elizabeth Williams to significantly improve her own shooting, even if she never steps outside the paint to do it. Thanks in part to that, Williams made her All-Star debut this past weekend.
Williams' point guard, Layshia Clarendon, who was also in Seattle, told VICE Sports, "What are you going to do with her and me? You go under, I'll hit the jumper. You go over, I'll hit her for the slip. And that's worked really well with us, in a classic two-man game."
The rise of the traditional five in the women's game is a clear contrast to how the proliferation of threes on the men's side affected the NBA. There, we've seen no return to the Shaquille O'Neal ideal to go along with the rise of Steph Curry.
The WNBA, though, has plenty of traditional fives ready to take advantage of all that extra space. Fowles, buoyed by single coverage, scored 26 points in a half earlier this season in a game against the Seattle Storm. Griner more than doubled her assist percentage, able to find three-point shooters out of double teams.
And they're about to get more. The top overall pick next season is expected to be A'Ja Wilson, a lengthy 6'5'' defensive enforcer from South Carolina. Australian Liz Cambage said earlier this month that she plans return from a dominant run overseas to play for Dallas, which own her rights, in 2018. Cambage last played in the WNBA in 2013, when she managed a Fowles-like 29.9 PER in 20 games with Gary Kloppenburg's three-point-happy Tulsa Shock.
And while Griner has expressed a desire to add the three to her game, many of the WNBA's true centers appear happy with a status quo that so clearly benefits them. Fowles has no plans to turn herself into a point center. And why should she, when the current setup provides more room to operate than she's had her entire career. For now, the only time fans are likely to see her shoot from downtown is during the All-Star festivities, a game that Maya Moore best summarized as "somewhere in between shootaround and the regular season."
And in Sunday's game, Fowles did indeed bring up the ball for the West at one point, stop at the top of the key, and fire from beyond the arc.
"A couple of possessions before, Sue [Bird] was telling me to bring it up. I said, 'No, no, no,' but she kept saying, 'It's the All-Star Game'," Fowles recalled sheepishly in front of her locker after the game, which the West won 130-121. "I was comfortable with it. Just pull up. I mean, I shoot threes in practice."
So what about regular-season games?
"I'll leave that to the guards," Fowles said, smiling. "I'm comfortable being down there in the post, and that's where I'm going to stay."