The off-season is trade season in the NBA. A blizzard of transactions will take place over the next few months as organizations all around the league try and reshape themselves, improve their personnel, and alter their directions.
To prepare, over the next few days and weeks we'll propose and analyze a few hypothetical trade ideas that may (or should) go down at some point before the 2017-18 season tips off.
Detroit Pistons get DeMarcus Cousins
New Orleans Pelicans get Andre Drummond
Sacramento Kings get Alexis Ajinca and New Orleans' lottery-protected first-round pick in 2018
Every hypothetical trade we've previewed over the last couple weeks had a semi-realistic chance of actually happening. Relative to the monstrous three-team deal listed above, they were minor but meaningful transactions that spackled cracks and fortified areas of weakness. This one is a bit more complicated, flawed, and unlikely, but it has the potential to help every team involved.
The ultra rare "franchise player for franchise player" switcheroo just about never happens for a couple reasons: 1) lateral moves that don't shift the timeline either way are pointless, and 2) both rosters have been built around the outgoing centerpiece.
This logic applies to the above trade, too, which is why it probably won't happen, but it's still a unique situation, and neither organization has an obvious path forward, assuming deep playoff runs are a goal.

Let's first look at Detroit, a team that, on the surface, would taking the most risk here by far. Why would they swap 23-year-old Drummond, who is under contract for the next three years and by all accounts an affable personality, for 26-year-old Cousins, with his expiring deal and overly demonstrative emotional temperament?
Well, primarily, Cousins represents a dramatic upgrade in all-around talent, and would enable a clearer path to the playoffs for the Pistons as they transfer back to downtown Detroit next season. He can score with his back to the basket, shoot threes, make free throws, draw double-teams, pass, rebound, and display intelligence on the defensive end. If Stan Van Gundy doesn't believe Drummond can be the first- or second-best player on a championship contender, dealing him for another All-Star center who's better in just about every way isn't dumb.
Cousins' pending free agency wouldn't be as nerve-wracking in Detroit as it was in New Orleans. With his Bird Rights and the promise to be their star in a weaker Eastern Conference, the Pistons offer more reasons for Cousins to stick around, though an extension would be unlikely. And if he leaves? Oh well, Detroit would be headed for a rebuild no matter what, and shedding Drummond's remaining $52 million from the cap sheet should still be viewed as a step in the right direction.
Perhaps Van Gundy believes that Drummond's best days are ahead of him and that it's too early to give up on him as a leading man. But coming off a season in which the Pistons only won 37 games and were outscored by 6.3 points per 100 possessions with their franchise center on the floor, the outlook doesn't look promising. Detroit's five most common five-man units were blown out of the water last year, and Drummond showed no functional improvement from his fourth to fifth season. His PER dropped, his Win Shares per 48 minutes stayed exactly the same (a decent .133), and he averaged only 29.7 minutes per game.
Yes, he treats rebounding like an all-you-can-eat buffet, but he also isn't very effective on put-backs, lobs, or just about any other scenario that requires him to put the ball in the basket. According to Synergy Sports, Drummond placed in the 37th percentile as a half-court scorer, with post moves that are still more predictable than a weather report in San Diego. This doesn't mean he's unacceptable, but building around him is.
On the Pelicans, a team that's clearly invested in deploying Anthony Davis at power forward instead of center, Drummond would get a fresh start in a reduced role and New Orleans would get an insurance policy.
If the Pelicans do nothing and the 2017-18 season is a disaster (in which they either miss the playoffs or aren't competitive in the first round—a distinct possibility), Cousins can walk away next summer and leave New Orleans with spare parts and limited resources around their All-NBA megastar. Building a competent, promising team around Davis before he can leave two years later will be nearly impossible.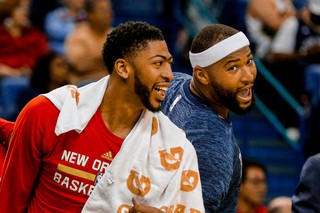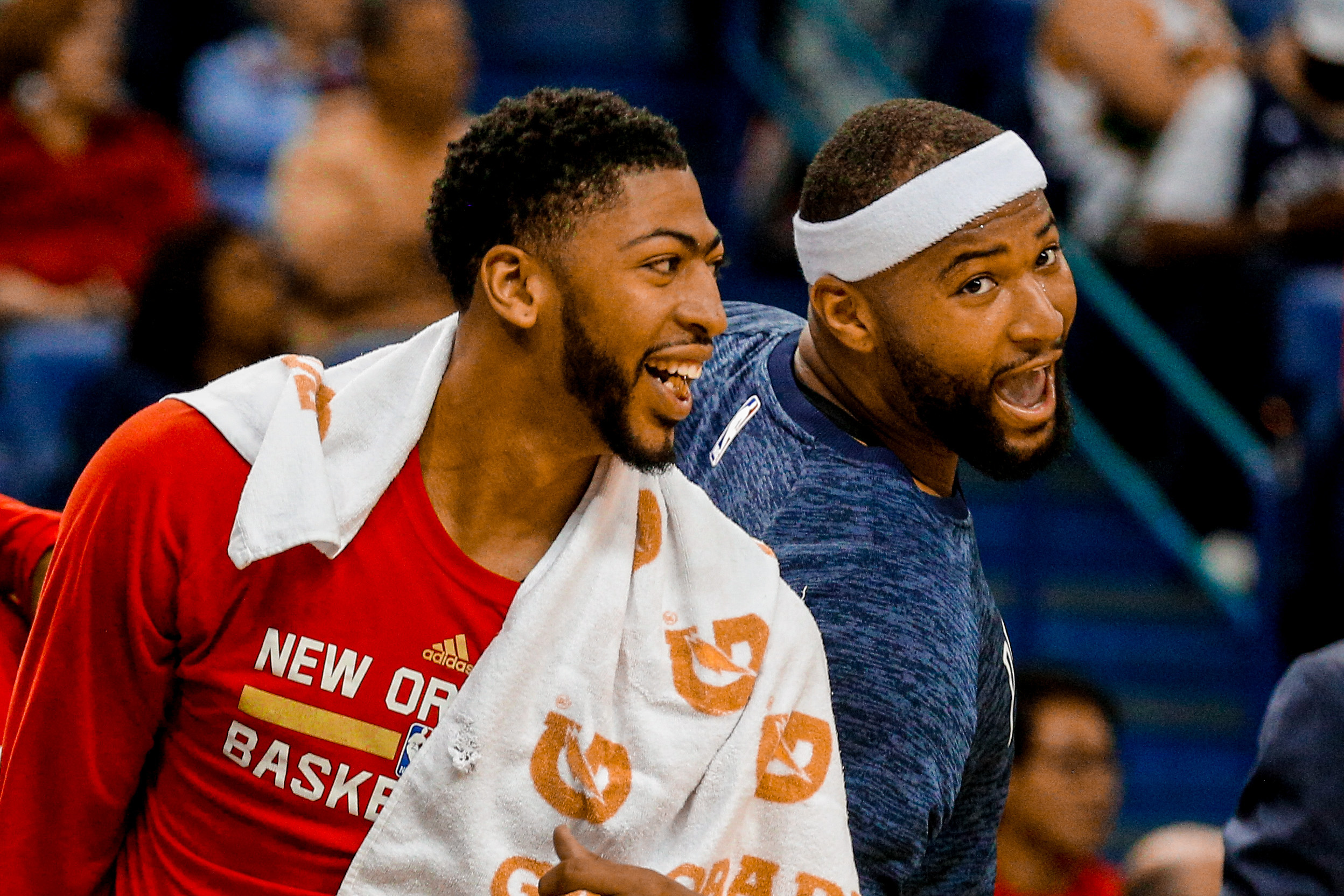 Drummond is hardly an ideal fit, but he would make Davis's life less stressful, especially if he develops on the defensive end, while also giving the organization something of a safety net in the event Davis is not long for New Orleans. For all the negative things I've said about Drummond, he'll be 24 next season. He has unteachable physical tools, and room to improve on the defensive end. A change of scenery could do wonders for his career, and if the Pelicans eventually trade Davis for a haul of valuable future assets, Drummond has value at the five so long as those building around him realize his ceiling is DeAndre Jordan 2.0.
For now, a Drummond–Davis tandem makes enough sense, so long as there's a pick-and-roll point guard and more spacers dotting the perimeter. Acquiring those pieces won't be easy if Jrue Holiday signs elsewhere in a couple weeks, but building this franchise into a legitimate championship contender will be an uphill climb no matter what.
Cousins' outside shot can relieve pressure by dragging opposing bigs out to the perimeter, but he's also a huge fan of going one-on-one, and will usurp touches from one of the world's most lethal shot makers. After the All-Star break, Davis's True Shooting was 7.7 percent lower when he shared the floor with Cousins. His usage rate dropped 9.4 percent, and New Orleans' net rating plummeted 8.0 points per 100 possessions.
When extended 15 feet from the rim, Drummond can't do much besides set screens to free up playmakers and shooters. But he also doesn't need—and shouldn't have—the ball in his hands too often, which would let Davis feast. With such an absurdly gifted offensive force by his side, Drummond's crunch-time woes at the free-throw line would be less of a concern, knowing the team can just play AD at the five whenever they want.
Even with such weighty names, this isn't the sexiest trade, but the possibility of Cousins leaving next summer should terrify the Pelicans. A one-time All-Star who plays the same position, is three years younger, and under contract until 2020 is an attractive return on their investment. It's also a safer play, assuming all New Orleans' decisions are done with Davis's future in mind.
There's always the chance Cousins fits in and the Pelicans simply re-sign him as Davis's long-term running mate, but that feels like a risk their front office can avoid bearing with this trade. Two sub-25 mastodons will be under contract for the long-term, forced to coalesce and grow together.
There's no guarantee it would work, especially in a league that currently prioritizes three-point shooting. At the same time, aspects of this league are cyclical, and it won't be too long before a big like Karl-Anthony Towns will need to be reckoned with. In the meantime, the Pelicans zagging this hard while the rest of the NBA zigs will at the very least make them a team worth watching.
To make the money work, the Pelicans would need to dump salary elsewhere, most likely Alexis Ajinca onto the Sacramento Kings, a team that should be happy enough to absorb him alongside a lottery-protected first-round pick in 2018 (that will turn into a second-round pick in 2019 if not conveyed).
Deals like this are a fantasy for so many of the reasons outlined above, but the particulars surrounding it make sense if we make a few assumptions about the three teams involved. Either way, it'd be a lot of fun.