In April 2017, a man took his pet emu Wodders for a walk along the streets of Euxton, a small village in the northwest of England. Outside a pub, someone spotted the pair and began recording them on his phone. What follows the most surreally British exchange of all time.
"What the fuck… You're walking a fucking ostrich, ya daft cunt?" the passer-by shouts.
The pet owner swings around. "It's a fucking emu!"
The passer-by dissolves into hysterical laughter. "Let's have a look at it, then?"
"It's a fucking emu," the owner stubbornly insists.
"She's a fucking beauty, ain't she."
The owner takes immediate offense. "It's a HE! His name's Wodders!" he roars in a deep Lancashire accent, adding, "He's an arsehole!"
The video has since been retweeted by almost 7,000 people and been watched on YouTube over 167,000 times.
Here's one thing we should clear up straight away: Emus are not appropriate household pets, despite their obvious viral video potential. As the second largest bird in the world after the ostrich, emus—or dromaius novaehollandiae in Latin—grow up to 1.9 meters in height, weigh up to 60 kilos, and can reach speeds of nearly 50 kilometers an hour. The ancestors of this native Australian species are thought to have roamed during the time of the dinosaurs. While easily tamed in captivity, they understandably need plenty of space to thrive.
Despite their obvious unsuitability as pets, homeowners in Britain persist in keeping them. In 2011, the Daily Mail wrote about a six-foot emu named Beaky, which weighed 76 kilos and lived with a family of eight in Southend. Three years later, a pair of pet emus called Zig and Zag disappeared from their home in Wales; while Zag came home safely, Zig was never found. In August last year, police in Suffolk returned an emu to its owner after it was spotted wandering down the road and into a field.
And in January of 2017, mother-of-three Charlotte Harrison voluntarily turned over her pet emu to the Royal Society for the Prevention of Cruelty to Animals (RSPCA). Harrison had nurtured the emu—a female called Kevin—from an egg. The mother-of-three compared the experience to childbirth. (As a feminist women's site, we naturally reported on Kevin the emu-child at the time.)
"We are deeply concerned about people buying exotic animals as pets on a whim," replied an RSPCA spokesperson. "People may buy them with little idea of how difficult they can be to keep. This is why we would encourage anyone thinking of getting an exotic pet to find out as much as possible about the animal's needs and whether they're a realistic pet."
Read more: Going to an Insect Petting Zoo: The Greatest Mistake of My Life
The RSPCA confirmed that it was concerned about a potential increase in the number of pet emus, but did not have exact figures on the possible trend—from 2007 onwards, emu owners were not legally obliged to document their animals. Previously, they required a license under the Dangerous Wild Animals Act 1976.
And the dangers of keeping an emu are manifold: What was once a lovable chick can become an aggressive sexual predator that will try to mate with you.
"If hand-reared, emu chicks may imprint on their owner, instead of their parent, and then get distressed when the owner leaves," the RSPCA spokesperson explains. "Problems can also occur as they mature, as they may see their owner as their sexual partner and this can lead to aggression."
In an effort to find out how dangerously easy it is to purchase an emu, I took to the internet. Most emus for sale seem to be arranged via Preloved, a UK classified listings site. Multiple ads offered emus: prices for an adult pair ranged from £345 to £550. Emu hatching eggs can be bought from eBay for £15.
---
Watch: British Comedy's Rising Star Michaela Coel on Swapping God for Filthy Jokes
---
I contacted Preloved user Brad, from Preston in Lancashire, to enquire about purchasing a pair of 2-year-old emus. "These 2 are very friendly and will follow you around for your attention. Won't get much more tame than these 2 and would suit being pets," Brad replied.
But after asking whether I'd need a garden to keep the emus in, Brad went cold. "If you don't have a garden, then where are you putting them?" he inquired.
"In my house?" I ventured.
Brad, to his credit, was not impressed. "Are you insane lol? They are as tall as us and would wreck your house!" I'd had him down for a heartless capitalist with no concern for emu safety, but at least he'd prioritized their wellbeing—or, at the very least, placing them in a home with a garden.
An emu called Wodders led me on my journey into the emu community, so it seemed logical that I end my journey where it began: by identifying the man in the viral video.
I had some details: the footage appeared to have been filmed outside the Bay Horse pub in Euxton. I reached out to the man who uploaded the original footage on Twitter, but he didn't return my request for comment. I moved my search to YouTube, searching the comments under uploads of the video for any other clue.
One, tiny detail struck me: a comment under this video, left by YouTube user Bill Felton. "This is Wodders," he wrote of the emu's name.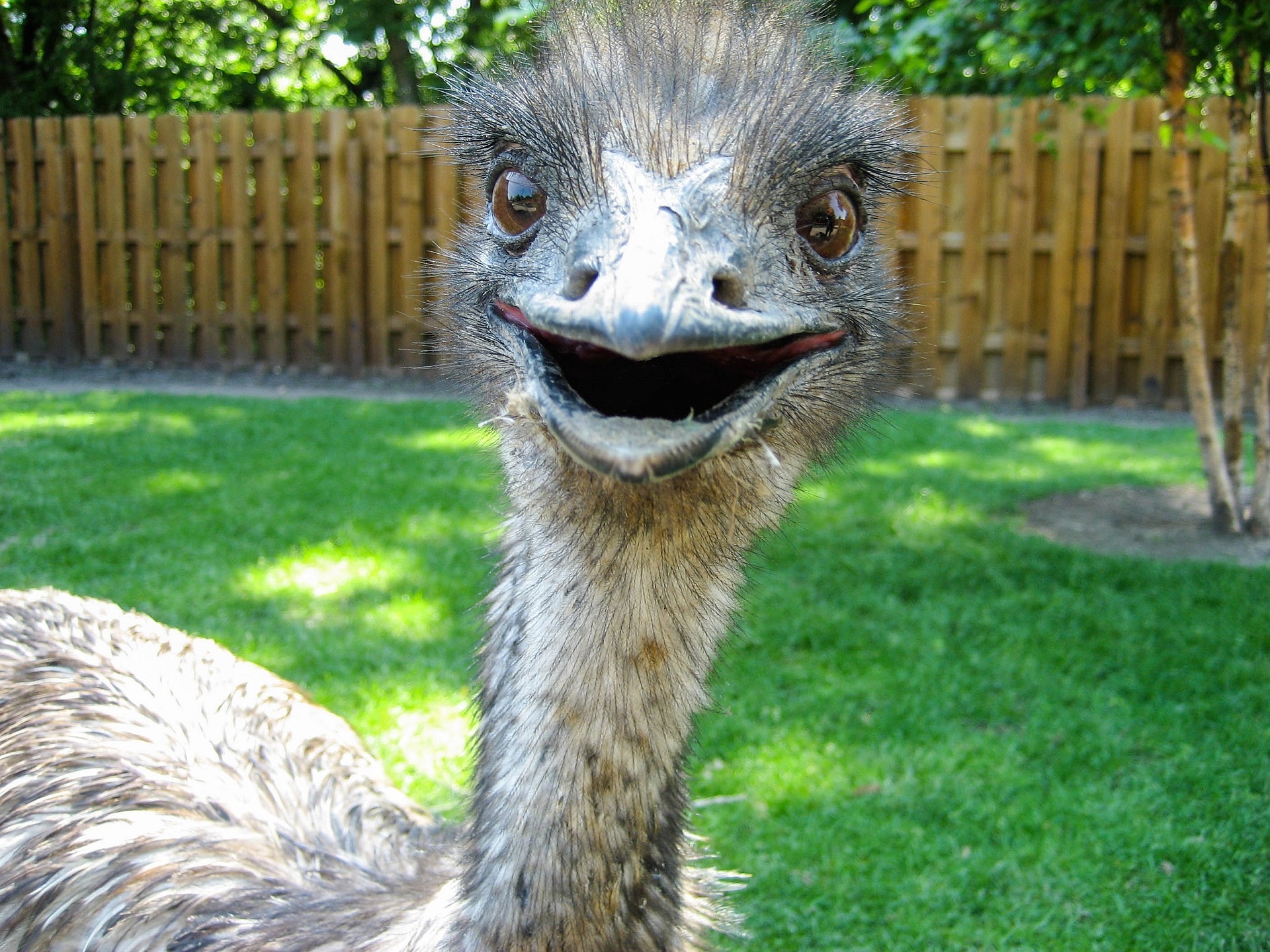 Many people, unable to understand the emu owner's accent, had misheard his pet's name as "Worraz," and a dispute over whether it was Wodders or Worraz followed.
"Bill is the owner!" another user responded. "I think he knows its name!"
I clicked on Felton's YouTube profile, and the evidence was pretty compelling. Felton has uploaded three videos: "Wodders," "Wodders 1," and "22 April 2017," which despite its name, does in fact also feature an emu. "Fucking hell," laughs the cameraman in "22 April 2017", while an emu roams around what looks like a pub table. It also unmistakably features the man from the first viral video. Pleasingly, the videos "Wodders 1" and "Wodders," although less enjoyable in terms of entertainment value, do provide evidence that Wodders is being kept in a large outhouse or barn-like enclosure, which reassures me he's being properly looked after.
The evidence overwhelmingly seemed to be pointing to Felton as the owner of Wodders. I'd seen rumors online that the emu's owner was a garage-owner, so I googled "Felton Euxton Garage" and the first link led me to a Facebook page for Felton's MOT & Service Centre Euxton.
For More Stories Like This, Sign-Up for Our Newsletter
"Am I right in thinking," I wrote in a Facebook message, "that Bill Felton is the owner of Wodders, subject of a recent viral video?"
The response, when it came, was worth it.
"Yes, he's a fucking arse-hole!!!"
Sadly, Felton declined to answer any further questions, but his answer was enough: Wodders was his emu, and he was an arsehole. Was Wodders an arsehole because he was being kept in captivity and forced to walk around suburban high streets, rather than roaming the open plains of Australia? Almost certainly.