Any good cult leader needs two things: A following and a symbol, some physical indicator people can rally behind. The Front Bottoms' style of communal misery has earned the band something of a cult following over the years, and with their 2017 album Going Grey, they seemed to find their symbol with "Peace Sign," a song showcasing their bittersweet, trademark hand gesture: peace sign, middle finger. In their new video for "Everyone But You," another track off Going Grey, they get playful with this idea as they make a visit to a spiritual healer.
"Everyone But You" plays out like a religious movement's informational VHS tape where everyone in it is happy to be forever changed by the power of the savior figure. Personal testimonials and transformation footage help drive home the brainwashing vibe. Even band members Brian Sella and Mat Uychich get moved to convulsions (to varying degrees of convincingness). So watch the video above and writhe around on the floor, speak in tongues, foam at the mouth, and submit to the awesome power of The Front Bottoms.
The Front Bottoms are currently on tour with The Smith Street Band and Brick & Mortar (dates below). Also, the band stopped by the Noisey office recently to draw themselves and they apparently see themselves as AC/DC-loving juggle masters. Check that out below...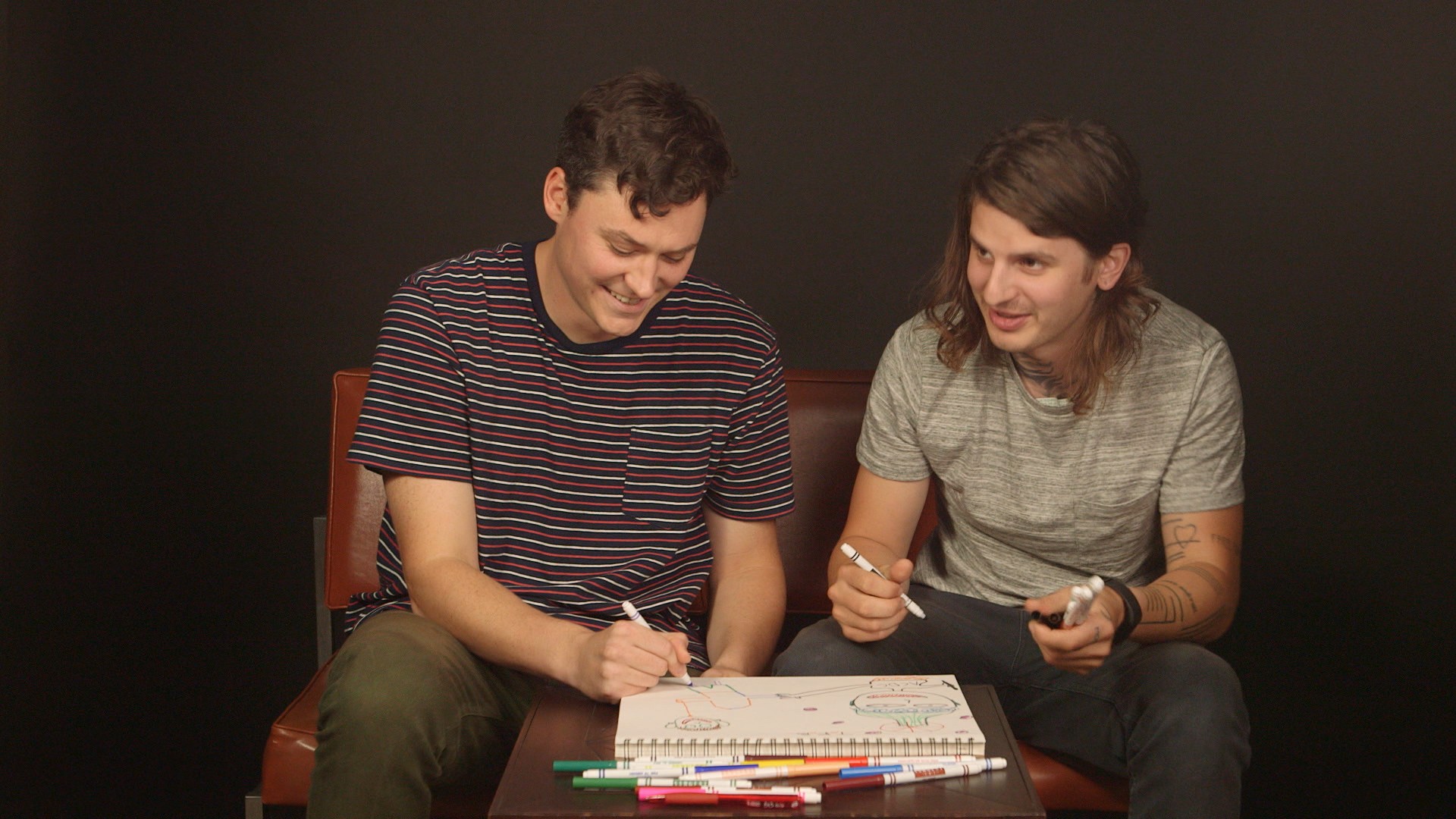 2/9 - THE ALBERT HALL - MANCHESTER, UNITED KINGDOM
2/10 - BARROWLAND BALLROOM - GLASGOW, UNITED KINGDOM
2/11 - O2 ACADEMY NEWCASTLE - NEWCASTLE, UNITED KINGDOM
2/13 - VICAR STREET - DUBLIN, IRELAND
2/14 - MANDELLA HALL - BELFAST, UNITED KINGDOM
2/16 - O2 ACADEMY SHEFFIELD - SHEFFIELD, UNITED KINGDOM
2/17 - ROCK CITY - NOTTINGHAM, UNITED KINGDOM
2/19 - KNUST - HAMBURG, GERMANY
2/20 - LIDO - BERLIN, GERMANY
2/21 - STOLLWERCK - COLOGNE, GERMANY
2/22 - DYNAMO - EINDHOVEN, NETHERLANDS
2/24 - THE PYRAMIDS CENTRE - PORTSMOUTH, ENGLAND
2/25 - THE WATERFRONT - NORWICH, UNITED KINGDOM
2/26 - THE O2 INSTITUTE - BIRMINGHAM, UNITED KINGDOM
2/27 - O2 ACADEMY BRISTOL - BRISTOL, UNITED KINGDOM
2/28 - THE ROUNDHOUSE - LONDON, UNITED KINGDOM
6/1-3 - BUNBURY MUSIC FESTIVAL - CINCINNATI, OH