Recent tumult in cryptocurrency markets hasn't stopped unscrupulous websites from hijacking unsuspecting visitors' computers to mine digital coins.
According to new insights published on Wednesday by Chinese security firm 360 Netlab, which used a tool called DNSMon to track the relationships between domain names on the internet, 241 of the top 100,000 websites by traffic according to Alexa contain code that uses site visitors' computer hardware to perform calculations that generate cryptocurrency through a process called mining. Of these sites, 49 percent were porn.
The offending sites identified by 360 Netlab—a handful of which the company shared on Twitter—included cut-rate porn sites with names like "streamxxx.tv," basically, smut sites that only somebody trying to watch porn on the internet for the first time and just Googled "porn" would visit. Other sites that contained mining scripts included "legendofkorra.tv" (anime nerd thirst trap) and a proxy site for The Pirate Bay.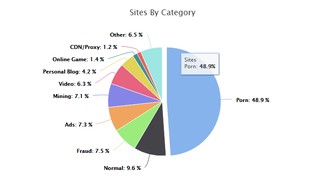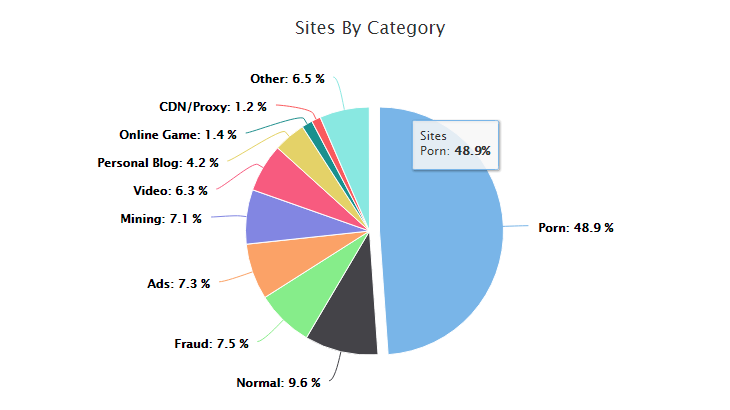 Netlab 360's analysis suggests that in-browser cryptocurrency mining, which stormed back onto the world stage in 2017 after being dormant for several years (likely due to low cryptocurrency prices) via a torrent site is now chiefly the purview of porn sites. It's worth noting, too, that criminals have found some pretty creative ways to get people to mine cryptocurrency for them outside of website visits, including hacking an Argentine internet provider.
In-browser cryptocurrency mining has the potential to eat up your computer's resources and slow down your machine, making the trend of particular interest to cyber security researchers lately. Last year, Symantec predicted that in-browser mining would turn into an "arms race" in 2018 as malicious actors come up with even more inventive (and invasive) methods of mining digital coins with someone else's machine.
In this arms (and, I guess, legs and butts and other sexy parts) race, it looks like porn is taking the lead.