Sausage and Egg Breakfast Quesadilla
Crispy, gooey, and savory, just the way breakfast should be.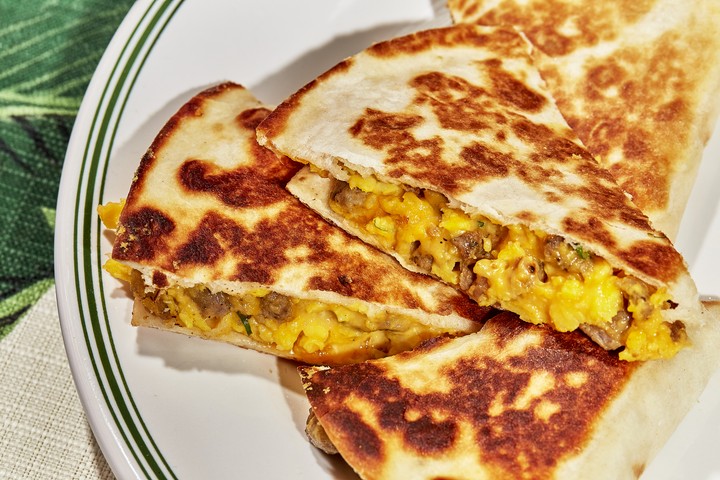 Photo by Heami Lee
Servings: 6
Prep: 10 minutes
Total: 30 minutes
Ingredients
12 ounces breakfast sausage, casings removed
2 tablespoons unsalted butter
12 large eggs
4 ounces cream cheese, cubed
kosher salt and freshly ground black pepper, to taste
8 ounces shredded cheddar cheese
2 scallions, thinly sliced
6 (8-inch) flour tortillas
6 tablespoons vegetable oil
hot sauce, to serve
Directions
1. Heat a large nonstick skillet over medium-high. Add the sausage and cook the sausage, breaking up the larger chunks with a wooden spoon, until brown and slightly crispy, 7 to 8 minutes. Transfer to a bowl and set aside.
2. Lower the heat to medium-low and add the butter to the skillet, along with the eggs and salt. Break up the eggs and cook, stirring and pushing them around the pan, until the eggs are mostly set, 6 to 7 minutes. Add the cream cheese and 1/3 of the cheddar and stir for another 1 to 2 minutes. You want the eggs to stay soft, but the cheese to melt. You may even want to remove the pan from the heat completely at this stage. Taste for seasoning and add some freshly ground black pepper, along with the sausage and scallions. Mix them right in there. Set the pan aside.
3. Heat 1 tablespoon of vegetable oil in a large skillet over medium. Working with 1 tortilla at a time, sprinkle about 2 tablespoons of cheese on one half of a tortilla, along with about 1/2 cup of egg mixture. Top the eggs with another 2 tablespoons of cheddar and fold the other half of the tortilla over the eggs to form a half moon. Cook the tortilla, flipping once, until golden brown on both sides, about 3 minutes. Cut into wedges and serve. Continue with the remaining tortillas until all of the eggs are used. Serve with hot sauce.
Stories