Texas Court Puts Same-Sex Couples' Spousal Benefits at Risk
The state's highest court ruled that same-sex couples don't have a guaranteed right to marriage benefits.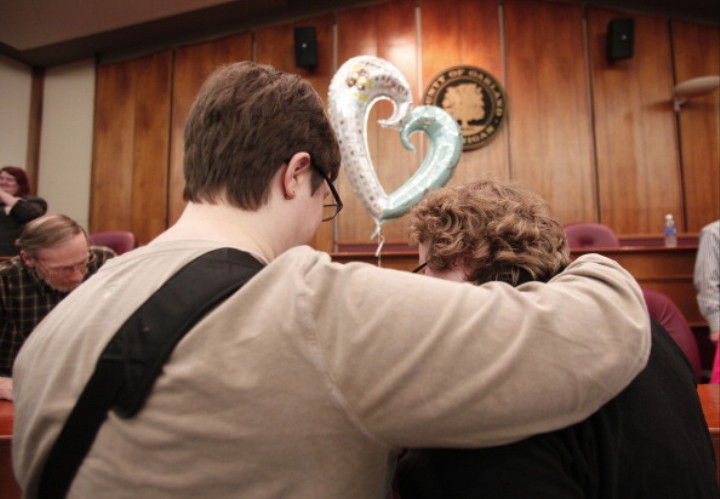 Photo by Bill Pugliano/Getty Images
In a decision condemned by LGBTQ advocates, Texas's Supreme Court ruled Friday that same-sex couples don't have same guarantees when it comes to spousal benefits as their hetero counterparts, the Austin American-Statesman reports.
The 9–0 decision by an all-Republican bench reversed an earlier ruling at a lower court granting life insurance and health insurance benefits to spouses of gay and lesbian city employees. Now the question to reaffirm or strip away those spousal benefits will back to a court in Houston. City officials could appeal straight to the US Supreme Court, or take the case to trial.
The decision comes just after the two-year anniversary of Obergefell vs. Hodges, the US Supreme Court decision that gave gay and lesbian couples across the country the right to marry. But the Texas court said that that didn't mean that the issue was settled.
"The Supreme Court held… that the Constitution requires states to license and recognize same-sex marriages to the same extent that they license and recognize opposite-sex marriages, but it did not hold that states must provide the same publicly funded benefits to all married persons," Justice Jeff Boyd wrote in a decision for the court. The "reach and ramifications" of the Supreme Court's landmark decision is up to state courts, he added.
LGBTQ advocates contend that in granting gay couples the right to marry, the Supreme Court effectively ruled same-sex partnerships and their hetero counterparts should be treated equally.
"The Texas Supreme Court's decision this morning is a warning shot to all LGBTQ Americans that the war on marriage equality is ever-evolving," Sarah Kate Ellis, president of the advocacy group GLAAD, said in a statement. "Anti-LGBTQ activists will do anything possible to discriminate against our families."
LGBTQ city employees will continue to receive spousal benefits as long as the Texas case is being litigated.
Follow Drew Schwartz on Twitter.
Stories