The female body is idealized in a lot of figurative art, but in Detroit-based artist Bronwyn Lorelei's world, these ideals look radically different. The form they take is often grotesque, often hairy and leaking menstrual blood. It's not exactly David Cronenberg-esque body horror, though, and it isn't merely pornographic, either. Lorelei imbues her illustrated works with childlike fantasy and healthy doses of humor.

Originally from Sonoma, California, Lorelei spent a lot of time in San Francisco encountering art through a close friend. Her first artistic forays were with collage and one-off paintings, but it wasn't until Lorelei got into vintage porn and encountered actual artists in Portland, Oregon that she got serious about making art, this time via drawing and illustration. It was there that Lorelei met the person she is now seeing, who introduced her to Micron and Copic pens and markers. All of these things helped bring about her characteristic style, which she has also been exploring with some really fantastic embroidery work.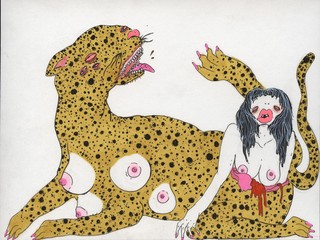 "I never really thought about art supplies, I just used whatever was around like nail polish, I really had no standards," Lorelei tells Creators. "Once I discovered the thin lines of the 0.05 Copic, the thinnest you can get, I think that sparked my interest in drawing."

As for the interesting stew of themes in her work, Lorelei's influences aren't predictable. Though she grew up without religion, valuing instead the scientific perspective, her mother was very "witchy," so ideas like fairies and talking to trees inevitably entered the conversation. Lorelei believes children's art is the best art, so this childlike imagination finds output in her work. It gets warped through more adult realities, like pornography as well as female anatomy and bodily functions.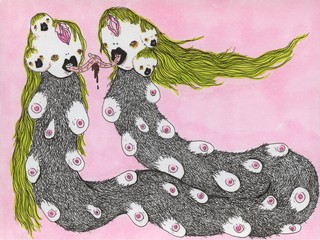 "With children's art, I appreciate the whole imaginary aspect of things," Lorelei says. "I'm absolutely obsessed with Lord of the Rings or anything medieval, but I hate Game of Thrones."

Season 2 of X-Files has also been an influence on Lorelei's work. While the first season focused on aliens, she says the second season is interesting because each episode seems to feature fantasy archetypes like vampires, werewolves, and witches.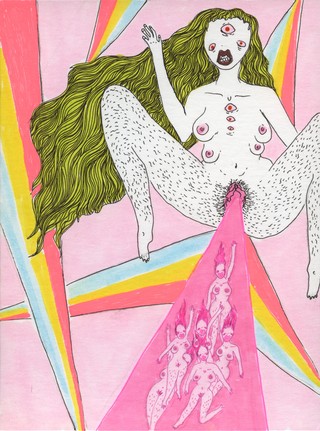 This interest in X-Files, combined with a t-shirt she owns featuring an illustration by Instagram user LeeDcoiArt, resulted in the piece Mothership. It's here that Lorelei's interest in science fiction, pornography, childlike colors, feminism, and humor coalesce into a gigantic naked woman with a third eye hovering like a UFO. From her vagina descends a tractor beam that is gathering up several other naked ladies.

"I was thinking about aliens and the mothership, and I've been interested in beams lately with rainbows shooting out of the nipple and stuff like that," she says. "But, when I draw something I don't really have a definite story or reasoning behind it—it's aesthetic. There is no plan, but there is meaning, which I only discover after the fact."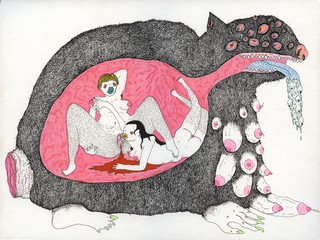 Related to Mothership, but quite the opposite aesthetically, is Lorelei's piece Hairy Bastard. In this illustration, a hairy black panther with dozens of eyes has grown several faces on its body, as well as human nipples. But Lorelei makes things even more grotesque by having the cat spewing out "babes." The faces of these babes, as in most of Lorelei's work, are modeled after her own face, but amplified for cartoonish effect.

Lorelei believes her use of the grotesque is grounded in art history and her desire to subvert it. At some point she recognized her desire to short circuit the male gaze, instead exploring its opposite. She also wants to ponder things related to her own body and sexuality, with all of the empowerment, agency, fear and anxiety that come with it.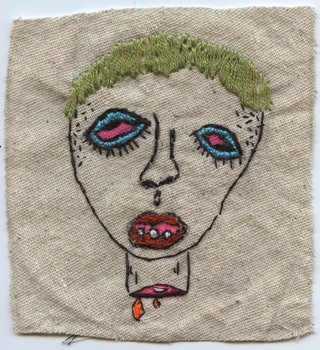 "The grotesque and creatures and all of that is because I'm kind of sick of seeing only men drawing naked women in this fantasy kind of way," says Lorelei. "Women are beautiful creatures and all that, but I think a lot of what I do is, 'Okay, here's my vag because you're so scared of it and I'm probably going to look gross because you don't want me to, and I'm not going to shave any part of my body because you want me to and that's not fair, and you've idolized me so much that you've made me this immense art form.' I think that's a lot of where it comes from, so I basically take concepts and add babes and tits to it."

"I do what comes out naturally," she adds. "But, I do feel that my art would be different if it weren't influenced by Instagram and the internet and how art has become so much more of an indie thing since social media arrived."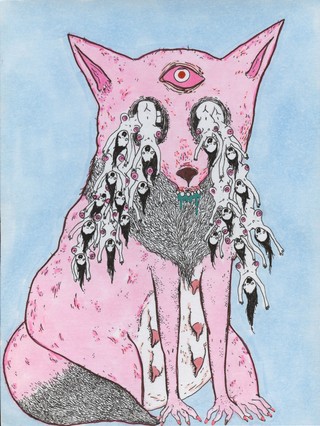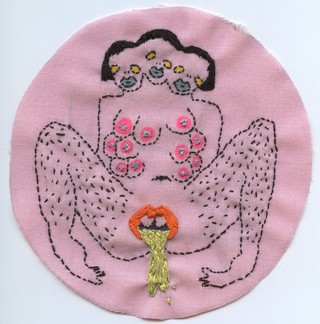 Click here to see more of Bronwyn Lorelei's work.

Related:
[NSFW] Behold: Boobs of Every Kind in This Breast-Themed Art Show
Yes, These Botanical Collages Look Like They Are Delightfully 'Womanspreading'
Women Frolic Free and Fairly Nude in These Saturated Illustrations